3 Ways to Promote Digestive Health (and boost your immune system!)
I've got a bad cold: sore throat, headache, congested sinuses; the works. And that's got me thinking about the immune system, and what we can do to help ourselves stay well.
Interestingly, the digestive system is crucial to take into consideration when we talk about immunity. The health of our immune systems can sometimes be traced back to the food we eat and to our digestive health.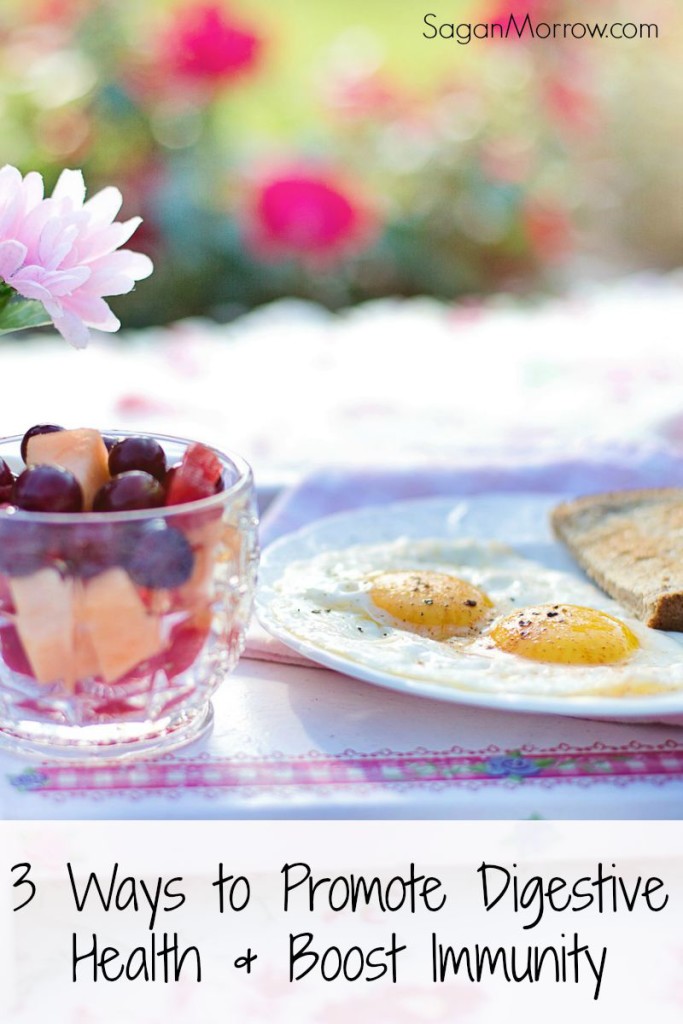 Without further ado, here are 3 tips to promote digestive health (and thus, the immune system!):
1) Stay hydrated.
It's so important to drink plenty of water to ensure your digestive and immune systems both remain healthy! Drinking water, tea, smoothies, or soup (or even just straight broth) are all good for a weakened system.
Whenever I get sick, Mr. Science always makes me boiled water with about a teaspoon of honey and a tablespoon of lemon juice. It feels so good on a sore throat, and the vitamin C from the lemon juice and antibacterial properties from the honey adds an extra boost for the immune system.
2) Enjoy warming foods in small, frequent amounts.
Warming (or cooked) foods are soothing and can be easier to digest than raw foods when you're not feeling well. There's a reason we crave hot turkey soup when we're ill!
Eating smaller portions frequently can help a lot with digestion, too. Instead of eating lots of large meals, which can cause digestive upset, aim for eating appropriately-sized portions every three to four hours.
3) Consume plenty of dietary fibre.
Fibre does all kinds of great things for helping to absorb and digest foods properly and can help prevent us from overeating, too.
Unfortunately most people don't eat nearly as much fibre as they should nowadays. But fibre doesn't have to be hard to fit into the diet! Whole grains, fruit, vegetables, and beans are all excellent sources of fibre. (And by the way—if you have digestive problems even after eating fibre frequently throughout the day, a gentle product like Lax-A-Day may be worth looking into).
What do you do to promote digestive health or boost the immune system? Share in the comments section below!
This article is sponsored by Lax-A-Day; all opinions are my own.
Did you like this article? Share it with your friends!