Easy Radish Butter Recipe
It's radish season! Try making this easy radish butter recipe as an appetizer this summer—it's a nice alternative to having bruschetta or a veggie platter on a warm summer day.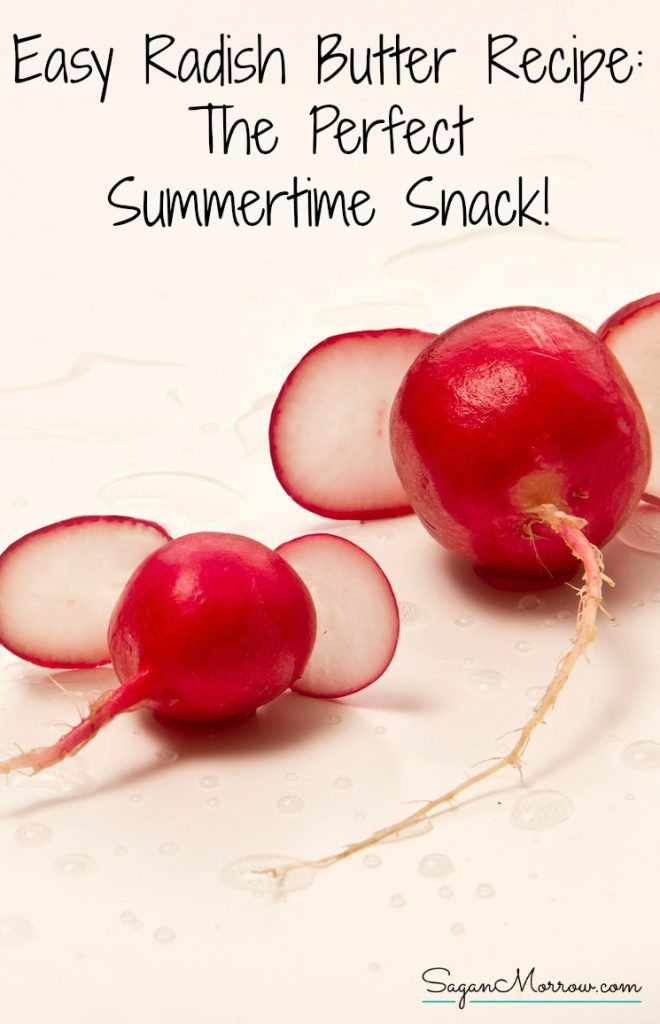 Easy & Delicious Radish Butter Recipe
Ingredients
1 bunch radishes
A couple garlic scapes
1/3 cup butter
Pink Himalayan sea salt (do away with regular old table salt—it doesn't do anything good for your health! Himalayan sea salt is full of all kinds of different minerals, AND it's pretty to look at ;))
Freshly ground black pepper
Never miss an article! Sign up for the newsletter >>
Directions
Dice the garlic scapes finely.
Grate the radishes into a bowl.
Add the garlic scapes to the grated radishes, and mix will with butter.
Add salt and pepper to taste.
Layer the garlic scape radish butter thickly onto sliced baguette, and toast in the oven for about 5—10 minutes at 350 degrees F.
Notes 
Garlic scapes are one of my favorite summertime foods… but unfortunately, they're only really in season for a few weeks each year! If you can't find any garlic scapes (which I REALLY encourage you to try), you can certainly just use minced garlic instead, or even add some green onions.
The ratio of radish to garlic scape to butter (to salt to pepper) isn't an exact science. Feel free to toss the measuring cup and eyeball it—I certainly do 🙂
Make this a healthier recipe by choosing local small farm radishes and garlic scapes, and using organic butter and a multigrain baguette. These little tweaks DO make a difference.
While this is a SUPER delicious (and very easy!) radish butter recipe to try, you could also jazz it up even more by adding different herbs and spices to the mix. Have fun with this as a base recipe!
What is your favorite summertime snack? Have you made radish butter before? Do you have a different recipe for radish butter? What do you like to do with garlic scapes? Share in the comments section below!
Get more awesome recipes with the FREE green smoothie booklet >>