Mushroom, Spinach & Feta Pasta Recipe | Feed the Hope Campaign
I'm delighted to partner with Catelli this month on their Feed the Hope campaign! Catelli is donating a serving of pasta to a family in need for every person who likes their Facebook page or shares their cookbook.
Their goal is to donate 1 million servings of pasta to Canadian families in need—it's a great cause! You can learn more about it and support the campaign by visiting the Catelli Facebook page.
In support of the project, this past weekend Mr. Science and I tried one of the recipes from the Catelli cookbook: Fantastico Gluten Free Penne Pasta! We used whole grain wheat pasta instead of gluten-free, and we swapped the cherry tomatoes for crimini mushrooms to give our version a unique spin.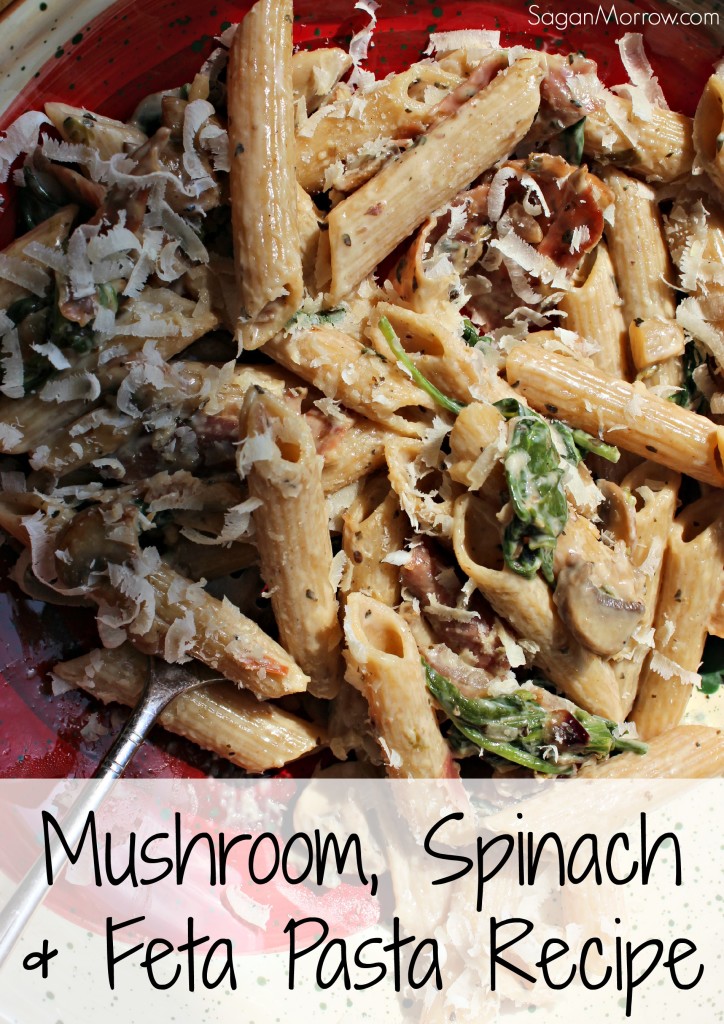 Here's our take on the Catelli Fantastico Gluten Free Penne Pasta:
Ingredients
1 package (375 grams) Catelli Healthy Harvest penne rigate
3 oz prosciutto
3 tbsp extra-virgin olive oil
1/2 red onion, chopped
Several cloves of garlic, minced
1 package crimini mushrooms, sliced
2 tbsp dried basil
Several big handfuls fresh baby spinach
1 cup crumbled feta
Plenty of freshly-grated parmesan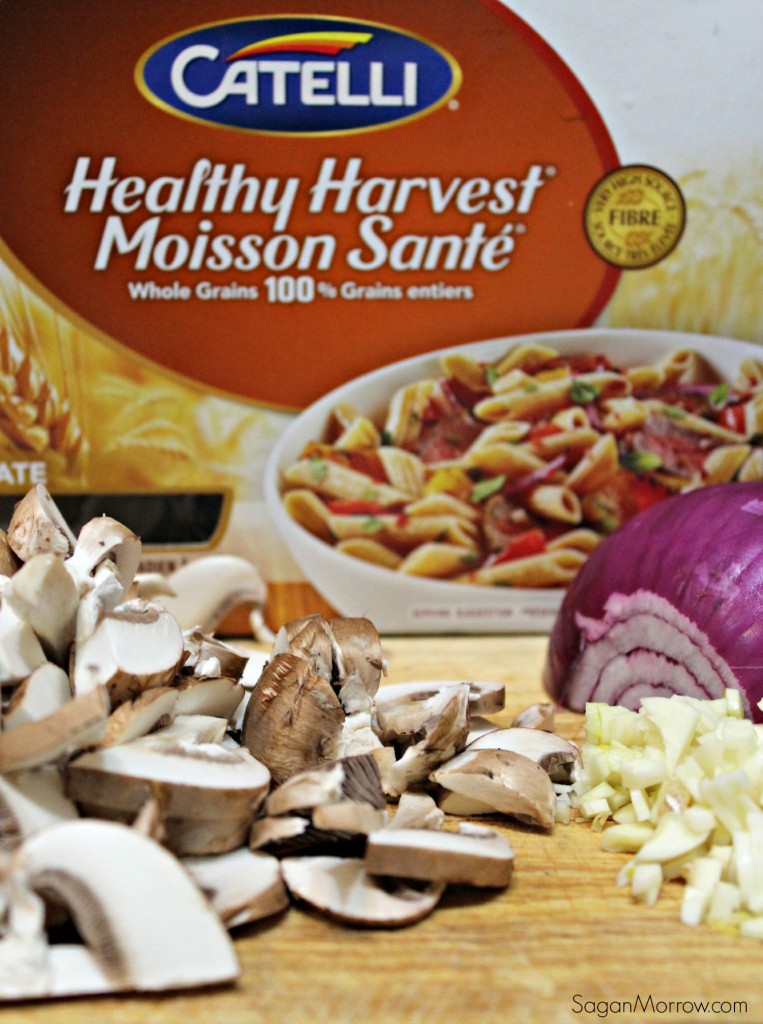 Directions:
Preheat the oven to 350 degrees F.
Cook pasta according to package directions.
Meanwhile, arrange prosciutto on parchment-lined baking sheet and bake in the oven for 5—10 minutes (flipping once partway through). Remove from the oven and let cool, then slice into pieces.
While pasta continues to cook and while prosciutto is in the oven, heat a medium-sized saucepan on the stove. Add oil and red onions and sauté for 5 minutes or until nicely browned.
Add garlic and mushrooms and reduce heat to medium-high; continue cooking until soft.
Add basil and spinach and stir until spinach wilts. Add feta and stir well; the feta will thicken up the sauce beautifully.
Drain the pasta and toss it with the mushroom and feta mixture. Add prosciutto and toss again. Dish out servings and sprinkle with plenty of fresh parmesan before eating. Enjoy!

You can check out the original recipe in the Catelli cookbook—we didn't make too many changes to the original, but just enough to suit our tastes!
I would recommend that if you make this recipe yourself, to follow the amounts specified very carefully. When Mr. Science and I cooked this up, we added extra prosciutto, which made the pasta rather salty. It was still tasty, but it would have been better if we stuck to that recommended 3 oz 🙂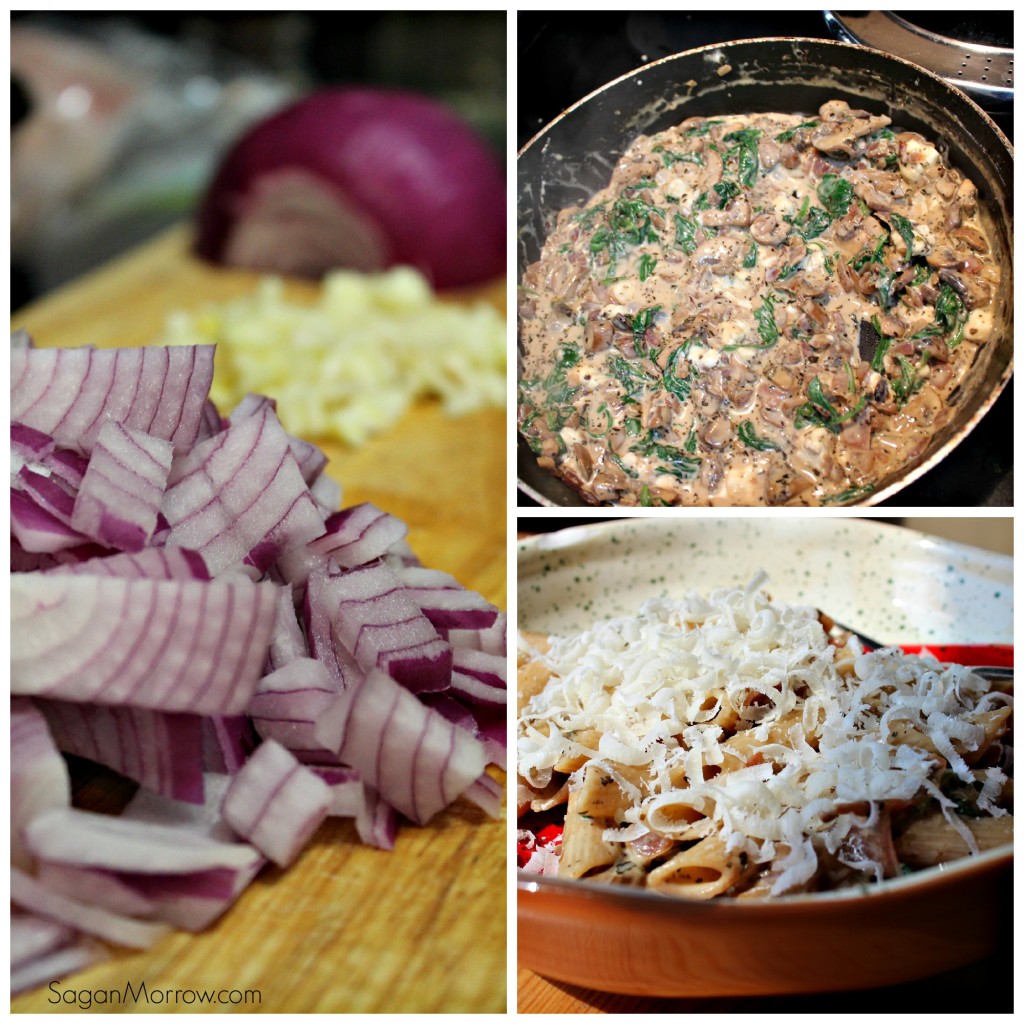 Healthy eating tip: eat your greens!
In addition, I'd encourage you to add plenty of baby spinach. Keep piling it in! It will wilt down to next to nothing, so this Catelli pasta recipe is a great way to get in lots of nutritious dark leafy greens into your meal without even realizing it.
I love recipes like this which provide us with an opportunity to eat a high volume of dark leafy greens without it seeming like a huge amount. Salads are wonderful, but we aren't always in the mood for a big plate of leafy greens.
When that happens, if we can explore ways to reduce the dark leafy greens to smaller, concentrated amounts, then we still get all the nutrient benefits of the leafy greens. Sautéing greens is an excellent way to do this (and using dried greens powder in smoothies is another awesome trick!).
Eating your greens doesn't have to be difficult!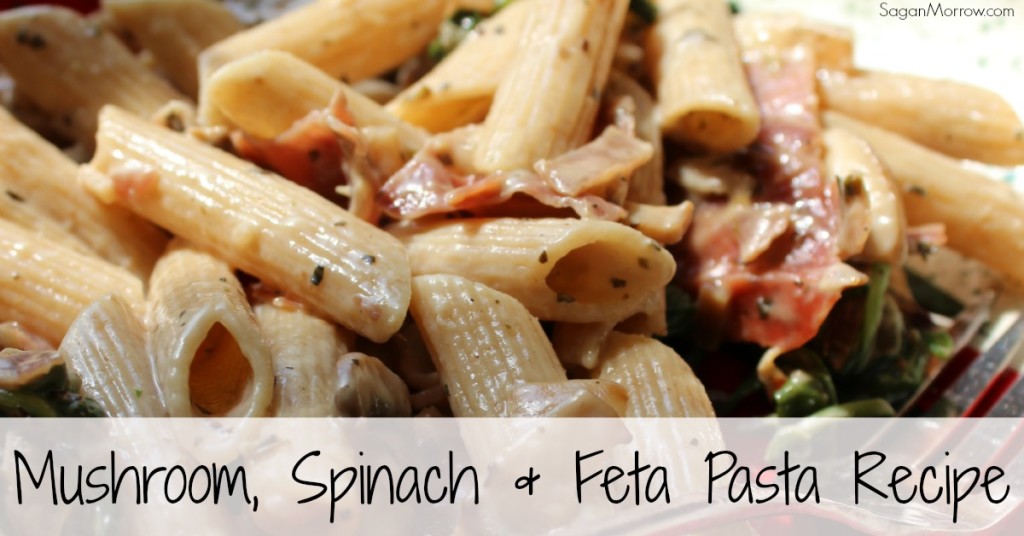 What's your favorite pasta recipe? Have you tried this recipe (and if so, what did you think)? Share in the comments section below!
This article is sponsored by Catelli.

Did you like this article? Share it with your friends!