5 Quick & Easy Home Decor Tips For Condo Living
Click here to get 8 tips for keeping a clean & tidy home!
Living in a 750-square-foot open-concept condo can make home décor a challenge—particularly when it's so NOT my *thing.* (Seriously: I haven't painted the place yet since moving in six years ago. We've covered holes in the walls with Mr. Science's beautiful photographs instead. One day when I have money I'll pay someone to come in and totally update the painting and décor just so I don't have to deal with it. :))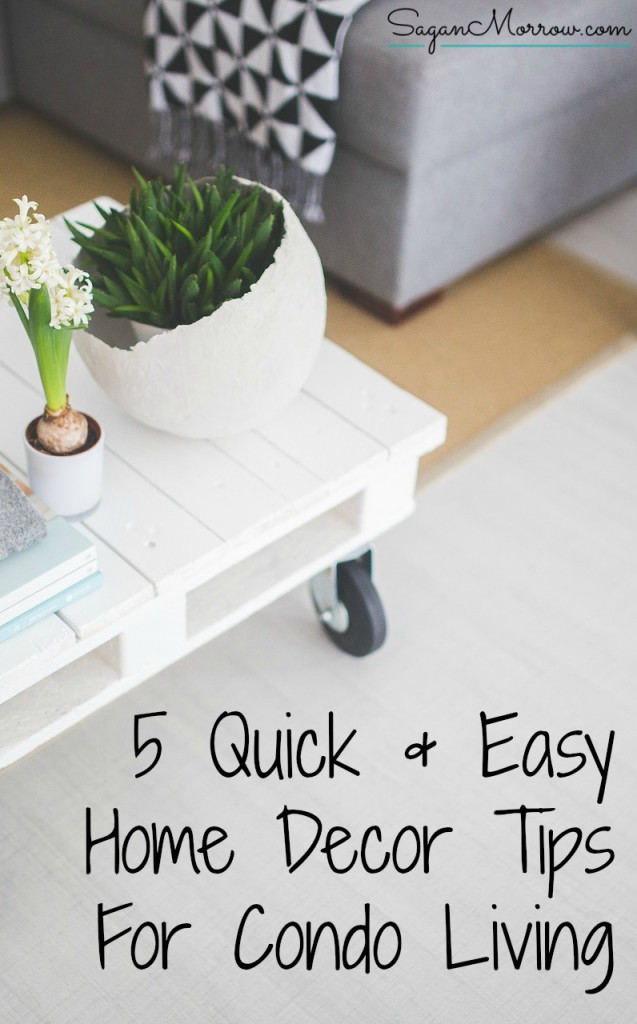 But in the meantime, there ARE some quick and easy ways you can update your home décor, even when you're like me and don't enjoy the process:
Use large pieces of artwork to fill up a big empty wall. I love large pieces of artwork. They have a beautiful way of drawing the eye the moment that a person walks into a room. Moreover, if you have a large expanse of wall (for example, if you have high ceilings over the couch in your living room), a single small print won't balance out the room as nicely as a large print (or a series of several small prints) will.
Add candles. It is truly incredible how a great candle in a pretty candle holder can transform a room. (Tip: opt for high-quality candles so they don't stain your ceiling with black smoke.)
Get new furniture. I WISH I had a balcony, because these pieces by Jardin de Ville are simply gorgeous! We are in desperate need of a new couch—ours has become quite lumpy and uncomfortable over the years, which, sadly, is what happens when you get a cheap couch. Lesson learned! (Think I can make one of these outdoor couches work as an indoor piece? :)) While it's not an inexpensive option, getting new furniture is an effective way to update a room very quickly and with relative ease.
Choose storage options with closed doors. One of the simplest ways to make a space look tidier and more minimalistic/organized is to simply hide all of the clutter and stuff. While it can look fantastic to have open cupboard space, the drawback is that you have to keep it spotless and organized to really make it work. Save yourself the hassle: instead of using open shelving, opt for cupboards and closed drawers. The added bonus to this is that it makes dusting way easier!
Focus on a couple key statement pieces. When people walk into our home, they nearly always comment on one of two things: our awesome bookcase set-up with the ladder (hello making my childhood dreams a reality), or the chocolatey piano that faces the living room. Aim the furniture towards these pieces and add extra lighting around these areas to bring them to the forefront.
What are your best home décor tips? How do you make your home look elegant and organized without all the fuss? Who wants to come into my home and make it pretty for me? 😉 Share in the comments section below!
This article was sponsored by Jardin de Ville, however all opinions expressed here are my own.
Let's stay connected: Facebook | Twitter | Instagram | Pinterest