6 Tips for Making Your Home a Place You Love Returning To
Click here to get 8 tips for keeping a clean & tidy home!
Do you love coming back to your home at the end of the day? How do you feel about the house you live in? Does it fill you with joy?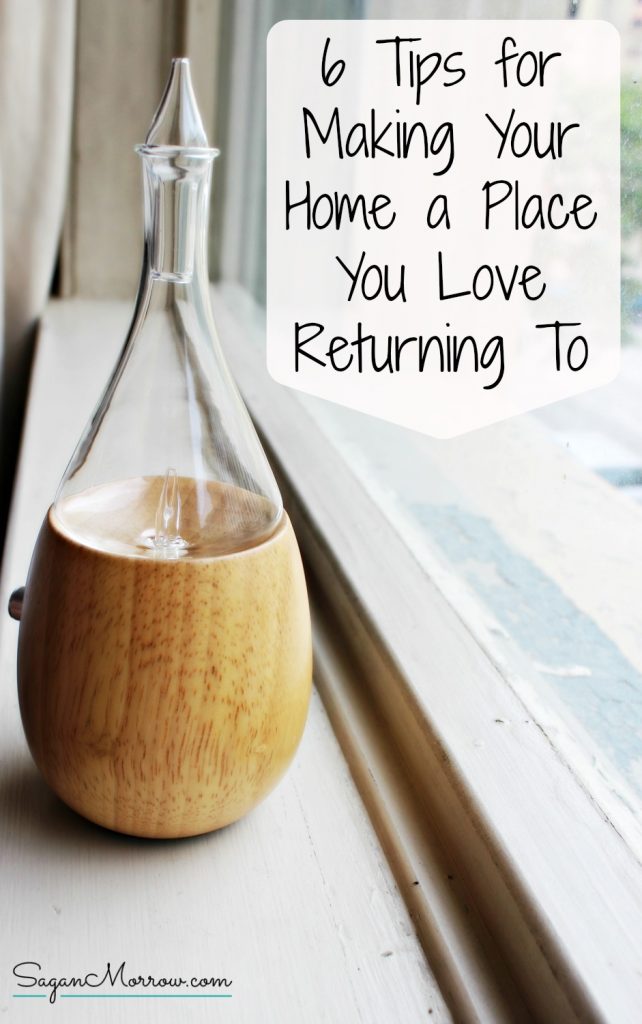 We spend the majority of our lives in our homes. They should be places that *speak* to us!
Here are a few tips for creating a happy home and making your home a place you love returning to…
Ask yourself what you're looking for in the feeling of your home. For me, I like to feel calm and peaceful at home. That's why, whenever our house gets too cluttered and it's disorganized, I start feeling restless and I'm not as productive as I would otherwise be. When you know what "feel" you want from your home, you can identify what changes to make.
Engage all of the senses. For example, a home that looks pretty isn't going to have the same feel if there's a funny smell! If the aromas from your kitchen garbage bin and cat's litter box tend to fill up the home very quickly (which any smell REALLY will if you live in a small space or an open-concept home), combat it not only by keeping on top of those things, but also by releasing prettier scents into the air. Scented candles, room spray, incense, and essential oil aromatherapy diffusers (the Organic Aromas Raindrop model [pictured] is so pretty and it works AWESOME!) can make such a difference.
Listen to other people's observations and opinions. Everyone has different taste, so some people visiting your home might not be into your style. However, it's still worth it to pay attention to what kinds of comments visitors make in your home. Are there things that they always seem to gush over? Is there something you think is awesome but no one ever comments on? Having a third-party perspective can be beneficial for expanding your vision of your home.
Ask for feedback. You can gain a lot by listening to comments and observations that guests volunteer—but if you ask for their opinion, you'll get even more. The great thing about inviting opinions is that you'll be able to get a new point of view from someone who doesn't see your home every single day. Sometimes we start to feel as though our homes are getting stale, or something isn't quite *working*, but we don't know what we need to change. It only takes one person suggesting that you move one piece of furniture to get a whole new look!
Remember that small changes can change the feel of the room. You don't need to spend thousands and thousands of dollars to get a new feel in your home. A fresh coat of paint, rearranging the furniture, replacing your curtains with blinds, getting a new bedset, and switching out the artwork on the walls can all contribute over time to making your home what you want it to be. Shop the deals!
Continue to check in with yourself to see how you feel about your home. Tastes change! Just because you loved the feeling of your home a year ago, doesn't mean the setup will be the right fit for you today. Be cognizant of how you feel when you enter your home so you will be aware of when it's time to make changes again.
What are your best tips for creating a home that speaks to you? Do you love returning to your home at the end of the day? What changes can you make to your home to capture the essence of how you want to feel in it? Share in the comments section below!
This article was sponsored by Organic Aromas, however all opinions are my own.