Cozy Chic Outfit Inspiration: 3 Style Ideas
Last week I worked from home A LOT. I barely left the house because I was working on a bunch of exciting projects for my business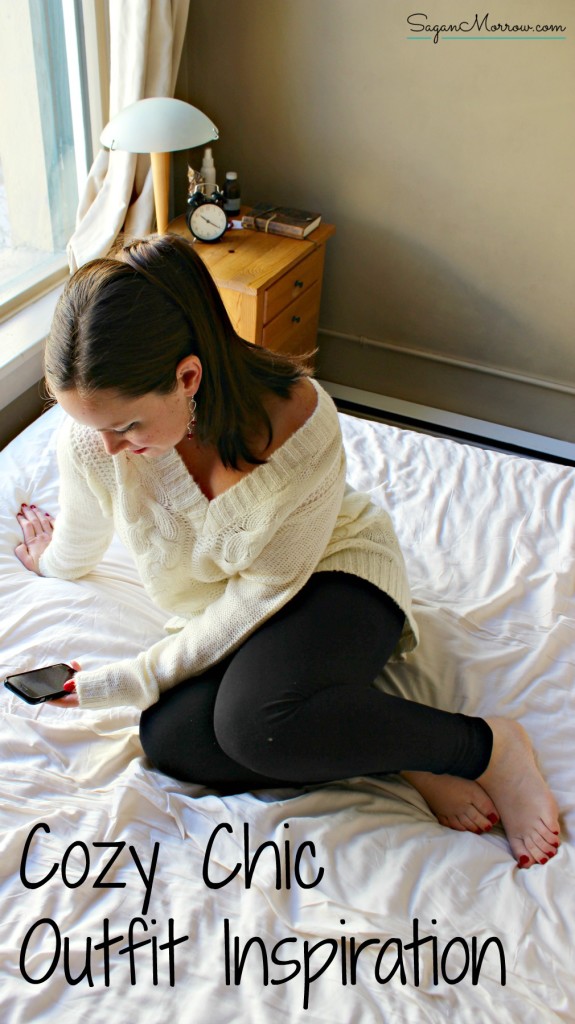 (which I'll tell you all about very soon! Oh my goodness I got so much writing done. Check back tomorrow for a super awesome freebie!).
And so, because I was at home and didn't have any appointments and meetings to attend, I treated myself to dressing extremely cozy 🙂
I love how it's totally possible to look cozy and chic at the same time. Fashion and style can be absolutely comfortable!
With that in mind, I've got some cozy chic outfit inspiration to share with you… 3 style ideas:
1) Oversized sweater with fitted leggings.
This gorgeous white knit sweater has a wide v-neck and longish sleeves, making it SO cozy. The detail on the sweater keeps it interesting, and it is just the right cream color to keep the outfit dreamy and sweetly stylish.
I put my hair up to better show off the neckline of this sweater (which I'm crazy about!). This kind of sweater works so well with simple black leggings—you want most of the attention to go to the oversized sweater, after all. Plus, leggings help this outfit to look more chic and less baggy.
Beauty tip: one of the things that makes cozy chic outfits so stylish is to up the ante in the beauty department.
Red nails*, red lips*, and subtle winged eyeliner add a polished feel, even if the outfit itself is super casual. Earrings that match the lips and nails won't hurt, either!
2) Massive cardigan with pockets.
Stay warm and comfortable with a big, super cozy cardigan. This is so perfect for lounging at home! I'm excited to pair it with fitted corsets, too—I love the look of contrasting oversized items with super fitted ones. This type of cardigan doubles up almost like a blanket, and will be a nice option in the autumn months when it's cool out but still not quite jacket weather.
Look how cozy I look! I feel like such a little kid in this picture: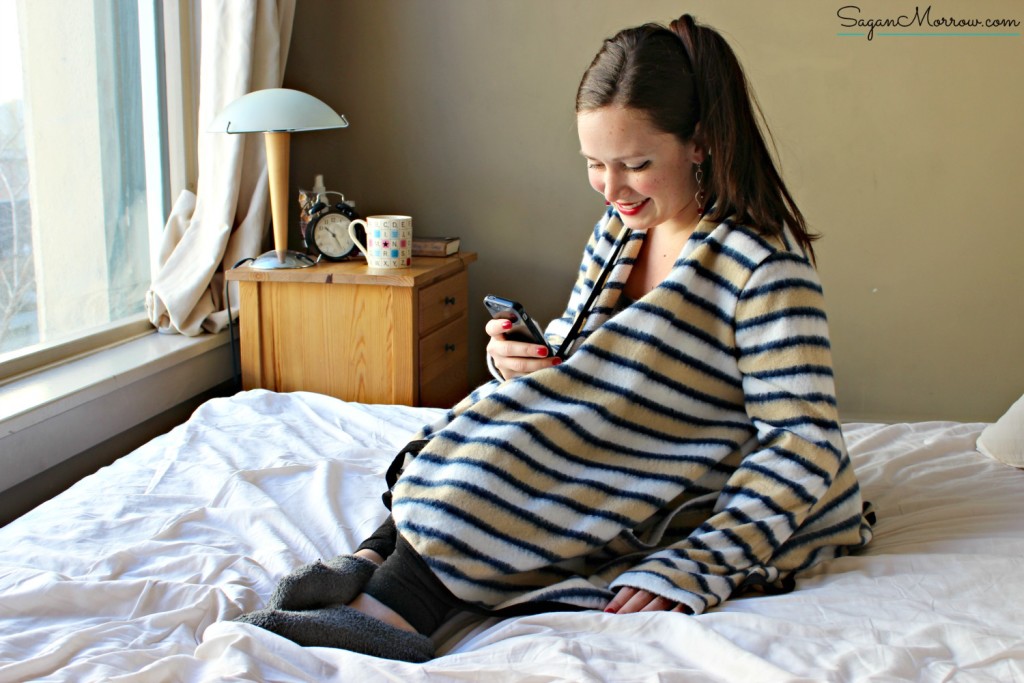 Pockets are a major plus here. Why do women's clothes so rarely have pockets? These pockets are super deep, too. Just right for carrying pencils and a notepad and a phone around… or just shoving your hands inside on a chilly day.
3) Loose, brightly patterned pants for a flash of color.
To know me is to know that I am kind of all about wearing neutrals. Someone actually commented on that a couple weeks ago to me in person—"You really like black, huh?" YEP I sure do.
But that doesn't meant that I don't like color. Color is awesome! It's just… not a regular occurrence when it comes to my clothes.
Anyway, I was super pumped to get these lounge pants. They're light and silky to the touch, and they're loose except wear they scrunch at the ankles (which is both comfortable AND a good way to ensure that I don't trip over my pants. Short girls and regular-length pants don't generally mix that well).
And these pants have pockets too! Bonus.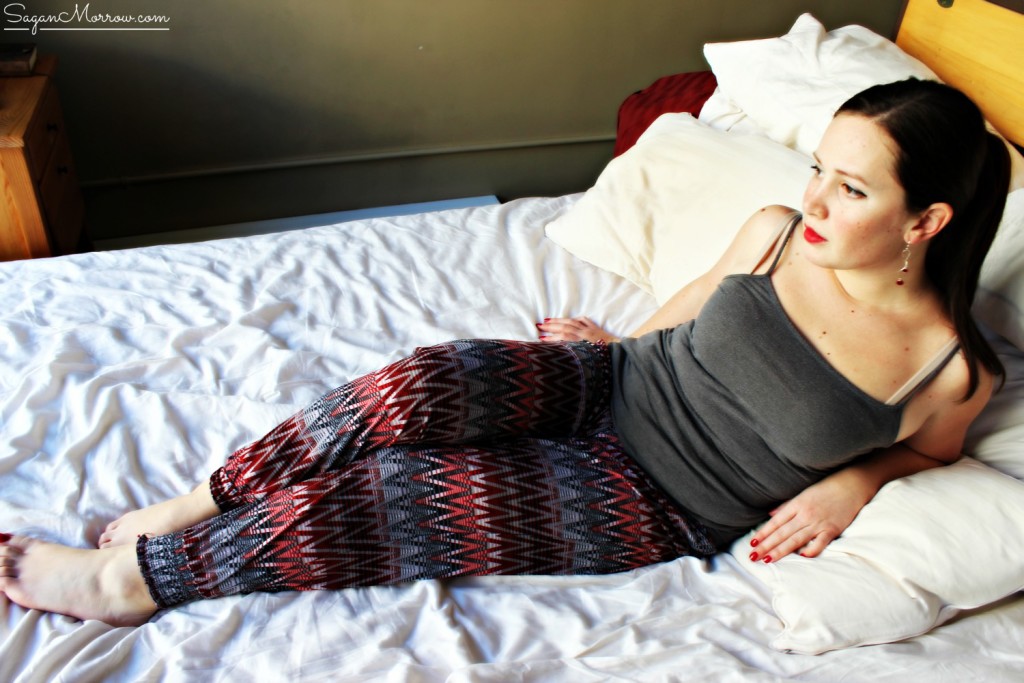 What are some of your favorite ways to look stylish AND be comfortable? Got any cozy chic outfit inspiration ideas? Which of these outfits do you like the best? Share in the comments section below!
*Affiliate link.
This article includes items I received in a complimentary style box from Bow and Arrow Boutique, however all opinions are my own.