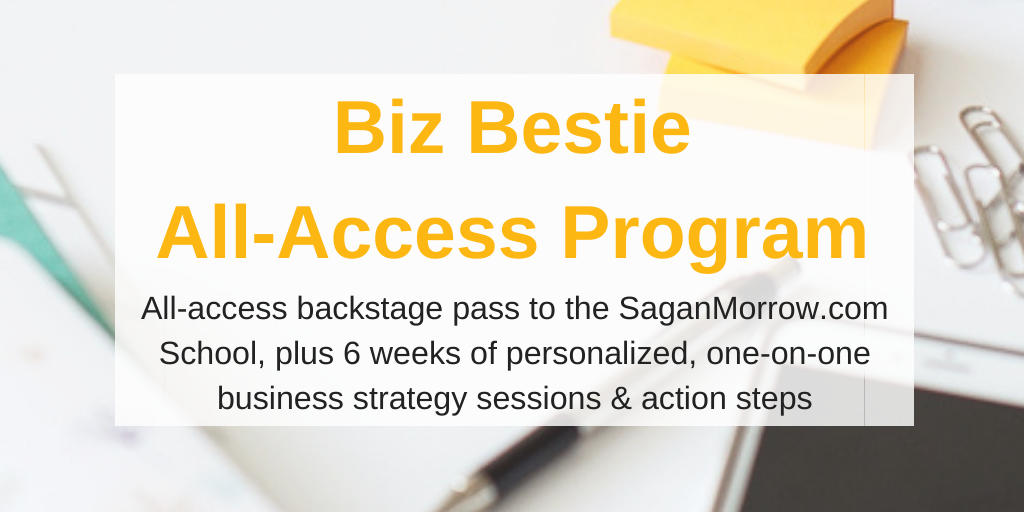 Do you ever feel like you are... 
Drowning in overwhelm 

Stuck in the cycle of planning, replanning, changing ideas, and second-guessing your ability to be your own boss
Exhausted & working too many hours for too little money
Spinning your wheels without a clear idea of what direction you *should* take with your business
Unsure of where to even start with sorting out priorities
If you answered "YES" to any of those statements, then you are in the right place! 
Biz Bestie is a one-on-one productivity coaching program that helps you help yourself. It provides structure and guidance that gives you an ideal space to forge your own path and strengthen your understanding of your business and its needs.
Together, we'll improve your time management and organization abilities, identify the RIGHT priorities and tasks, create an awesome action plan that you adore, and make business FUN again… all while you make real progress to achieve your dreamy goals (without the burnout or the overwhelm).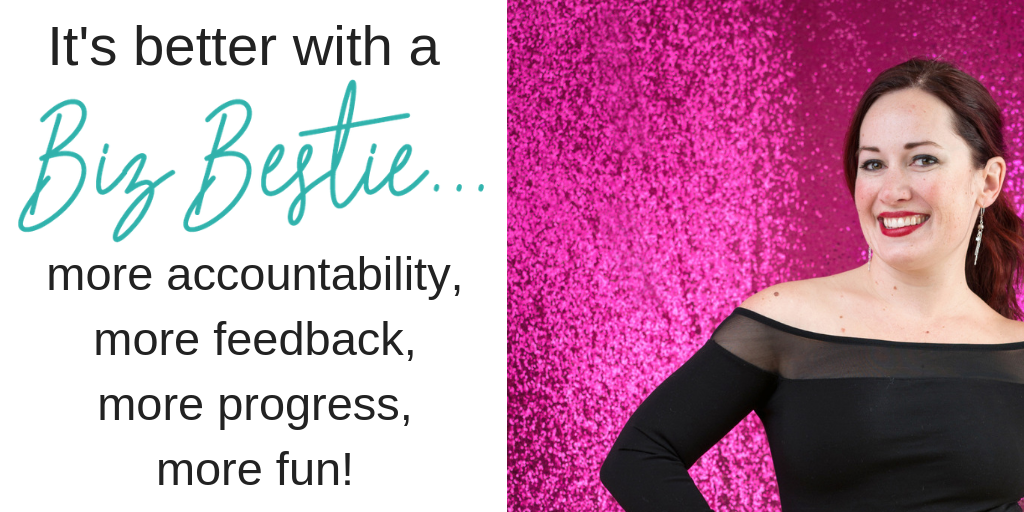 Your life BEFORE Biz Bestie…
Burned out, overwhelmed, and tired 

Struggling to figure out what to work on, and when to do it
Lonely and lost with your business
Your life AFTER Biz Bestie… 
Energized with a clear direction for your business 

Confidently able to prioritize the right tasks
No more confusion or uncertainty!
Curious what this could look like for you? Here are just a few things clients have accomplished through Biz Bestie: 
Melanie got her first client within our first week of working together, and over the next few weeks, reworked her pricing strategy and then created (and began implementing) an email marketing strategy and content calendars for social media and her blog.
Jessica organized her office, completely overhauled her website and business plan, honed in on her ideal client, and reworked her ideas for services and products...all within tiny chunks of time during her week, since she had such little time to devote to her business.
Alaina put together her first business plan (after having her business for 7 years) and fell in love with her brand-new task management system.
Leslie was able to get on track with mapping out her plans and integrating her work and life with more clarity—whereas this was always a struggle in the past.
Richelle quit her day job, launched her freelance business, began pitching and marketing herself to positive responses, and learned how to create her own action plans with a schedule she's confident about.
Imagine what you can accomplish when we work together, too?
You're committed to your business for the long haul—AND you're ready to jumpstart your progress with quick wins. That's the beauty of Biz Bestie! We take your big ideas and turn them into manageable tasks you can check off your list *today,* so that you get more done, faster.
"Biz Bestie was incredible! I was struggling to find direction with my business, to know where/how to find clients, and to understand how to manage my business. Biz Bestie helped me map out a business plan, understand and implement different marketing strategies, learn how to set daily and weekly plans, handle overwhelm, and figure out how to run my business.

Sagan even tailored the program to best fit my needs and adjusted it each week as I continued finding my path with her guidance. She took the time to learn my productivity and learning styles at the very beginning and adapted her teaching method to what worked best for me." 

- Richelle
How does Biz Bestie work? 
When you enroll in this program, you will fill out an initial assessment providing details on your business (or your business idea, if you haven't started your business yet), the obstacles you've been facing, and any particular areas you would like to work on together over the 6-week period.
Then, we will connect via email to chat about your business and organize a strategic plan of action for the next month. You'll get a LIFETIME all-access backstage pass to the SaganMorrow.com School, which will provide you with additional resources for building an awesome business you love ($1,300 value).
We'll have weekly accountability check-ins to see how things are going with your plan (and to adjust it as needed), and at the 6-week mark, we'll create a plan of action for your next steps once the program ends.
Throughout the 6-week program, you will also get unlimited email access to me—so you can email me at any time in between our weekly accountability check-ins with your questions, thoughts, and ideas for additional feedback, recommendations, and encouragement. We can talk about anything you're struggling with and explore ways for you to overcome those issues.
(Every person and business is different, so if you want to add virtual coffee dates during the program, we can totally make that happen.)
"I was feeling a lot of stress and overwhelm, but I'm in a better place now. I've mapped out the coming week and I'm coming up with plans for how to move forward with my business and with other aspects of my life. I have a much clearer idea of where I want to go!"

- Leslie
A few examples of what I've helped Biz Bestie clients with…
Helped organize their priorities and sort through business ideas so they actually have clarity on their ideas and action steps

Gave feedback and suggestions on their business plans, rates, marketing strategies, internal policies, and schedules

Provided critiques on their email pitches and website copy

Gave encouraging pep talks to keep them motivated when they needed a boost

Coached them on how to best use Toggl for their business

Gave examples for what to include in their vacation & sick day policies, and how to structure their business so that it keeps running during those times

Brainstormed ideas with them for how to fine-tune their services

...and more!
Biz Bestie is a fun choose-your-own-adventure program. So regardless of where you're at with your business—if you're like Alaina and you've had your business for years, or if you're like Jessica and you're starting your business from scratch—we can work together to keep your business moving forward.
The bonuses...
Besides the 6 weeks of coaching & all-access backstage pass to the SaganMorrow.com School, you also get some awesome bonuses!
Bonus #1: Quick guides and templates throughout the program to empower you to create your own action plans and continue to improve time management after the program ends!
Bonus #2: VIP coupon code for additional one-on-one business strategy & brainstorming sessions with me at a reduced rate of 40% off ($400 savings!).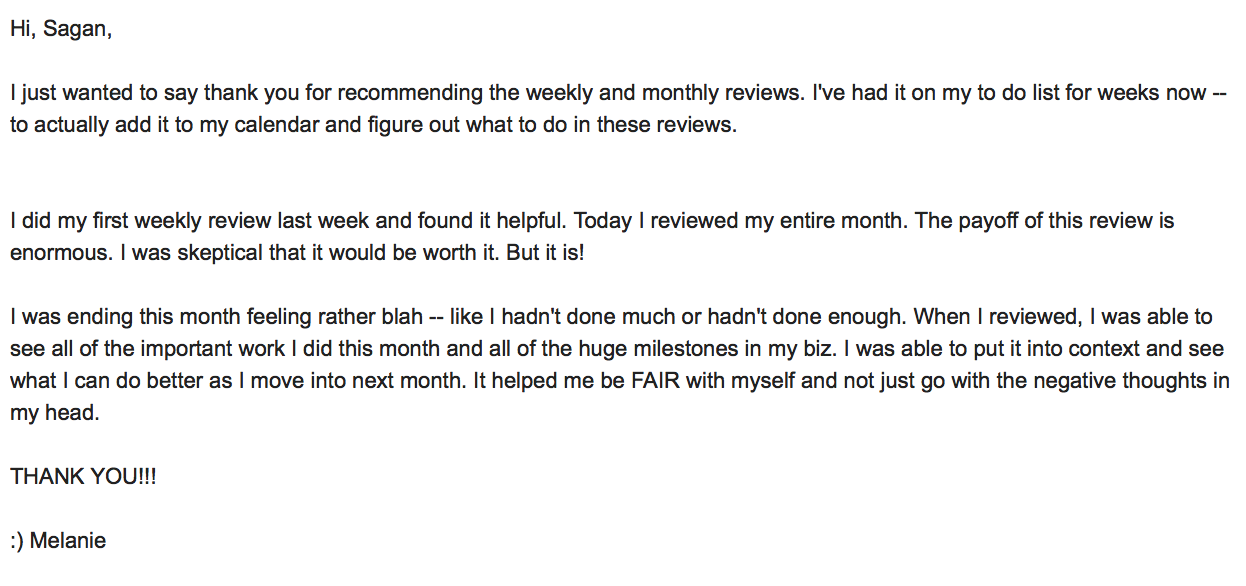 The beauty of Biz Bestie is that it is totally customizable to your situation. However, there IS a process to it: 
We'll work together for the first couple weeks to identify key things to work on and choose the right systems/strategies for your unique situation.

The middle couple weeks are all about getting your ducks in a row and implementing action steps, as well as addressing—and dealing with—any issues that arise, and assessing/pivoting as need.
The last couple weeks are all about YOU learning how to start creating your own action steps so that you're comfortable and confident doing it on your own after the program ends.
Example for one client: Weeks 1 - 2 focused on setting up the foundation of her business/marketing plans and messaging, Weeks 3 - 4 focused on her taking action on those marketing plans and improving time management and organization, and Weeks 5 - 6 focused on her learning how to work independently.
By the way—Biz Bestie is also introvert-friendly. The entire program is email-based, so you don't have to worry about being on video calls at a certain time each week. This means that you get all that accountability, WITHOUT the hassle of getting camera-ready. Think of this as coaching without any intimidation factor!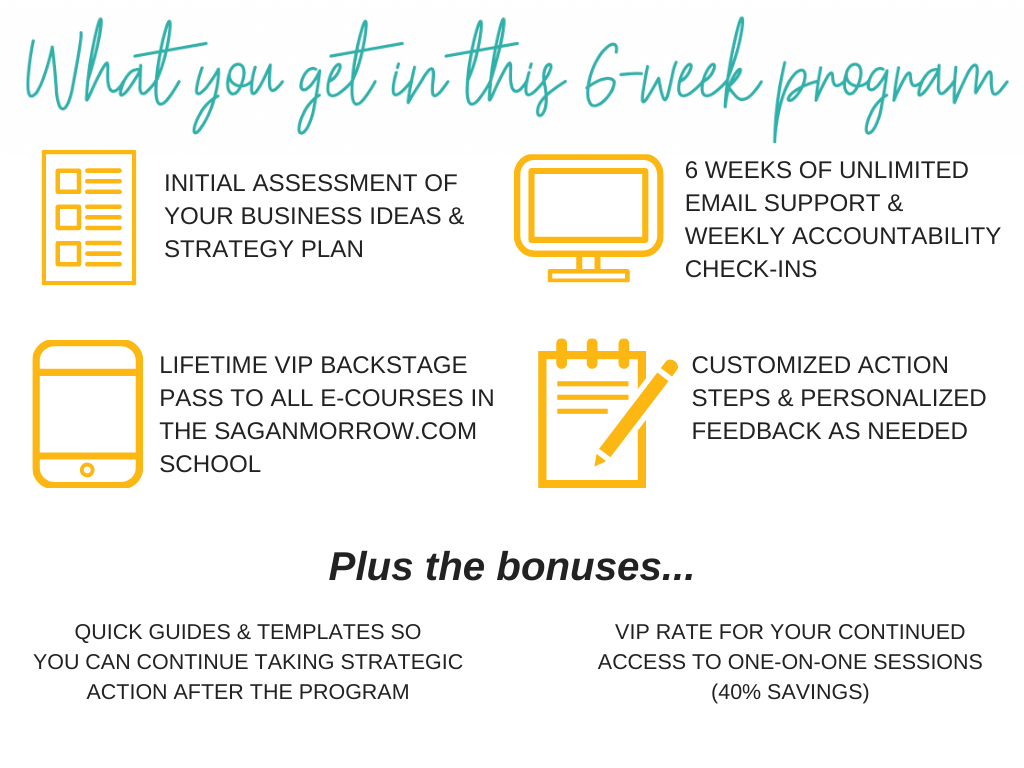 What you get…
Six weeks of unlimited email correspondence with Sagan ($1,500 value): 
Weekly accountability check-ins & customized action steps designed especially for YOU

Feedback on your work, brainstorming sessions, and in-depth email responses to any & all of your questions

Opportunity for video chats as needed
Done-for-you templates & quick guides ($150 value): 
Biz Bestie workbook & calendars

Quick guide for how to use what you learn about yourself in the productivity assessment/learning style to do everything in your business

Energy tracker 

Projects & goals overview template

Task list template

Flow chart for how to handle overwhelm

Quick guide for how to create your own action plan

Is Biz Bestie right for you?
Biz Bestie is for YOU if you are committed to your business, but you feel overwhelmed and you don't know how to make more progress. 
Clients who have had success with this program include multi-passionate creatives juggling a lot of projects, brand-new business owners, and people who have owned established businesses for 7+ years. My usual clients are freelance writers and editors, but sole proprietors in general can benefit from this program.
Join NOW, before the price increases by 20%
You save $400 when you enroll today!
"Biz Bestie gave me a direction laid out in front of me with clear steps to achieve. I definitely enjoyed how Sagan laid out the one page outline for me to accomplish in the week and I very much appreciate the approximation of the time that would be spent on each of the items. It helped me to set aside time without overwhelming myself, which helped me to not procrastinate." 

- Alaina
About your instructor...
Hi! I'm Sagan, a small business strategist and published author. With a decade of experience as a freelance writer, editor, and social media manager (in both part-time and full-time capacities, working with small businesses, non-profits, corporate entities, and individuals), I have provided supports and direction to dozens of successful students through my online courses.
My 10+ years of experience as a small business owner has included working full-time on my business as well as working part-time on it (while I was also working a stressful, intense 9 to 5 job)—so regardless of your situation, I have a real-life insight into some of the challenges you might be facing.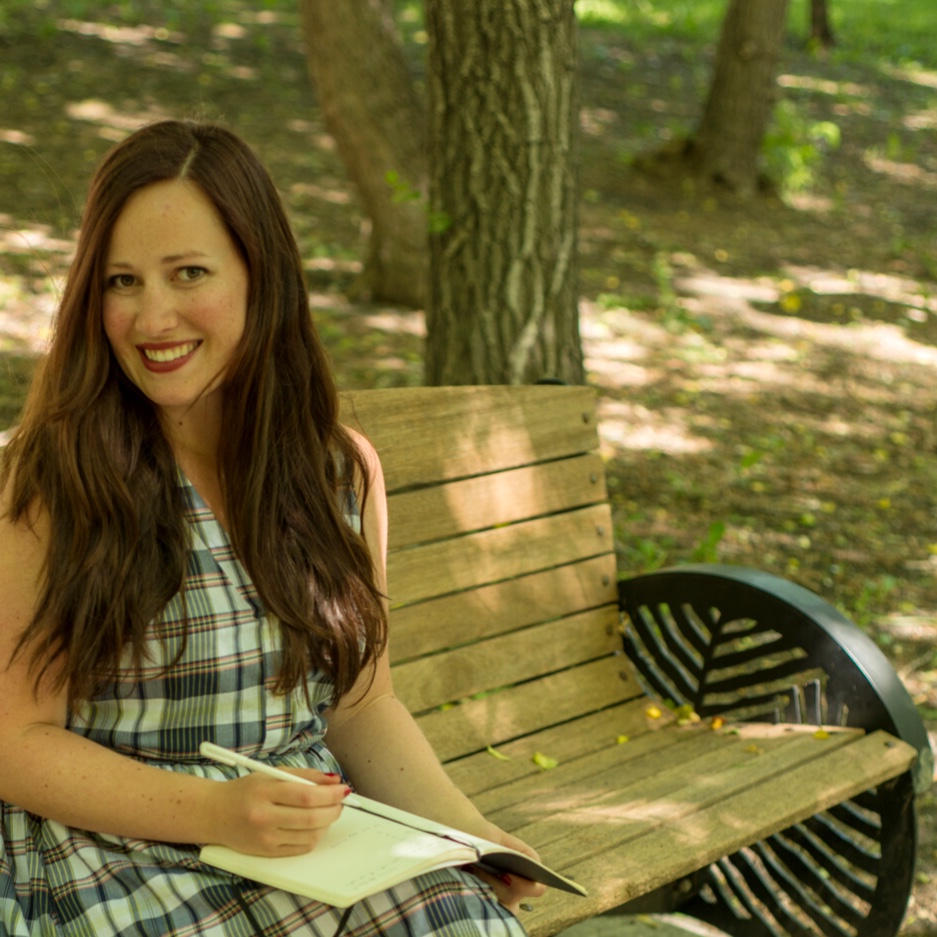 The first time I was a full-time freelancer many years ago, I made a lot of mistakes and failed to the point that I had to go back to working at a 9 to 5 job while I worked on my own business on the side... but I was able to learn a TON from that experience, so that the second time I became a full-time business owner (several years ago), I had a great deal of success!
It's not like I started out magically knowing everything about business—nope! What I teach you is stuff that really WORKS based on real-life testing. I've been where you are, struggling with your business, and I can definitely empathize with your situation.
Moreover, I do NOT believe there is any single right way to have a successful business—which means that I'll work with you to find unique, customized strategies and action steps that are right for YOU!
I'm not going to just feed you the exact same thing as a dozen other solopreneurs. You're guaranteed to get personalized recommendations and customized tips + ideas that make sense for who you are and what your unique business vision and goals entail.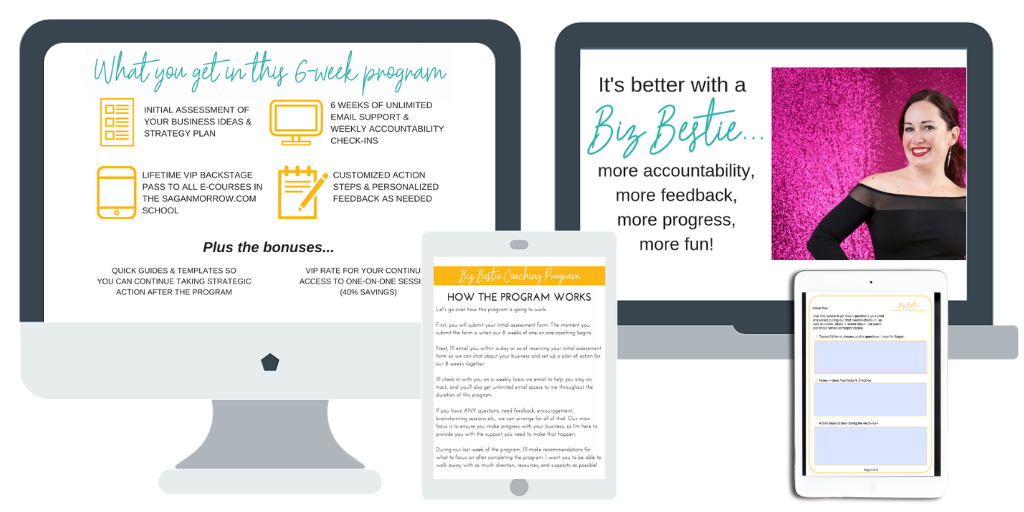 Frequently Asked Questions...
1) When does this program start and finish? 
The one-on-one coaching element begins when you submit your initial assessment, and ends 6 weeks later. 
2) What if I already purchased e-courses in the SaganMorrow.com School? 
That's awesome! In that case, you're probably ahead of the game with some knowledge and foundational pieces. We can work on more advanced elements of your business. 
3) How long do I get access to the SaganMorrow.com School e-courses? 
You get lifetime access to the e-courses in the SaganMorrow.com School—no need to rush through them during our time together.
4) Who is this program for?
This program is for freelancers of any kind, regardless of where you are at in your business journey. If you are struggling and you need some extra guidance and support, you're in the right place.
5) How much time is this program going to take me to do each week?
As much time as you want! I know that you're really busy—so because of that, we're going to outline a strategic plan of action that fits with YOUR lifestyle and schedule.
I recommend devoting at least 30 minutes/day to working on your business, but even if you can only do 15 minutes/day, we can still outline a plan of action to help you make progress on a time crunch.
6) How often will I hear from you? 
I'm available every Monday and Thursday to connect via email. You are welcome to email me at any other time, but I'll respond to all Biz Bestie emails on Mondays and Thursdays (and we'll do our accountability check-ins and action steps on Mondays, too).
"I really appreciated the insight and focus I got from Biz Bestie… I'm saving all of the emails! My business ideas and plans finally feel simplified now."

- Jessica
7) What if I want to connect with you face to face? 
Because Biz Bestie is all about ensuring that you take strategic action, emails are really the best way for us to communicate: you can refer back to the emails as needed to find the information that you need, and it gives you the opportunity to connect in your own time. 
However, if you want to do a video chat or two during our time together, we can certainly do that! Past clients have found that it's useful to discuss on video if they have a more in-depth question or want additional clarification.
8) How much is Biz Bestie?
Biz Bestie is valued at $3,000... BUT you can get it today for 50% off! Only for a limited time.
9) When do I get access to everything? 
You'll get access to all of the e-courses in the SaganMorrow.com School within the first week of joining Biz Bestie. Other resources (such as templates and flowcharts) will be released to you throughout our time together, and you'll also receive guidance on when to use which resources, based on your unique situation—so you don't need to go through everything all at once!
10) How long is this offer good until? 
This VIP chance to join Biz Bestie is only available for a LIMITED TIME. Price increases by 20% in just a few hours!
When you join Biz Bestie right now, you'll get 6 weeks of coaching, and you'll save $400. 
"I made immense progress thanks to Biz Bestie. I'm now at the point where I am comfortable making my plans each day and week and have a good idea of where to go from here. I'm more confident in myself and my own abilities, and I'm excited for the road ahead. Sagan's encouragement and guidance has led me to a clearer path for my business's future. 

I 100% recommend Biz Bestie to anyone who feels lost with their business, needs to regroup, or wants guidance and direction. This program will teach you the skills to enhance your understanding and relationship with your business. Sagan truly cares about your success and wants to see you thrive. Biz Bestie offers a jumping off point and walks beside you as you discover where to take your business… it lived up to and exceeded my expectations!"

- Richelle
Please note that space in this program is LIMITED.
Enroll now so you don't miss out!