Productivity plans, strategies, and systems—fully customized and done for you in a day

As a small business owner, you are busy and stressed!
Let me remove the pressure for you.
Within just one day, you'll receive fully customized productivity plans, strategies, and systems to make your business easier, more organized, and more efficient than ever before.
Hi! I'm Sagan—internationally board-certified Success Coach and anti-hustle Productivity Strategist. I've helped dozens of small business owners and solopreneurs like you to eliminate overwhelm, get your time back, streamline your systems, and remove the unnecessary busy work from your task list. 
No muss, no fuss... No more scrambling to meet deadlines, no more wondering "How am I EVER going to complete this task list?!", no more wishing you could create carbon copies of yourself to reduce the never-ending (and exhausting!) workload...
This is the luxury boutique productivity service you've been dreaming about, wrapped up in a fast turnaround VIP Day.
Because you—and your business—deserve it.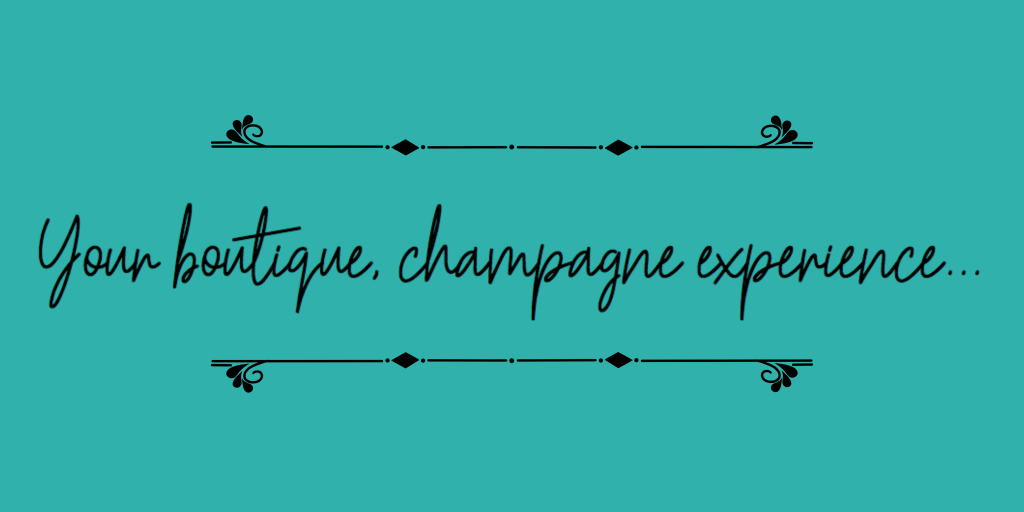 What to expect...
Step 1: Pre-work
You will complete a Welcome form & questionnaire so we can get a full background & comprehensive understanding about your business, values, and goals.
Step 2: Booking
We will schedule our VIP Day on the calendar at your convenience.
(Your VIP Day can take place as early as the next 1 - 2 weeks, subject to availability—That means that the sooner you secure your spot & complete your Welcome form, the earlier you'll be able to book your VIP Day and get to the front of the line!)
Step 3: VIP Day — Video call
On the day of, we will have a 90-minute virtual session together to discuss your business in further detail.
Step 4: VIP Day — Sit back & relax
You will carry on with your day (or sit back and relax!) while Sagan creates your customized productivity plans, strategies, and systems on her own. That's right—Luxe Productivity Services are done for you, so you don't need to stick around on a zoom call all day long.
Step 5: VIP Day — Unveiling of your brand-new productivity assets
At the end of the day, we will have a 45-minute wrap-up video call to go over your customized productivity plans, strategies, and systems... It's the big reveal of your brand-new productivity assets! At this point, you will receive all digital documents* so you can begin implementing everything immediately.
STEP 6: FOLLOW-UP SUPPORT
You get 30 days of email & Voxer (voice/text messaging) support after our VIP Day, in case you have any questions afterward or need additional support with implementation.
Plus, you also get a complimentary 60-minute follow-up call to be used within 90 days of our VIP Day to assess and pivot productivity strategies as needed.
*Please note that some documents may require additional time to finalize, in which case you can expect to receive them within 48 hours of our wrap-up meeting.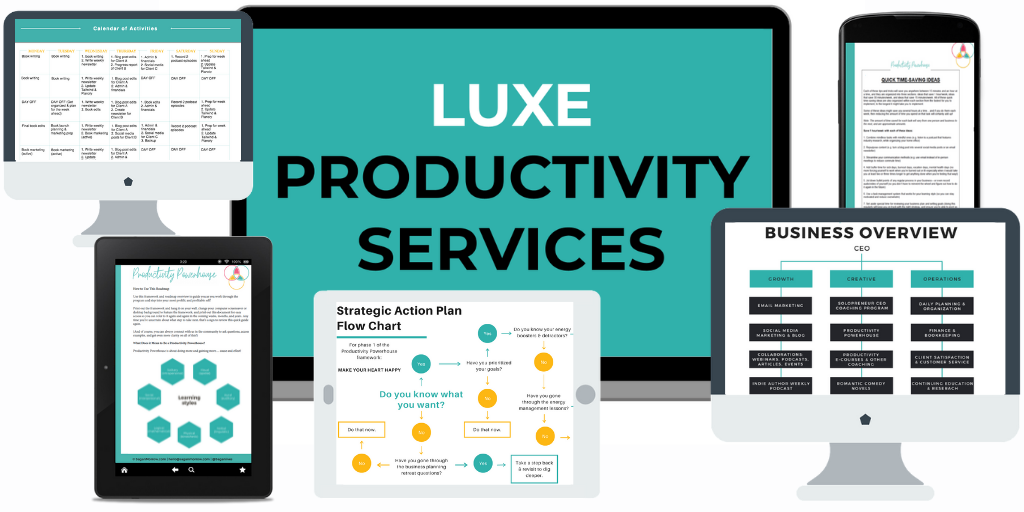 "Sagan always has such great ideas!! She has been such a blessing to our company. Sagan is consistent, reliable, and pleasant always! Thank you for doing a wonderful job—You are awesome!"

- Katherine, home-care agency President & CEO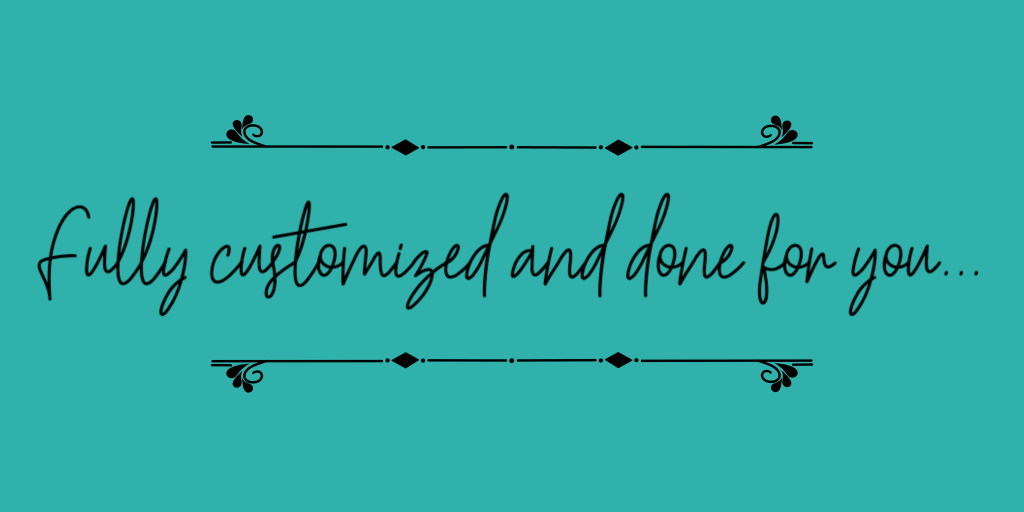 What you'll get...
These are the powerful productivity assets Sagan will create for you—You'll receive all of them by the end of our VIP Day: 
✔ Productivity magic audit & assessment of your current productivity standards (Pinpointing your business weak spots so we can strengthen them)
✔ Action plan for improving productivity (Grounded in our signature anti-hustle methodology so that it works FOR you & your business)
✔ Business departmental structure & sub-divisions (This reduces overwhelm, simplifies processes, and creates room for stress-free scalability as your business grows)
✔ Toggl time management setup & organization (You'll never again need to wonder where the time goes!)
✔ Guided questions & structure for conducting weekly audits (These prevent you from making big mistakes in your business—and enable you to track your incredible progress over time)
✔ Monthly performance reviews template (Yes, you can still use these even if you're a sole proprietor!)
✔ Decision-making matrix for connecting all projects & tasks back to your long-term goals & values (You're busy—It's time to get out of the cycle of constant decision-making. This lets your business make decisions FOR you)
✔ Outline of your documentation manual for tracking your business plan, policies, processes, and procedures (Think of this like your "business bible," guidebook, or roadmap, to easily organize & keep track of EVERYTHING in your business)
✔ 3-month sample schedule for achieving your goals (At-a-glance overview, breaking down larger projects into more manageable action steps to meet your business goals)
✔ Suggested content calendar for blog posts and/or social media (You'll get fresh ideas to create new content more easily)
✔ 30 days of email & Voxer (voice/text messaging) support with Sagan, following your receipt of the productivity assets (We'll answer any follow-up questions and provide guidance & clarification as needed while you're implementing the above custom-designed productivity materials)
✔ Complimentary 60-minute follow-up call for implementation assessment & pivoting strategies as needed (Must be used within 90 days of our VIP Day)
These are done-for-you productivity assets to streamline your systems and processes, and to help you more easily and comfortably manage your business...
...Even during busy, high-stress seasons.

Picture the day AFTER our VIP Day...
You wake up in the morning, knowing exactly what you need to work on in your business to achieve your goals...
You are no longer worried about missing deadlines or letting important tasks slipping through the cracks...
You understand exactly where your time is going, and you're no longer wasting hours every week on unnecessary "busy" tasks...
You don't feel so stressed and overwhelmed...
You are finally organized & focused, confident about your productivity & time management abilities, and know that your business is set up to fully support you & your goals.
Luxe Productivity "Done in a Day" Services are specially designed for small business owners and sole proprietors (including but not limited to freelancers, coaches, consultants, agencies, bricks-and-mortar businesses, etc).
About Sagan...
Sagan Morrow is an internationally board-certified Success Coach & anti-hustle Productivity Strategist with 10+ years of experience in business.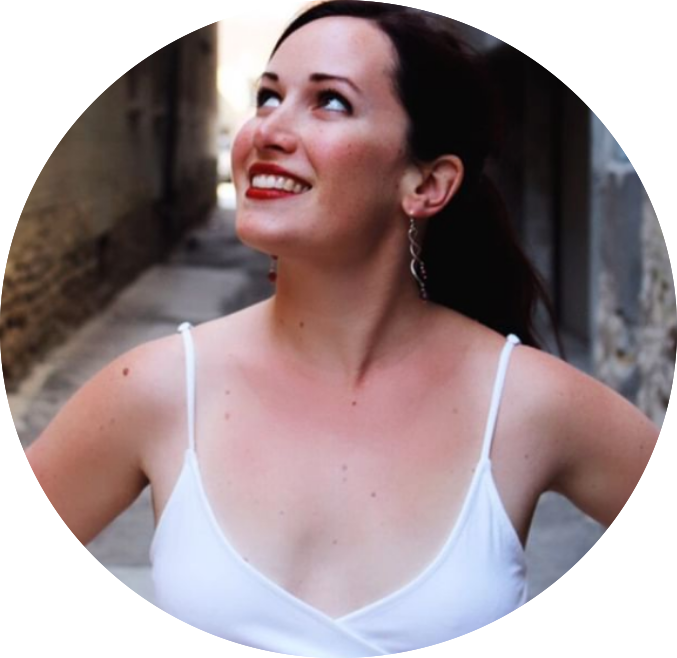 Sagan has worked with freelance writers and editors, brand strategists and business coaches, home-care agencies, realtors, florists, grocers, education specialists, bloggers, event managers, health centres, creative agencies, public relations firms, marketing consultants, and more. 
She is an alumnus of the Anti-Racism Leadership School, author of 10+ books, creator of 7+ online courses, and has facilitated sessions & workshops for groups such as Editors Canada, MeetEdgar, Volunteer Manitoba, So She Slays, Small Business BC, and more. She frequently appears as a guest expert on podcasts and has a demonstrated ability to adapt her unique productivity methodologies to a variety of different groups and individuals.
Click here to learn more about Sagan.
Wondering if Luxe Productivity Services is the right fit for you? 
Email hello@saganmorrow.com and let's chat!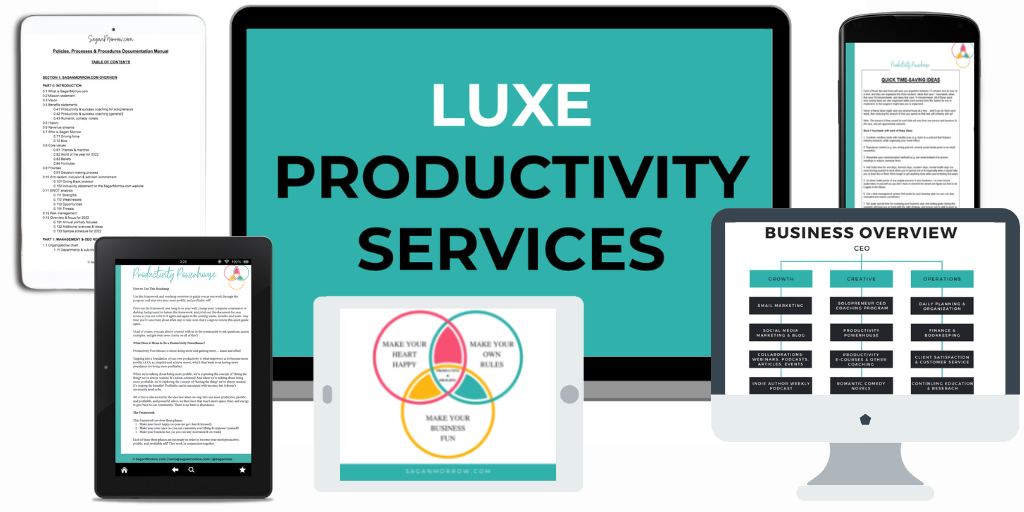 "Before working with Sagan, I spent the majority of my day putting out fires because I was behind on my tasks or I didn't have the time to see where my team was at on their tasks... only to realize they were behind as well. Then the client reached out wondering where their project was at and I had to tell them the bad news. Now, I am more proactive than reactive, and the majority of tasks are either ahead of schedule or right on time!

My team is working much more efficiently, now that I have a more productive plan that has us moving forward rather than in circles. Sagan's coaching has absolutely started me and my team down a better, more productive path!

I cannot tell you how amazing it is to actually 'shut off' from my workday and focus entirely on my family in the evenings. The productivity skills I learned from Sagan save me at least 6 hours every week... Not to mention the emotional benefit of closing out my work computer at the end of the day, with full satisfaction of everything I accomplished that day."

- Anabeth, Project Manager
Space is LIMITED... Only 3 spots currently available.
Book now to secure your VIP Day.
Terms & Conditions
The fine print & process:
The Welcome form & questionnaire are essential for providing Sagan with full details about your business in advance of our session. The more information Sagan has from you upfront, the better results you will get. Please set aside approximately 1 hour to complete this questionnaire.
After completing the Welcome form & questionnaire, you will receive an email from Sagan within 1 - 2 business days featuring her calendar of availability. We typically conduct our Luxe Productivity Services on Tuesdays & Thursdays, however accommodations can be made depending on your availability for our video call.
Please set aside up to 90 minutes at the beginning of the day (typically around 8:30am PT) and 45 minutes at the end of the day (typically around 3:30pm PT) so we can meet on our video chat. Accommodations can be made based on your timezone and schedule.
Depending on the level of detail you provide in the Welcome form & questionnaire, we may not need to use the full 90 minutes at the beginning of the day—In which case you get extra time to enjoy yourself while Sagan goes off to work on your business!

Some deliverables may vary, depending on your unique needs. Upon reviewing your Welcome form & questionnaire, Sagan will advise you as to whether we recommend changes to any of the above deliverables.

Some of the productivity plans, strategies, and systems may require additional time to finalize, in which case you can expect to receive them within the following 48 hours after our VIP Day.
Your VIP Day is $2,499 USD. Please note that this is non-refundable. You also get access to 30 days of email support with Sagan to answer any additional follow-up questions you may have and to ensure your full satisfaction!
---
Space is LIMITED... Only 3 spots currently available.
Book now to secure your VIP Day: