Accountability, guidance, support, and personalized advice for the overworked solopreneur
One-on-one coaching/consulting/mentorship for your solopreneur business...
...so you can overcome your sticky mindset blocks, escape the cycle of overwhelm, get personalized business feedback & a brainstorming sounding board, keep accountable with your goals, and ensure your business is more fully aligned with your lifestyle wants/needs:
LIMITED AVAILABILITY AT THIS PRICE POINT!
"[After our first session, my "aha" moment is] that the answers really start with me and my ability to set the direction of my business, and still feel that I am providing a valuable and vital service for customers!"

- Vicki, CPR/First Aid trainer 
"My family asked if I got my money's worth out of 1:1 coaching with Sagan—and I said, 'YES!' I'm so grateful I found Sagan. She's incredible!

Now I'm more confident and excited for the road ahead."

- Richelle, freelance editor
"Wow! I feel like my questions are so big in my brain, and then we talk about them and solve them in 3 minutes during a coaching call... It's so helpful. Sagan's next level-up!

Her coaching has been worth every penny!"

- CJ, pet photographer
"Thank you for your time, Sagan. I have loved setting myself and the business up for a great year!

I feel positive about the future...

...Now I've realized I CAN get myself organized. I can do this!"

- Linda, florist
Does this sound familiar? 
You get overwhelmed with your workload, so...

You try to "push through" but then imposter syndrome trips you up, and then...

The imposter syndrome morphs into perfectionism, which means...

You overload yourself with going WAY above and beyond on your projects because you feel like you're not doing a "good enough" job, and that leads you to...

Procrastinate on completing your now-unwieldy tasks/projects you created for yourself, and then...

You feel overwhelmed with your workload...

...and the cycle continues over, and over, and OVER again.
Is that your experience? 
Here's the good news: 
Overwhelm → imposter syndrome → perfectionism → overloading → procrastination → overwhelm
is CIRCULAR rather than LINEAR...
...which means that you (yes, you!) can manage it at any and every stage of the cycle much more easily to break FREE of that cycle!
Because it's a receptive cycle that continues recurring, we can actually tackle it from multiple points WITHIN the cycle — and it takes just one moment along the way to break free of the cycle. PLUS, when you approach it from a few different angles, you prevent yourself from getting sucked back in again... AND you make it so much easier to escape the cycle if you do happen to get sucked back in again!
This is exactly the type of thing that you and I can work through together in solopreneur coaching sessions.
In fact, in just ONE session, we can:
Pinpoint what's going on in your own cycle (it might look like the above, or yours might have different sticky points),

Address several key areas to break free of that cycle,

Identify practical action steps (often these are things you can implement IMMEDIATELY) to test out our hypothesis and escape the cycle

!
...and in future sessions, we can fine-tune this even further as we work on anything else in your business.
LIMITED AVAILABILITY AT THIS PRICE POINT!
"[On a coaching call] first Sagan listens (she's incredibly patient), and then she unpacks what's really behind your excuses, struggles and obstacles. She offers solutions and strategies.

And then she pushes you, gently, just past the point of your comfort zone, into what I like to call the achievement zone. This is where true progress and true growth occur.

Real success occurs when you expand your mind, push past your limitations and develop a mindset that failure is not an option, and this is what Sagan excels at bringing out in you."

- Michelle, sonographer & teacher
"Sagan is really good at working to understand your mindset so that she can give advice that's truly tailored to you and your experience.

I've never once felt negative pressure or dismissal from her—her suggestions might make me a little uncomfortable at times, but it's always in a good, just slightly beyond the comfort zone sort of way, not like she's throwing me into the deep end without a life vest.

Sagan also provides encouragement, reassurance, and commiseration, and she's full of practical tips, too."

- Toni, freelance editor
What to know before you hire a business coach...
Please note that the above video includes mentions of my Solopreneur CEO program, which is a more in-depth version of our solopreneur coaching sessions that includes *extra features* (such as email coaching in between sessions).
Please feel free to email hello[at]saganmorrow[dot]com if you have any questions about what type of solopreneur coaching is best for you!
Here are **just a few** examples of what my 1:1 clients experience and accomplish during our work together...
Overcome their internal obstacles that were holding them back (including but not limited to people-pleasing, imposter syndrome, self-doubt, perfectionism, insecurities, procrastination, overwhelm, shiny object distractions, fears of success and failure, worry and insecurities, shame, guilt, and self-judgment)
Develop intrapersonal skills and build self-honesty, self-trust, confidence, courage, self-kindness, and motivation.
Create goals & shift habits to align with their personal values and ideal lifestyle... and finally take ACTION on things they'd only been dreaming about for years (in a way that feels good for them — not scary!).
Reframe their perspective and approach — so the choices they make are genuinely enjoyable and fully supports their unique lifestyle wants/needs (and creates space for other factors they're experiencing, such as ADHD or anxiety).
 Dramatically improve their focus and clarity, get back their time and energy, and move forward on the goals that used to seem as though they'd only exist in the distant future.
STOP being mean to themselves (beating themselves up, judging themselves, feeling ashamed about their struggles, guilting themselves), and START being kind to themselves (changing their inner voice, creating space to be present for themselves, allowing themselves to make progress on their own terms and at their own pace, being more positive WITHOUT adopting a "toxic positivity" mindset)
 Step out of their comfort zone (safely) and do the scary thing (e.g. setting external and internal boundaries, increasing visibility, taking action on dreams, and more)
Feeling more free and fulfilled with their lives (so they can see just how capable they truly are, improve their confidence, increase their courage and energy, get back their time, prioritize their family and relationships, and enjoy the lifestyle they've been craving)
---
LIMITED AVAILABILITY AT THIS PRICE POINT!
"I am really proud of myself... This is stuff that I have avoided thinking about, let alone dealing with, for the better part of five years. I had to sit with a lot of uncomfortable feelings and fight a lot of avoidey/procrastinatory tendencies!

Thank you for your suggestions! I feel excited rather than anxious so that is already a step forward in and of itself!

I realized that I was trying to prove I was good at something/capable in situations where I'm often feeling overwhelmed and out of my depth (these are echoes of issues I've dealt with in the past and thought I had worked through)... So I'm pretty happy with the mental progress I've made here."

- Beth, caterer
"Working with Sagan was amazing!

In only one session [and less than 30 minutes], she helped me uncover what was really holding me back from procrastinating on certain things in my business and helped me shift my perspective and gain the confidence I needed to move forward.

Sagan does an amazing job of holding space and asking powerful questions to help guide you to a more empowered place.

I highly recommend working with Sagan!"

- Kim, brand strategist & business coach
---
About Your Coach
Hi! I'm Sagan Morrow (she/her), your anti-hustle Productivity Strategist, internationally board-certified Success & Life Coach, and internationally board-certified Practitioner of Emotional Freedom Techniques with 12+ years of experience in business (as a freelance writer & editor, blogger, author, and online course creator & instructor)—both as a solopreneur and as a business partner, in multi-passionate capacities.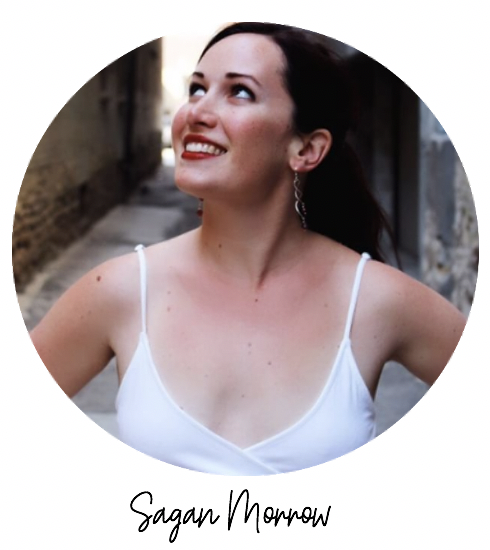 My specialty is working with solopreneurs, and I am particularly passionate about supporting solopreneurs because as a solopreneur, your work and your life are inherently linked. 
I have been teaching and coaching other entrepreneurs to get powerful results since 2016 through 8+ online courses, 100+ presentations (conference sessions, podcast interviews, workshops, etc), and 1:1 coaching (including one-time sessions and longer-term, ongoing sessions)
I have a background of professional experience in public relations, community leadership, fundraising & development, and coordinating & managing teams. I'm also an alumnus of the Anti-Racism Leadership School and am actively committed to doing lifelong work for a more equitable, diverse, inclusive world.
Whether you are just starting out as a solopreneur or you've been a business owner for years, I am here to help you in this 1:1 coaching capacity.
I am committed to your success, and after 5+ years of experience in coaching and teaching other solopreneurs, I know that you are 100% capable of getting the productivity results outlined above…
...It's yours for the taking. Are you ready?
---

"I feel like Sagan reaches into my soul, and always knows what I've been doing when I get myself stuck, and then knows just what to tell me to do to get unstuck.

Sagan helps you recognize what's really holding you back, gives you strategies for dealing with these obstacles and helps you to develop a strong mindset so that you can finally start to conquer your goals. She is a master at recognizing the true causes of my struggles and providing solutions to get me to move forward.

I have made more progress in 4 sessions with Sagan than I have in a year on my own. I highly recommend Sagan's coaching!"

- Michelle, sonographer & teacher
---
What you get:
60-minute 1:1 virtual video call, once each month for 6 months — Sagan will guide the session and coach you on any areas you want to work on, and/or any areas that she identifies as "sticky." (This is a hybrid of coaching, consulting, and mentoring so you get a well-rounded experience and get even better results, even faster.)
Lifetime access to the recording of the call for you to review and reflect upon as many times as you like. (Sagan will email this to you within 24 hours of our session.)
Brief recap email after each call. (Just the highlights, plus any action steps we discuss.)
---
Frequently Asked Questions
I'm in a different timezone than Sagan. What days/times does she do coaching sessions?
Sagan is based in Kamloops, Canada, but she has worked with 1:1 clients in multiple timezones and countries (including Australia, UK, and Japan).
Typically we do virtual coaching sessions Tuesday - Thursday, 9am PT - 4pm PT. However, if you are unavailable during that time, we'll find another day/time that suits your needs!
Contact hello[at]saganmorrow[dot]com if you'd like to discuss timing prior to purchasing your session.
What if I want coaching for my personal life (not just my solopreneur business)?
We can absolutely do that! Sagan is an internationally board-certified Life & Success Coach and she is available to work with you on your personal life. 
As a solopreneur, there's a LOT of overlap between your life and business. We can incorporate as much life coaching, mindset work, etc as needed for your unique situation.
You can also book a coaching call *specifically* for life coaching HERE.
What is Sagan's scope of practice?
Although Sagan is an internationally board-certified Success & Life Coach, she is not a mental health professional. Coaching can be therapeutic, but it is not therapy.
Sagan is unable to diagnose or treat mental health conditions. Instead, we focus on practical action steps, goal setting and achieving, mindset shifts, behavioural change, self-discovery, and building your intrapersonal skills.
If you are uncertain as to whether coaching can help you, please contact hello[at]saganmorrow[dot]com — we'll advise you if it is within Sagan's scope of practice!
What are Sagan's values?
Black lives matter. Indigenous lives matter. Trans lives matter. Sagan is actively committed to social justice, anti-racism, inclusivity, accessibility, diversity, and equity, and she is an alumnus of the Anti-Racism Leadership School. She is sex-positive, believes in a woman's right to choose, and supports mask mandates.
Sagan donates monthly to many important causes that may also be near & dear to your heart, including: Harvest Manitoba (ensuring no Manitoban goes hungry), Main Street Project (serving the needs of Winnipeg's most vulnerable residents), Nature Conservancy of Canada (national land conservation), Indian Residential School Survivors Society (mental health & emotional support for residential school survivors), and Women's Health Clinic (feminist community health clinic), among others.
Is this righ

t for me?
These coaching sessions are PERFECT for you if you are an overworked solopreneur, if you're tired of "getting in your own way," if you want to develop a better relationship with yourself and your business, if you don't feel like you have a good handle on your unique strengths or what you want from your life/business, if you'd love to up-level your productivity skills, AND/OR if you are in need of guidance, accountability, and support.
You are willing to do the work & eager to level up ♥
What if I want coaching in between sessions, or a different package than you've offered on this page?
Feel free to reach out with your inquiry! We may be able to design a custom package or session based on your needs.
A couple other options...
Solopreneur CEO is the high-ticket, much more in-depth version of this solopreneur coaching service. If you want unlimited email-based coaching in between calls, and if you want access to our entire product suite of solopreneur e-courses and resources, that's a great option for you: Click HERE for more details.
We also offer Day of Voxer coaching add-ons, in which Sagan can be a "Coach in your pocket" for a full day (as often as you like!): Click HERE for more details.
What if I'm still not sure if one-on-one coaching with Sagan is right for me?
We're happy to chat about whether it's the right fit!
Email hello@saganmorrow.com to let us know what you're hoping to get from our one-on-one session(s), and we'll let you know whether it's a good fit for you.
We can also arrange for a brief 15-minute video chat if you'd prefer to discuss face-to-face.
What is your refund policy?
We typically don't do refunds, and here's why: If you are dissatisfied with your experience, then *giving you a refund* will not solve the initial problem you had when you first came to Sagan for help. 
Sagan is committed to your success and your complete satisfaction with your coaching experience. If you are dissatisfied in any way, please let us know so we can discuss it, work through it, and ensure that you walk away fully satisfied.
(ALSO: We have yet to have a single person walk away dissatisfied with their coaching experience. Sagan doesn't intend for you to be the first one!)
I have another question you didn't answer here...
No problem! Contact hello@saganmorrow.com and let's chat. We're happy to help you make the best decision for YOU.
"Sagan helped me with some general life coaching when I realized that something that holds me back in my business—a fear of annoying people—also holds me back in many other aspects of my life in general. I knew this was something I struggled with, but I didn't realize how much it had permeated my entire life.

She pointed out some mindset shifts I could make and also asked questions to help me rethink the way I think about reaching out to people, asking for help, and asking for what I want.

Sagan made me feel like my goals for my business are possible, and not in a fakey "anything is possible if you just believe!" way but in a "we can figure out a way to make this work" way.

Her combination of anti-hustle guru, life coach, productivity strategist, mentor, and solopreneur herself is the perfect coaching combination for people with solo or micro businesses."

- Toni, freelance editor
Or contact Sagan at hello[at]saganmorrow[dot]com for a custom package.
IMPORTANT:

Limited spots are available. 
One-on-one coaching spots are available for just a few more clients at the current rate... Book your session now before it gets scooped up by someone else and the price increases!
---
Terms & Conditions
1. You must complete the initial assessment welcome form BEFORE we book our first one-on-one coaching call. (Upon completing this form, Sagan will be in touch to schedule all of our sessions.)
2. Your coaching call will be approximately sixty (60) minutes long.
3. We understand that sometimes unexpected things come up! However, in the case of needing to reschedule any sessions, please do this ASAP so we can make adjustments accordingly.
4. In the case of Sagan arriving late to a session, you will receive a corresponding extra amount of coaching time from her to accommodate.
5. In the case of you arriving late to a session, it may cut into your session time (and extra amount of coaching may not be provided).
6. Arriving more than ten (10) minutes late to your session may be counted as a no-show to that session.
7. Coaching calls are non-refundable. However, we are committed to your satisfaction! If you are dissatisfied with your experience, please share your concerns with Sagan so we can make sure you are fully satisfied with this experience.
Email hello@saganmorrow.com with any questions or concerns.