One-on-one anti-hustle productivity, life & success coaching
with Sagan Morrow
...because there are enough external obstacles to deal with in life & business, WITHOUT you being your own 

bottleneck!
Book your call today for a 60-minute, 1:1 coaching session where we'll pinpoint your own internal "bottlenecks" and mindset blocks, so you stop holding yourself back in life and/or business!
Perfect for: Fine-tuning areas you want to improve ⭐ Overcoming your struggles & frustrations ⭐ Reconnecting with what you truly want from life ⭐ Getting clarity & de-stressing ⭐ Doing the deep inner work ⭐ Personal satisfaction & fulfilment ⭐ Professional excellence ⭐ Developing deeper self-trust, self-honesty, self-confidence ⭐ Experiencing powerful, transformational mindset shifts
"Thank you for your time, Sagan. I have loved setting myself and the business up for a great year!

I feel positive about the future—now I've realized I CAN get myself organized. I can do this!"

- Linda, florist
"My family asked if I got my money's worth out of 1:1 coaching with Sagan—and I said, 'YES!' I'm so grateful I found Sagan. She's incredible! Now I'm more confident and excited for the road ahead.

Thank you for everything!"

- Richelle, freelance editor
"Wow! I feel like my questions are so big in my brain, and then we talk about them and solve them in 3 minutes during a coaching call... It's so helpful. Sagan's next level-up!

Her coaching has been worth every penny!"

- CJ, pet photographer
Here are **just a few** examples of what my 1:1 clients experience and accomplish during our work together...
(Some of these can happen in a single call; others may take several sessions)
 Overcoming procrastination, overwhelm, perfectionism, information-gathering, tech frustrations, imposter syndrome, people-pleasing, shiny object distractions, and insecurities.
 Building self-honesty, self-trust, confidence, courage, self-kindness, and motivation.
 Creating goals & upgrading their schedules to align with their personal values and ideal lifestyle.
 Restructuring their business model so they genuinely enjoy every aspect of it and so that it fully supports their unique lifestyle wants/needs (and creates space for other factors they're experiencing, such as ADHD or anxiety).
 Dramatically improve their focus and clarity, get back their time and energy, and move forward on the goals that used to seem as though they'd only exist in the distant future.
 STOPPED being mean to themselves (beating themselves up, judging themselves & feeling ashamed about their business struggles, guilting themselves), and STARTED being kind to themselves (changed their inner voice, created space to be present for themselves, allowed themselves to make progress on their own terms and at their own pace, began being more positive WITHOUT adopting a "toxic positivity" mindset)
 Finally take ACTION on things they'd only been dreaming about for years (and in a way that feels good for them — not scary!)
 Stepped out of their comfort zone and did the scary thing (e.g. setting boundaries with clients/customers and friends/family, asking for testimonials, up-levelling their marketing, launching services & products, and more)
 Overcome their internal obstacles that were holding them back from making progress (including but not limited to imposter syndrome, self-doubt, perfectionism, insecurities, procrastination, overwhelm, shiny objects, tech frustrations, information-gathering, being stuck in learner mode, being mean to themselves, fears of success and failure, worry and anxiety)
 Feeling more free, fulfilled, and happy with their businesses and lifestyle (so they can see just how capable they truly are, improve their confidence, increase their courage and energy, get back their time, prioritize their family & relationships, and enjoy the lifestyle business they've been craving)
---
"[On a coaching call] first Sagan listens (she's incredibly patient), and then she unpacks what's really behind your excuses, struggles and obstacles. She offers solutions and strategies.

And then she pushes you, gently, just past the point of your comfort zone, into what I like to call the achievement zone. This is where true progress and true growth occur.

Real success occurs when you expand your mind, push past your limitations and develop a mindset that failure is not an option, and this is what Sagan excels at bringing out in you."

- Michelle, sonographer & teacher
"Sagan is really good at working to understand your mindset so that she can give advice that's truly tailored to you and your experience.

I've never once felt negative pressure or dismissal from her—her suggestions might make me a little uncomfortable at times, but it's always in a good, just slightly beyond the comfort zone sort of way, not like she's throwing me into the deep end without a life vest.

Sagan also provides encouragement, reassurance, and commiseration, and she's full of practical tips, too."

- Toni, freelance editor
---
IMPORTANT:

Limited spots are available. 
There are currently only one-on-one coaching spots available a few clients... so grab yours now before they get scooped up by someone else!
---
Here are a few examples of transformations that other clients—just like you—have enjoyed, as a result of my coaching & productivity teachings...
 Pet photographer CJ had powerful breakthroughs and answers to the *big questions* in his head within just 3 minutes on our call
  Artist Jessica was able to finally make progress on the idea she'd been dreaming about for 15 years
 Editor Toni eliminated morning procrastination, created a productive (burnout-free!) 4-day workweek, shifted out of a scarcity mindset, and overcame guilt around "not working enough"
  Copywriter Melanie completely changed her mindset about her business, and was able to easily pivot in business, identify the right tasks to focus on, and move forward with confidence & purpose
  Sonographer and teacher Michelle got more done with her side hustle in 2 months — after just 4 sessions together — than she had in the previous year on her own (without "working harder")
  Freelance editor Richelle mapped out a clear marketing & business plan, set up her business for success, dramatically increased her confidence, and started having fun marketing & pitching clients—even as an introvert
  Brand strategist Kim released procrastination & gained the courage to keep moving forward with her business... in just 20 minutes
  Florist Linda actually started enjoying business planning (for the first time ever!), and got back control of her time—on her own terms
---
Those clients all face their own unique struggles—busy parents with small children, side hustlers juggling chaotic full-time jobs, brand-new business owners dealing with ADHD or anxiety, established business owners frustrated with lack of progress, and the exhaustion of running a business during a pandemic—and they have STILL achieved all of the above, and more.
That's because the way I work with you is designed for your unique situation: all of my coaching methods are adapted to your personality, learning style, and business model (if you're a business owner!), to ensure your success in personal and professional excellence...
...so you get to enjoy YOUR definition of success.
---
"I am really proud of myself... This is stuff that I have avoided thinking about, let alone dealing with, for the better part of five years. I had to sit with a lot of uncomfortable feelings and fight a lot of avoidey/procrastinatory tendencies!

Thank you for your suggestions! I feel excited rather than anxious so that is already a step forward in and of itself!

I realized that I was trying to prove I was good at something/capable in situations where I'm often feeling overwhelmed and out of my depth (these are echoes of issues I've dealt with in the past and thought I had worked through)... So I'm pretty happy with the mental progress I've made here."

- Beth, caterer
"Working with Sagan was amazing!

In only one session [and less than 30 minutes], she helped me uncover what was really holding me back from procrastinating on certain things in my business and helped me shift my perspective and gain the confidence I needed to move forward.

Sagan does an amazing job of holding space and asking powerful questions to help guide you to a more empowered place.

I highly recommend working with Sagan!"

- Kim, brand strategist & business coach
---
About Your Coach
Hi! I'm Sagan Morrow (she/her), your anti-hustle Productivity Strategist, internationally board-certified Success & Life Coach, and internationally board-certified Practitioner of Emotional Freedom Techniques with 10+ years of experience in business (as a freelance writer & editor, blogger, author, and online course creator & instructor)—both as a solopreneur and as a business partner, in multi-passionate capacities.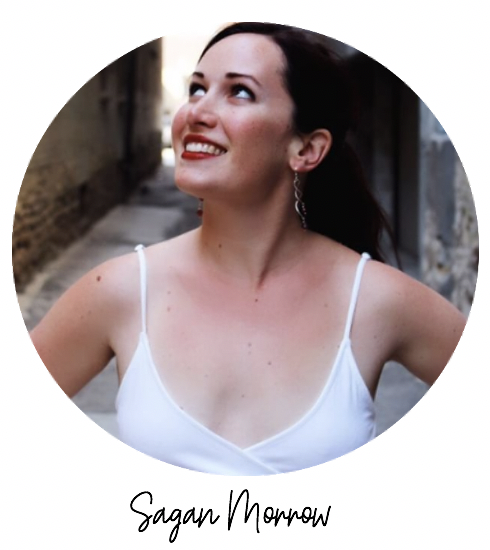 My specialty is working with solopreneurs, and I am particularly passionate about supporting solopreneurs because as a solopreneur, your work and your life are inherently linked. I love to fuse business mentorship and consulting with life and success coaching for solopreneurs so that you can have a robust, well-rounded experience that supports you fully in both your professional AND your personal life.
I have been teaching and coaching other entrepreneurs to get powerful results since 2016 through 8+ online courses, 100+ presentations (conference sessions, podcast interviews, workshops, etc), and 1:1 coaching (including one-time sessions and longer-term, ongoing sessions)
I have a background of professional experience in public relations, community leadership, fundraising & development, and coordinating & managing teams. I'm also an alumnus of the Anti-Racism Leadership School and am actively committed to doing lifelong work for a more equitable, diverse, inclusive world.
Whether you want guidance and support in either your personal life or your professional life — or both! — I am here to help you in this 1:1 coaching capacity.
I am committed to your success, and after 5+ years of experience in coaching and teaching other solopreneurs, I know that you are 100% capable of getting the productivity results outlined above…
...It's yours for the taking. Are you ready?
---

"I feel like Sagan reaches into my soul, and always knows what I've been doing when I get myself stuck, and then knows just what to tell me to do to get unstuck.

Sagan helps you recognize what's really holding you back, gives you strategies for dealing with these obstacles and helps you to develop a strong mindset so that you can finally start to conquer your goals. She is a master at recognizing the true causes of my struggles and providing solutions to get me to move forward.

I have made more progress in 4 sessions with Sagan than I have in a year on my own. I highly recommend Sagan's coaching!"

- Michelle, sonographer & teacher
---
What you get:
 60-minute 1:1 coaching call (we do this virtually, via video) — Sagan will guide the session and coach you on any areas you want to work on
Recording of the call
Customized thought exercises, self-coaching practices, and/or EFT tapping sessions (optional — as needed) to support you after the session
(Please note that while we can cover A LOT during our calls, we might not have time to get to everything! That's why you'll also complete a pre-session welcome form to provide background on you and your situation: Sagan can use this information to plan ahead and be best prepared for getting your best, fastest results)
---
Session Types
Not sure what area you want to focus on for your 60-minute session? Here are a couple ideas...
60-minute Superpower Session
 Unpacking your current frustrations and struggles.
 Unlocking and tapping into your unique superpower(s) and hidden strengths.
 Identifying practical, strategic actions you can take to make the best use of your superpower (so it STOPS holding you back in life or business)
When we tap into your unique superpower(s), here's what can happen...
You stop feeling so frustrated, overwhelmed, and stuck.

You start to see (with so much more clarity!) how you can move forward and make progress with ease.

Your approach and perspective can radically change.

The actions you take are highly strategic and based on YOUR unique superpowers and personality — which means that they're 10x more fun, and 10x easier, to finally *do*.

Your confidence improves by leaps and bounds, you understand yourself on a deeper level, and you appreciate what you bring to the world with more compassion and kindness.
60-minute Goal-setting Session
 Breakthrough on long-term life and/or business goals and dreams.
 Defining vision and values with clarity and focus.
 Refresh on your strategic action plan to achieve your true goals faster, more enjoyably, and more easily than ever before.
When we get clarity & focus on your goals, here's what can happen...
You stop feeling scattered, overloaded, and distracted by #AllTheThings.

You start to understand how all the moving pieces of your dreams and goals fit together and compliment one another.

Your everyday actions are all aligned to your longer-term goals.

You cut away all the unnecessary "busy work" getting in the way of your goals.

You begin making more progress, faster, on the projects that used to always feel like something you might work on in the distant future.
...Or we can focus on anything else you'd like support working through!
---
Frequently Asked Questions
I'm in a different timezone than Sagan. What days/times does she do coaching sessions?
Sagan is based in Kamloops, Canada, but she has worked with 1:1 clients in multiple timezones and countries (including Australia, UK, and Japan).
Typically we do coaching sessions Tuesday - Thursday, 9am PT - 4pm PT. However, if you are unavailable during that time, we'll find another day/time that suits your needs! 
Is this ONLY for business stuff and solopreneurs?
Nope! Although Sagan specializes in working with solopreneurs, she is certified as a Life Coach and is available to work with you on your personal life.
(In fact, she often incorporates life coaching into her sessions with solopreneurs.)
What are Sagan's values?
Black lives matter. Indigenous lives matter. Trans lives matter. Sagan is actively committed to social justice, anti-racism, inclusivity, accessibility, diversity, and equity, and she is enrolled in the Anti-Racism Leadership School. She is sex-positive, believes in a woman's right to choose, and supports mask mandates.
Sagan donates monthly to many important causes that may also be near & dear to your heart, including: Harvest Manitoba (ensuring no Manitoban goes hungry), Main Street Project (serving the needs of Winnipeg's most vulnerable residents), Nature Conservancy of Canada (national land conservation), Indian Residential School Survivors Society (mental health & emotional support for residential school survivors), and Women's Health Clinic (feminist community health clinic), among others.
Can I book more than one session?
Yes! We can continue booking as many sessions as you like. Booking a single session first is a great way to make sure our personalities are a good fit, and we can discuss a session schedule at that point.
Is this right for me?
These coaching sessions are PERFECT for you if you are overworked & overwhelmed, if you want to increase your success & productivity the anti-hustle way, and/or if you are in need of guidance & support—in your professional life OR your personal life. You are willing to do the work & eager to level up ♥
What if I'm still not sure if one-on-one coaching with Sagan is right for me?
We're happy to chat about whether it's the right fit!
Email hello@saganmorrow.com to let us know what you're hoping to get from our one-on-one session(s), and we'll let you know whether it's a good fit for you.
What is your refund policy?
I don't do refunds, and here's why: If you are dissatisfied with your experience, then *giving you a refund* will not solve the initial problem you had when you first came to me for help. 
I am committed to your success and your complete satisfaction with your coaching experience. If you are dissatisfied in any way, please let me know so we can discuss it, work through it, and ensure that you walk away fully satisfied. 
I have another question you didn't answer here...
No problem! Contact hello@saganmorrow.com and let's chat. I'm happy to help you make the best decision for YOU.
---
Just a few topic areas of focus that can we achieve together during your one-on-one life & success coaching sessions…
 Unpack your internal struggles and blocks, including but not limited to perfectionism, imposter syndrome, people-pleasing, overwhelm, and procrastination — so that we'll identify the root issues and actual SOLUTIONS to those frustrations.
 Time and energy management methods for your unique personality and lifestyle needs.
 Guide you through building your self-trust and confidence.
 Goal setting, action planning, and productivity strategy to achieve your dreams.
 Transformational tapping and somatic techniques you can use independently for ongoing support.
 Brainstorming & designing your business to accommodate for 3-day weekends every week (or any kind of schedule you desire)
 Pep talks, accountability, motivation, and hybrid coaching/consulting to jumpstart your (anti-hustle!) productivity skills
---
"Sagan helped me with some general life coaching when I realized that something that holds me back in my business—a fear of annoying people—also holds me back in many other aspects of my life in general. I knew this was something I struggled with, but I didn't realize how much it had permeated my entire life.

She pointed out some mindset shifts I could make and also asked questions to help me rethink the way I think about reaching out to people, asking for help, and asking for what I want.

Sagan made me feel like my goals for my business are possible, and not in a fakey "anything is possible if you just believe!" way but in a "we can figure out a way to make this work" way.

Her combination of anti-hustle guru, life coach, productivity strategist, mentor, and solopreneur herself is the perfect business coaching combination for people with solo or micro businesses."

- Toni, freelance editor
IMPORTANT:

Limited spots are available. 
There are only one-on-one coaching spots currently available for a few more clients... so grab yours now before they get scooped up by someone else!
---
Terms & Conditions
1. You must complete the initial assessment welcome form BEFORE we book our first one-on-one coaching call. (Upon completing this form, Sagan will be in touch to arrange an appointment time with you.)
2. Your coaching call will be approximately one (1) hour long.
3. Your one-on-one coaching call(s) must be booked within six (6) months of purchase, or you may forfeit access to them.
4. We understand that sometimes unexpected things come up! However, in the case of needing to reschedule any sessions, please do this ASAP so we can make adjustments accordingly.
5. In the case of Sagan arriving late to a session, you will receive a corresponding extra amount of coaching time from her to accommodate.
6. In the case of you arriving late to a session, it may cut into your session time (and extra amount of coaching may not be provided).
7. Arriving more than ten (10) minutes late to your session may be counted as a no-show to that session.
8. Coaching calls are non-refundable. However, we are committed to your satisfaction! If you are dissatisfied with your experience, please share your concerns with Sagan so we can make sure you are fully satisfied with this experience.
Email hello@saganmorrow.com with any questions or concerns.