You know that clients = income with your freelance business. But the idea of pitching clients? Eeek! That send you running in the other direction.
What if landing your first (and subsequent!) client didn't have to be so scary?
What if you could pitch the right clients—and with confidence?
Here's the thing: you NEED clients if you want your business to bring in any money.
It's that simple.
No clients, no income.
It doesn't matter how awesome your skillset is: if you don't have the ability to market yourself well, then you're going to get lost in the noise.
After all, your clients aren't going to magically appear out of thin air! You have to put in the work to find them.
But it doesn't need to be an intimidating process.
(Really!)
You can land your first client, and your next 5, 10, 20+ clients, with confidence and without fear, when you know HOW to reach out and pitch them.
Pitching Clients 101 teaches you how to do exactly that.
This program will enable you to FINALLY land your first client… and you can use the strategies in Pitching Clients 101 to reach out to and pitch future clients again and again.
…which also means you'll bring in a steady income for your business!
Pitching clients leads to getting hired to work on projects.
Working on projects leads to making money from your awesome freelancing skills.
And as you bring in more and more of an income, you'll have the ability to…
Quit your day job
Go on that vacation you've always wanted
Save money for a house
Relieve the financial burden from your spouse
Give back to the community and donate to causes you care about
…or whatever else you'd love to do in life!
It all begins with the right pitch — and we're here to help you with that.
---
About Your Instructor…
Hi! I'm Sagan, and I have 10 years of experience as a small business owner.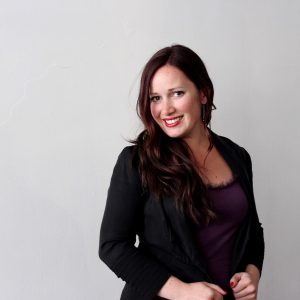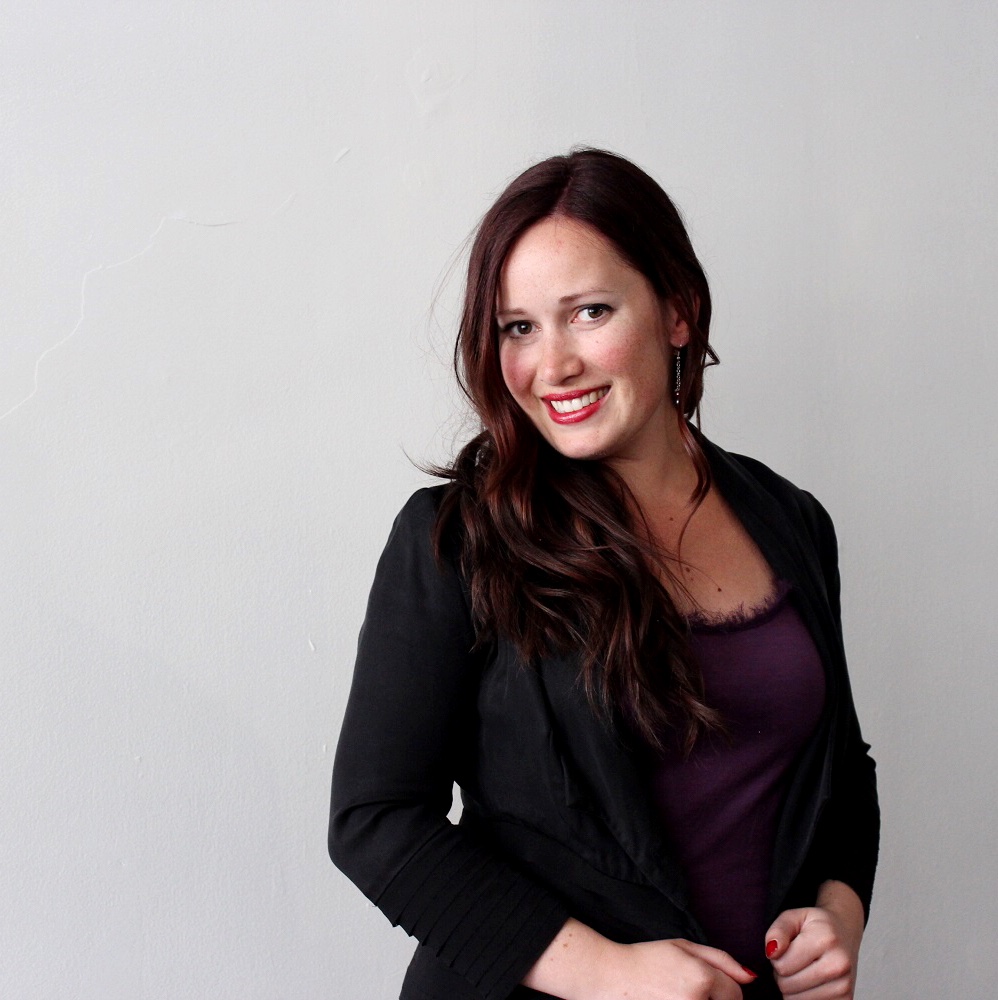 Over the years, I've had a variety of different businesses: nutrition consulting, digital marketing/communications education agency,  and freelance writing/editing/social media management.
…Which means I've had to work at finding new clients again and again over the years!
To be honest, I'm a huge introvert. I'm not a natural at selling. In fact, I don't LIKE being salesy.
However, I've gotten pretty good at getting clients over the years… and I've discovered ways that work well for me (yes, even as an introvert!).
You don't need to be salesy or extroverted to pitch clients with confidence! You just need the right strategies and tried-and-true methods to help you out. That's exactly what you'll get in Pitching Clients 101.
"Sagan is really engaging! She has an impressive screen presence and speaks clearly and succinctly. Sagan has plenty of personality, but it doesn't distract from her points. She highlights what's important without overdoing it and shares concrete information. Sagan has a supportive, inspiring vibe, and she's proven that she has great value in her e-courses!"

– Alyssa
Wouldn't it be nice to approach clients stress-free and with a concrete strategy in place for landing that contract?
Yeah it would!
If you're just starting your freelance business and you…
Feel awkward, uncomfortable, or intimidated by the idea of pitching clients
Hate feeling "pushy" or "salesy" when you pitch
Don't know how to find the right client for your unique business
Have no idea what language to use when approaching potential clients
Want a confidence boost + practical tips for pitching without the fear
…then Pitching Clients 101 is the PERFECT fit for you!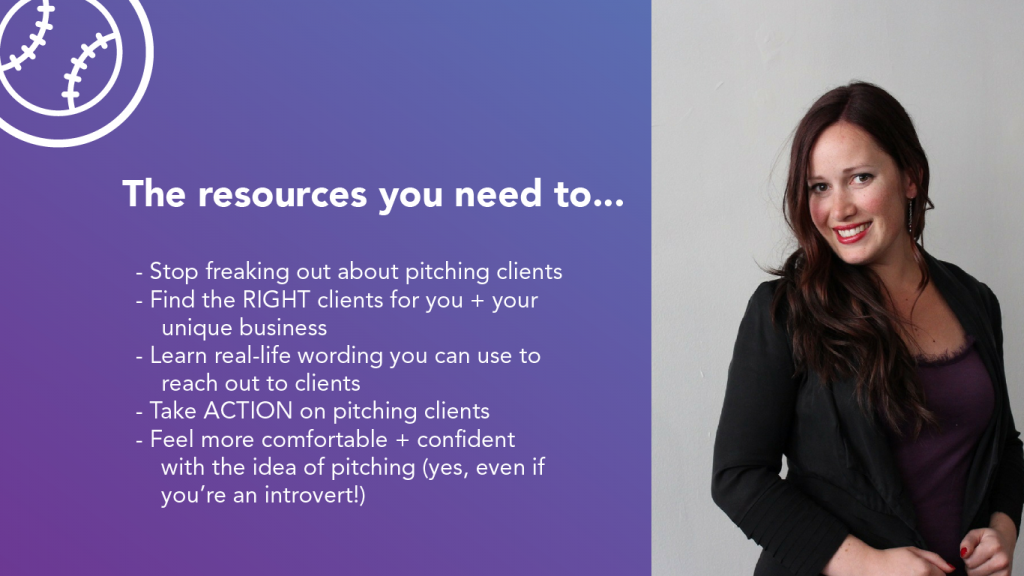 Pitching clients for the first time doesn't have to be scary.
When you have the tips, tools, and templates to do it right, you can feel confident about bringing in a real income for your business.
Modules & Course Material
Module 0: Welcome

Introduction to this e-course
Introduction to your instructor

Module 1: Identify your ideal client

Lesson 1: How to identify your ideal client

Lesson 2: Understanding yourself & your business better

Lesson 3: Understanding your ideal client better

Lesson 4: ABC culture model

Cheat sheet: Ideas for what to focus on during this process

Worksheet: Create your ideal client profile

Module 2: Create your prospect directory

Lesson 1: 5 steps to create your client directory
Lesson 2: 10 points to include in your client directory
Lesson 3: How to find & compile your prospect list
Lesson 4: How to build a sales pipeline
Template: Prospect directory spreadsheet
Cheatsheet: How to put together your client directory
Spreadsheet: Opportunity checklist

Module 3: Define your brand's voice

Lesson 1: Why your brand's voice matters
Lesson 2: How to construct your brand's voice
Lesson 3: 5 communication tips
Worksheet: How to choose the right words/phrases for you

Module 4: Prepare for the pitch

Lesson 1: 10 things to know before you pitch clients
Lesson 2: Common questions clients ask & how to respond
Lesson 3: What to tell clients when you don't have much experience
Lesson 4: Getting past the fear
Worksheet: Your answers to common client questions

Module 5: Make the pitch

Lesson 1: From marketing to pitching, 3 ways to pitch clients
Lesson 2: Email pitch formula
Lesson 3: In-person networking tips
Lesson 4: 4 stages of the pitch meeting
Lesson 5: Your pitching plan of action
Cheat sheet: 3 ways to connect with prospects at networking events
Cheat sheet: Preparing for pitch meetings
Worksheet: How to craft your pitch

Module 6: After the pitch

Lesson 1: Best practices for following up with clients after making the pitch

Lesson 2: Why clients sometimes say "no"
Lesson 3: What to do if a client says "no"
Lesson 4: Where to go from here
Worksheet: Assessment of what happened & why a client said "no"
"Sagan's helped me not just with how to find clients, but what to do once you have them!"

– Melanie
Frequently Asked Questions…
1) What if I already have a few clients, but still need help with pitching and marketing?
You're in luck! Pitching Clients 101 will help you beyond landing an initial client, because you can use these strategies again and again, no matter where you're at in your business journey. If marketing to clients and pitching to them is something you struggle with, then this program is for you.
2) When does this course begin?
All course materials are in the curriculum now! It's self-paced so you can get started immediately when you join.
3) How much does the program cost?
Although the program is valued at $99, you can get it for only $49!
That's 50% savings.
4) How long do I have access to the materials?
You get LIFETIME access to everything in this e-course. It is completely self-paced so you can go through the material at your leisure.
5) I'm deaf or hard-of-hearing. Is this material accessible for me?
It sure is! This course is text-based. If/when I add videos, I'll include word-for-word transcripts as well.
6) Is this program right for me?
This e-course is right for you if you…
– Are nervous about reaching out to clients
– Would love help getting your first client
– Are worried you won't be able to find any new clients
– Struggle to pitch clients
– Don't know how to get quality clients
7) How much time will it take me to go through this course?
You can easily get through all the materials in one day. I know you're busy, so this is a value-packed, fluff-free program. The materials are concise and action-oriented. 
8) What if I'm unhappy with this program?
I'd never want you to be unhappy! If you're disappointed in this e-course, please contact me within the first 7 days of purchase for your refund. That's my 100% money-back happiness guarantee.
10) What if I have more questions after taking this e-course?
You can shoot me an email whenever you have any questions or comments—I'm happy to help you out and point you in the right direction as needed!
Plus, if you want to learn how to KEEP your clients once you've got them (since finding new clients costs 5x more than retaining existing clients), you'll have an opportunity at the checkout to grab the Keep Your Clients e-course for a special bonus price of an additional $19 🙂
"Your marketing ideas and tips have taken a lot of the myths out of how to find clients, so I feel more prepared than ever to start pitching!"

– Lauren
Got questions? Email hello@saganmorrow.com