This private podcast teaches you a radical, revolutionary new approach to productivity...
...Featuring a behind-the-scenes SNEAK PEEK of some of the lessons and concepts from Sagan's signature program, Productivity Powerhouse!
You'll get inspired and motivated with these mindset shifts, and discover how you can take improve your productivity & success (in business AND in life)
---
Here's what you'll learn in this podcast:
 One of the most underused skills in business that you NEED to start tapping into.
 The big problem that happens when you get ahead of yourself (do NOT skip this step!)—plus how to know if you're relying on external validation too much.
 An important concept to consider when you are defining the term "success."
 Why you're doing it wrong if your business feels like "hard work" (and what to do to fix that).
 5 questions that will strengthen your relationship with your business.
 Why it's so difficult for you to take action on your ideas and plans, plus an important concept to keep in mind when you're customizing ANYTHING in your business.
 The problem with toxic productivity, hustle culture, and glorifying "busy" work… and what you need to do if you feel like all of the tasks on your to-do list are important and urgent.
 The #1 mistake you're making in your business, right now—AND the #1 most common denominator among Sagan's most successful solopreneur clients.
 Why failure isn't something to fear (and what you ACTUALLY need to be much more concerned about).
 The specific shifts you can make to overcome procrastination and perfectionism.
 4 questions that will help you be the catalyst for your own success.
---

"It's 10 episodes long, plus it comes with some journalling prompts. Honestly, it's more like an e-course! It's really really great, really helpful—especially if you're someone like me with ADHD."

- Kylie Hodges, business coach for perfectionists
This "mini series" private productivity podcast for solopreneurs includes 10 episodes that are each about 10 minutes long, plus 3 journaling prompts that go along with each episode, and a whole new way to think about your business.
Each episode features sneak peeks of some of the lessons and concepts Sagan teaches inside her signature e-course, Productivity Powerhouse, so this is a great opportunity to "taste" what you get in that program!
Episode topics include...
EPISODE 1: Enthusiastic "yeses," and one of the main reasons so many solopreneurs are frustrated with their lack of progress (even though they're doing the work)
EPISODE 2: Internal vs. external validation, and a different approach to success
EPISODE 3: Business & relationships, and what it means if your business feels like hard work
EPISODE 4: Imagination & execution, and what to do with your resistance 
EPISODE 5: Toxic vs. anti-hustle productivity, and why this matters (especially if you find that everything you're doing feels urgent)
EPISODE 6: Simplicity magic, and navigating procrastination tendencies
EPISODE 7: Fear & stagnation, and the difference between my most successful clients compared to solopreneurs who don't achieve their goals
EPISODE 8: Overcoming disempowerment & shame around perfectionism, plus why you shouldn't necessarily track data
EPISODE 9: Building self-trust & self-honesty as practical tools, plus being the catalyst for skyrocketing your own business success 
EPISODE 10: Creative opportunism: what it means & how to use it to your advantage
---

"Sagan's style is soothing and relatable... I wish I'd discovered her 20 years ago!"

- Diane M.
ABOUT YOUR INSTRUCTOR
Hi! I'm Sagan Morrow (she/her), your anti-hustle Productivity Strategist & Success Coach and instructor for this program. I have 10+ years of experience in business—as a communications specialist, freelance writer/editor, blogger, and consultant, before I began teaching online courses and coaching other entrepreneurs—so I have a lot of experience in understanding what does & doesn't work for building a business... especially for solopreneurs. I've been teaching and coaching other entrepreneurs to get powerful results since 2016.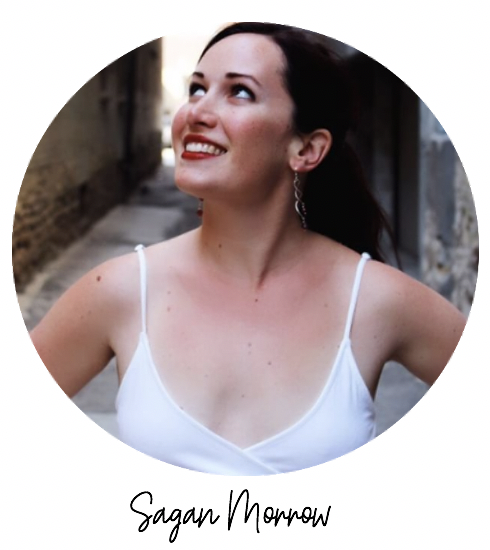 Beyond that, I also have a background of professional experience in public relations, community leadership, fundraising & development, and coordinating & managing teams. I'm an alumnus of the Anti-Racism Leadership School and I'm actively committed to doing lifelong work for a more equitable, diverse, inclusive world.
As an internationally board certified Magnetic Coach®, I have 120+ hours of continuing education in the following modalities:
 Life & Success Coaching

 Neuro-Linguistic Programming Practitioner

 T.I.M.E Techniques

 Emotional Freedom Techniques Practitioner

 Clinical Hypnosis Practitioner
(And because I have that experience of being a solopreneur for 10+ years AND coaching dozens of other soloprenurs in building their own businesses... plus working in a business partnership, 9 to 5 jobs, contractor for other companies, and in the non-profit sector... you KNOW you are getting the real deal with informed, well-rounded expertise!)
→ I'm on a mission to make solopreneurship easy & enjoyable, for every solopreneur who comes across my path.
This is why I created this exclusive private podcast for you!