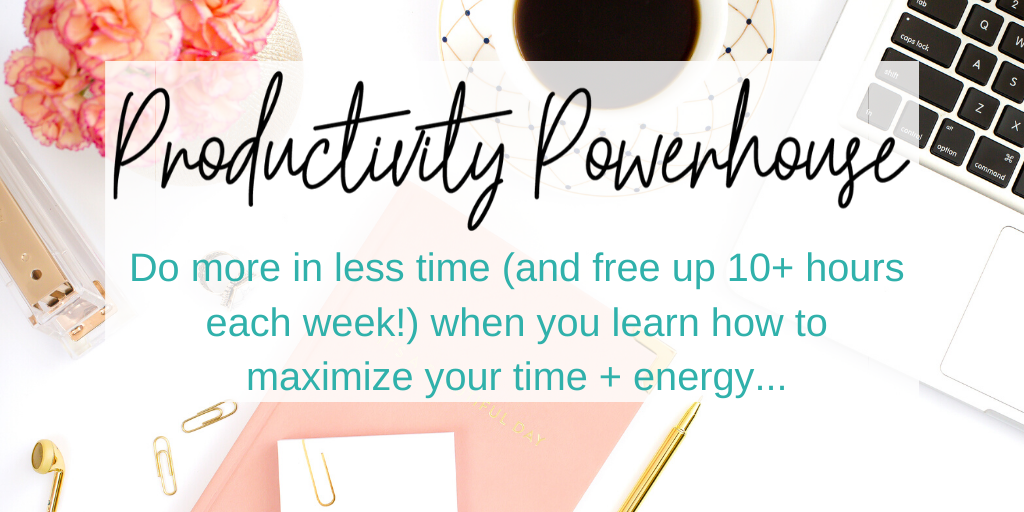 You are so ready to maximize (and master!) your own time and energy… to get more done in less time. 
You want to save yourself hours upon hours each and every month, and to get past the overwhelm and burnout cycle, once and for all. 
Does any of this sound familiar? 
You hear yourself saying "After this week, things will calm down again" ...but you've been saying that for more weeks in a row than you can count! 

You don't feel as though you can spare 10 minutes to sit down and eat breakfast in the morning, let alone find an extra several hours each week to take up a new project.
You're feeling overwhelmed with all of the things you know you *should* do with your business, which is just paralyzing you from doing any of it.
You love the idea of writing a book… launching a new service… heck, even starting a new hobby!... but you have zero idea how you're supposed to find the time (let alone the energy) to ever get it done.
If any of that sounds like you, then you are in the right place!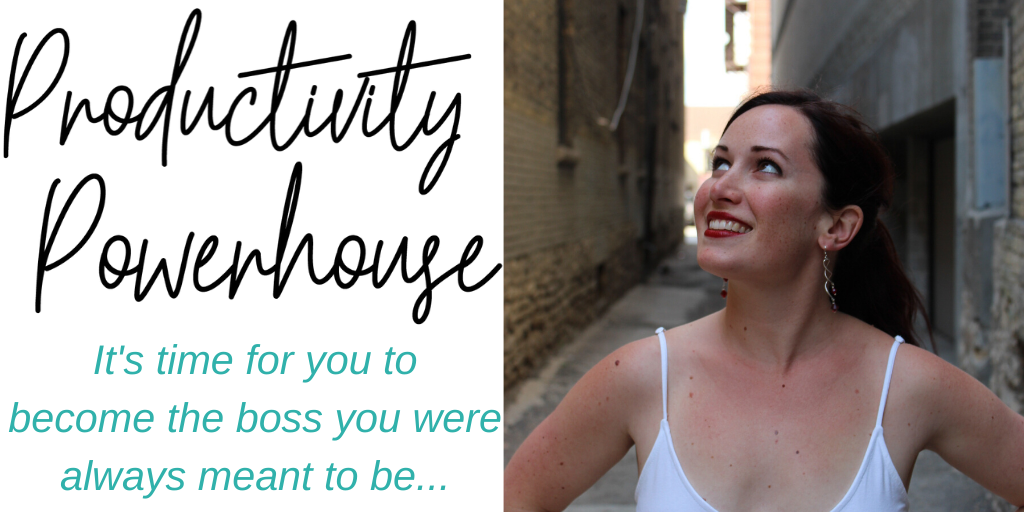 You're frustrated because...
You've tried waking up earlier, but that just makes you even more tired. 
You've experimented with the new "It" productivity hack, but that fell by the wayside after a couple weeks. 
You've even outsourced parts of your business to other people, only to discover that you still have a never-ending to-do list. 
You wish you had productivity strategies and time management tips that take your unique life and business into account… 
You'd absolutely love to have methods at your fingertips that you can apply quickly and easily right now, which will give you both immediate and long-lasting results for improving your productivity levels and time management skills.
Imagine what you will be able to accomplish when you can save yourself 10+ hours, each and every week. 
Imagine how you'll feel when you learn how to manage time and energy, so that your creativity flows smoothly and you don't have to struggle with burnout on a constant basis. 
Imagine how much you'll be able to take back the control in your own business and life when you know the secrets to being a productivity powerhouse. 
"I cannot tell you how amazing it is to actually 'shut off' from my workday and focus entirely on my family in the evenings. Before taking Productivity Powerhouse, I would walk past my office door and be reminded of the 1001 tasks still waiting for me to complete. Now, I walk past my office door without another thought because I already know I'll be ready to work the next day!

I can say with complete confidence that the skills I learned in this course have saved me at least 6 hours every week... Not to mention the emotional benefit of closing out my work computer at the end of the day with full satisfaction of everything I had accomplished that day."

- Anabeth, Project Manager (Inbound Design Partners)
You are so ready to finally kick the overwhelm to the curb, beat the burnout cycle, and get more done in less time! 
But maybe you have some questions… 
"I haven't found productivity strategies that work for me up until this point, so why will these be any different?" 

"It's not my time management skills that's the problem—it's that I have zero hours to spare! How do I create more hours in the day?"
"Won't it just be exhausting if I try to get more done in a smaller amount of time… and won't I have to sacrifice quality if I do that?"
It's okay to have these concerns. I know that it's more than a little daunting and scary to imagine how much your business and life could change, if you could only master your productivity, time, and energy! 
And when you have the right tutorials, practical strategies, real-life tips, and step-by-step guides, you truly can become the boss of your own business and life, like you were always meant to be.
That's why I created my signature program, Productivity Powerhouse. 
Finally, you can organize your business—and your life—to do more in less time. 
Productivity Powerhouse is your roadmap to reducing overwhelm and improving focus so you can grow your business with confidence.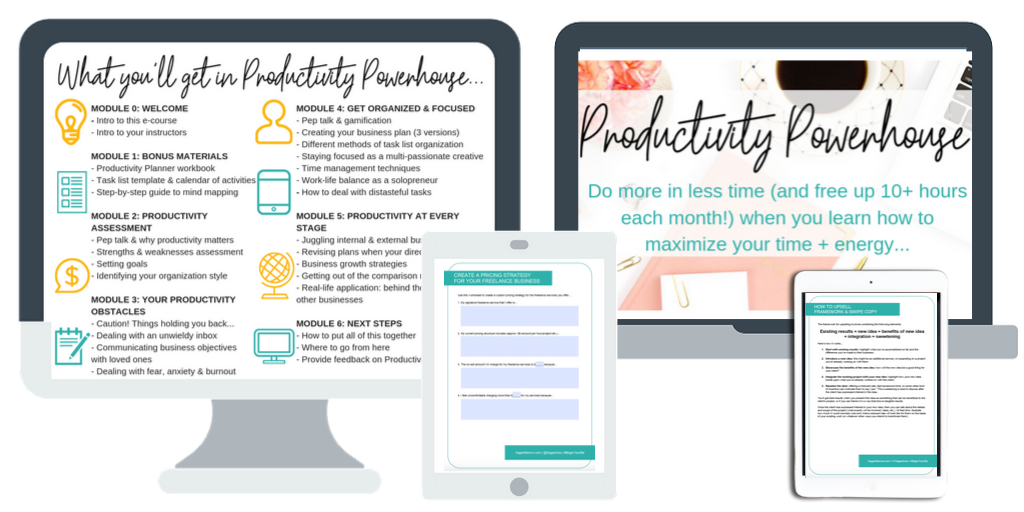 Not only will you learn awesome productivity techniques and strategies throughout this program, but you'll also apply the lessons as you go along. Each lesson includes action steps so that you can test and customize the productivity strategies to your own personality and business.
Even better? You're going to apply them into a systemized program for yourself.
...Which means that by the end of the e-course, you'll have an entire productivity roadmap!
Your life before Productivity Powerhouse… 
You never have a spare 20 minutes to do whatever you want. 

No matter how hard you work, you're constantly struggling to catch up on tasks.
You're always running ragged with low energy and falling behind on your workload.
Your life after Productivity Powerhouse… 
Your time is more flexible than ever, so you can enjoy it with a new hobby and/or spend more time with loved ones and/or finally finish that project you've always dreamed about. 

You don't have to work so hard to accomplish everything on your task list.
You become the master of your own time and energy.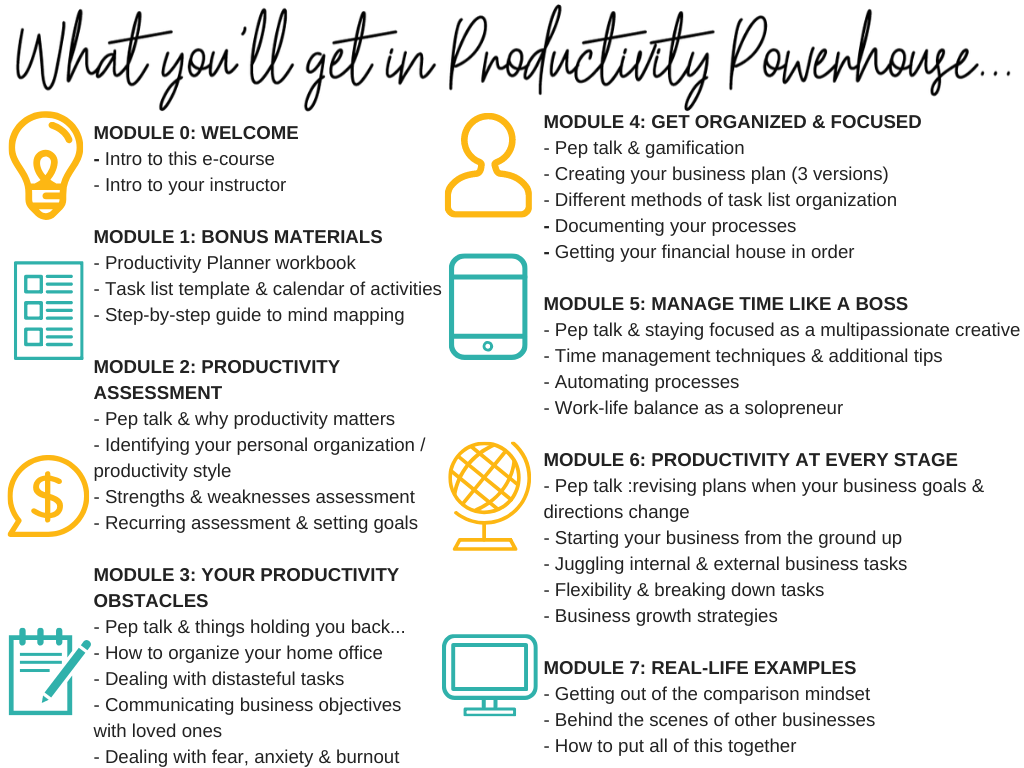 How does this program work?
Each lesson is available in downloadable audio format (so you can listen to it podcast-style), with an accompanying word-for-word transcript. Plus, you'll get access to awesome bonuses like...
How to create an elevator pitch for your business (that actually gets results)
Step-by-step guide to documenting processes (so you can streamline everything)
Save 45+ hours/month (!) with 23 time management tips & tricks
...and more!
This is an evergreen online course, which means you can do it any time of day, anywhere in the world, as long as you have access to a computer.
You can go at your own pace and do each lesson on the schedule of your own choosing. And you get lifetime access to everything in Productivity Powerhouse.
Plus, because of the way Productivity Powerhouse is organized, you can pick and choose various tips and strategies as you go along. You'll learn practical ideas for improving productivity and time management in your daily life, and you can implement as many of them as you want.
You're a busy person (that's part of why you're here right now, after all!), so each lesson is quick and straight to the point. 
Note: The more that you implement from Productivity Powerhouse, the better results that you'll get! 
How do I know if I'm ready for Productivity Powerhouse? 
You are ready to take this program if…
You're willing to try new strategies and change your mindset about productivity. 

You want to have more time and energy every week.
You're tired of feeling overwhelmed and want to take back control of your business and life.
You are not ready to take this program if…
You are unwilling to try new ideas. 

You are resistant to changing your mindset.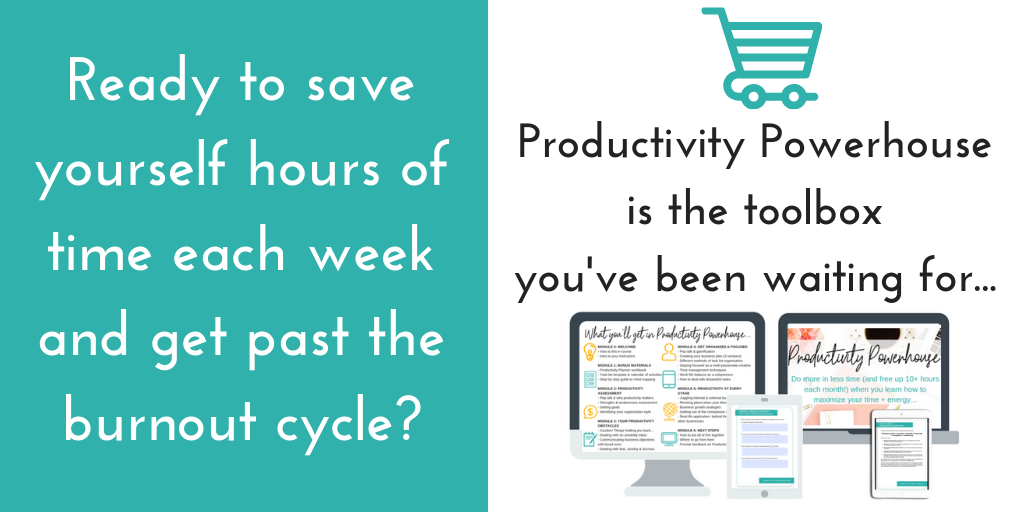 The choice is yours:
You can continue feeling overwhelmed and burned out, and you can continue to struggle to find the time and energy to do the bare minimum in your business…
...Or you can join Productivity Powerhouse and see serious results within a matter of days!
You can do this even if you think you're too busy: 
"I haven't found productivity strategies that work for me up until this point, so why will these be any different?"
Productivity Powerhouse is unique because it begins with an assessment of your preferred productivity style… and it also includes an assessment for you to use every single time you need to get more done in the future. 
"It's not my time management skills that's the problem—it's that I have zero hours to spare! How do I create more hours in the day?"
Guess what? Everyone's busy! You, my dear, have the capabilities to be creative with your time, just like everyone else. You have the power to do that. You just need the tools to get you there… which is what you'll find in Productivity Powerhouse. 
"Won't it just be exhausting if I try to get more done in a smaller amount of time… and won't I have to sacrifice quality if I do that?" 
Nope! Productivity Powerhouse is all about maximizing your time and energy, so that you can get more done in less time without the overwhelm and without sacrificing quality. How's that sound?
"This e-course is easy and quick, and it's possible to start implementing techniques immediately to see change! Sagan really takes the effort to make Productivity Powerhouse adaptable to any personality and business. She helped me work with myself to be efficient, rather than against myself.

Productivity Powerhouse has enabled me to dedicate time to my side business on a consistent basis even as a mom with a full-time job. I've only implemented a few concepts, but so far I've already found about 5 hours in a given week to dedicate to my business!" 

- Michele, Lifestyle Blogger (Balancing the Books of Life)
Who teaches this program, anyway?
Hey there! I'm Sagan, your instructor for Productivity Powerhouse. 
Productivity and time management is my jam. After a decade of being my own boss—both as a solopreneur and in a business partnership capacity—I'm absolutely delighted to share my secrets for getting more done in less time with you.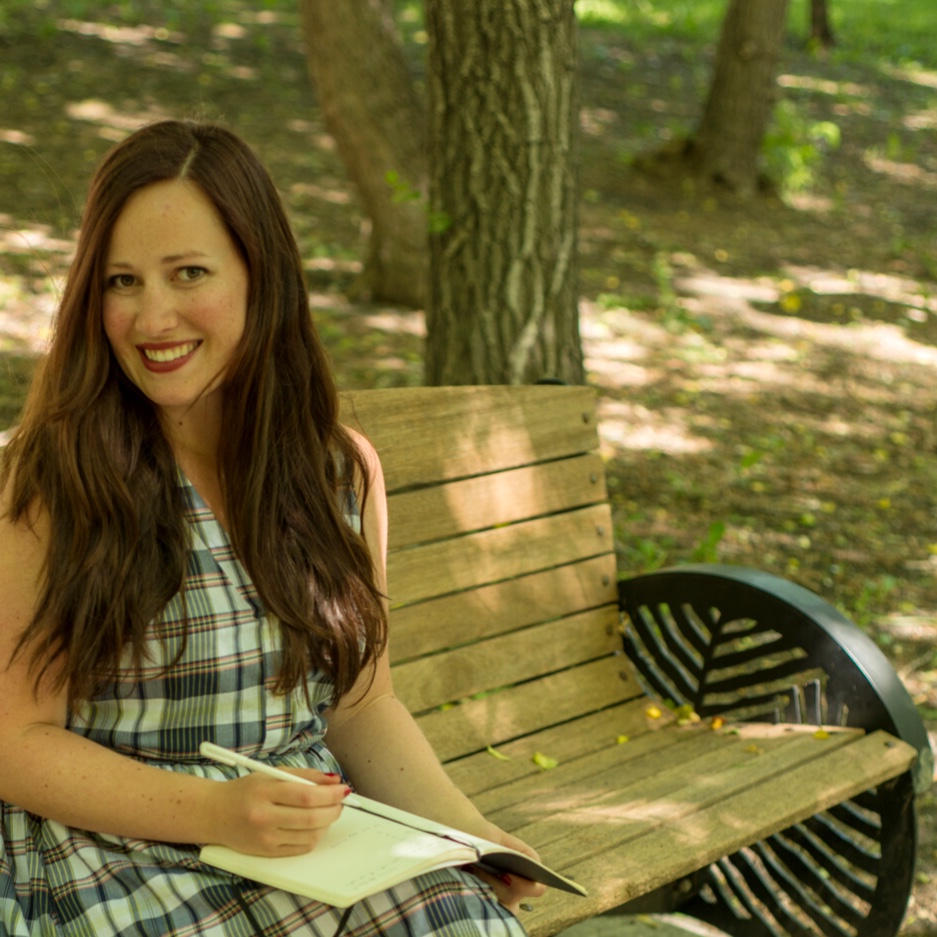 As a real-life example, from summer 2018—2019, I was able to…
Do my regular retainer client work 

Get new client work
Write and publish 4 novellas and 2 business books (plus write and revise a complete draft for a full-length novel)
Rebrand my entire business back into solopreneurship when my business partnership dissolved
Launch a weekly podcast (30+ episodes)
Revise and relaunch online courses
Participate in professional development/continuing education opportunities
Send weekly newsletters to my email list
Take a few work-free holidays
Dance for several hours each week and perform on stage three times (plus perform in two concept videos) for a hobby
...and that's all due to how I set up the right systems in place, so as to manage my time and energy better. 
Yep—I live and breathe productivity! So it felt like now was the perfect time to start teaching exactly what I do to make this work in my own life and business, so you can make it work in yours, too. 
These strategies aren't just applicable to my own business and life, either. These are based upon years of my work with other freelancers and businesspeople who wanted help getting their own lives in order. That's why the strategies and tips presented in Productivity Powerhouse are easily customizable to your own unique situation, and include assessments to help you get on track with exactly what you need.
"I really loved the course materials in Productivity Powerhouse—I loved that I could read everything, but also that there was the possibility to listen. The bonus materials were also really helpful; there's really nothing that I didn't enjoy about this course!

I always plan my weeks and days, and it's often hard for me to get started, but the tips in the course helped me and really motivated me. I am excited to see how this will help me save time and it really inspired me. I really enjoyed the test with the learning types, too, because it was so interesting to learn about that!

I haven't implemented all the strategies yet because I went through this course pretty fast because it was so interesting, but it gave me an insane push of motivation! I will be implementing one technique after another and I'm sure it will help me in saving time and working more productively! I really loved Productivity Powerhouse and thank you so much, Sagan, for creating this!" 

- Alessa, Blogger (Souvenirs & Sparkles)
Productivity Powerhouse sounds awesome! What exactly do I get when I join?
Each lesson is an audio recording that you can easily download and listen to, podcast-style. Prefer reading to listening? No problem—each lesson is accompanied by a word-for word transcript!
Plus, you'll get a variety of worksheets and cheatsheets to make your life extra easy as you go through the e-course at your own pace. (You get lifetime access to everything and its entirely self-paced.)
Here's all the juicy details of what's inside the program...
Module 0: WELCOME

Introduction to the program
Introduction to your instructor

Module 1: BONUS MATERIALS

Productivity planner workbook (a great tool to help you stay organized as you go through the program)
Task list template
Calendar of activities (real-life sample, plus a blank template)
Step-by-step guide to mind mapping (you can use this for business planning, goal setting, learning new skills, identifying your ideal client, and more!)

Module 2: PRODUCTIVITY ASSESSMENT

Lesson 1—pep talk: Why productivity matters
Lesson 2: Identify your personal productivity style
Lesson 3: Identify your strengths & weaknesses
Lesson 4: How to do assess productivity on a recurring basis
Lesson 5: Setting productivity goals
Bonus: Personal productivity style assessment—worksheet
Bonus: Strengths & weaknesses assessment—worksheet
Bonus: Recurring productivity assessment—worksheet

Module 3: PRODUCTIVITY OBSTACLES

Lesson 1—pep talk: Caution! Things to watch out for
Lesson 2: How to organize your home office & filing cabinet (and finally reach inbox zero)
Lesson 3: How to deal with distasteful tasks
Lesson 4: Communicating effectively with loved ones about your business objectives
Lesson 5: Dealing with fears, anxiety, and burnout
Bonus: Burnout assessment—worksheet

Module 4: GET ORGANIZED & FOCUSED

Lesson 1—pep talk: Gamification as a tool
Lesson 2: Creating your business plan
Lesson 3: Methods of task list organization
Lesson 4: Documenting processes
Lesson 5: Getting your financial house in order
Bonus: Business plan template (basic)—worksheet
Bonus: Business plan template (extended)—worksheet
Bonus: How to use the extended business plan—cheatsheet
Bonus: How to create an elevator pitch—cheatsheet
Bonus: How to document processes—cheatsheet

Module 5: MANAGE YOUR TIME LIKE A BOSS

Lesson 1—pep talk: How to stay focused as a multi-passionate creative
Lesson 2: Time management techniques
Lesson 3: Tips for effective time management
Lesson 4: Automating processes
Lesson 5: Work/life balance as a solopreneur
Bonus: Tips for how to save 45+ hours/month—cheatsheet
Bonus: 21 days to better time management—cheatsheet
Bonus: Step-by-step guide to automation—cheatsheet

Module 6: PRODUCTIVITY AT EVERY STAGE

Lesson 1—pep talk: Revising plans when your business goals & direction change
Lesson 2: Starting your business plan from the ground up
Lesson 3: Juggling internal & external business tasks
Lesson 4: Flexibility & breaking down tasks
Lesson 5: Business growth strategies
Bonus: "Levelling up" assessment—worksheet

Module 7: EXAMPLES & REAL-LIFE APPLICATION

Lesson 1—pep talk: Getting out of the comparison mindset
Lesson 2: Behind the scenes of Sagan's business (real-life example of how to apply all of this to your business)
Lesson 3: Behind the scenes of Michele's business (one of your fellow productivity powerhouses, featuring a real-life example of how she applied the lessons in this program to her own life & business)
Lesson 4: Behind the scenes with Anabeth's experience (one of your fellow productivity powerhouses, featuring real-life examples of how she applied the lessons in this program to her own life & her work as a project manager at an agency)
Coming soon: more real-life examples & behind the scenes features of other businesses!
"I have learned so much from Productivity Powerhouse and I'm excited to continue implementing Sagan's techniques. I am a planner and tend to avoid what I don't know—this course has helped me realize that with the right priorities, utilities, and time management, I can still make progress towards my goals while meeting my other obligations.

When I was just starting Productivity Powerhouse, I needed to put everything down for a short period of time because my kids got sick, and I had to learn to be okay with that. But rather than let it defeat me, and not pick it back up for 6 months or longer (something I've done in the past), this course helped me pick right back up in under 2 weeks. In fact, I have been more productive with my side business in the past month than I was in the 6 months prior!" 

- Michele, Lifestyle Blogger (Balancing the Books of Life)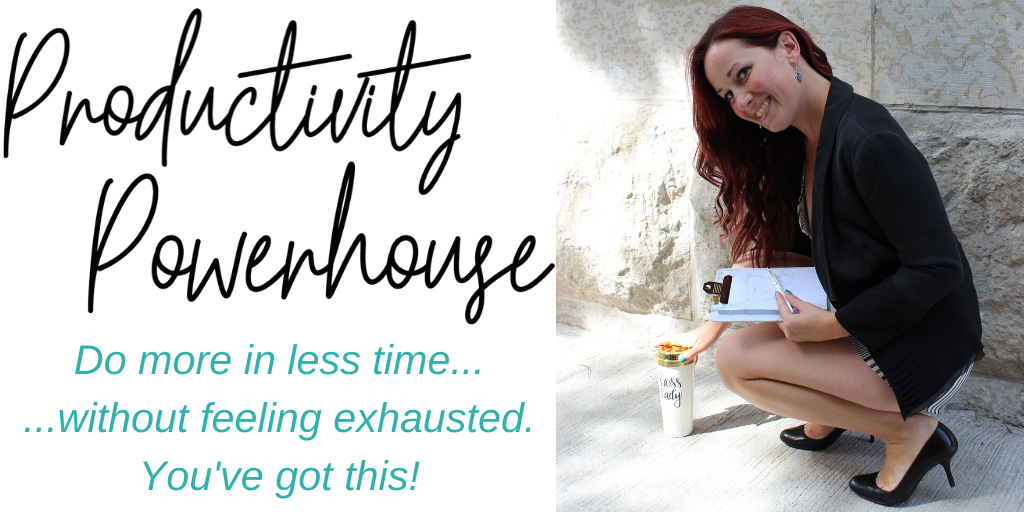 Frequently Asked Questions
1) When does this program begin?
As soon as you enroll! You get immediate access to all materials in the program. It's self-paced, so you can do it at whatever speed you like... and you get LIFETIME access to everything inside Productivity Powerhouse.
2) I'm a remote worker, but I work for a company (I'm not a solopreneur)—is this program for me? 
Yes! This program is designed and structured for solopreneurs, however, if you struggle with managing your time or if you wish you could be more productive, then you, too, can benefit from Productivity Powerhouse. 
You can apply the lessons in this program to your work life, regardless of the type of work you do.
3) Do I get lifetime access to the materials?
You sure do 🙂 Go at any pace you like.
4) I'm deaf or hard of hearing. Is this material accessible for me?
Absolutely. The lessons are all audio recordings, however each lesson is accompanied by a written word-for-word transcript so you can read instead of listening.
5) Is this program conducive to my preferred learning style?
YES! This program features audio lessons, written transcripts, visuals (diagrams & screenshots—more coming soon), recommendations for how to use the content in tactile ways, and more. No matter your learning style, you can apply your learning style to get the most out of this program.
(Not sure what your preferred learning style is? No worries—we go over that inside the Productivity Powerhouse e-course, too).
6) What is the investment?
Just $299 🙂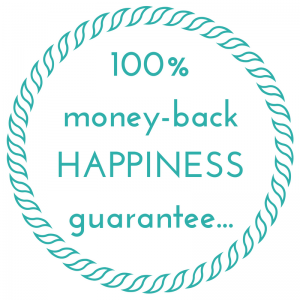 7) What are the payment options? 
Now offering flexible payment plans: you can make 3 easy payments of just $109/month.
8) Is there a refund option? 
I want to make this a no-brainer, risk-free program for you… which is why I offer a 100% money back guarantee within 7 days of purchase. If you do the work, put in your best effort, and feel that this program hasn't delivered, then I'll issue you a full refund within one week of purchasing.
That's my happiness guarantee.
9) What if I have more questions about this program? 
Email hello@saganmorrow.com, or get in touch with me on Twitter or Instagram (@Saganlives). I'm happy to answer any questions you have!
"It's only been a few weeks since I joined Productivity Powerhouse, and I definitely approach my day very differently than I used to. I am more intentional in how I plan my day. I block out specific time periods to work on certain tasks. As I go throughout my day, I simply refer to my block schedule to ensure I am working on the right set of tasks at the right time. This definitely has helped my 'squirrel syndrome' I was previously experiencing. I even made sure to plan in 'fire management time' to ensure I can address any major issues that have come up that were not planned for but important to do that day.

Thanks to Productivity Powerhouse, I am now more proactive rather than reactive. Previously, I spent the majority of my day putting out fires because I was behind on my tasks or I didn't have the time to see where my team was at on their tasks only to realize they were behind as well. Then the client reached out wondering where their project was at and I had to tell them the bad news. Now, the majority of tasks are either ahead of schedule or right on time. It's so awesome to get a 'thank you for reminding me' from a client rather than 'where's my stuff' email from a client!

My team is also working more efficiently because I'm reaching out to them earlier in the process to ensure they have everything they need to complete their tasks. This course has absolutely started me and my team down a better, more productive path!"

- Anabeth, Project Manager (Inbound Design Partners)
By enrolling in Productivity Powerhouse, you will also get access to solopreneurship stories in the SaganMorrow.com Newsletter. You can opt-out at any time.
Got questions about Productivity Powerhouse? Email hello@saganmorrow.com