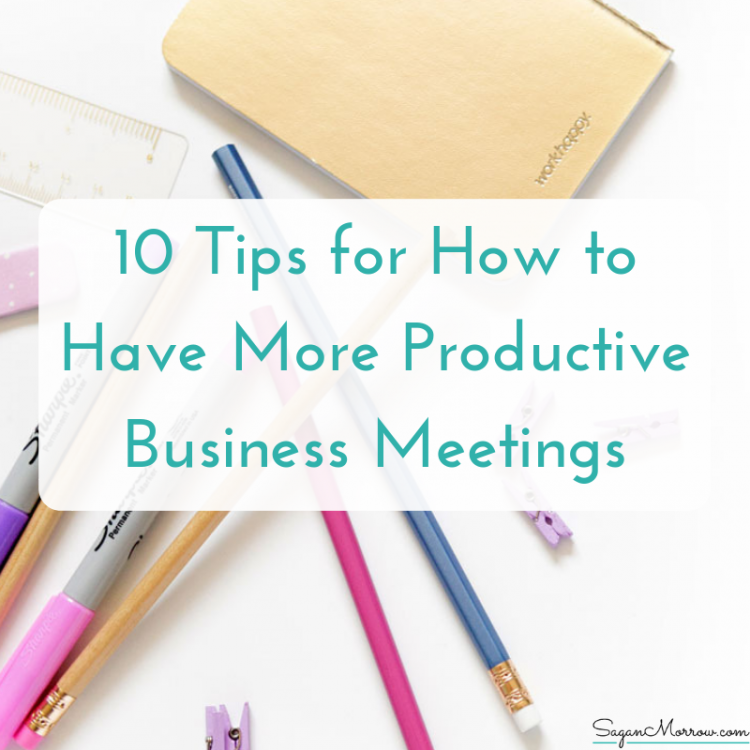 Whether you're a solopreneur, in a business partnership, or part of a larger team, business meetings matter. Productive business meetings can enable you to have more direction and clarity with your business, improve communication and business relationships, and increase your confidence, motivation, and excitement for moving forward with your business ideas.
The problem? Many business meetings aren't streamlined enough to be worth it. You'll know what I'm talking about if you've ever sat in a business meeting and asked yourself questions like,
"Why are we having this meeting?"

"Who's leading this meeting?"
"Does anyone have an agenda for this meeting?"
"Is it really necessary for all of us to be attending the meeting?"
"How much money is this meeting costing our company?"
Even if you haven't asked yourself the above questions, you've probably experienced business meetings that seemed unnecessary, or overly long, or simply lacking in focus.
All of that is a sure sign you need to have more productive business meetings! So how do you go about doing it?
Dan and I have experienced a wide range of different meeting styles over the years, as solopreneurs, business partners, working in 9 to 5 jobs, and being on the board of trustees for different organizations. We've learned some of the best ways to streamline business meetings so they're as productive as possible.
And yes---even if you're a solopreneur, you should still pay attention to the business meeting tips in this blog post. You should still be having business meetings with yourself, and besides that, you can also apply these tips to meetings you have with clients.
Before we get into our tips for how to have more productive business meetings, why should you have business meetings with yourself if you're a solopreneur, anyway?
Ultimately, they are a good opportunity for you to...
Check in with yourself

Analyze how your business progress is coming along
Assess and shift your goals
Plan out your upcoming task list and deadlines
Ensure nothing important is slipping through the cracks
Provide yourself with more direction, focus, and clarity in your business
Weekly business meetings with yourself can do wonders when you're a solopreneur.
If you prefer meeting with other people or having someone else to keep you accountable and bounce ideas off of, then you might want to team up with another solopreneur for weekly check-ins, or even ask a good friend or your spouse to do your business meetings with you.
If it's someone like your spouse or adult child, that can be a fantastic way to keep them in the loop with your business, and for them to understand the importance of your business (and help them to take your business more seriously if they don't really *get* it).
10 tips for how to have more productive business meetings…
1) Have a clear vision for why you are having this business meeting in the first place.
What is the purpose for this meeting? It seems like an obvious question, but unfortunately, there are many business meetings that lack purpose.
Productive business meetings start with a clear vision, direction, and purpose behind the meeting. Is your business meeting to brainstorm an idea? Check in on the progress of a project? Finalize details around an upcoming event?
Make sure everyone understands the purpose of the business meeting so there are no misunderstandings, and so that everyone can be well-prepared.
2) Decide who should (and shouldn't) attend this business meeting.
Too many business meetings include far more people than is truly necessary. This happens significantly less when you're a small business owner meeting with a client, but if you're part of a larger team, then it happens more often.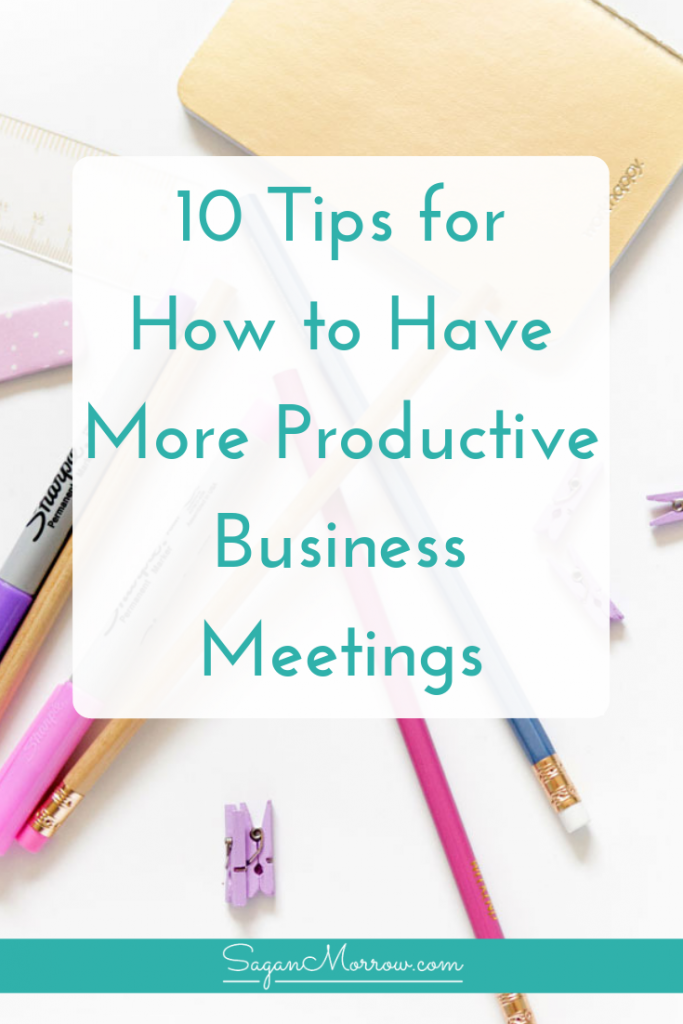 To have a productive business meeting, think about what's the best use of everyone's time:
Should each person attend the meeting?

Will they bring value to the meeting?

Do they just need a condensed "Cole's notes" version after the fact to be kept in the loop?

What are the benefits of them being at the meeting?
The golden rule of business meetings should be to not waste people's time. Also, keep in mind that the more people at the meeting, the longer that meeting might go on.
3) Choose someone to lead the business meeting.
This doesn't need to necessarily be a big deal around "Okay, so Sally is leading this meeting." However, someone should lead the meeting so it has direction and continues to move forward at a good pace. That's essential for a more productive business meeting.
I still remember attending staff meetings at my old 9 to 5 job years ago, and watching as our Executive Director sat back without saying anything to start or direct the meeting… and I remember thinking to myself, "Isn't she supposed to lead this meeting? Who's in charge here?"
(I never did figure that out, to be honest. Frankly, that organization wasted a huge amount of time because of basic details like this which could have made all the difference.)
4) Create a business meeting agenda.
This is such a simple thing you can do, but it is a MUST for having more productive business meetings. If it's a more casual meeting, you can even just have a few bullet points of topics to discuss. However, the more agenda items you have written down, the more focused and intentional the business meeting will be. Plus, that way you won't forget to discuss anything important.
Dan and I have an extremely detailed business meeting agenda template that we use for our internal business meetings. That helps ensure we discuss everything from finances to client projects to time tracking to any frustrations we're having and more.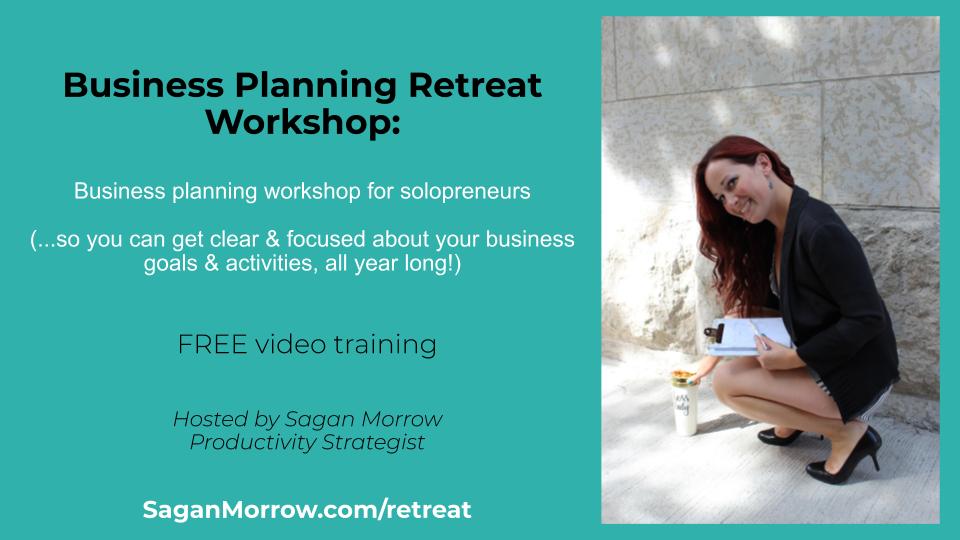 5) Set some kind of timeframe in place for the business meeting.
You might even jot down roughly what time you'll address each item on the agenda so you don't run out of time. For example, you might decide that this is an hour-long business meeting, and if you have four items to discuss, each one will be allotted 10 minutes (that gives you time for starting and wrapping up the business meeting, plus extra time in case an agenda item takes longer than anticipated).
When possible, make it clear upfront to whomever you're meeting with about how long long the business meeting will take. When you don't set an end time, sometimes business meetings can take two or three times longer than planned, which isn't ideal.
6) Make sure everyone has the opportunity to speak.
Sometimes it's tempting to steamroll a meeting---or, alternatively, to just sit back and let other people speak the entire time. There are certainly going to be occasions when some people don't have a whole lot to contribute (and that's okay).
However, everyone should feel that they are valued and that their voice matters. You can do this by asking throughout the meeting if anyone has any questions or something they'd like to add. You can also look at specific individuals (particularly if you get the feeling they have something to say, or if they tend to be quiet in meetings), and ask their opinion on the matter.
When someone is talking, resist the temptation to interrupt or speak over them. And if you do interrupt them, or if you notice someone else interrupting them, take the first opportunity you can to come back to them and invite them to continue their initial thought process.
7) Prepare ahead of time.
This is important if you want your business meetings to be more productive! Review the meeting agenda and prepare questions and ideas ahead of time. This will also ensure you have something to say or something to ask so that your voice is heard in the business meeting.
If you don't understand something in the agenda, you can ask the person who created it ahead of time, or simply make a note of it so you can raise any concerns during the meeting itself.
8) Take notes.
This is one of the downfalls of many business meetings. When there are great ideas flying around, you don't want to miss out on any of them!
Also, don't assume that someone else is taking good or detailed notes. Just because someone else is writing things down during the meeting, doesn't mean they're capturing the most important parts. Plus, you don't want to make someone else feel as though it's their responsibility to take all the notes all the time (unless, of course, that is in their actual job description).
Take your own notes. You can even compare notes with someone else afterward to make sure you didn't miss anything. Depending on the type of business meeting you're having and who you're meeting with, you might even want to record the meeting on your phone's voice memo app so you can listen to it all again later.
9) Make room in the agenda to discuss "other business."
You never know when someone will have something they want to talk about that's outside of the original parameters of the meeting agenda. Where possible, make room for that opportunity. Sometimes the most valuable pieces can come out in this part of the meeting, because it allows people the chance to voice other concerns or ideas.
10) Outline action steps at the end of the meeting.
You KNOW that I'm all about the practical action steps! This is one of the best things Dan and I do and it makes for significantly more productive business meetings. We always have a very clear outline of what our next steps are after our business meeting.
Action steps should include:
a) the task,
b) the person assigned to the task, and
c) deadline for the task.
Once action steps have been discussed, repeat them and confirm that everyone agrees to it and understands what the next steps are, what their responsibilities are, and when you will all follow up on said action steps.
When should you NOT have structured business meetings?
You don't always need to follow this structure for productive business meetings. For example, one of the situations when you won't want to have so much structure is if you are meeting a prospect for the first time as sort of a get-to-know-you date.
You'll get more out of the hangout if you make sure to wrap up the meeting with a clear next step (for example, "It was great meeting you! We'll send you an email in a couple weeks when you have XYZ up and running"). However, in that case, you don't need to be as concerned about who is attending the meeting etc.
Basically, feel free to adapt these tips depending on the formality of the "meeting."
Learn more about working effectively with your clients inside the Keep Your Clients e-course.
Do you feel like you have productive business meetings? Which of these tips are you going to implement to improve the productivity of your business meetings? Do you have additional tips on this topic? Share in the comments below!