A few weeks ago I guest-blogged over at Amy Howard Social about how to leverage your blog as a platform for freelance writing services. Today I want to expand on that and cover the top 10 reasons why bloggers should offer freelance services!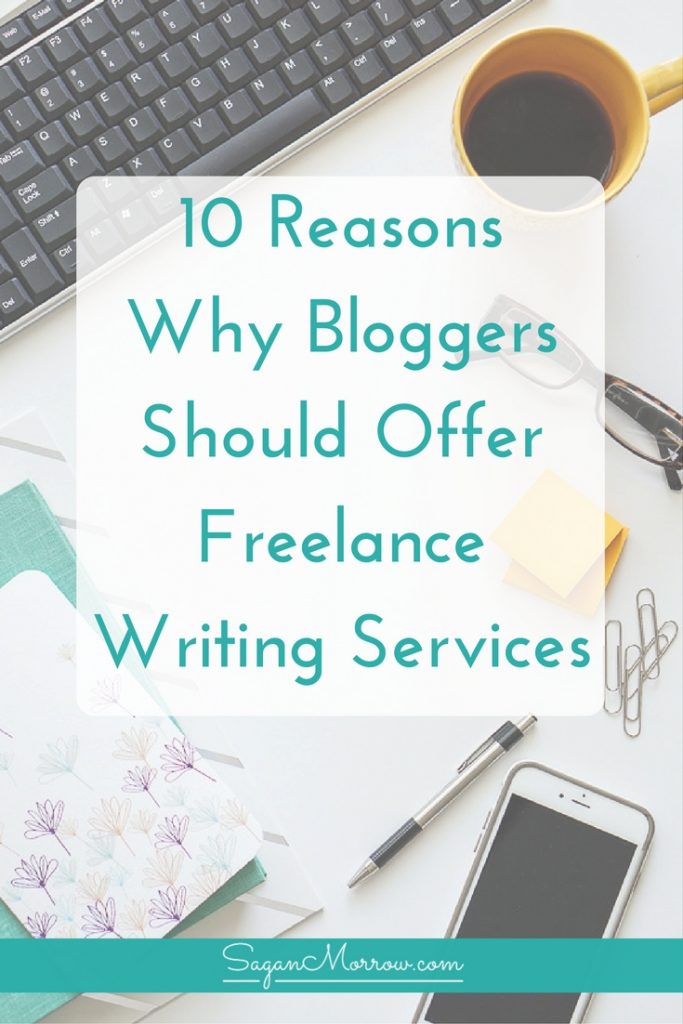 Note: this applies to bloggers who want to go pro with their blogs or monetize their blogs in some way. 
Grab the worksheet on how to create your freelance services webpage >>
Top 10 reasons why bloggers should be freelance writers:
1) A freelance writing page is FAST to put together. Building relationships with potential sponsors and applying to ad networks can take a lot of time to do.
On the other hand, letting people know that you offer freelance writing services can be as simple as a line in your social media bios and a brief page on your website outlining the types of services you offer, a few testimonials, your skills/experience, and how to contact you. You could theoretically put that together in 20 minutes or less.
2) Bloggers are already creatives. When we blog each week, we are constantly coming up with new ideas or interesting angles to talk about a subject we love. This creative skill will be immensely valuable when you're writing for other companies.
3) Your blog serves as your online writing portfolio. A potential client doesn't have to reach out to you and request samples of your work, because your work is available for anyone to see! Your blog is the perfect portfolio to showcase your skill and ability, and can greatly increase the chance that someone will hire you.
4) Writing for other websites can help drive traffic back to your blog. Including your blog link in the bio of your articles for other websites is a great way to start building a new readership.
5) It won't affect your readers. Whereas ads and sponsored posts WILL have an impact on your blog readers, and may deter them, offering freelancing services is something they might not even notice you do. You can still write about whatever you want without worrying too much about advertisers.
Grab your worksheet to create your freelance services webpage >>
6) Freelance writing will improve your writing skills, and therefore make you a better blogger. Practice is crucial to improving writing skills!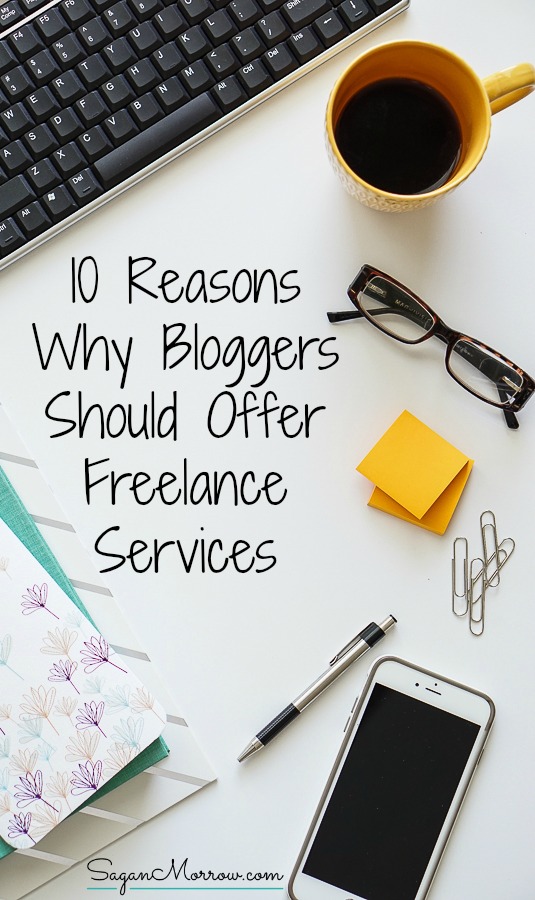 7) Freelance services can enable you to quit your day job. Freelancing has the potential to be lucrative.
Pay varies widely, of course, depending on the subject matter, your experience, the amount of work required for the article, etc. etc. But you can certainly expect a bare minimum of $100 for a 500-word article without additional images or research required on your end—and once you've had a few freelance writing gigs or if you're doing more in-depth work, you can charge upwards of a few hundred dollars per article.
8) It keeps things interesting. Okay, so I'm not one to ever say that writing on your own blog isn't interesting (I don't think I could have been blogging for this many years if I didn't sincerely love it!), but writing for another company is cool because it gives you an opportunity to stretch your mind and perhaps write about a new, different topic, or write in a different voice or style.
9) The more you write, the more you will want to keep writing. When we write daily, we discover we have more and more things to say. It's when we go on a hiatus that it gets that much harder to get back into it and continue writing. You will discover that if you're writing for your own blog and writing for other websites, you'll be able to continue blogging and producing high-quality freelance work with less effort on your part because it will get easier over time.
10) It builds relationships with new audiences and potential clients. Freelance writing has this fascinating snowball effect: once you've started writing for a few companies, they'll see how awesome you are and hire you to do more work. Or, someone else will see your work, and want to hire you (or perhaps sponsor your blog). Over time, freelance writing services can be a very organic business venture so that you don't have to do a ton of work trying to get new clients all the time.
The next step for bloggers:
Want to know HOW to get freelance writing gigs and make $2,000/month from freelance writing through your blog?
Enroll in the Monetize Your Blog With Freelance Writing mini-course!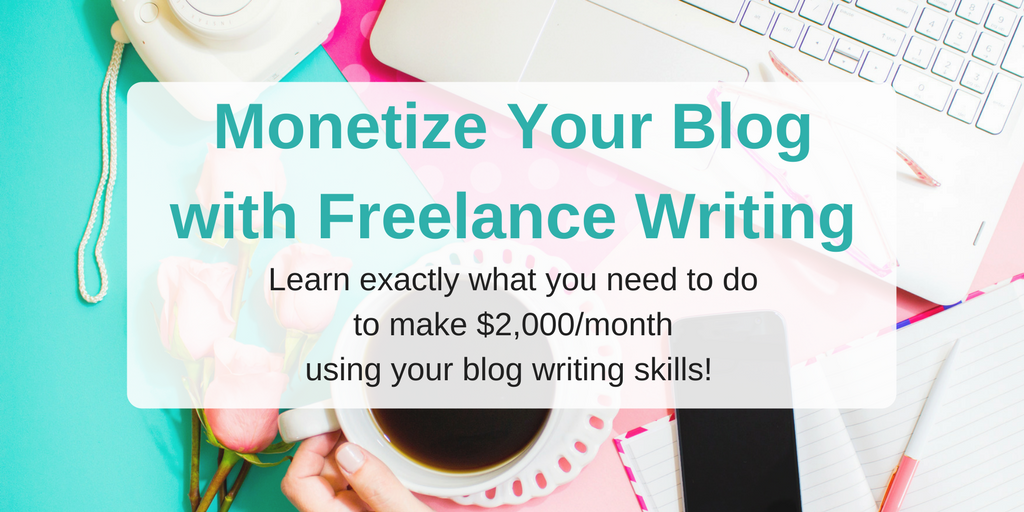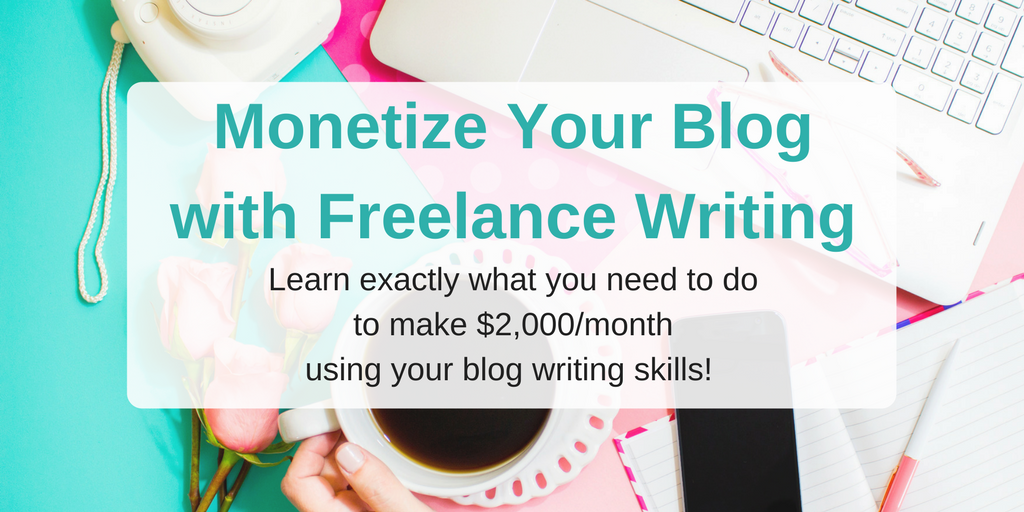 This course is specifically designed for established bloggers who want to start making money as a freelance writer. You'll learn how to price your freelance writing services, tips for creating a freelance services webpage on your blog, how to use your blog as a portfolio of your writing services, and more! Click here to get started today.
Is offering freelance services something you've considered doing through your blog? What's held you back from doing it so far? Share in the comments section below!