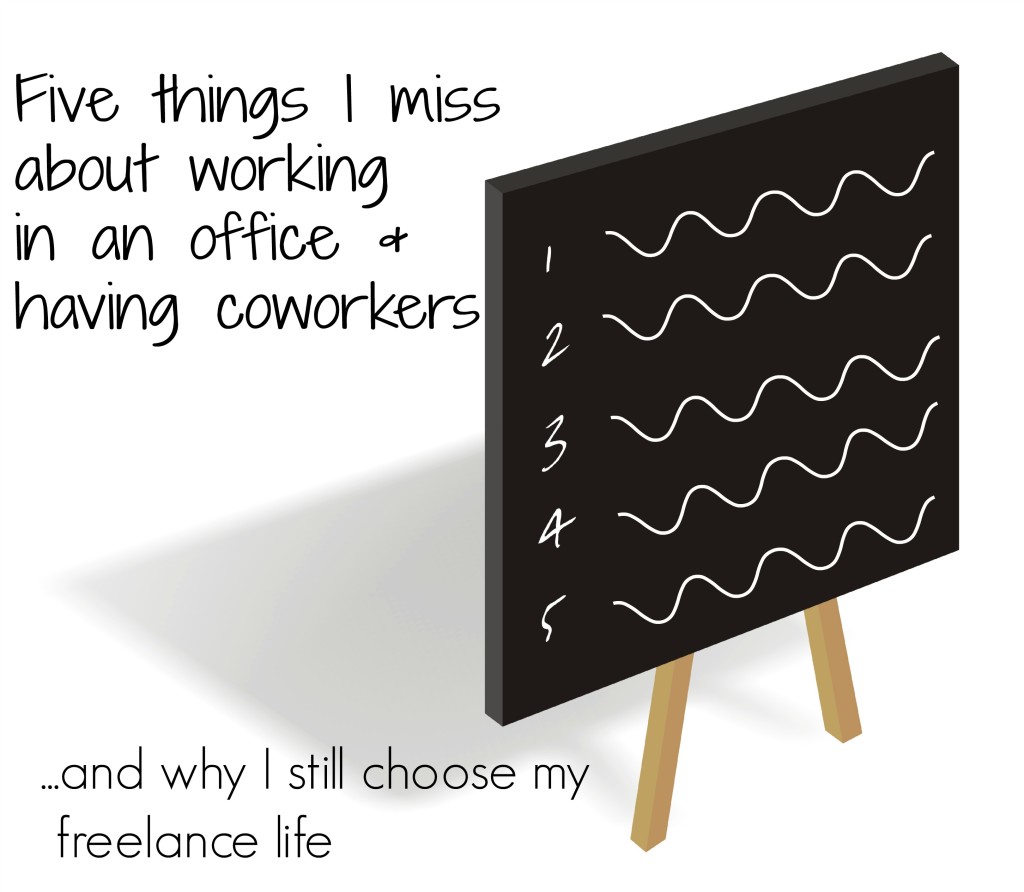 I've talked about what I don't miss about working in an office environment with coworkers… but that doesn't mean it's all roses and sunshine as a freelancer! Here are a few of the things I miss about working in an office and having coworkers:
1) Brainstorming sessions.
Sometimes you really want to hash things out with someone, or get a second opinion. Or you just get stumped for ideas in the creativity department!
Being a freelancer can be tricky because you end up doing a fair amount on your own. Luckily I can ask Mr. Science for his thoughts on such-and-such, and now I have a freelancer buddy in Dan, which helps a lot. Of course, it's not the same as my old job, when we'd occasionally have anywhere from three to seven of us getting together with big sheets of poster paper and coming up with ideas for a solid couple of hours! I always enjoyed those brainstorming sessions, and we'd get some fantastic ideas out of them.
Grab your checklist for preparing to work from home full-time >>
2) Coffee / lunch breaks.
My idea of a coffee or lunch break tends to be going to Starbucks and grabbing an Americano while working, or heating up some leftovers and eating a snack in front of the computer.
While we didn't take many breaks at my last office job, the breaks that we did take often ended up being great opportunities to either bond as a team (and talk about non-work items), or to chat about work stuff (which was especially handy as a way to connect with other staff members who worked in different departments and who we didn't get a chance to connect with regularly).
My current breaks during the day are for sitting down to read a few chapters of a book, squeezing in a little exercise, or tidying the house. It's not quite the same as taking a coffee or lunch break with coworkers, but it works well for me right now.
3) Mentoring.
This might be the biggest thing that I miss. In my last full-time position, I had the opportunity to have project assistants and be on the hiring team… and I absolutely loved working with other people and teaching them about the non-profit world and mentoring them. I'm sure I learned just as much from them as they learned from me, but I've always enjoyed being able to share my knowledge with other people and collaborate—especially when we get along well and have similar perspectives.
This is something that I'm hoping to expand on in the coming months and years: mentoring other people who aren't as far along the freelancing journey as I am, and being mentored by people with more expertise than I have.
4) The opportunity to try completely new things.
As a freelancer, I certainly gain a lot of new experiences and knowledge on the job, but I'm also limited because I don't have different types of software etc. at my disposal. It was fun, at my old job, to play around with things like design work (which I was, quite frankly, terrible at), and to be put in charge of new projects simply because I had the most experience out of everyone in the office—even if my own experience was extremely limited.
Nowadays, I'm hired because I'm an expert. And there is always more to learn in your particular field, which I love, but it does mean that I'm not presented with tasks or projects that are totally out of my scope.
Grab your checklist for preparing to work from home full-time >>
5) Being around people all day.
This is an iffy one. On the one hand, I love not being around people all day as a freelancer, because it means I have the energy to spend time socializing with my friends and networking. On the other hand, as I've mentioned multiple times, I had some really awesome colleagues that I genuinely enjoyed spending time with. Most of the time I truly enjoy having my own office and working alone, but every now and then, I do miss sharing an office and having people around to connect with!
The bottom line…
When it comes right down to it, there is no way I would trade my freelance life for my office life. The pros outweigh the cons, every time, and I wake up with a smile every day, knowing that I own my own business, can choose my own projects, and am doing the type of work that I would gladly do for free if I didn't need to earn an income to live.
But it's always good to keep things in perspective and remember the value of different types of lifestyles 🙂
Do you work in an office or as a freelancer? What do you like or dislike about your job? Is it something that you are passionate about (or do you feel that your job is something you *need* to be passionate about)? Share in the comments section below!