If you want to escape the 9 to 5 life and start your own home-based business, there are two big foundational things you need to do: 
1) Set up the systems and strategies in place so as to ensure a smooth, seamless transition out of the 9 to 5 office life and into working from home full-time (pssst… that's exactly what I teach in the Goodbye 9 to 5 masterclass!)
2) Get started with your small business NOW (before you quit your 9 to 5 job!)
Grab your checklist for preparing to work from home full-time >>
Today I want to discuss the latter: why exactly should you start your home-based business before you've even quit your office job?
After all, you're a busy person! You don't really have that much time to spare in the evenings and on weekends to work on your own business. Wouldn't it make more sense to wait until you have 30+ additional hours each week to spend growing your business?
NOPE. Please, PLEASE don't wait until after you escape the 9 to 5 before starting your own business!
There are 5 main reasons for why you should get your business started BEFORE you quit your day job…
1) It will provide you with a strong foundation for when you actually do quit your day job.
Make your life easier: start building your client base before you've even started working from home! This will enable you to already have a small roster of clients, plus it means you'll have some experience in the work you'll be doing as a full-time home-based business owner.
Why start from scratch, when you could instead already be taking a couple steps here and there to ensure your business is running smoothly before you've escaped the 9 to 5 grind?
Even better, when you start working with clients and get your feet wet now, you'll be able to test things out and see if you actually WANT to do this type of work, or if you'll need to tweak the services you offer.
2) It will give you the opportunity to build up your skills in the field you'll be working in.
If you want to be a photographer, for example, but you have zero experience in photography, then it stands to reason that you'll have a challenging time offering that service to potential clients.
That's why it's better to build up your skillset and get a little professional experience ahead of time, so that you can focus a lot more on the marketing side of things and doing client work (rather than the professional development side of things) when you quit your 9 to 5 job and start working from home full-time.
3) It will enable you to get some experience working with clients.
Maintaining good client communication is an important part of your work as a solopreneur.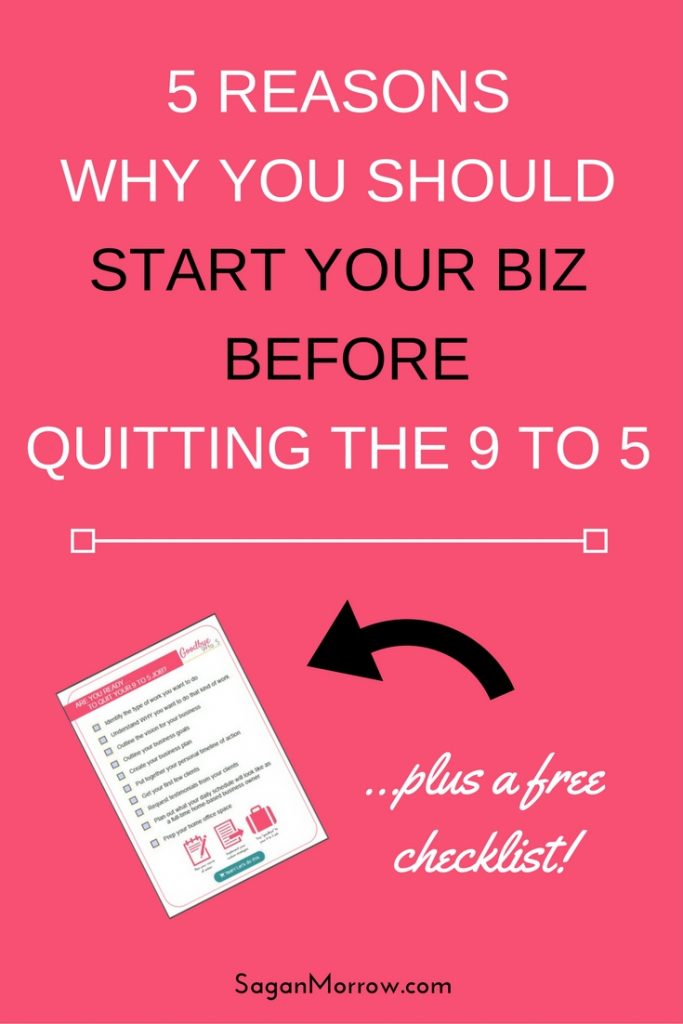 For instance, do you know how to interact with clients effectively, what to do if they aren't satisfied with your work, how to ensure they pay you on time, and what to do to ensure you are both clear on the parameters of the project they've hired you for?
Do yourself a favor: get your first few clients before you quit your day job so that you'll already know the answers to these questions.
Psst… there's a whole module on best practices for working with clients in the Set Yourself Up For Freelancing Success e-course! Click here to get on the waiting list and learn more about the program.
4) It will help you to be more comfortable with working from home and being your own boss.
Being able to manage yourself well and to work from home productively (without getting distracted!) are important skills that every solopreneur needs to cultivate.
When you've already had some experience with working from home and being your own boss—even if it's just in the evenings and on weekends, working around your 9 to 5 job—you will be able to more smoothly transition into running your business full-time.
5) It will empower you to feel more confident in your abilities and get over the fear that holds so many people back from making the leap to escape the 9 to 5.
Don't let fear hold you back from living your dream and escaping the 9 to 5!
Starting your business sooner rather than later will reduce feelings of fear, anxiety, and overwhelm, so that you can more confidently quit your day job and start to work from home full-time with self-assurance.
What it all comes down to if you want to escape the 9 to 5…
If you're tired of the 9 to 5 grind and you want to work from home full-time, be strategic about it. Set up your profitable small business. Create a timeline for yourself and put together a plan of action. (I recommend a 3-month or 6-month model, which you can learn all about in the Goodbye 9 to 5 masterclass).
Above all, don't rush into it! You'll be in a better position to escape the 9 to 5 when you do it with strategic, actionable planning.
Grab your checklist for preparing to work from home full-time >>