There just are NOT enough hours in the day. And especially when you're working full-time and running a small business on the side, it can feel nearly impossible to do anything besides work, work, work!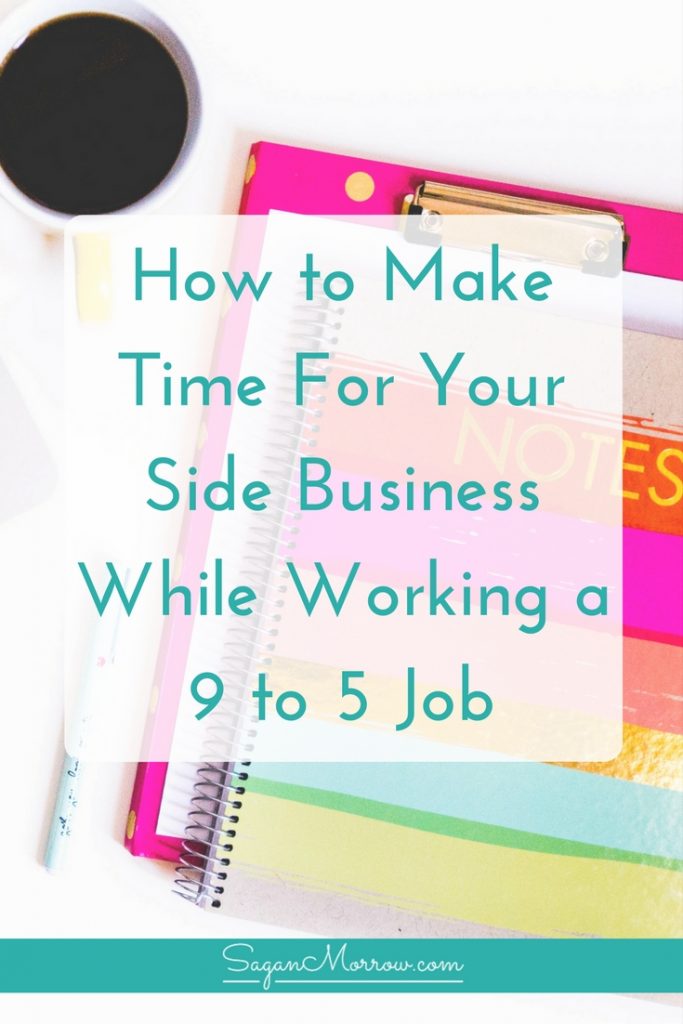 Luckily, it IS possible to work full-time at a 9 to 5 job while managing your home-based business on the side. 
Yes, really!
In fact, I did it for years.
I built up my freelance business while I was working a stressful, low-paying job at a non-profit (in which I *was* the fundraising department, and I ran all the youth programming, among other projects. I'm not kidding when I say that it was intensely busy!).
Besides doing my 9 to 5 job and my freelance business, I also spent my time co-hosting a weekly hour-long radio talk show, managing several blogs that i updated a few times each week, studying to get my diploma as a Certified Holistic Nutritionist, and somehow maintaining relationships with my common-law husband, friends, and family.
And honestly, those are just the things I can think of off the top of my head. There are probably a bunch of other things I've forgotten about at this particular moment!
I'm not superwoman (spoiler alert!).
So… HOW did I do it?
How did I manage to build up my freelance business when I already had a bunch of other commitments?
Well, I made a lot of mistakes and got pretty burned out, that's for sure.
But luckily, YOU get to benefit from my mistakes and my experiences with burnout!
And that's what I want to share with you today… a few of my top tips for how to manage your small business on the side while you're still working full-time at your 9 to 5 job.
Because we are ALL busy.
We all have lots going on.
Sometimes it can feel as though we simply have no time when we're working full-time and running a small business on the side, but no matter your life and work circumstances, you can do it.
You just need some tips for how to do so...
Tip #1 for successfully working full-time and running a small business on the side: Let things go and prioritize tasks.
If you're spending all your time just trying to stay afloat and catch up with tasks, then you're basically on the fast-track to burnout.
Instead, figure out what things you can reduce your time on, and let go of those things for a few weeks or several months, if possible. Then, take the time you WOULD have spent on non-priority items, and use that time to work on the most important tasks.
Letting go of things that are sucking up your time without much of a return is one of the best things you can do to manage your time more effectively.
Take a good look at your current situation, and be honest with yourself.
Is there something you can let go of?
Are there tasks you can combine to save time?
If you let go of something today, what would be the result?
Letting go of something now doesn't mean you can never return to it. It just means that you're putting something on hold for a little while, during which time you can focus on more priority items (such as working on your business).
Because if you're serious about building your home-based business, then it NEEDS to be a priority in your life.
Tip #2  for successfully working full-time and running a small business on the side: Create a strategic plan of action.
One of the things that should be at the very TOP of your list of priorities is to create a strategic plan of action for yourself.
If you've been reading my blog or newsletter for any length of time, or if you're one of my students, then you KNOW how strongly I feel about this!
Taking action without planning is just as detrimental as planning without taking action.
Regardless of the amount of time you have available to you, set aside at least 30 minutes to figure out how you can best use your time in the coming weeks. Here, you're going to create monthly goals and organize daily and weekly tasks that will help you to achieve those goals.
All of your daily and weekly tasks should contribute to your larger business goals.
But that FIRST thing you need to prioritize, before you can even get started on those daily/weekly tasks? Creating the plan of action. Otherwise, you won't know what tasks you do need to prioritize!
Tip #3 for successfully working full-time and running a small business on the side: Communicate with your loved ones.
This is especially important if your loved ones haven't had an experience of working from home or owning their own business, or if they have a lot more free time than you.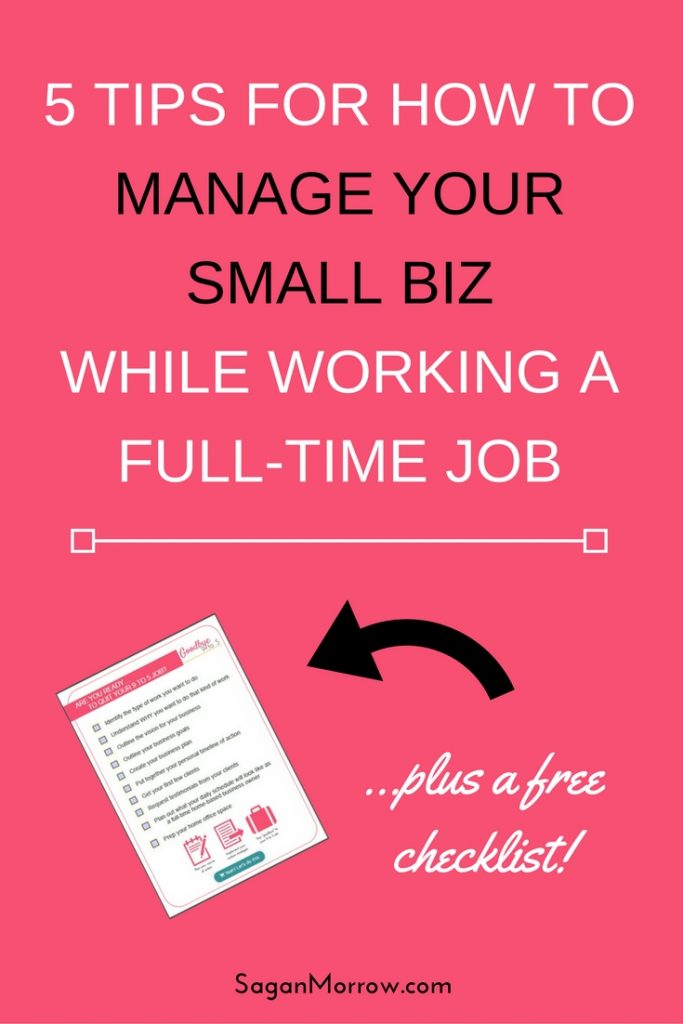 Sit them down and have a conversation with them to make sure you're both on the same page. Let them know how badly you want to make your business work, and explain what that means for your relationship with them: perhaps it means you won't be able to spend as much time with them, or perhaps it means you'll need them to take on some additional household chores for a little while, or perhaps it means that you'll be setting aside a certain day of the week or time of day that's exclusively for your business.
If you don't have support from your loved ones when you're building your business, it could be that much more challenging for you to have success with it. Maintaining communication and checking in with each other to ensure your relationship isn't suffering will go a long way.
Tip #4 for successfully working full-time and running a small business on the side: Check in with yourself on a regular basis.
It's not enough to just create a strategic plan of action and a business plan and start implementing it. You also need to check in with yourself regularly to ensure that what you are doing now is getting results!
Check in with yourself every week to see what you accomplished this past week, and what perhaps took more time than you expected. Be honest about what activities DIDN'T get results.
Then, look towards the upcoming week: what can you change about the tasks you originally set for yourself, based on what you learned from the last week? Are there any tasks you can remove, add, or tweak?
Keeping yourself accountable and being honest about how you are using your time effectively is a necessity for every successful home-based business owner.
Tip #5 for successfully working full-time and running a small business on the side: There's no such thing as a "small" win.
Seriously! Every win is still a win. Every step you take towards building your home-based business is something to be celebrated.
Managing a small business isn't something that happens overnight. It's something you build over time, and sometimes that means taking baby steps consistently every day to make that difference.
You'll get there. You've got this!
Want to transition out of the 9 to 5 life and into working from home full-time with your small business?
You're in luck!
The Goodbye 9 to 5 masterclass teaches you EXACTLY how to do that... with step-by-step instructions! If you follow the strategies in Goodbye 9 to 5, you could be working from home full-time in the next three months.