You do NOT need to use toxic productivity hacks in your business… and you don't need to succumb to hustle culture! Anti-hustle productivity is what I live and breathe as an anti-hustle Productivity Strategist & Success Coach, and it is so beautiful and incredible to watch how my clients—regardless of their background, lifestyle, business model, personal goals, etc—are able to skyrocket their productivity and dramatically increase their success, as a direct result of the anti-hustle productivity methods I teach.
…In fact, I even created a BRAND-NEW Foundations of Business Productivity workshop, which shares all about my anti-hustle productivity methodology, and how YOU can use it in your business (whether you're a sole proprietor, or if you're a small business owner or entrepreneur and you have a team of employees/contractors).
Here's a sneak peek…
The first thing you need to know about productivity is that it is a practice. It's a skill that anyone can develop, and it's something we can build into a habit for lifelong upgrading. There is no limit to how productive we can be. I live and breathe productivity, and I'm still improving my productivity skills on an ongoing basis! It's a continuous journey that builds on itself.
What we are going to go over today includes some very actionable steps you can take, and very important mindset shifts—You'll get the opportunity to put all of this together into a strategic action plan, but I want you to know that (anti-hustle) productivity, the way I teach it, is an ongoing practice. This also means you don't have to try to implement everything all at once, right away. Think of it as the repeated pursuit, continuing education, of professional excellence. 
You probably think of productivity through the way it is traditionally taught in our society: hustle culture and toxic productivity.
If you've taken any other trainings on productivity, or if you've read books on time management & productivity hacks, then you'll be familiar with the traditional methodology. For example: the idea of waking up early in the morning and not taking a break until it's time to go home from work. You might think of this as the "productive" people who arrive at the office before dawn, leave after dinner hours, go into the office every weekend, all of that.
Another example of productivity as you probably know it is toxic hustle culture. "Keep hustling! Keep grinding! I'll sleep when I'm dead!" This is that concept that your worth and your value are measured by how much work you can do…
…Which leads very nicely into our third example here, of prioritizing and glorifying "busy" work. These are the tasks that make us feel important and busy. But in reality, they aren't furthering our goals. They're pushing things around and going in circles without making real progress. It's the act of doing work for the sake of work, and not analyzing whether it's useful or even necessary. Toxic hustle culture THRIVES on us glorifying busy work.
But here's the thing… Traditional approaches to productivity are not efficient. They actually waste a TON of time.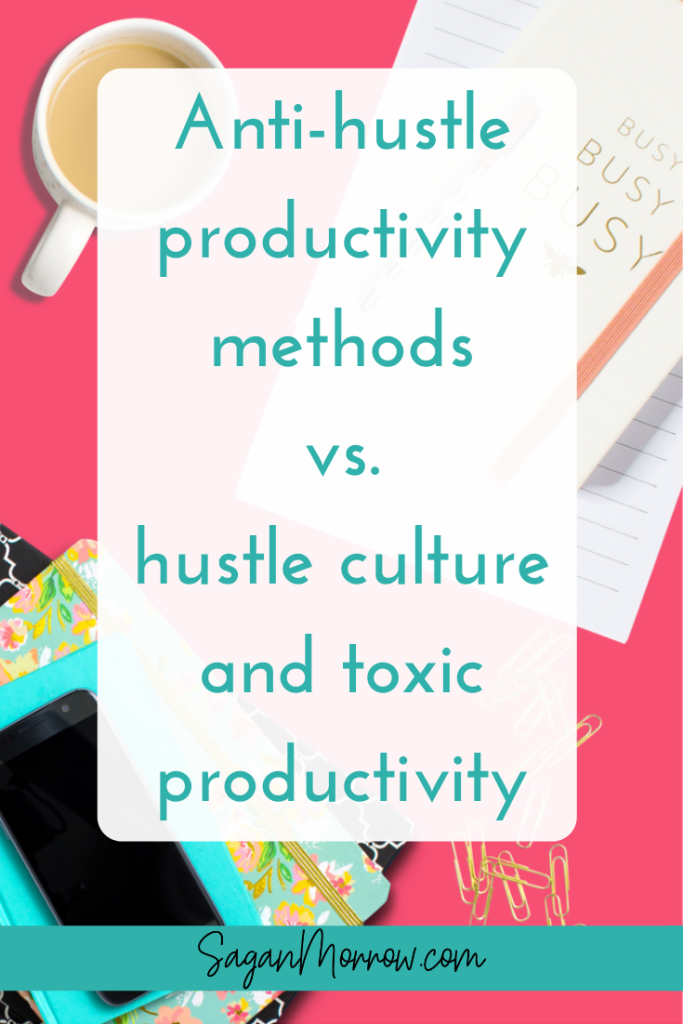 Traditional approaches to productivity also don't take your unique situation into account. They were designed by gurus who have a very specific lifestyle, without accounting for other people's situations, backgrounds, goals, work/life balance, interests, and so on.
Hustle culture is extremely one dimensional.
And frankly, traditional approaches to productivity are not remotely sustainable. They lead to a lot of burnout, unhappiness, stress, overwork, overwhelm, exhaustion, decrease in work quality, and missed deadlines. 
In other words, the problem with traditional approaches to productivity…
Is that they don't actually work. They're not ACTUALLY productive!
And that's why we're here today! There's a better way to approach productivity, so that it supports you. True productivity, anti-hustle productivity, healthy productivity, sustainable productivity that actually works and supports you, is rooted in energy management.
Think about it: It doesn't matter how many corners you cut and how much time you can save, if you're too tired to make good use of that extra time or enjoy it. We want to make sure that your energy levels are stable, and that you can actively increase your energy when you find that it's taking a dip.
---
Want more? 
You'll get…
✔ Traditional hustle culture & toxic productivity vs. anti-hustle productivity methodologies
✔ Energy management & personality-based productivity
✔ How to use learning styles in your business (for task management, organization systems, and more!)
✔ Top 3 productivity mistakes you're making in your business—how they show up every day & what to do to fix them
✔ 9 practical action steps you can take to overcome your productivity woes (includes insider screenshots of my business!)
✔ Powerful productivity assets you can use daily in your business
✔ What you need to know about big-picture business planning, plus how to do a productivity audit
✔ Best practices for home office organization
✔ What you can do to reduce everyday interruptions, constant decision-making, and unnecessary "busy work"
✔ How to create your personal productivity action plan
✔ Effective communication tips with team members & clients
✔ Fillable workbook with guided questions to create your personal productivity action plan
…Trust me, you do NOT want to miss this anti-hustle productivity workshop! It's going to change everything you think you know about productivity.