Did you know that with the right productivity templates, you can easily save 10+ hours/week, EVERY week in your business? Simply by setting up your business foundations with awesome, powerful productivity assets, you will dramatically save time—and prevent burnout and overwhelm! Here are the productivity templates that every small business owner needs…
✔ Action plan for improving productivity. 
This uses personality-based productivity methodologie and your learning style, and it also takes into account your unique business goals, team requirements, lifestyle and values, and so on. When you have a concrete, tangible productivity action plan that's grounded in your personal productivity style, you will be able make seemingly small changes in your everyday business activities that have a long-lasting, long-term impact.
✔ Business departmental structure & sub-divisions. 
Designing a very specific structure for your business so that everything has its place (yes, even if you're multi-passionate, and yes, even if you have lots of moving pieces in your business, and yes, even if you're a solopreneur) reduces overwhelm, simplifies processes, and creates room for stress-free scalability as your business grows.
✔ Guided questions & structure for conducting weekly audits. 
These prevent you from making big mistakes in your business—and enable you to track your incredible progress over time. Think of your weekly audits like your crystal ball and magic wand, all rolled in one: You'll be able to "see the future" of your business, based on where you've been and where you are currently, and then you'll be able to "magically" course-correct to prevent yourself from making mistakes.
✔ Monthly performance reviews template.
Most companies make the fatal mistake of a) only doing performance reviews once a year (if at all), and b) not thinking about how to use performance reviews as information and an opportunity to get to know your team (and yourself) much better. Doing performance reviews the right way will improve your business relationships, as well as your own self-trust and self-honesty as a business owner. And yes, you can still use these even if you're a sole proprietor!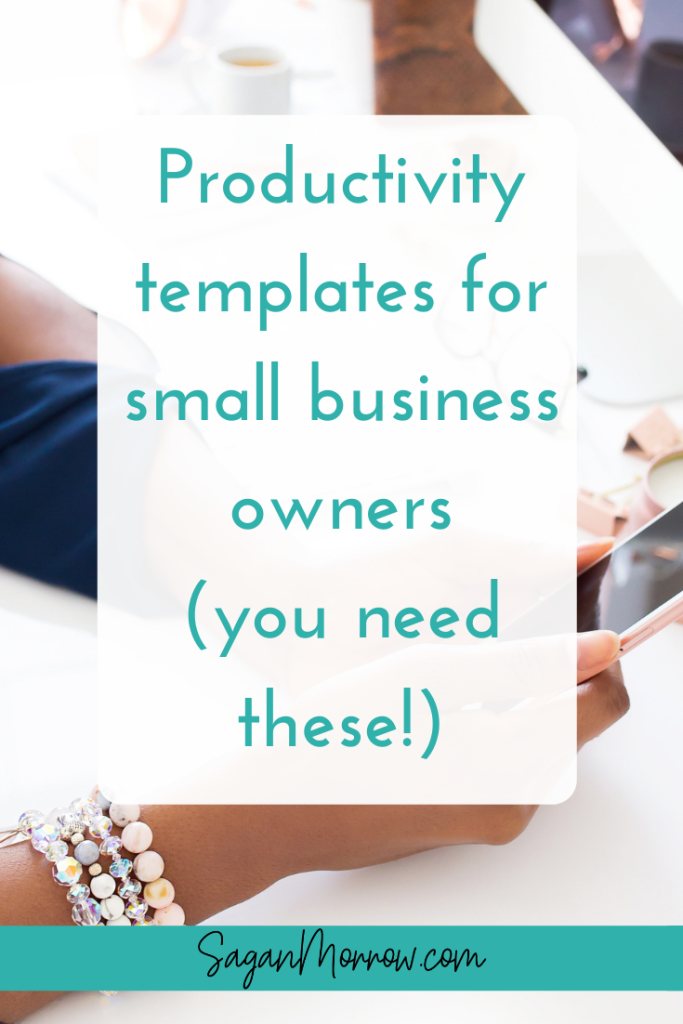 ✔ Decision-making matrix for connecting all projects & tasks back to your long-term goals & values. 
You're busy—It's time to get out of the cycle of constant decision-making. This lets your business make decisions FOR you! Using an awesome productivity template to custom-design your decision-making matrix will simplify everything in your business, and it ensures that you are always making the best possible decisions in your business… without needing to actively be involved in every tiny decision.
✔ Outline of your documentation manual for tracking your business plan, policies, processes, and procedures.
Think of this like your "business bible," guidebook, or roadmap, to easily organize and keep track of EVERYTHING in your business. If you ever wished that business ownership came with a manual… THIS is what you've been waiting for.
✔ 3-month sample schedule for achieving your goals.
At-a-glance overview, breaking down larger projects into more manageable action steps to meet your business goals. When you're tired of feeling like you're pulled in a million directions, and you WISH you could clone yourself (because let's face it, you're doing the work of three full-time staff right now!), being able to see how everything you're working on connects back to your larger goals will be a game-changer.
Guess what? I can create all of these productivity templates FOR you—Fully customized to your small business (whether you have a team of employees or contractors, or if you're a one-person sole proprietorship).
PLUS, I'll give you a few bonus productivity assets…
✔ Productivity magic audit & assessment of your current productivity standards.
This is an awesome assessment that pinpoints your business weak spots so we can strengthen them. We'll analyze what you're doing really well, areas of improvement, and what can be overhauled (or even tweaked slightly) to skyrocket your business productivity.
✔ Toggl time management setup & organization.
Do you know where your time goes? Do you know where ALL of your time goes? When you track your time (ALL of it), you'll never again need to wonder where the time goes! The trick is setting up a powerful time management system that's fully customized to your business, so that you don't need to constantly wonder how to categorize your business activities, or deal with complicated management of your time-tracking software.
✔ Suggested content calendar for blog posts and/or social media.
With this handy sample content calendar, you'll get fresh ideas to create new content more easily… and you'll know exactly when to publish different types of content on different platforms to maximize the effect, without feeling like you're spending ALL your time coming up with new content ideas.
…You get ALL of this when you book your Luxe Productivity Services VIP day. It's a productivity VIP Day, specifically designed for small business owners and solopreneurs!