One of my dear blog friends contacted me a last week to inquire if she could use my blog newsletter welcome email as a template for her own, because she loved it so much. Of course I said yes—and since I see questions ALL THE TIME about what to send your email subscribers, I figured I'd provide you with a handy template to use for your own blog newsletter welcome email!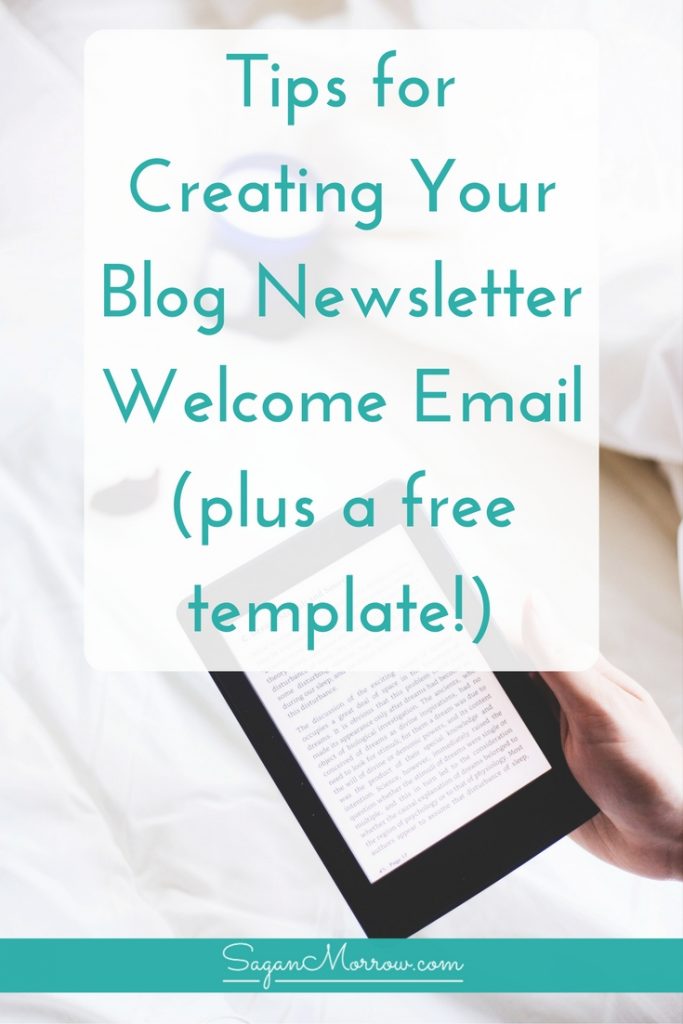 CLICK HERE to grab the free blog newsletter welcome email template >>
The welcome email is a great opportunity to email your new subscribers immediately after they sign up for your newsletter. With it, you can introduce yourself, let them know what to expect in your newsletters, and direct them to any other freebies you might have for them.
Psst… want to know what you should include in your weekly newsletter?
Because I send a weekly newsletter to my subscribers, providing them with a peek behind the curtain of managing a home-based business, and since I do things like talk about my common-law husband Mr. Science a lot in my newsletters, I want readers to know who the heck Mr. Science is. I don't want to have to get into detail explaining these kinds of things in every single newsletter I send out.
That's where the welcome email comes in handy!
Here are my top tips for what to include in your blog newsletter welcome email:
An introduction about the newsletter, what they can expect to receive from you, and your frequency of sending newsletters (I specifically state that I send newsletters on Saturday mornings, so people even know when exactly I'll be popping into their inbox).
An introduction about who YOU are, with a combination of the important details (such as what you do for a living, if that's what your newsletter is primarily about) and some fun, personalized ones (for example, I mention how much I adore red wine and lipstick).
A list of your freebies with links to sign up for them.
An invitation to hit reply and answer a few questions you have for them so you can get to know each other better (keep it light to make it easier for them to reply—invite them to let you know how they found your newsletter, why they signed up, and what they do for a living, for example).
A soft nudge to invite their friends to join the newsletter too (you can do a "Click to Tweet" link, like I do, to make it super easy for them).
Links back to your blog and main social media platforms. I prefer to link to all of these because you never know which social media platform people prefer to use.
CLICK HERE to grab your free blog newsletter welcome email template now!
Want to see the welcome email in action? Subscribe to my newsletter list and you'll get it delivered to your inbox right away.
FAQ about setting up a welcome email…
1) What if people unsubscribe after getting my welcome email? 
If they unsubscribe that quickly, who cares? It's okay if they just signed up for your freebie and don't want your weekly newsletter!
If they aren't actually interested in the content you send them in your weekly newsletters, then what's the point in having them on your list? If you as a person don't resonate with them, then they aren't going to enjoy your newsletters, so it's not going to benefit ANYONE.
Don't worry if people unsubscribe. People will always unsubscribe, no matter how good your stuff is. If it bothers you that much, make a point of avoiding looking at your unsubscribe numbers.
2) If I have multiple opt-in freebies, should I set up multiple welcome emails so I have a different one for each freebie?
NO. Set up just ONE welcome email that covers the basics of what you do. Otherwise, people who sign up for multiple freebies will just receive multiple variations of the exact same welcome email, which will annoy them to no end (and we never want to be a nuisance!).
You can set this up as an automation in ConvertKit*, so that any time someone subscribes to your freebie, they get sent to your welcome email (which is set up as an "email sequence" in ConvertKit, even if it's just one email).
The beauty of ConvertKit email sequences is that the same email address can't receive the email sequence more than once, so if the person clicks on three of your links to freebies and signs up for all of them, they won't receive your welcome email three times. They'll just get it the first time they sign up, and that's it.
If you're going to have multiple opt-in freebies, then signing up for ConvertKit is a MUST*. You can get by with MailChimp if you only have one opt-in freebie, but as soon as you add even just one or two more, it's going to be a nightmare to manage. Do yourself a favor and invest in ConvertKit. You will love it as much as I do!
3) I've seen some people do a series of welcome emails. Is that okay?
Sure. You do you, my friend! Go nuts, if that's what you want to do. You can do the welcome email as a single email, like I do, or if you like you can break up the basic welcome email into multiple parts (for example, one email about your newsletter, one email including a background of who you are, and one email with the freebies, sent in a sequence).
However, I prefer to do it as a single email for three main reasons…
First, it's a little less daunting for a new person signing up to your newsletter to just get one email (instead of three in a sequence, even if they are all spread out). This is especially true if they weren't expecting to receive a welcome email—which most people aren't.
Second, I personally would rather get one welcome email instead of three in a row providing a whole bunch of background on the blogger. And basically one of the fundamental components of my business is that I do things the way I would want them to be done if I were my reader or my student. (That's also the biggest reason why you'll never see a pop-up on my blog—I can't stand them on other websites, so why would I do that to my readers? I DO, however, like welcome mats on other blogs, which is why you'll see welcome mats on my site.)
Third, I want people to start receiving my weekly newsletter as soon as possible. I don't want them to have to wait a week or two to get to *the good stuff* of my weekly email. And it seems like a pain to get that set up in my newsletter program (to have them go through the sequence and only then add them to my weekly newsletter), so I just don't bother with that hassle.
Grab your blog newsletter welcome email template >>
4) I have a LOT of freebies—can't I do a resource library so they can access all my freebies that way instead of including a list of them in the welcome email?
Sure you can. But I'm curious: how often do you ACTUALLY visit the resource libraries you sign up for?
Because I have signed up for a bunch and I never look at them again.
Having it as a list makes it easier for readers to quickly glance through and choose the ones that resonate with them the most. Right now I have nine (!) possible freebies that readers can get when they sign up for my newsletter, so I think I'll start organizing them based on topic once I hit the dozen mark. After all, 12 links in a single bulleted list seems like a lot. I plan on organizing them out into various sections: "Interested in freelancing? Here's a list of X freebies you might like." "Are you a blogger? Check out these X freebies."
The freebie links will still all be in the same welcome email, but when they're organized with headers, they'll be that much easier for new readers to quickly skim and start downloading exactly what they're most interested in.
5) Should I include pictures?
Because images in a newsletter can increase the likelihood of it being sent to spam, I recommend that you limit your images—particularly for that first email you send. A simple logo will be plenty! But if you'd like to add a photo of yourself or something similar, you certainly could do so.
The nice thing about using an email marketing platform like ConvertKit* is that it is designed to primarily be text-based, which means that your email newsletters take on the appearance of looking like an email your readers would receive from a friend. To me, this is ideal: I WANT to be friends with my readers. I want us to get to know each other! That's why I no longer have a flashy magazine-style look to my newsletter. (Of course, if that's the feel you're after, then go to town! It's just important to know what you want from your blog newsletter.)
Got other questions about sending a newsletter to your readers? Ask away in the comments section below!
Don't forget to grab your blog newsletter welcome email template.
*This articles contains affiliate links.