After almost a decade of freelancing, I STILL get butterflies in my stomach when I'm about to submit a completed project to a client.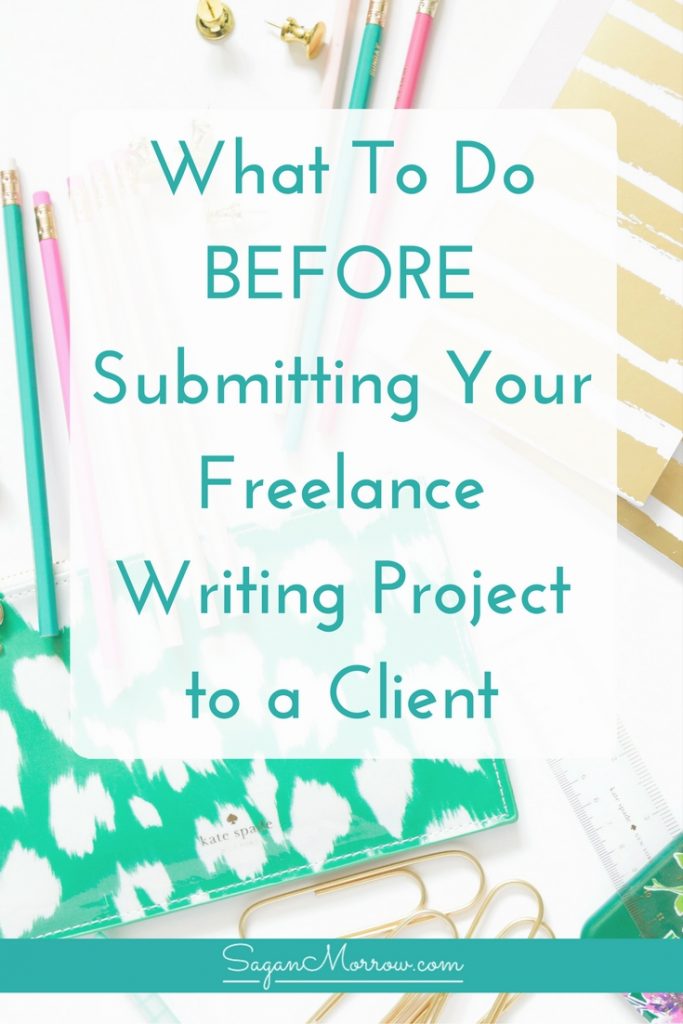 What if they don't like it?
What if they HATE it?
What if my work is actually just garbage?
(It's actually pretty funny that I still get a little nervous every time I submit a project to a client, because they nearly always come back to let me know that they love the work and it's exactly what they wanted. This is very normal for a freelancers!)
Luckily, these feelings of apprehension have greatly dissolved over the years (and when you're working with repeat clients and you know what they like, then the butterflies are pretty minimal!), but I don't think it's something that ever really completely goes away for any freelancer.
And that's okay! In fact, the slight nervousness before submitting a project is a GOOD thing: it shows how much you care about producing high-quality work and providing your client with exactly what they want the most.
The only real issue with getting nervous before submitting a project is that it can make you second-guess yourself, so that you rework a project to death (which can result in a project that ISN'T so great, and/or burnout on your part).
Today, I have a series of questions I want you to ask yourself when you're working on a project and you get butterflies (and you're at that stage of not knowing whether it's "good enough" to submit to a client, or if you should work on it for another 10 hours).
But first, grab your free freelance writing project checklist to refer to every time you get the butterflies! It will help you to decide the best course of action and put those fears to rest 🙂
5 questions to ask yourself…
1) Have I made a real effort for this project?
Don't think about whether or not the project itself is any good. Just focus on your effort.
Did you make an effort with the project? Did you dedicate the necessary time and energy to it?
Putting in your best effort MATTERS! The projects I receive the strongest positive feedback on from clients aren't necessarily the projects that (in my mind) are the "best"---nope! More often, the projects that my clients love the most are the ones that I happen to have put a lot of effort into. Your effort SHOWS in your work, even if your confidence is a little shaky.
2) Does the project meet all of the client's initial requirements?
I like this question because it's pretty cut-and-dry, and takes the emotion out of the equation.
If the client wanted you to write 500 words on the history of popcorn for a website where the target audience is gourmet chefs… did you do that?
(Side note: I WOULD TOTALLY READ THAT ARTICLE. Or write it. Or, more importantly, research it. Popcorn = happiness)
Focus on the deliverables that you agreed to complete for your client, and check whether or not you've accomplished all of them in this project. If your clients requirements have all been met, you might be pretty close to being ready to submit your project!
3) Have I taken some time to step away from the project before submitting it?
This isn't always possible when you're working on a tight deadline, but if you can take even a few hours or a day to step away from your project and then give it one final look before submitting it, your fresh eyes may catch something that you otherwise would not have.
This is what you want to do at the very last stage. You should always do a few rounds of the project (by which I mean, don't just write up one draft and submit it as is!). Write it, walk away, read it over and polish it up, walk away, read it over and edit it, walk away, and then do one final read-through before submitting. You should aim for that (essentially at least 3 drafts) to be the minimum that you review your work. Ideally you might want it to be closer to 5 drafts, but it depends on many factors such as your time constraints, length of the piece, etc.
4) If I saw this as a consumer, what would be my reaction? 
This is one of my favorite questions to ask myself, because it really puts the project into perspective. Even if *you* are concerned that your work isn't as good as it could be, when you imagine it from the point of view as a consumer, you might realize that your work is really good!
For example, if you are writing website copy, then imagine you're a website visitor. If you're designing a brochure, then imagine that you see this brochure with a stack of other brochures in a lobby. If you're creating social media posts, then imagine that you're following this person on social media.
Removing yourself from the project and looking at it from an outside perspective can help to assuage your anxieties. Sometimes we get so accustomed to our work that we forget something important: what comes fairly easy to us isn't something that comes easy to the rest of the world! We might hold ourselves to a much higher standard than is strictly necessary.
5) Have I checked for spelling mistakes, consistency, and branding?
Double-check (and triple-check!) for typos and grammatical errors, as well as making sure that you've stayed within the brand/style guidelines. You'll also want to check that your writing reflects the client's voice and that the way you've written is suitable for your client's target demographic.
Psst… at this stage, make sure that any links you've included in the piece go to the right place, too!
Consistency is another really important one to pay attention to. For example, if you're working on a writing project and your client doesn't care if you use UK English or US English, then it's up to you to pick a style and STICK to it. Don't go back and forth, writing "color" and then "colour" later on in the same document.
Consistency is one of the things that will make your project look that much more polished and professional.
So… how do you know how much TIME you should put into a project?
Time is relative. One freelancer might take three times as long as another freelancer to complete the same project! Depending on how fast you work, how much experience and education you have, how much energy you have (are you burned out or ill? Because that will slow you down!), whether you are focused on the task at hand vs. distracted by other things, and so on, the timing could really vary.
As you do more and more freelance work, you'll get better at estimating how long it will take you to complete a project.
Bear in mind that new clients and new industries will always take more time, largely due to familiarizing yourself with a new brand/style and doing research.
One more note on this subject: just because a client gives you 3 weeks to complete a project (which you think you can probably get done within 10 hours), doesn't mean you should take the full 3 weeks to complete the project. I strongly recommend that you always aim to submit work before the deadline---it gives your client time to take a look at your work and follow up with questions or changes, AND it makes you look really good if you can submit something awesome within a shorter timeframe than anticipated. Plus, you never know when something will come up and derail your plans---so don't leave it to the last minute.
(However, if you simply don't have much wiggle room in your schedule for getting the project done ahead of time, then don't sweat it! It's better to submit a great project on the deadline date rather than a rushed, "okay" project well in advance of the deadline.)
But what if the client doesn't like your work?
At the end of the day, is it really so bad if the client requests changes or a new draft? After all, you'll learn something from it and get even more experience under your belt. And if you're REALLY nervous about submitting the project, you can take one of my favorite approaches and, upon submitting your work, let the client know that you're happy to make changes as needed. Clients will appreciate your willingness to make edits!
(Psst… it's always a good idea to submit it at least a few days before the deadline so that if they DO have changes to make, you can rework the project and submit it again in time for the original deadline. That's going to make you look really good!)
Want the downloadable freelance writing project checklist to refer to every time you're ready to submit client work? Grab it now: