In the one-on-one coaching industry, it's pretty common to get a 20-minute free discovery call/clarity call (or whatever you want to refer to it as), in order to get a "taste" for what your coach is like and to determine whether or not you'll be a good fit, before you commit to that person for small business coaching services.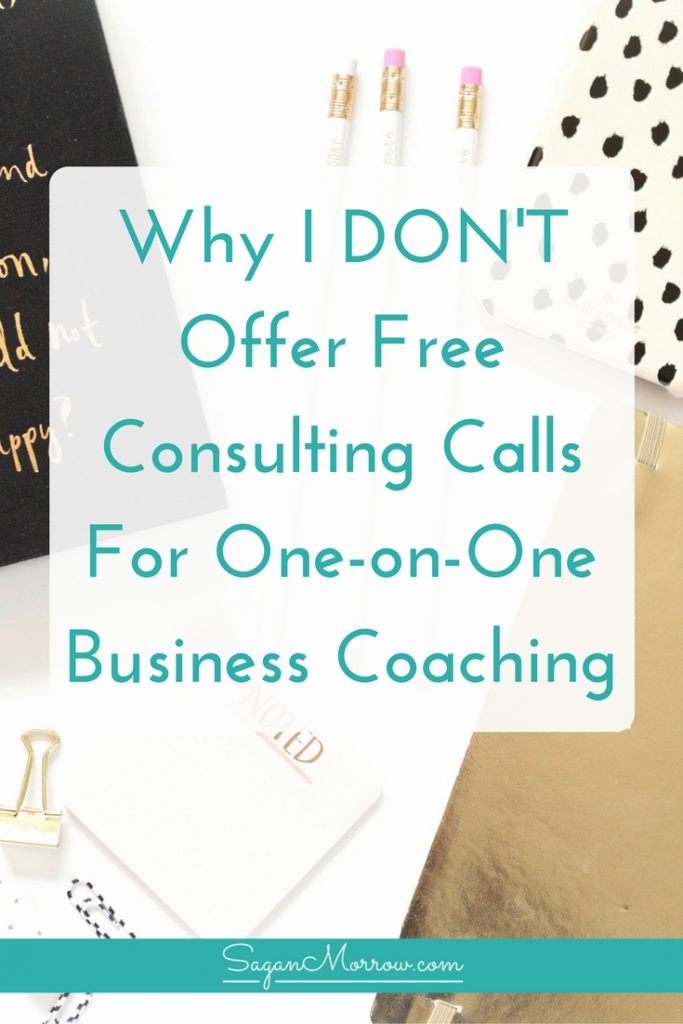 I don't do that---and I don't believe I ever will.
Today I wanted to talk about why I've chosen not to offer free consulting calls for the Biz Bestie Program, AKA my small business coaching services, because I think it's really important to be transparent in our businesses. I work with so many different kinds of solopreneurs and I know how CONFUSING the world of online small businesses can be!
So, in addition to sharing solopreneur business tips here on the blog, I'm also really looking forward to sharing a lot more behind-the-scenes details about my business... such as my process behind each of my programs, why I still do freelance work for clients, how I stay productive and manage my time as a small business owner, and so on.
1) I expect my one-on-one clients to have already gotten to know me through my free content.
How many people are going to spend $1,171/month for small business coaching without having ANY background on the coach, besides that single free call?
Frankly, I don't want people getting one-on-one coaching with me if they haven't gone through any of my free content.
If a person has never read this freelance tips blog, or seen my social media pages, or accessed any of my free resources (such as my Solopreneur Goal Planning Workbook), then I wouldn't necessarily want them to just hire me as a one-on-one small business coach for their very first interaction with me.
One-on-one coaching is about trust. If my student doesn't know me, how can they trust me? If my student hasn't seen any of my other work, how can they know that I'm the right fit for them?
It's one thing for a person to see on my Biz Bestie registration page that I have nearly a decade of experience in running a small business, and to see the testimonials from students… but it's another thing for that person to have experienced some of my work firsthand, via my blog, weekly behind-the-scenes newsletter, free resources, or paid offerings.
Moreover, my students don't need to go through a free business coaching call to determine whether or not they'll want to hire me through one-on-one coaching, because I already have enough other free content out there that they should be able to know from THAT whether we'd be a good fit!
They don't need to spend days or weeks or months getting to know me—but I do want them to feel confident that I'm the right coach for them.
2) My time is limited and valuable—and so is yours.
I spend A LOT of my time providing free content to new and struggling freelancers, between this blog, my free resources, and my free community group. I take the time to respond to emails I receive and I try to help readers out the best that I can.
But here's the thing: I need to pay the bills, too. And while I have the capacity to respond to emails, write blog posts, facilitate webinars, and connect meaningfully with others on social media, I simply can't dedicate 20-minute sessions on a regular basis to providing one-on-one small business coaching services without getting paid for it.
In addition, it's not fair to my students who HAVE paid for my business coaching programs to potentially be missing out on my attention if I were doing a bunch of free calls, simply because I don't have the hours in the day to *do it all.*
And you know what? Your time is too valuable, as well, to spend it booking a free session with me, setting aside the time in your schedule, only for us to come to the exact conclusion that YES, this is a good fit. You already know you want to work with me—Why should we waste our time on a ~discovery call~ when we could instead spend that time making great progress on your business, in an ACTUAL coaching session?
3) I DO offer VIP pricing.
While I don't like the concept of offering free one-on-one calls, what I DO offer is a special rate for my VIP list. I like rewarding people! I have a VIP list that anyone can join to get special pricing for the Biz Bestie one-on-one small business coaching program.
Pssst... you can CLICK HERE to be a VIP member, too!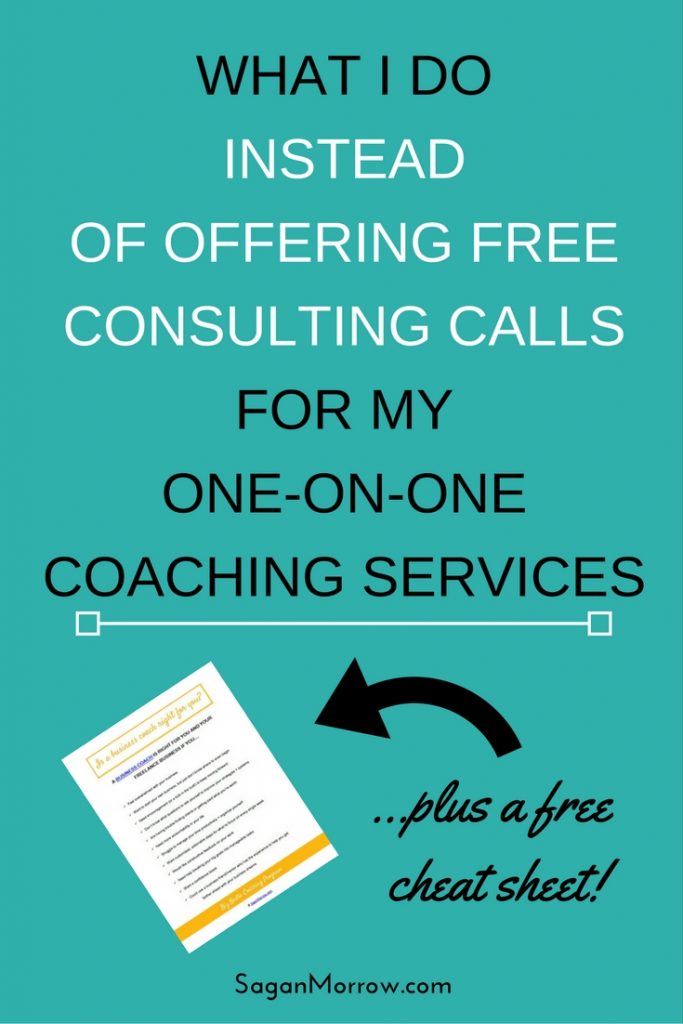 So… how do you feel about offering one-on-one consulting calls for small business coaching services? Do you agree with the points I've made here?
If you're a business coach yourself, do you have a rebuttal?
If you could see yourself getting small business coaching services in the future, what are your thoughts on this? 
Share on Twitter or Instagram and tag me (@Saganlives) to keep the discussion going!