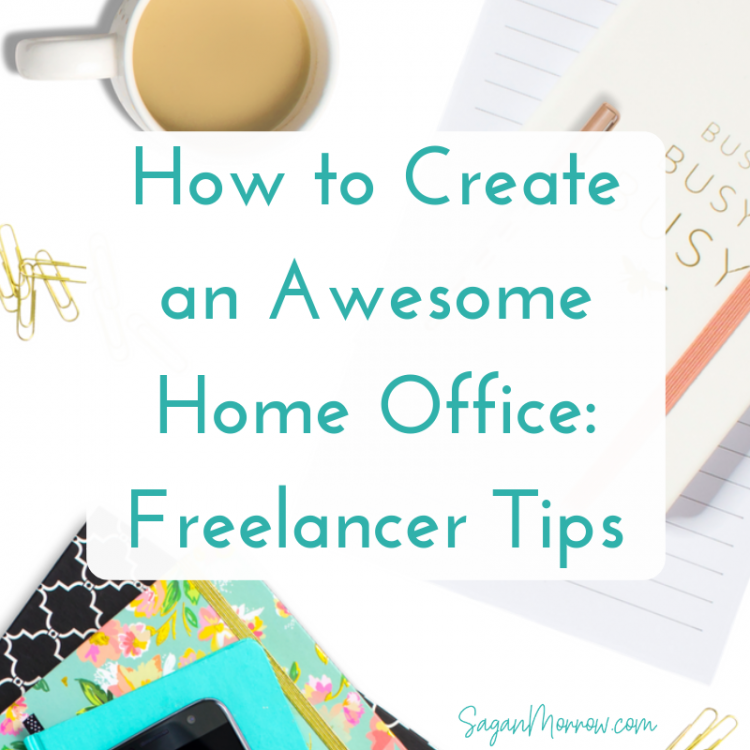 Thinking about starting your own home-based small business or becoming a freelance in the new year? One of the key things you'll need is a dedicated home office! This article shares 5 home office tips for freelancers to help you out...
Here are some tips for how to create your home office:
Get more workspace than you think you will need. You will inevitably want to spread out and have a binder open while you work on your computer, or look at several different materials simultaneously. Consider a two-tiered approach, too: a standing desk and a sitting desk, for example. (This has been a lifesaver for me.)
Have all of your office supplies within arm's reach. There's nothing more frustrating than being on a roll with work when suddenly you realize you need a three-hole punch and it's in a drawer that you can only access if you unplug your laptop and move it. Trust me! Make life easier for yourself; fewer items that are easily accessible is the way to go.
Figure out the organization system that works for you when it comes to lists and keep at it. I have a small day planner, plus a weekly to-do sticky note, as well as a list of everyday items in a clear sheet protector that I can check off with a dry-erase marker. Because of the nature of my work (the blog side of the things, the freelance writing / editing side of things, the freelance social media management side of things, and the product [business books] side of things), I need that many different lists to ensure that nothing slips through the cracks. Your system might be simpler or more complex than mine---but figure our what's right for you through trial and error, and stick with what works.
Care for your home office and treat it well. Some people say that they can work well in "orderly chaos," and maybe that's true---but I don't know of anyone who works better when their office space is dusty. Even if you must have everything disorganized, you should still keep the area clean! You should want to come to your desk every day---make it a welcoming haven that's just right for you.
Try to get as many supplies as you can before you start using your home office. Think about the basics: computer, day planner, spare paper and pens, highlighter, stapler, three-hole punch, sheet protectors, binders, whiteboard and dry-erase markers, cork board and pushpins, paper weight, paper clips / bulldog clips, business cards, and any resource materials related to your field is a good place to start. The idea behind getting these things before you start using them is that once you're ready to start working from your home office, you can start immediately: you won't have to run errands and go out and get all of your office supplies right away, because you'll already have everything. Preparation is a huge factor for owning a home-based small business.
Want to get a complete list of everything you'll need to create an awesome home office you love? Grab my (free) Ultimate Home Office Checklist!
What are your best home office tips for freelancers? Are you looking to design a home office this year? Share in the comments section below!
Let's stay connected: Facebook | Twitter | Instagram | Pinterest