This is a question that a lot of home-based freelancers / small business owners have. Should I work on weekends? Should I work in the evenings? Is it better to keep regular 9—5 hours? How many hours per week should I be working?
The answer, of course, is it depends! But if you're a freelancer or home-based small business owner, you can figure out your own answer to this question pretty easily by asking yourself a few more questions:
1. What is your working style?
Are you the type of person who can sit down at a computer and work for 10 hours straight? Do you prefer working a couple hours, then taking a 30-minute break? Is it more important to you to have two days off in a row, or a couple hours to yourself every day?
Everyone has a different working style. The trick is to figure out what your working style is, if you don't already know it!
For example, I work best when I work pretty much every day of the week… as long as I take a couple hours off in the middle of the day, pretty much every day, to do my own thing. And I also usually need a half-day or a full day off work every week or two.
Grab the cheatsheet to save 45+ hours each month >>
2. What type of work do you do?
These days, I'm doing a lot of social media management. And I love that! This also means that I can't really let more than 24 hours max go by without checking client accounts. However, if you have a graphic design business, for example, you might have more freedom to get the work done when it works for you, provided that you meet your client's deadline.
I love my work, and although I can think of a dozen hobbies I'm excited to take up when I can give them the time they deserve, I'm sure I'd still choose to do work in the evenings and on weekends on occasion. It depends what you want to do, what your clients need, and the type of work that you're involved with, as to the hours that you'll keep.
3. What is your lifestyle like?
What do you enjoy doing in your spare time? Do you have small children that you need to spend time with on the weekends? What is your life situation like?
I'm lucky in that my lifestyle (such as being childless by choice) gives me plenty of flexibility in terms of when I work and when I don't. Your lifestyle might not offer you that kind of luxury, in which case it would be smart to work when it fits around other life commitments (such as family).
Grab the cheatsheet to save 45+ hours each month >>
What it ultimately comes down to…
Some days you'll work weekends. Other days, you won't.
At the beginning of your freelancing career, I strongly encourage working evenings and weekends—if you want your business to succeed, you need to put a huge amount of work into it! As the mother dear has observed many times, no one will ever care about your business as much as you do. You're the only one who really know what it's going to take for it to be a success—and what success for your business means to you.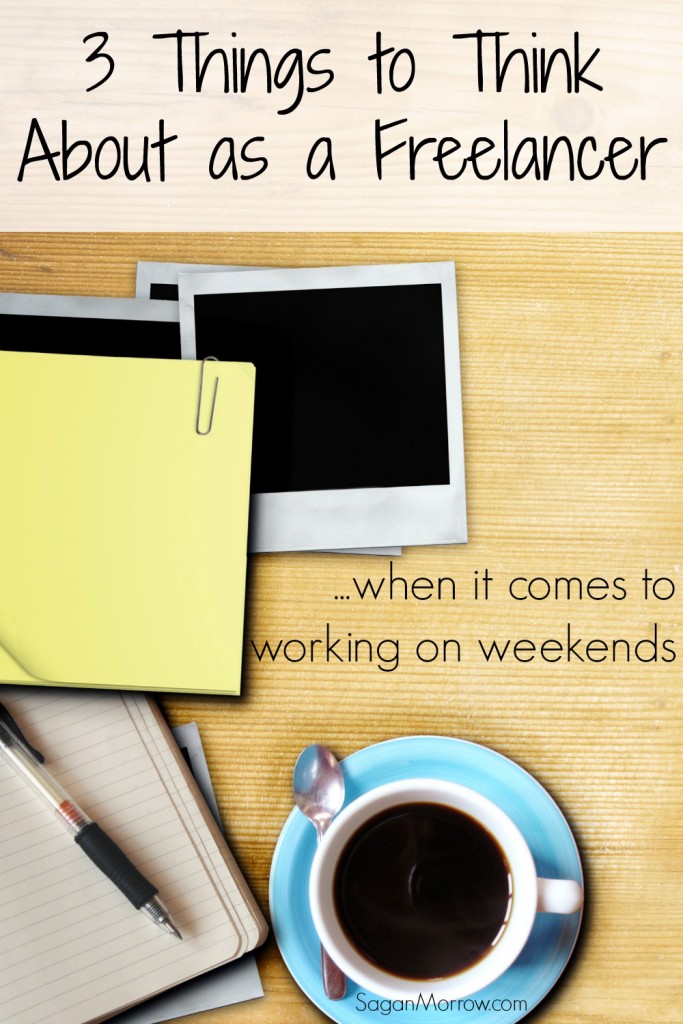 Do you agree? What tips would you offer here? Do you have other questions about working from home or being a freelancer? Share in the comments section below!