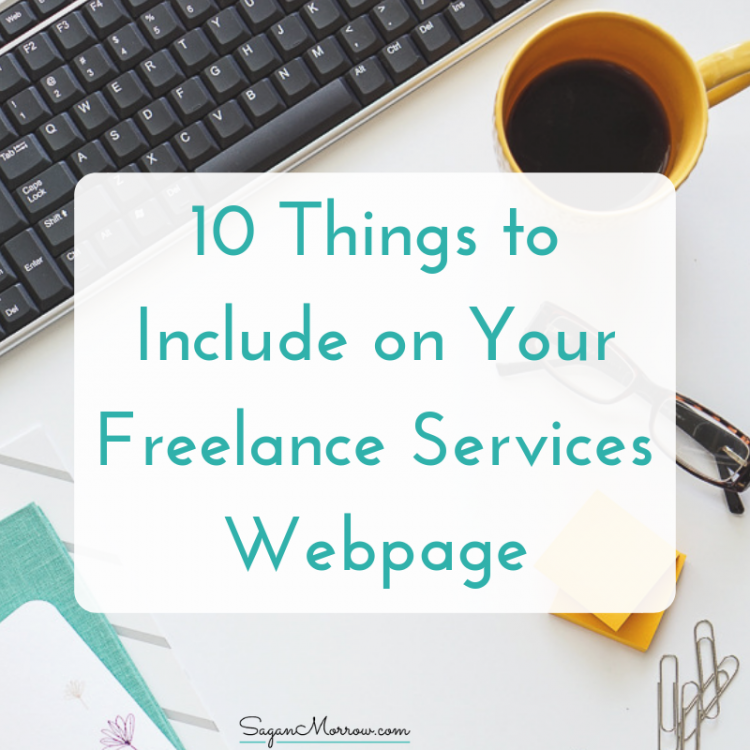 Putting together your freelance services webpage, but not sure what you should include on it? You need an awesome freelance services webpage if you want to get freelance clients and make money freelancing!
First things first: get a FREE worksheet on how to create your freelance services webpage:
Here are 10 things to include on your freelance services webpage! Don't miss out on these basics:
1) Why your ideal client needs your freelance service
Somehow, this prospective client has stumbled onto your freelance website. That's awesome! However, you can't assume that this person necessarily wants to hire someone who offers your services.
That's why it's YOUR job to explain why they even need to hire a freelancer in the first place to do this kind of work.
This section is a great space to introduce why a potential client should hire out the work instead of doing it themselves, and/or why they should hire a freelancer instead of someone full-time to do the work.
If you have a lot to say on this topic but you don't want to clutter up your freelance services webpage with all the details, you could try just writing a couple sentences about it and then link it to an article you wrote on the topic, if you have a blog (e.g. "Why you should hire a freelance website designer" or "What does a freelance website designer do?").
2) Why your ideal client should hire YOU specifically
Now your potential client knows why they need to hire someone to do this freelance service… but why should they hire you instead of another freelancer? If you want to get freelance clients, you need to articulate what makes YOU the person for the job.
In this section, you can outline a few key points about yourself that are perhaps a little unique or set you apart from the competition:
What about your experience or your work style makes you different from other freelancers? Do you have an obscure degree that directly relates to this freelance service, or do you have decades of experience working on this, or is there something special you do with your work to go above and beyond for your clients?
Share that here (and don't be afraid to let a little of your personality shine through so these potential clients can get to know you better!).
3) The services you offer
It's important to make it very clear to your prospective clients about what kind of services you offer within your field.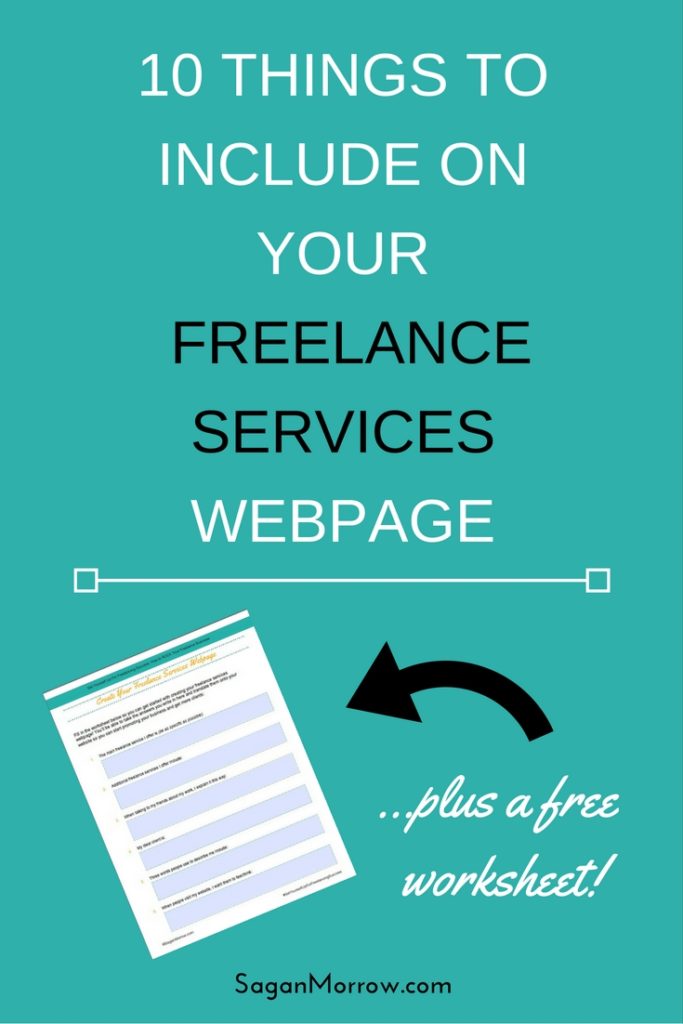 For example, if you are a freelance writer, do you write for specific kinds of publications, or do you write about particular types of topics, or do you write copy for marketing materials?
If you offer packages (such as a certain number of articles in a bundle), this is an excellent place to outline those packages.
 4) The services you DON'T offer
You may wish to make a note of the type of work you DON'T do. This can just be a sentence or two underneath your list of services.
When you explicitly state what kind of services you don't offer, you'll ensure that potential clients don't waste their time (or yours!). Be upfront about the type of work you don't do, especially if you often get queries about a particular service that isn't something you offer.
(Better yet, find another freelancer who DOES offer that work, and communicate with them so that you can recommend potential clients to each other and fill in the gaps for your businesses!)
5) Your rates
One of the biggest questions new freelancers ask is, "should I post rates on my freelance services webpage?"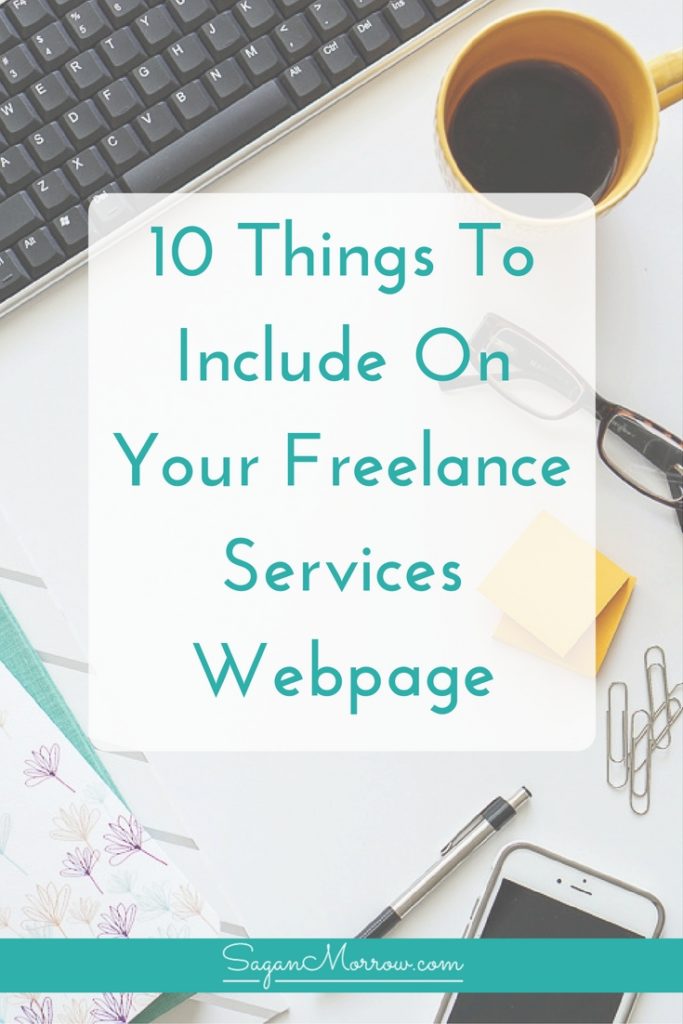 The short answer is, YES.
…of course, as I blogged about HERE, it can get much more complicated than that. Ideally, you should include rates for each of your services/packages that you offer, but at the very least you can post something along the lines of "my rates start at XYZ."
Listing rates on your website will help you make money freelancing because you'll be able to weed out potential clients who don't want to pay you what you're worth. It also reduces barriers for potential clients to get in touch with you and hire you.
6) Client testimonials
It's one thing for YOU to say that you are awesome and that people should hire you---but it's a whole other thing when OTHER people back you up and say that you are awesome!
Having client testimonials will legitimize you as an expert and as someone who actually knows what they are doing. Testimonials can be just a sentence or two in a bulleted list, or you can use large multi-paragraph in-depth testimonials. It's up to you and what your clients are willing to do.
If you are new to freelancing and just starting your freelance business, I recommend doing work for free for a trusted friend in exchange for a genuine testimonial and/or work sample (more of that below).
7) Work samples/portfolio
Having work samples and/or a portfolio of your work is a wonderful way for potential clients to see your work in action.
A simple bulleted list linking to your online publications, a photo gallery, or a PDF of work samples are all excellent ways to showcase your work and your abilities. When people can see real-life examples of the awesome work you do, you'll drastically increase your chance of getting freelance clients.
8) Who you are (your background as it pertains to your freelance work)
By this point, your potential clients might be getting curious about who exactly you are. Now's the time to let them get to know you a little!
Keep this section brief and relevant while letting your personality shine through. For example, you can share one or two personal details, but either keep it to a minimum (i.e. one sentence), or else make sure it's super relevant (for example, if you offer freelance writing services specifically on topics of family and children, mentioning that you have three kids makes perfect sense here).
Focus on your education, work experience, and professional development in this section as much as possible.
9) Your process for working with clients
If you do long-term work with clients, you might want to include a section about what the process looks like to work with you.
For example, if you are a wedding planner, you might want to detail what every stage of the process looks like for working with you. Even if you're a photographer, which might seem like a more obvious of a process to go through, you can still outline details such as the turnaround time, how long a photo shoot will take, and how many prints are included in the package.
10) Your contact information
Freelancers frequently forget to add this extremely crucial section to their websites! Make it VERY obvious as to how a potential client can get a hold of you.
You can also include here if you have particular office hours or how quickly they can expect to hear back from you.
That's a lot of stuff! How should I organize it all on one freelance services webpage?
Keep in mind that many of these items can be just a sentence or two. It doesn't need to be lengthy or drawn-out---it just needs to be YOU.
That being said, you can absolutely have several separate pages if you prefer. When I was promoting myself as a freelancer, before I started teaching new freelancers how to build their own successful businesses, I divided my freelance information up into the basic services page and the testimonials/work samples page.
You can do the same, or have a different page for nearly every one of the above items. It's up to you!
Also, you can arrange these different sections however you like. If you want to have your rates at the bottom of the page, that's cool.
Do I really need to have ALL of that on my freelance services website?
YOU DO YOU, my friend. If one of those sections doesn't *speak* to you, then don't include it.
…but be sure to ask yourself WHY you don't want to add one of those sections.
For example, when it comes to listing the prices for your services, do you feel uncomfortable posting those publicly? Are you afraid you won't be able to get clients? Or are you stumped as to how much you should price your services at?
On the other hand, if you don't want to include a section about why prospective clients should hire you, because it doesn't fit with your brand/voice, that's okay! Just make sure that your overall copy presents a compelling case for those potential clients to hire YOU rather than another freelancer.
Similarly, if the freelance service you offer doesn't have a particular "process" that you work through with clients, you might not want to include that section on your freelance services webpage.
Ready to take your freelance business to the next level?
Get started with your successful, profitable freelance business when you enroll in the Keep Your Clients e-course!
In this online program for freelancers, we cover tips for communicating effectively with clients, how to get paid what you're worth, how to get the PERFECT testimonial from clients, and more!