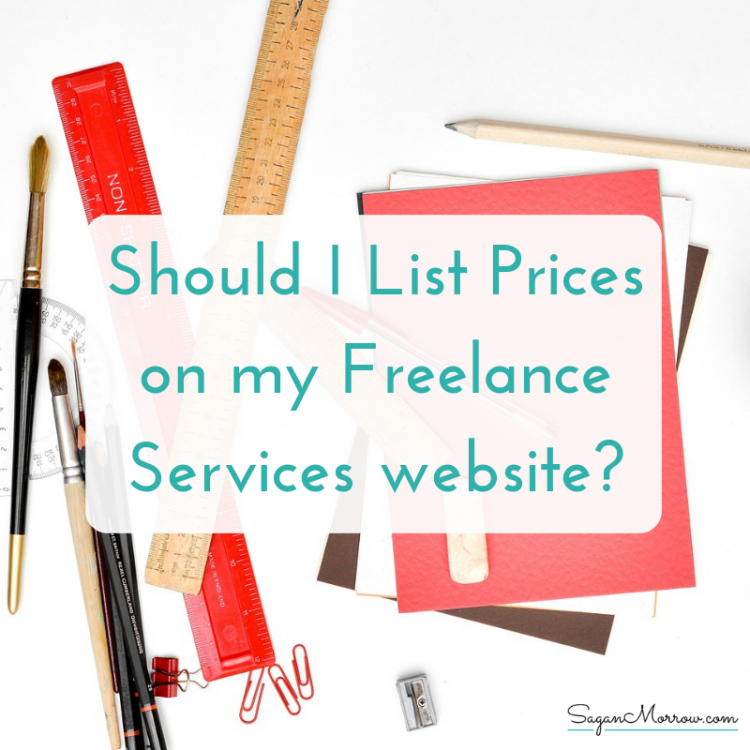 Along with the question of, "how much should I charge for my freelance services?" and "should I do work for free for friends?", one of the other common questions new freelancers ask me when they're learning how to start a freelance business is, "should I list prices on my freelance website?"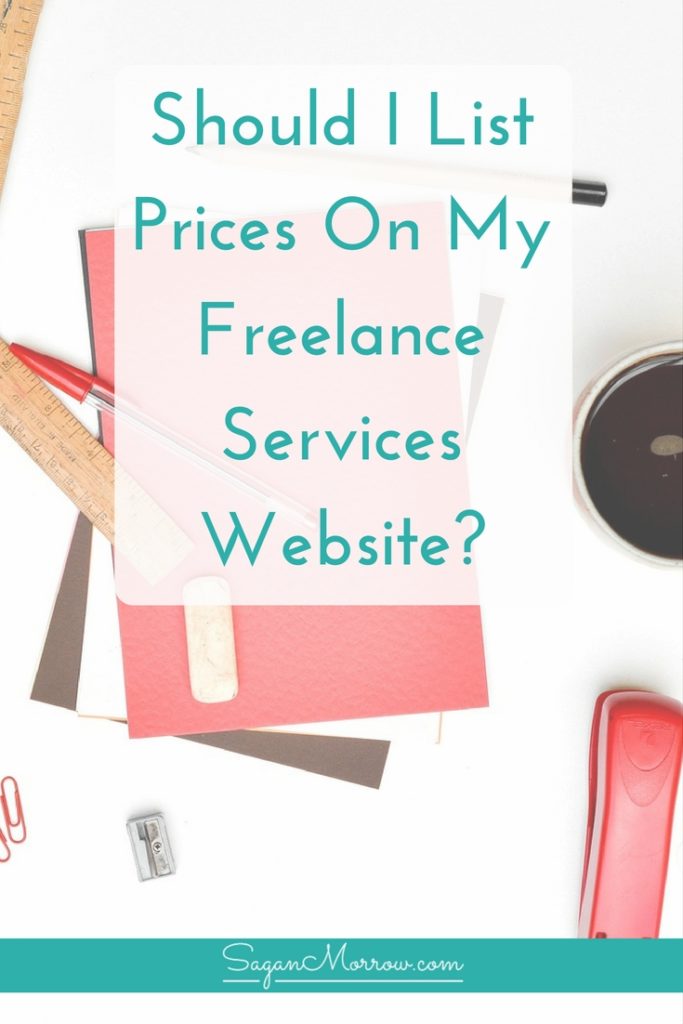 The super short answer is YES, yes you should publicly list prices for your freelance services on your website!
…but of course, it's a little more complicated than that.
After all, it's one thing to publish rates on your freelance website… but what if you're afraid people won't hire you, or your rates vary, or you haven't decided exactly how much you're going to charge for your services yet? And besides all of that, WHY should you even list prices on your freelance website?
No worries. We're going to get to the bottom of all of that right now:
1) Why should I list prices for my freelance services on my website?
Consider this: what is YOUR first thought when you visit someone's website and see that their "rates are available upon request"?
You probably think that their rates must be staggeringly high if they're afraid to put them on their website… or you might just think that it's too much work to contact them for their rates when you can instead visit a different freelancer's website which DOES include that person's rates.
Either way, not posting rates creates a barrier for potential clients. It can drastically reduce the chance that they'll seriously consider hiring you! That's NOT what you're aiming for, especially when you're just starting your freelance business and getting freelance clients is one of your top priorities.
Plus, when you list your prices, it shows that you're a professional---and it's going to scare away people who want to pay you considerably less than what you're worth. This is a good thing! You want to work with people who value the work you do.
More than that, it's also going to be less work for you because you won't have to constantly respond to inquiries about your rates.
2) What if people won't hire me when they see how high my rates are?
Do you want someone to hire you if they don't value your worth as a freelancer?
Alternatively, are you concerned that you are charging much more than you're worth?
You need to be confident in your value as a freelancer! And it is NOT worth it to work with clients who insist on paying you much less than you are worth.
Posting your rates ensures you will only get people hiring you who are serious about your work and are happy to pay you at your full value.
3) I offer a lot of different services and my rates vary wildly depending on the service. What should I do? 
A simple way of navigating this is to simply say on your freelance website that your rates start at $X. That way you won't have to worry about pigeonholing yourself in, but potential clients will still be able to have a rough idea of how much to expect.
Alternatively, you could list your services and corresponding rates in a PDF document that you upload to your website and link to on your freelance services webpage. Just make sure you keep that price list updated! And try to keep it fairly simple---there's no need to over-complicate things.
Psst... be careful about offering TOO MANY different services for one business. Click here to learn about how to hone in on your freelancing niche.
4) I have NO IDEA how much to charge for my freelance services! What now?
Figure out how much to charge. Then add that amount to your website! 😉
If you're really unsure right now about how much you want to charge, try to add that line about "prices start at $X" to your website so that you'll at least have SOMETHING up there. You can add to it and change it in the future.
CLICK HERE for tips on how to set rates for your freelance services.
5) If I work with people from all over the world, what currency should I base my services off of?
This is a GREAT question!
I recommend doing one of two things: either charge based on your own country's currency, or charge based on the country that the majority of your clients reside in.
Just don't try to adjust the currency for every client, or it will be a nightmare to deal with. Choose one currency and stick with it.
Want more?
Enroll in Keep Your Clients to get access to everything you need for how to effectively set rates for your freelance services, how to make money freelancing and get paid what you're worth, how to get consistent work with your ideal clients, and more!