I have been blogging since early 2008. Over that time, I've learned a lot! There are also so many different kinds of tools, programs, and software that can be useful when blogging, that it's tricky to sort through them and find the best ones.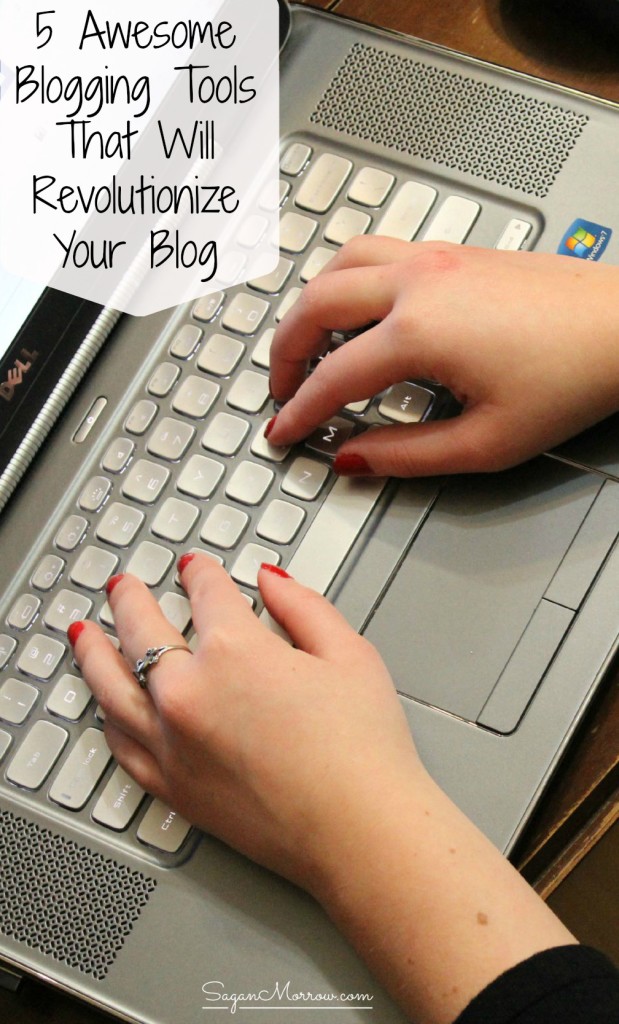 But I like to think that I've managed to just about do that 🙂 Over the past year, I've discovered five awesome blogging tools that have seriously improved my blogging game.
Click here to get your blog editorial calendar template now >>>
These are my top 5 favorite blogging tools:
1) PicMonkey.
I use the free version of PicMonkey, and it is fantastic! I love how user-friendly it is—I've tried other design programs before and it was a nightmare. PicMonkey is very intuitive and great for non-designers to be able to create beautiful, professional-looking images.
There's a "royal" version that you can pay for and it has extra features, but I've never felt the need to buy it. The free version of PicMonkey has a wide variety of features to meet your blog image needs.
2) Tailwind.
Pinterest is one of the most amazing ways to grow your reach as a blogger. Tailwind* makes it that much easier, especially with their scheduled Pinning, Tribes, and Smartloop features. I use Tailwind to schedule all of my own Pins to go to group boards, and that way I can spend my actual time on Pinterest each day with live-Pinning articles from other people's websites.
My blog pageviews increased by nearly 80% in the past month, and about half of my traffic comes from Pinterest. Tailwind makes Pinning so much easier and more enjoyable, and it's really affordable too!
3) CoSchedule Headline Analyzer.
This is such a fun little (free) tool! Headlines are NOT my strong point, so I like to play around with the words in the headline analyzer to improve my titles. This tool breaks down your headline as well so you can understand exactly why it's getting a particular score—it's certainly helped me to get better at writing headlines over time.
Click here to get your blog editorial calendar template now >>>
4) ConvertKit.
I recently switched from MailChimp to ConvertKit* primarily because of the way the lists are set up. I have a bunch of freebies (such as my blog editorial calendar template, blog newsletter welcome email template, and cheat sheet with tips on putting together an email list) that people can get when they sign up for my newsletter. But in MailChimp, they'd be added to separate lists, which made it tricky when sending out newsletters (some people would get the same newsletter twice in a row every week, for example, if they were signed up for two different freebies).
ConvertKit, on the other hand, streamlines your subscriber list so that you can more easily sort people in your mailing list. It's also a smaller company and it's made by and for bloggers, which I love! There isn't a free option, but it is TOTALLY worth every penny. They are continually adding new features and tweaking the program, too, and there's also a super awesome Facebook group you can join where people share tips and successes from using ConvertKit, which is extremely helpful. I adore how user-friendly ConvertKit is—I have absolutely no regrets after switching over from MailChimp.
5) Google Analytics.
Of COURSE this one had to make the list! It's worth taking some time, once you've set Google Analytics up on your blog, to explore the different things that the program does. Google Analytics contains a huge amount of data, so it can be a little overwhelming at first, but once you've explored it a little, you'll be able to make good use of it.
I especially like to use it to see which of my blog posts are the most popular, where my readers are located, and how people came to find my blog. Keep your eye on your Google Analytics fairly regularly in case one of your articles go viral (you wouldn't want that to happen without you noticing it!).
What are your favorite blogging tools? Have you used any of these? What did you think of them? Share in the comments section below!
*This article contains affiliate links.
Let's stay connected: Facebook | Twitter | Instagram | Pinterest