Earlier this week, I shared *behind the scenes* about how I do anti-hustle business planning in a LIVE training… and it was gold!
This behind-the-scenes peek at my business included a review of what I'd mapped out for my business a year ago (at my 2021 business plan retreat), what worked/didn't work (and why), what I did as planned vs. what I did differently than planned (and why), lessons and takeaways from this past year, how all of this is informing my upcoming directions for my business, and what I'm doing to prepare for my upcoming business planning retreat.
…It was pretty epic!
It is SO valuable to get real-life, real-time examples from other business owners to see how they are doing things—we can get a lot of helpful ideas and inspiration from it (plus what NOT to do!), and overall, it's always fascinating to learn about how businesses are managed behind the scenes. So I figured it was about time I showed you the ongoing "peeks behind the curtain" of my own business during live video calls, every single month 🙂
For example, here's what we covered at the inaugural live call a few days ago, all about business planning the anti-hustle way…
How my documentation manual has changed over the past year

5 areas I was initially planning on focusing on for my business in 2022 (from my business planning retreat about a year ago)

Tech issues that affected my business a year ago

The attraction of shiny objects (how one in particular distracted me a year ago, and what I learned as a result — plus how my anxiety factors into this, and why I specifically did NOT want to actively market a particular program)

My current approach toward speaking engagements, affiliate marketing, and unpaid collaborations (plus a quick overview of the background on that)

How my signature e-course, Productivity Powerhouse, has changed since its launch in 2019 (and what my thoughts were for improving it a year ago, plus what I did differently with it over the past year to upgrade it)

Some thought processes I've had around working with solopreneurs vs. corporations vs productivity in general

Why I was THIS CLOSE to archiving some of my programs, and what happened instead (plus how I'm navigating this moving forward)

Self-coaching example (around what I used to love doing vs what I currently enjoy doing, and how I want to focus my energy at this point)

2 programs specifically that I'm planning on doing MORE of in the coming year (2023), vs doing LESS of in the coming year, and why

How I'd envisioned shifting my Solopreneur CEO 1:1 coaching program a year ago, and why I decided AGAINST overhauling it (plus my thoughts on doing small group coaching vs 1:1 conversations)

Imposter syndrome I experienced around writing novels (the other side of my business!) and my original plans for writing/publishing books in 2022, vs. what actually happened — plus my plans moving forward with that

2 key areas I want to build on in the future for my business (and how it connects back to my thoughts on my business from a couple years ago) — and how I'm "leading into" those areas over time

My upcoming business retreat: what I plan on looking at, what I'm already starting to map out, how I might manage content creation differently, and why I'm doing the retreat itself in 3 parts (plus some of my prep ideas for it, how my retreat schedule will roughly look, and the concept of a "post-retreat")

The program I was initially planning a couple years ago, and why I decided NOT to move forward with it at the time — the attraction of that business model & why I decided *not* to follow through, PLUS how I've integrated the best parts of those ideas into Productivity Powerhouse (and how this connects back to anti-hustle productivity and your own business plans!)

How retreats help us with anti-hustle productivity, plus how anti-hustle productivity methodologies allow us to experiment in our businesses

One of the biggest lessons I've learned over the past couple years in my business
…So, what do you think? Do you want to access all of that?
It's all yours when you join Productivity Powerhouse before Friday September 30th at midnight!
The above was the inaugural live monthly call for Productivity Powerhouse (my signature ANTI-HUSTLE e-course), and every single month, I'll be hosting live calls for you in that program so you can discover the whys & hows & whats of the way I incorporate anti-hustle concepts and methodologies into my life and business in all aspects on an ongoing basis.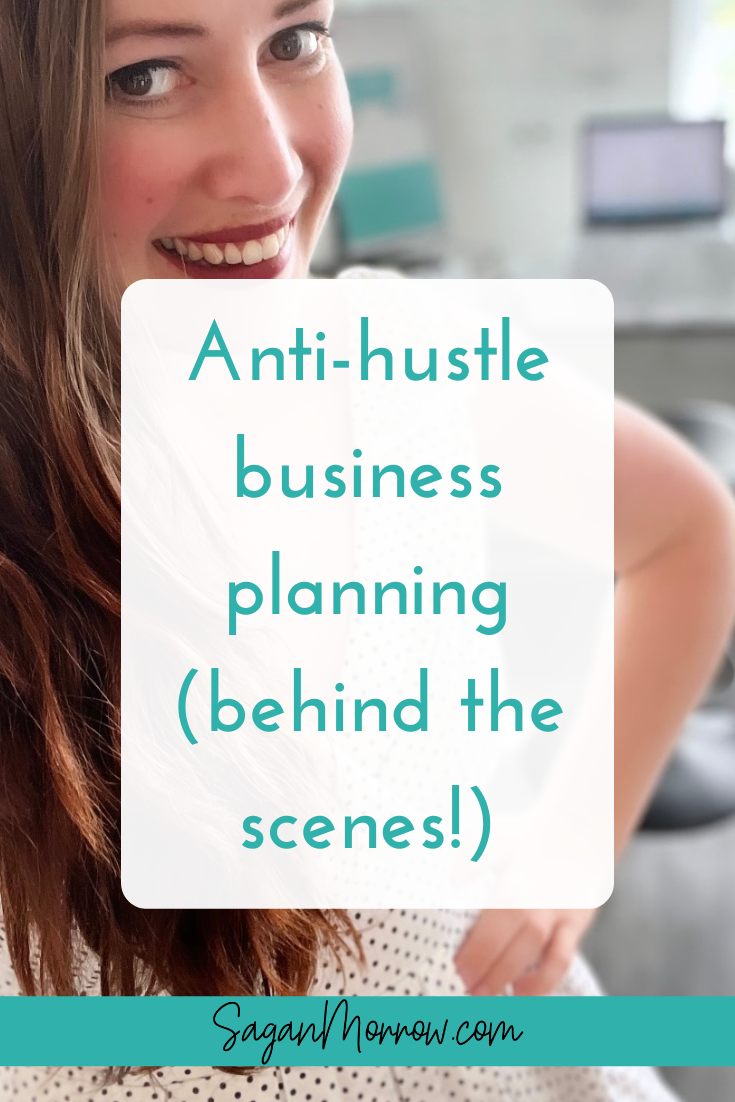 As soon as you join Productivity Powerhouse, you'll be able to access that month's call (and replay) PLUS all future monthly calls (and replays) — however (and this is important!), you will not be able to access the recordings from previous months.
Productivity Powerhouse is an evergreen e-course, which means you can sign up for it at any time ♥ But the earlier you join, the more monthly calls you can access!
IN OTHER WORDS: If you wait until next month to join Productivity Powerhouse, you will NOT get access to this month's live call or replay.
...However, when you join THIS month, you WILL get access to this month's call (and the replay), plus ALL future monthly live calls and replays!
This means you can access the replay from our September live call (check out the recap bullet points above for insights on what you get in that replay) for one more week…
Join Productivity Powerhouse now to access the replay of this live call, PLUS the curriculum that enables you to save 10 hours/week (every week) — without burnout or overwhelm:
Brief sneak peek clips from the September monthly live call:
"Before joining Productivity Powerhouse, I had too much to do with not a lot of time to do it. I was also regularly exhausted and wasn't taking care of myself well or giving myself the space I needed to be effective in my two businesses. I had burned out severely, requiring a 3-day hospital stay in the intensive care unit. So I wanted to be more productive and have better time management and energy management skills before I burned out again, thus leading me to find Productivity Powerhouse.

I joined Productivity Powerhouse because I wanted to be able to cut down on my to-do list and give myself the systems I needed to manage my energy, get my tasks done, and have the time I need to do everything and then have time left for a life that I love.

Productivity Powerhouse was very helpful! I now have a few key systems and strategies in place that I regularly use from this system, and I've saved about 5 - 8 hours/week thanks to Productivity Powerhouse. Now I have more energy and free time to spend more time on my hobbies and interests, while knowing that my business is constantly evolving and getting better. It also has given me what I need to know exactly what to do each week, month, and year. Productivity Powerhouse is a great course that helped me put the systems I needed in place.

Productivity Powerhouse helped give me the confidence to know I won't burn out again—or I'll at least catch it before it happens. I can now be the CEO I want to be and know that my business is growing and that it will last because I'm making the right decisions at the right time and with the right guidance."

- CJ, pet photographer and freelance writer/editor
Psst... Just a few of the topics we'll address in future monthly live calls include...
Specific actions I take to prep for (and enjoy) time off work for holidays and vacation (this will be SO helpful for you when planning out your winter holidays later this year, or future summer holidays, or vacations and time off at any time of the year)
My content creation process (for blogging, social media, weekly Saturday emails, etc)
What I do to ensure my life & business are integrated in a way that feels great to me, and that they fully support one another
CEO thoughts & mindset shifts (get insights into how I do self-coaching for my business)
How I juggle writing romcom novels with other aspects of my business (including the inspiration and content creation process, navigating my schedule, making time and energy for it, etc)
What I do to navigate insomnia as a business owner (plus working on weekends/evenings vs. not)
Behind-the-scenes of my business systems & processes, and what goes into my business documentation manual (plus how I update it, what happens when it inevitably gets unwieldy, my process for it, etc)
Answers to YOUR questions about how my business works
...and more!
Some more details about Productivity Powerhouse, in case you're wondering...
Productivity Powerhouse is my signature e-course, where you will save 10 hours/week EVERY week — without burnout or overwhelm — AND get back your energy, all while building a solopreneur business that fully supports your current & ideal lifestyle...
...PLUS finally make awesome progress to achieve your dreamy goals!
We use methods that are fully customizable to your unique situation. Successful, satisfied Productivity Powerhouses include people a) with small children at home, and/or b) who are juggling a side hustle(s) with a busy 9 to 5 job, and/or c) with ADHD or anxiety, and/or d) are suffering from burnout, and more.
TANGIBLE OUTCOMES FROM DOING THIS PROGRAM INCLUDE:
You will save 5 - 10 (or more!) hours/week, EVERY week (most people in the program easily save 5 hours/week just in their first week of doing Productivity Powerhouse)

You will enjoy healthy work/life balance, and get back your time & energy
You will restructure your business model, create a business plan & documentation manual, do performance reviews & weekly audits, create strategies that light you up, be able to take action on your plans & ideas (even if you currently struggle with implementation), and improve your organization skills
You will have a business structure that allows for plenty of freedom & flexibility
You will have the capability & capacity to scale your business with ease
You will overcome problem areas like perfectionism, procrastination, imposter syndrome, comparisonitis, guilt around taking breaks, fear of success or failure, overwhelm & shiny object syndrome, and more
You will fall in love with your business again, and set yourself up to be more successful than ever!
"Productivity Powerhouse is excellent! It enabled me to create a schedule that works for me and my family. I have 3 children who are in school, so being able to productively use my time when they are in school is critical for me. I also feel motivated to adhere to a schedule again, which is particularly important because I completed the program during the pandemic.

Now, I feel less overwhelmed with the tasks I have to complete to run my business successfully, which helps me spend more time with my family while still putting in productive days at work. I loved that I was able to complete the program at my own pace—Sagan's lessons were very motivating, and I found myself looking forward to each module.

Productivity Powerhouse is wonderful and highly motivating. I recommend it for anyone who is feeling overwhelmed and wants to be more purposeful in the direction they are taking their business.

I've been able to save 10 hours/week as a result of the tools I've gained from this program!"

- Alicia, freelance editor
When you join this program, here's what you'll get:
9 powerful core lessons to teach you anti-hustle methodologies & transformative mindset work

Step-by-step guides & practical action steps to make it simple & straightforward for you to IMPLEMENT what you learn
9 spotlight trainings accompanying each lesson, featuring deep-dive tactics & strategy to enable you to easily take action
Framework roadmap, flow charts, curriculum overview, and comprehensive checklist so you never have to wonder what to do next
116-page fillable workbook featuring guided questions & fillable templates to make it easy to take action
328-page Companion Guide to read through all the lessons, guides, and trainings at your leisure (this is the "book version" of the program, so you can take it with you anywhere you go!)
Accessible learning options available: Video trainings, audio recordings, word-for-word transcripts, and physical copies of the program available to accommodate for all learning needs
4 months of weekly support, delivered to your inbox
PLUS, the bonuses:
BONUS: Quick Wins resource (30 ways to save 17 hours/week)

BONUS: Supplementary resources to help you implement everything you learn
BONUS: 2 extra spotlight trainings to prepare you for the program & keep you making great progress afterward
BONUS: Case studies featuring behind-the-scenes real-life examples of how others are applying Productivity Powerhouse methods to their own lives & businesses
Recommended Resources & suggested actions to take upon completing the program
Lifetime access to all materials, including any future upgrades to the program (no need to scramble to get through all the content!)
Productivity Mastery certificate of completion, plus opportunity to become an affiliate
Monthly live calls featuring behind-the-scenes real-time, real-life examples of how I use Productivity Powerhouse methodologies in my own life and business (you get access to *this* month's live call & recording, plus ALL FUTURE live calls & replays — does not include access to past calls from any months prior to you joining the program)