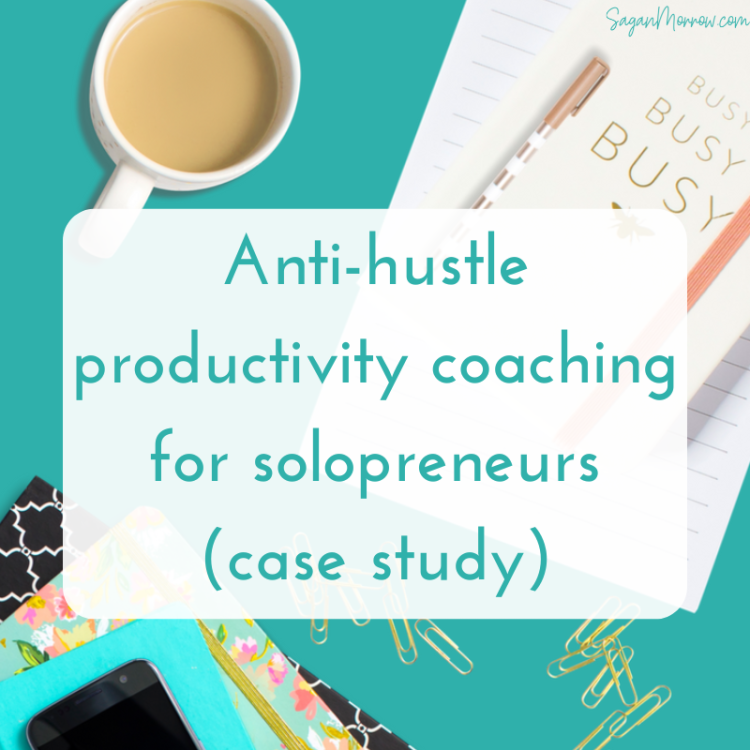 Michelle, an accomplished sonographer and the creator/teacher of the popular YouTube channel Sonography Minutes, joined Solopreneur CEO (productivity coaching for solopreneurs) this past summer. She was ready to start making more progress on her business goals! 
QUICK OVERVIEW OF THIS PRODUCTIVITY COACHING PROGRAM FOR SOLOPRENEURS:
Solopreneur CEO is a 6-month, 1:1 anti-hustle productivity coaching program designed specially for solopreneurs (layered with consulting, mentorship, and teaching) to help you FINALLY make progress on your business goals, structure your business so it truly supports your personal lifestyle goals and values, customize your strategies and actions so they feel amazing for you and your unique wants/needs, enjoy delightful work/life balance, and get back your time and energy.
Full details about productivity coaching for solopreneurs → Solopreneur CEO
Here's what Michelle had to say, after her first two months of the program…
Before Solopreneur CEO… 
"I was frozen. Stuck in perfectionism, imposter syndrome, information gathering and procrastination. I was a hot mess, struggling to make any kind of progress in my business. 

…And then I met Sagan!

I'm not sure what I expected [from our first session], maybe judgment? (for all the things that I haven't gotten done). I was a bit nervous about joining coaching and how it would all work; I was not really sure what to expect. But instead, coaching feels very safe, and I left coaching feeling energized, and in "idea generation" mode.

Coaching is not scary! Feeling so relieved and excited… coaching is great and really helped me see where my hangups are; the panic [I used to have] has really gone away.

Now I'm exploring all the possibilities, all the things that I can do in my business instead of looking at all that I haven't done. It does however mean to me that I need to be brutally honest with every single thing (that I haven't done!), no matter how hard it is to look at this side of myself, as this is the only way that I am going to make real and lasting progress in my business."
Michelle's experience, 2 months into becoming a Solopreneur CEO…
"In Solopreneur CEO, Sagan pushes me. She pushes me past my comfort zone, past the things I'm stuck on, and past the fears, doubts and struggles that had me paralyzed.

I've only had 4 sessions with Sagan and in that short amount of time I have developed a business plan, created realistic goals, and learned multiple strategies for getting unstuck. I've created and put my first digital product up for sale, I'm making huge progress on my goals, the future of my business feels exciting for the first time, and my goals finally seem attainable. I have made more progress in 4 sessions with Sagan than I have in a year on my own.

I feel like Sagan reaches into my soul, and always knows what I've been doing when I get myself stuck, and then knows just what to tell me to do to get unstuck… I really feel like this coaching thing is helping me; I didn't realize how many barriers I've put up to keep myself feeling safe.

Sagan sees what's really behind the things that you are struggling with and always knows the best ways to get you unstuck and moving forward.

I highly recommend Solopreneur CEO. It's the best investment in your business and your future that you can make. The real question is... a year from now, when you look back, do you want to be in the same place that you are right now, or do you want to have already achieved your dreams? Sagan will help you reach for the stars and finally accomplish your biggest goals.

I am fully satisfied with Solopreneur CEO. It's incredible! The amount of progress that I've made in only 4 sessions with Sagan has been more than I've been able to accomplish in over a year on my own. I've already created a business plan, prioritized and created a list of goals, created a "good enough" product release checklist, and created and went live with my first digital product."
One of her biggest "aha" moments so far with Solopreneur CEO… 
"The biggest obstacle in my path was myself. Procrastination, perfectionism, information gathering and getting held back by tech were masks that I was using to hide the fear, doubts, and anxieties that were building up inside me.

Sagan helps you recognize what's really holding you back, gives you strategies for dealing with these obstacles and helps you to develop a strong mindset so that you can finally start to conquer your goals."
Something surprising/unexpected she learned as a result of joining Solopreneur CEO…
"How much mindset plays a role in business success. Sagan is a master at recognizing the true causes of my struggles and providing solutions to get me to move forward. It can be uncomfortable at times- facing yourself and your mindset. But true progress and achievement are on the other side of comfortableness."
Michelle's experience with Sagan's coaching style during the sessions…
"First Sagan listens (she's incredibly patient), and then she unpacks what's really behind your excuses, struggles and obstacles. She offers solutions and strategies. And then she pushes you, gently, just past the point of your comfort zone, into what I like to call the achievement zone. This is where true progress and true growth occur.

Real success occurs when you expand your mind, push past your limitations and develop a mindset that failure is not an option, and this is what Sagan excels at bringing out in you.

I wholeheartedly recommend Solopreneur CEO! Anyone who wants to make real progress in their business would benefit immensely from this program."