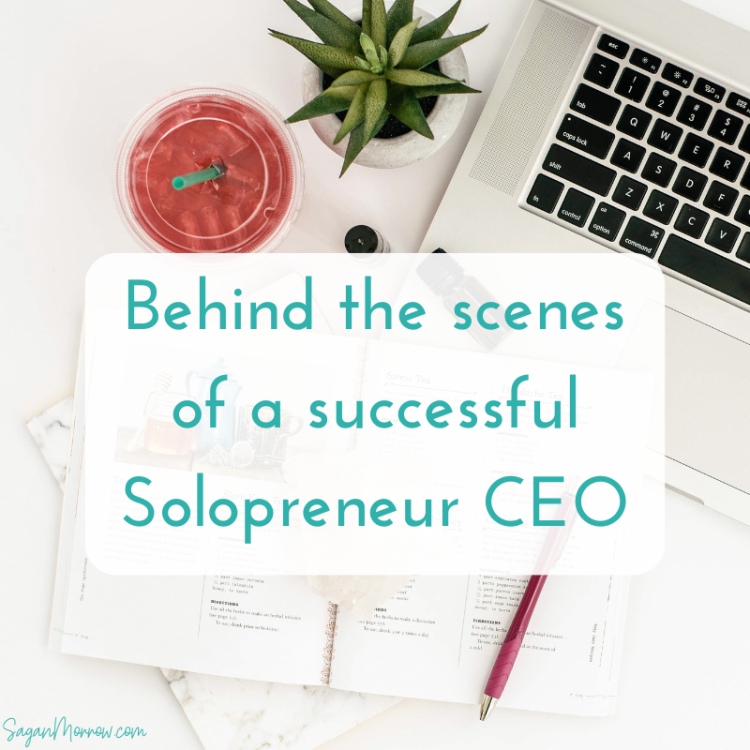 Become a successful Solopreneur CEO! As a solopreneur, you are the CEO of your own business (and life)... so, how do you truly embody that and become a next-level boss with awesome work/life balance, while simultaneously making great progress on your goals (WITHOUT burning out or getting overwhelmed along the way)? How do you succeed as a solopreneur? Are you wondering what it's like behind the scenes of a Solopreneur CEO? 
Over the course of several days on my Instagram Stories recently, I shared some insights and a "peek behind the curtain" of what it's like working together inside Solopreneur CEO (my 6-month 1:1 productivity coaching program for solopreneurs), and the type of results my solopreneur clients get. Peek behind the curtain of these successful Solopreneur CEOs in this video, plus find out how YOU can be a successful Solopreneur CEO, too.
If you've ever been curious about life as a successful solopreneur… this video is for you! Check it out:
Here's what happens during our Solopreneur CEO productivity coaching sessions, by the way…
We meet on video, and the sessions are about 75 minutes long each (twice monthly for 6 months, with opportunity to extend after that if you desire — we meet every 2-ish weeks so that you have time to implement & experiment with what we discuss during our calls)
At the beginning of each call, we do a check in to see how you're doing (in business and life!), how things have been going since our last session (two weeks previous), and we discuss the progress you made on your action steps and/or if anything came up for you since our last session (e.g. if you had emailed me with updates since our last session together). Sometimes this includes doing some coaching around any action steps you're struggling with, addressing any issues or problem areas or frustrations you're experiencing, going over feedback on your work, etc.
Next, we do the coaching/consulting for that particular session. I have a "roadmap" for how the 6-month program works with specific topics we can address throughout your journey (e.g. getting clarity, boosting confidence, increasing your energy, etc) plus techniques for building your capacity and capability — however, every client is unique! Each session looks a little different, and some clients need more coaching and deep inner mindset work, whereas other clients need more accountability and strategy, and other clients need more support to avoid burnout and over-complication. 
At the end of every session, we do a check in to see how you're feeling (I ALWAYS want to make sure that you feel good and satisfied and refreshed after our calls! My clients often tell me how happy they feel, and how our sessions together give them a boost of motivation and inspiration). If you are feeling overwhelmed etc, then we'll take things a step back to do some coaching around that and ensure that you leave our call feeling in a good place.
Before we wrap up the call, I ask you if there's anything else you want to discuss/share with me. If there is, then we'll chat about it; if there isn't, then we sign off!
Within 24 hours of the call, I send you a follow-up email with your action plan for the upcoming couple weeks prior to our next session, as well as a full recap of key takeaways we discussed during our most recent session (more details about this follow-up email below)
In between each call, you can send me email updates (or voice/text updates) as much and as often as you like, to let me know what you're working on and how the action steps are going, to request feedback on your work, to share anything that's coming up for you, etc. I generally respond within 24 hours, Monday - Thursday. Sometimes this involves me giving you some extra email-based coaching (especially if you're struggling with something!), providing recommendations/suggestions and/or feedback on anything you're working on in your business, giving you encouragement and motivation, etc.
BONUS #1: In addition to all of the above, I also provide extra support as needed for clients. For example, I have created thought experiments and exercises for my clients (e.g. to work through negative self-talk, getting into a deep creative flow state, navigating overwhelm, achieving your desired work/life balance, etc), as well as personalized EFT tapping session videos (e.g. for calming yourself when doing something nerve-wracking or as a grounding practice for reconnecting with your joy) and personalized body scan audio recordings.
BONUS #2: Backstage pass with lifetime access to Productivity Powerhouse, my signature e-course that enables you to save 10 hours/week (without burnout) and get your energy back.
BONUS #3: Backstage pass to 2 additional e-courses (meditations & EFT tapping sessions that accompany Productivity Powerhouse, plus the Business Planning Retreat Intensive)
BONUS #4: Welcome package in the mail (includes the "hard copy" version of Productivity Powerhouse, plus other goodies!)
A little bit more about those follow-up emails after our calls…
After every Solopreneur CEO call, within 24 hours, I'll rewatch the entire coaching call we did and do a comprehensive bullet-point write-up of all of the most important things we discussed, as well as action steps for you to do before our next session a couple weeks later.
Why do I do this for my clients?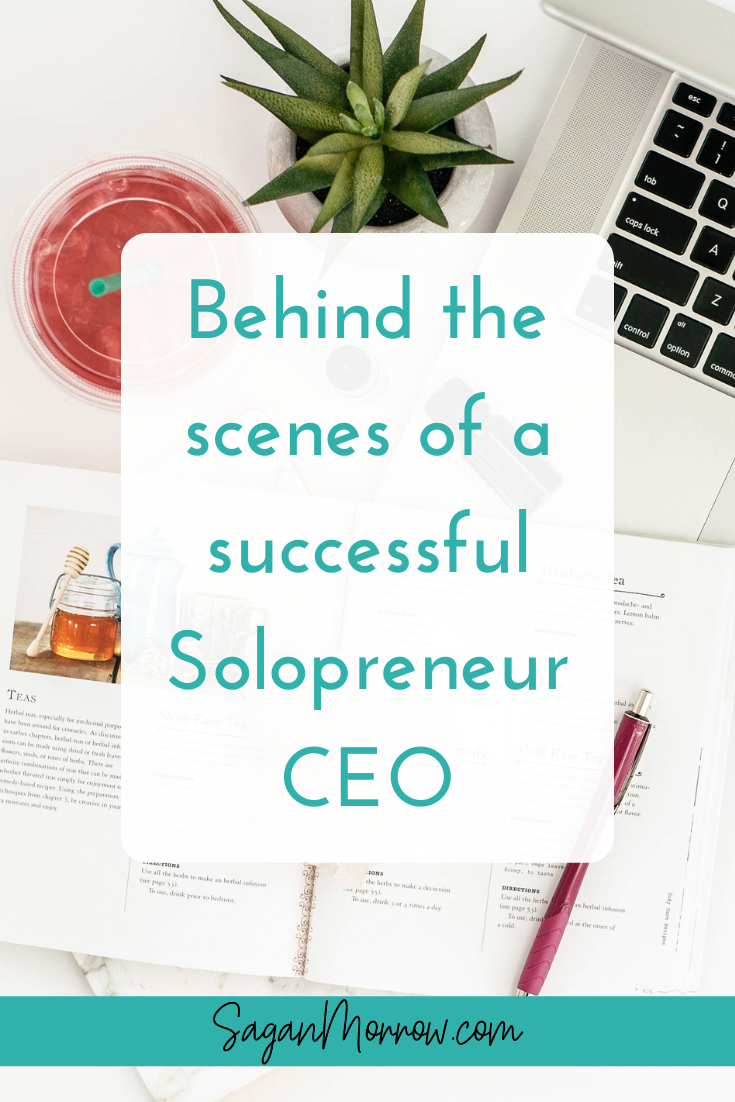 Here's the thing: I don't want my clients to feel like they need to pause the flow of our conversation to take notes, and I also don't want to disrupt the flow of our conversation to take notes, myself, hence why I always a) watch the recording, b) do a comprehensive write-up of key takeaways and action steps, and c) email that to the client within 24-ish hours of our session (along with a link for them to access the recording if they do happen to want to rewatch it).
Besides that, the entire purpose of us working together is to make your life easier. I don't want YOU to need to take time out of your day to rewatch the recording and pull out key takeaways or action steps. That's unnecessary effort and work on your end! This is exactly why I include this service as part of what you are paying for inside Solopreneur CEO — You get lifetime access to the recordings (so you can revisit to them and review them at your leisure if you so desire) but most importantly, you have immediate access, at your fingertips, to all those incredible "aha" moments, brainstorming ideas, strategies and plans, action steps, etc that we discussed on the call.
This type of service is something I always WISHED coaches would do for me, when I was on the client end of things — so it feels delightful to provide the service for you, now!
By the way, my clients LOVE it! They often tell me how helpful it is for them to have that at-a-glance reminder of all the things we talk about (not to mention the action steps), especially because we cover A LOT on our calls!
For example, here's a condensed overview of topics that a client and I discussed during just ONE of our Solopreneur CEO sessions…
Decision-making matrix

New departmental structure for their business

Plan to receive better communication from their own clients (really looking forward to seeing the results of this - it should be very effective)

Review of their content factory plan (we removed a chunk of content for strategic reasons, and since that removed content is stuff this client still really wants to create, it's going to be used in other ways!) and social media engagement methods

Tweaks for their services webpage (we came up with some awesome ideas for doing a few updates to one section that's going to be really powerful)

Discussed how things don't need to wait to be easy - it can be easy/simple NOW (such an awesome breakthrough!)

Navigating wants vs shoulds, and how hustle culture seeps into everything
Here's another example of the condensed overview of topics that a different client and I discussed during just ONE of their Solopreneur CEO sessions…
Managing the inclination to over-deliver, and reworking a few things to prevent resentment (toward clients, their business, or themselves) Streamlining & automation best practices 

Documentation manual updates 

Plan for what we'll work on next to revisit their second business (now that their first business is doing so awesome)

Tweaking their weekly schedule

Reducing their tendency to over-complicate (we came up with an AWESOME, super simple strategy that they got really excited about!)

Developing their creative style

Strategy for doing follow-ups with potential partnerships

How things have changed in the past year for them & their business
Quick FYI about my background:
I'm an internationally board-certified Life & Success Coach with more than a decade of experience in business (including blogging, freelancing, business partnership, solopreneurship, author, online course creator & instructor, and professional speaker).
I also have a background as a Certified Holistic Nutritionist (so I was doing coaching in another industry before business!), and I've been teaching online courses (both live & pre-recorded, which are two different skills), facilitating workshops & trainings, speaking at conferences & seminars, and coaching people in a 1:1 capacity for many years.
One more thing I want to mention here…
When we work together 1:1 inside Solopreneur CEO, it's not going to mean that you magically NEVER EVER get frustrated with your business again. Your problems will not magically go "poof!" and disappear. Instead, what happens is that you will be able to much more easily, smoothly, and enjoyably navigate and manage frustrations whey they arise.
I am here to guide you through navigating and managing those frustrations (including acknowledging how you feel, and  accepting those thoughts and feelings — because your feelings are always valid), and we will also ensure that you develop those skills over time throughout our work together, so that you'll be able to do it independently on your own (including doing self-coaching!) in the future as needed.
Learn more:  Productivity coaching for solopreneurs.