Besides wondering exactly how to price freelance services, this question of the method of setting rates is one of the BIG questions that every freelancer asks themselves when starting a freelance business. What's the best way of setting rates---hourly or by the project? And should you confirm the amount in advance or give an approximate range upfront?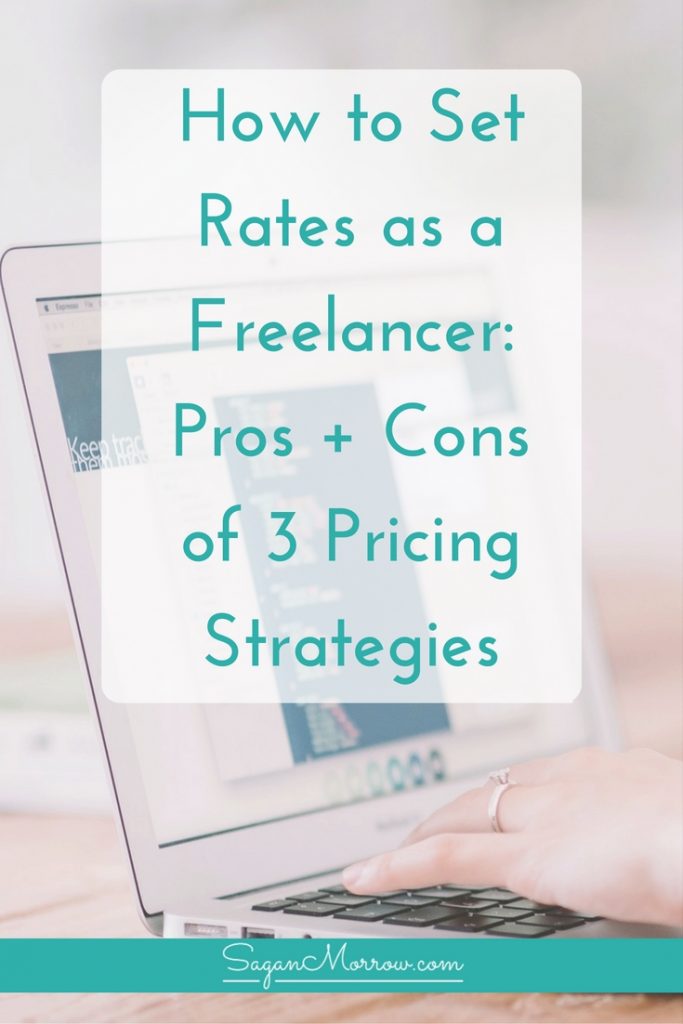 There are so many factors to consider when determining if hourly or project rates are right for you. Here are the pros and cons of different rates:
Hourly Rates
PROS:
It's easy to calculate how much the project costs.
Over time, you will get very accurate at estimating how long a project will take you.
This might help you to stay more focused on the task at hand when you're on the clock.
CONS:
If you work efficiently, you can really lose out on getting paid what you're worth.
Clients might balk at the price because it's so much more than what they might be used to if they were paying an employee to do the work.
It's harder to calculate things like brainstorming for the project, especially if you're thinking about the work outside of official "on the clock" time.
Set Project Fees 
PROS:
If you work efficiently, you can make twice as much as you would have if you were being paid by the hour.
If it's a small project, clients might be more receptive to a project-based rate than an hourly rate.
You don't have to worry about constantly setting the clock and being aware of how much time you've put into the project.
CONS:
You could be severely underpaid if you underestimate how long it will take you to complete the project or if things come up unexpectedly.
You might not have a very good idea of how long different projects actually take to complete.
It's easier to get distracted when you aren't on the clock.
Retainers
PROS:
This one is the best for ongoing work, such as managing social media for a client or maintaining their website.
Enables you to get a fairly steady income.
As you get faster and more efficient at the project, you will be paid the same amount for spending less time on the work.
CONS:
If you end up doing a lot of extra work one month, you won't get an increase in income.
When you know you're getting paid a certain amount regularly, you might find that you don't put as much effort in some days/weeks compared to others.
You might start completely losing track of how much time you actually put into the work.
As a general rule, I would recommend the following:
Hourly rates for when you're starting out, so that you can learn how long it takes you to do different projects, or for projects where the time spent on a project is very cut-and-dry, such as editing (the only time you can do editing is when you're actually doing the work, so you can set a timer for that---whereas creative work like writing is something that you'll be thinking about even when you're not in front of the computer, so it's trickier to give a concrete time for it).
Project-based rates for smaller projects in which you know it's worth more than what your hourly rate would bring in, or after you've been offering your freelancing services for a while and work quickly and efficiently.
Retainers any time you're doing social media management or website maintenance. Retainers are best for ongoing work or when you're doing tricky work, such as social media management, which is something you might be doing in between your own social media posts (e.g. a Tweet here and there).
And if you're wondering, "should I list prices on my freelance website?", the answer is a resounding YES. Click here to find out why and how to do it effectively.
Want to learn more about navigating rates in your freelance business?
Join the Keep Your Clients e-course!
It will teach you all about how to set rates and price your freelance services, plus how to communicate effectively with clients and negotiate rates.