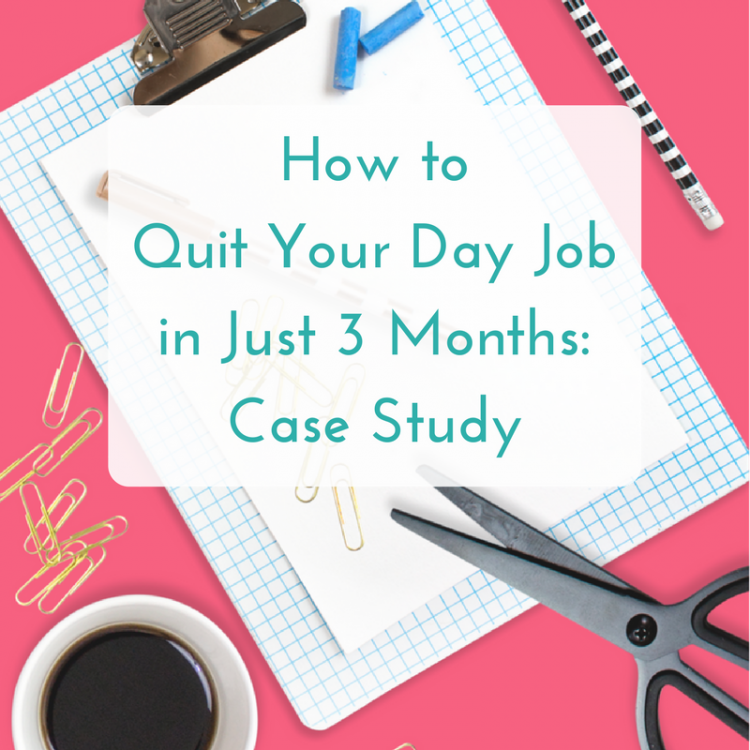 You really like the idea of quitting your day job… but you're not sure exactly how to make it HAPPEN. How will you ensure you have enough money coming in? What kind of systems do you need to set in place before you quit your day job? How can you get past the fear and make that leap with confidence? In this case study, we're going to look at how to quit your day job in just 3 months.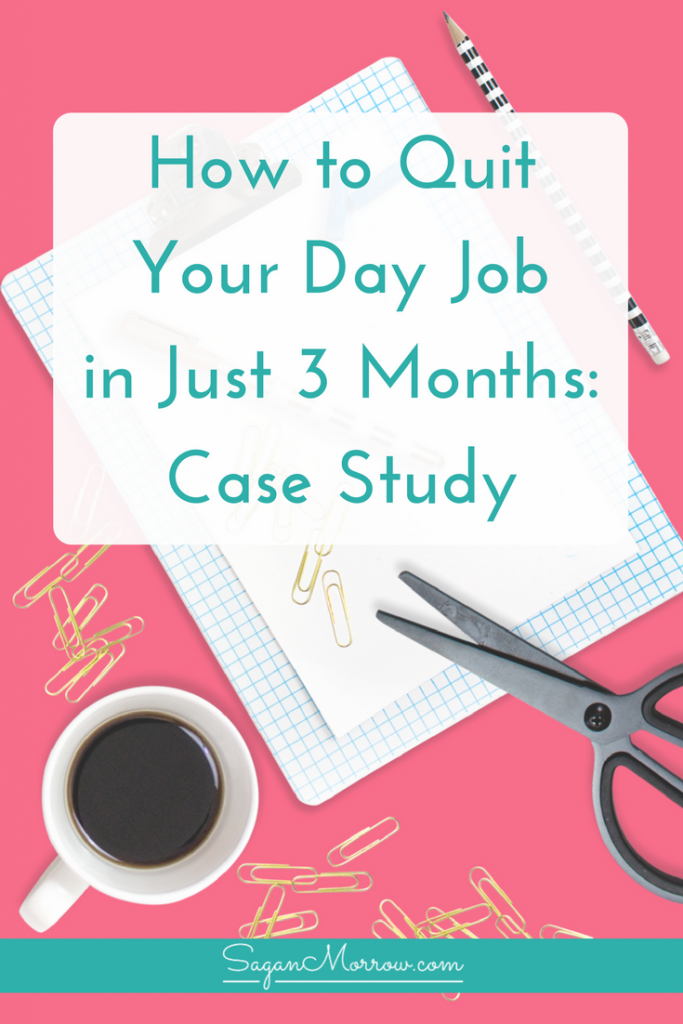 Sareeta had the same questions and hesitations as you do. But after starting her virtual assistant (VA) business in October 2016, she joined my Goodbye 9 to 5 program in April 2017 and earlier this month, she quit her day job of being a teacher!
She has graciously shared her story of making the transition out of her day job and into working from home full-time with us today. (Psst... be sure to check out her fantastic feminist blog, Flight & Scarlet.)
But first, a quick background: Goodbye 9 to 5 is a masterclass which walks you through exactly what you need to know for how quit your day job and transition into working from home full-time, within just 3 months (there's also a 6-month model in case you need a big longer to make the transition). It includes step-by-step instructions for quitting your day job through video lessons plus complete transcripts, a detailed workbook, 3-month sample calendar plan of action, and checklists. Consider it your crash course in how to quit your day job!
How Sareeta Quit Her Day Job in 3 Months
When Sareeta first joined Goodbye 9 to 5 as a scholarship student in April, she went through all the lessons and bonus materials right away. You get access to everything immediately upon signing up for the program, so you know exactly what your next 3 months will look like.
"I really enjoyed the sample plan of action, because it gave me a better idea of what I need to get done in a short amount of time! It helped me structure my weekly goals for the next 3 months," Sareeta said. "It helped a LOT to know what I should be doing and focusing on each day. It encouraged me to market on social media very often." In fact, Sareeta signed two new retainer clients within her first 3 weeks of starting the Goodbye 9 to 5 program!
"In the first month of starting this program, I implemented basically everything in the Action Phase of Goodbye 9 to 5. The result was that every day, I knew exactly what to work on. Now I also have two additional testimonials I can add to my page, and I'm finding my services page is converting a lot better--- I used to refer people to my page and then no one would email me, but now people are! I also printed out the sample daily work schedule from Goodbye 9 to 5 and adapted it in preparation for when I'm working from home full-time---it was inspiring to see what my day could look like at the end of the 3 months!"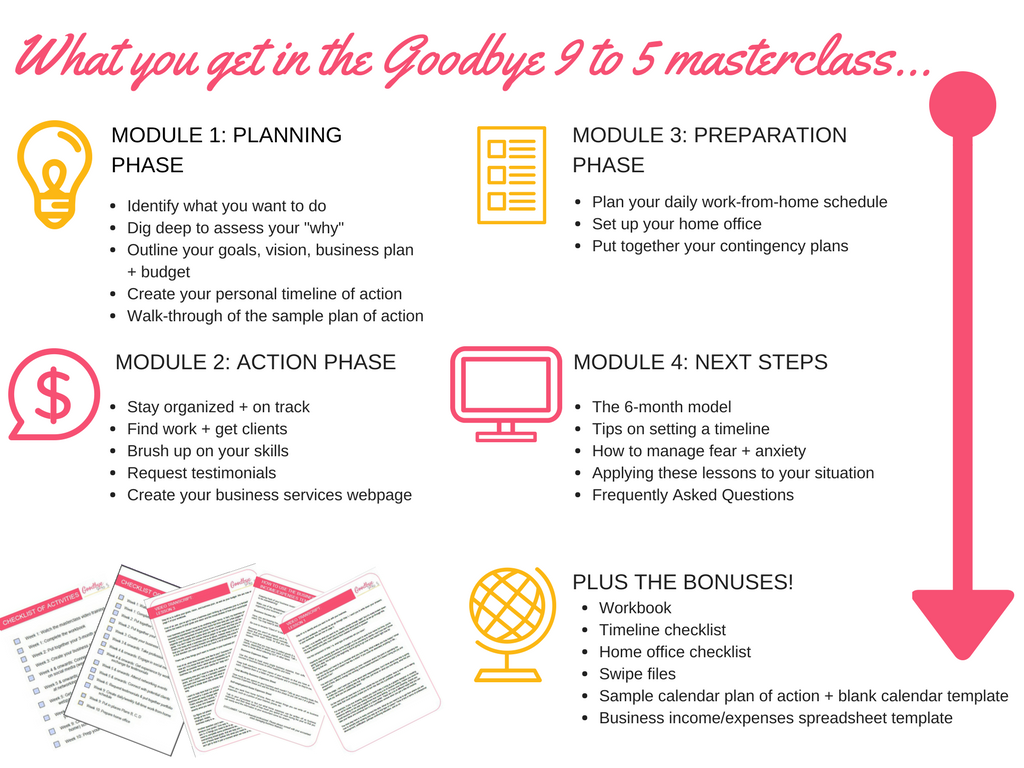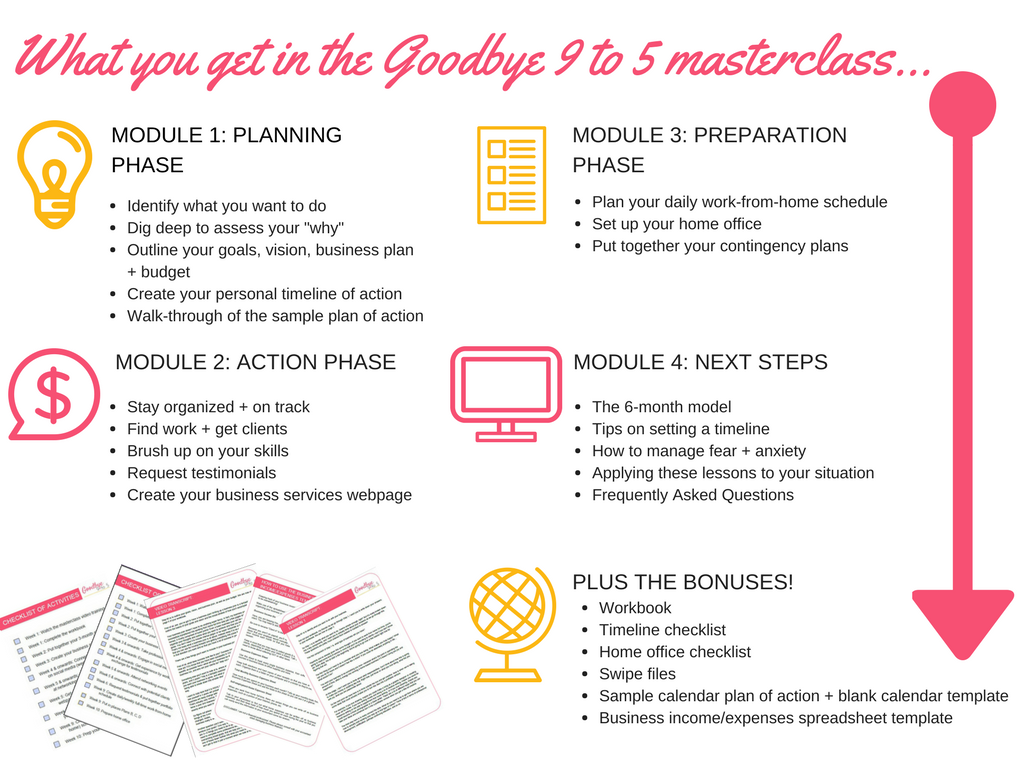 Quitting your day job isn't all smooth sailing. In fact, Sareeta found that her second month was quite overwhelming. She didn't have as much time as she had hoped to market her business: "I really strayed from the tasks I had set for myself. I didn't gain any new clients and it really stressed me out. I had been marketing myself, pitching people I knew and people I'd warmed up, and it got me nowhere (or so it seemed). I felt like a bit of a failure. I let myself focus on my other things (which have nothing to do with my business) and ignored my work."
But Sareeta didn't let the overwhelm, fear, and stress get her down! Instead, she made use of the resources in Goodbye 9 to 5---specifically, the home office checklist, the daily work-from-home schedule, and the lesson on managing your fears and anxieties.
"I sat down and looked at what was left of May, and assigned myself daily tasks regarding marketing/pitching. I prepared my desk, clearing it of random papers and only leaving what I absolutely need. Then I completed those tasks... and with two days left in the month, I signed a new client---the biggest contract yet! I also emailed a bigger blogger I admire and pitched her... and she emailed back! I felt so much more positive and ready."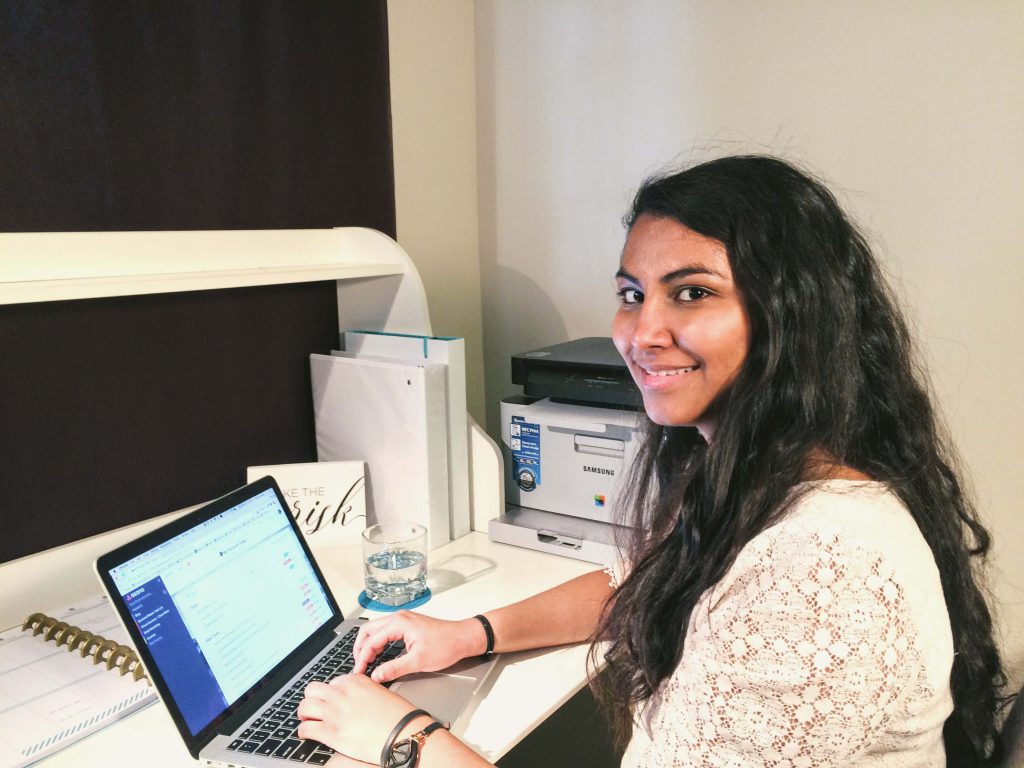 As a result, she was able to get back on track with her goals. In June, Sareeta officially declined a summer position at her teaching job… and she reached her income goal with her VA business!
Now that she's been working from home full-time for a few weeks, Sareeta says, "I'm nervous, but much more certain that I will be able to make this work. I'm making actual part-time income right now so I know that getting a full-time income within a couple months is not an unrealistic goal. I'm so glad I had the opportunity to take this course---it has been invaluable in helping me fulfill my dream of controlling my own hours and income!" 
Sareeta's primary takeaways from the program include: 
Do not be stingy on how much time you spend marketing yourself---in a couple months you will see that work come back to help you.

Have more than one contingency plan.

If you hate your life, you're the one who has to change it.
"I pretty much needed someone to tell me exactly what I would need to do to go full-time, and this course did exactly that," Sareeta says. "This course really helped me figure out a step-by-step plan to quit my job. I didn't like my job and I knew I could make money as a blogger and/or VA, but I didn't really know how to set myself up properly in order to do that. Goodbye 9 to 5 gave me so much direction, and Sagan has helped me with personal advice and feedback along the way."
"I'm 100% satisfied! The course itself is very practical and gave me concrete answers for the help I needed, and Sagan really helped me develop the confidence I needed to take risks and really go for it.

I love Sagan's teaching style! Very easy-going but also realistic. I liked seeing examples, especially for the daily schedule and 3-month plan. The whole course is a fantastic overview of what you should do in those first 3 months.

I'm so glad I had the opportunity to take this course---it has been invaluable in helping me fulfill my dream of controlling my own hours and income!"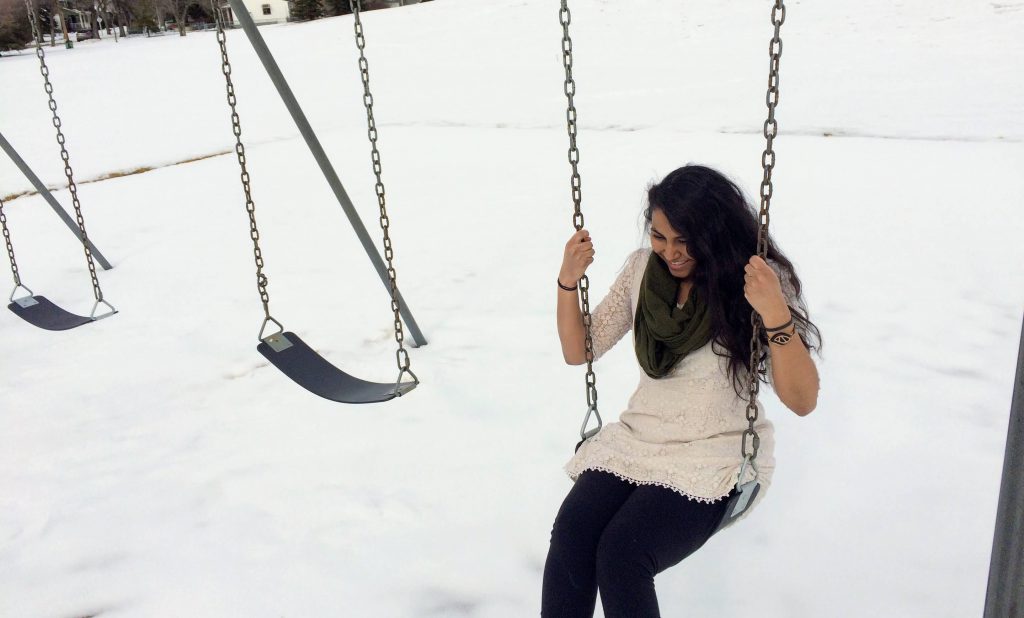 Even if you're worried about bringing in an income, even if you're scared of making the leap, even if you feel like you don't know what to work on… you can learn how to quit your day job in just 3 months and get the answers you need in the Goodbye 9 to 5 masterclass! This step-by-step program will help you make your dream of working from home full-time a reality. It worked for Sareeta---and it can work for you, too.