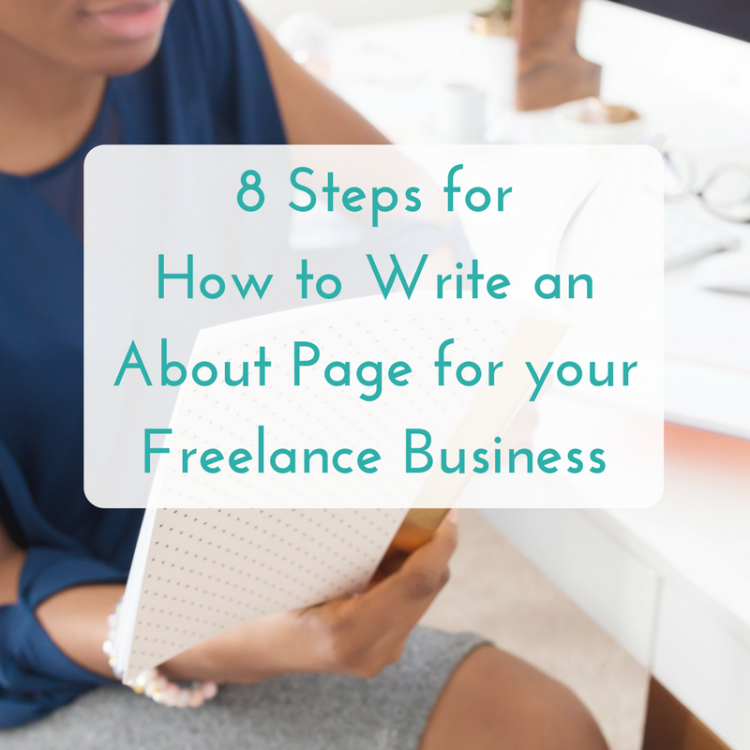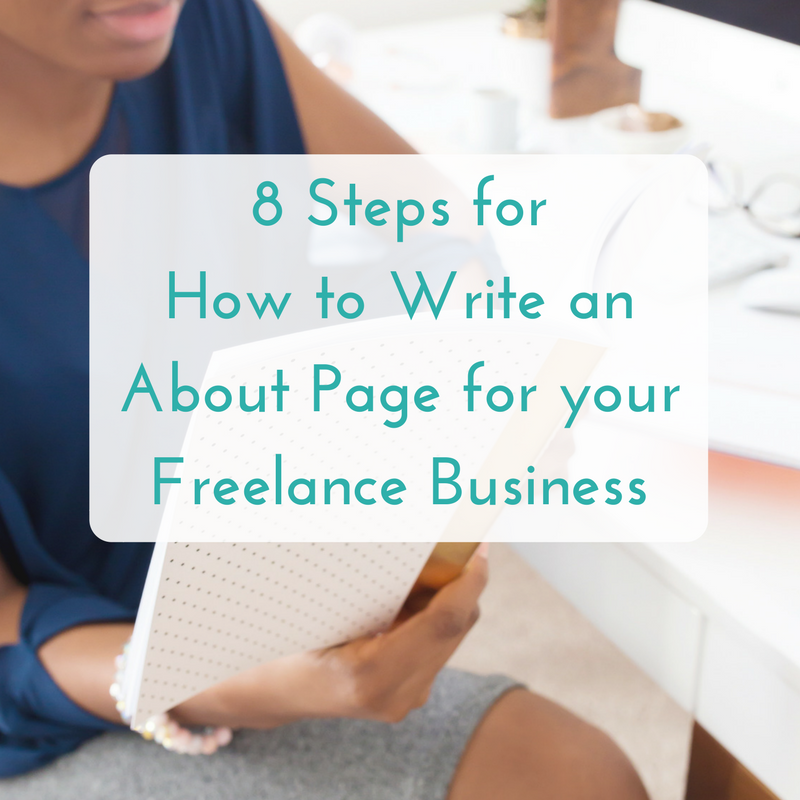 Last week we looked at why you NEED a website for your freelance business… so this week, let's explore how you can make one of the most important pages on your website, your About page, super awesome and compelling for potential clients! We've got 8 steps for how to write an About page for your freelance business.
Step 1 for how to write an about page: Identify your brand's voice
The great thing about being a freelancer is that often, your brand's voice is YOUR personal voice---or at the very least, it's a slightly more professional version of your own voice.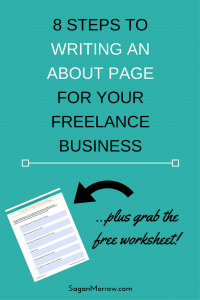 This is helpful because it means you won't have to go about constructing an entirely new voice to fit your business. You can simply identify the key traits that make up your own voice, such as…
Professional vs casual

Distant vs personal
Shock factor vs. being more lowkey
I want to note that there is no "wrong" or "right" when it comes to identifying your own unique brand's voice. Everyone is different, and that's a good thing! The most important part here is that you are being authentic to who you and your brand are all about.
Over the last couple years, there has been this big wave of business owners embracing their quirks. And that's great! However, part of the problem I've seen is that many people feel as though they *need* to highlight their quirks, or exaggerate their quirks, or choose shock factor such as swearing, even though it doesn't feel authentic to them. You can tell a mile away the ones who that genuinely is a reflection of who they are, compared to people who are essentially trying too hard to be something they're not.
There's nothing wrong with shock factor or swearing or being super quirky! But you also shouldn't feel compelled to TRY to be quirky if that's not who you are. Above all, when it comes to writing your About page, go with what feels right and comfortable and natural to you.
Step 2 for how to write an about page: Create a bullet list of your professional experience, education, and achievements as it relates to your freelance work
If you've recently updated your resume or LinkedIn page, then you can grab the info from there! Condense it into just a quick bullet point for each.
Step 3 for how to write an about page: Create a bullet list of a few personal details about your life and your personality that are important to you
These might be things like "mom of three kids" or "born and raised in New York City" or "obsessed with watching Parks & Rec and Buffy the Vampire Slayer" (ummm… yes, that last one IS about me ;)).
The point here is that you want to draw out just a few key pieces about you that others will be able to relate to and identify with. For example, one of my descriptors I use on my About pages is that I'm an intersectional feminist. This is helpful both for connecting with other inclusive feminists, AND for discouraging sexists or men's rights activists from hiring me.
You'd be amazed at how many potential clients will choose to hire you over someone else because they discover you live in a city they love, or they find out that you're a new parent just like them, or they get excited that you have a shared interest in the same book series, and so on.
Step 4 for how to write an about page: Decide how you want to format your page
Do you want your About page to be an epic 1,000-word article, including all the juicy details a potential client could possibly want to know… or are you into more of a simple, straightforward 300-word bio? Do you like the idea of being more personable and speaking in the 1st person… or would you like to add an extra layer of professionalism by talking about yourself in the 3rd person?
Again, there is no "wrong" or "right" way to do this! Here, I want you to keep in mind who your ideal client is, the type of freelance services you offer, and what your brand's voice represents. That's what will help you to format your About page.
(Psst... remember that your About page is primarily about you and your business. Don't get into much detail on the services you offer just yet! When you're ready to write your freelance services page, click here to find out 10 things to include on your freelance services webpage.)
Step 5 for how to write an about page: Write the introduction for your About page
I recommend starting out by stating exactly who you are and what you're all about.
For example, this is my intro here on my SaganMorrow.com website:
Hello and welcome to Sagan Morrow.com! I'm Sagan, a small business strategist and blogger. This blog shares actionable tips for how to build your successful, profitable home-based business. As a small business strategist, my specialty is teaching practical tips and actionable step-by-step strategies to new and struggling solopreneurs (including freelancers!).
You can see in the above that I get straight to the point. In the first few sentences, you already know exactly who I am and what to expect on my website, which will encourage or discourage you from reading more.
In another example, here is the intro for another business venture, Juxta Communications:
Juxta Communications is an inclusive, feminist communications agency located in Winnipeg, Canada, where we collaborate with businesses and nonprofits that do awesome work in the community. Juxta Communications is owned and operated by Chief Technology Officer Dan Nicholson and Chief Communication Officer Sagan Morrow, who bring nearly 20 years of combined experience to their work.
Again, it gets to the point fairly quickly and prospective clients will either be able to identify with us or they won't---which will play a factor into whether they'll seriously consider hiring us or not.
Step 6 for how to write an about page: Begin piecing everything together
You know how you created a bullet list of both your professional and personal background? Well, here you're going to piece it all together!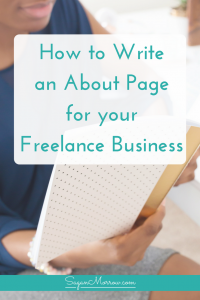 I encourage weaving them together to a degree. You might start out by mentioning something professional, and then add a little bit of personal pizzazz, and then get back to your professional background.
For example: "I graduated with an English degree from Awesome University in 2010---right around the time that I fell in love with Harry Potter! I knew that I just had to be a writer, and I began freelance ghostwriting for fantasy authors within a few months."
Your personal details don't always need to match up to your professional details, but it's easier to weave them into your bio if they do.
It's important to note here that when writing your bio on an About page, you should always be more heavy-handed with the professional side of things. Your personal details should be peppered throughout as the seasoning for your About page: you want it to be just enough that people will feel a connection to you, without everything about your personal life overshadowing your professional background (which is what they really care about!).
Step 7 for how to write an about page: Wrap it up
I like to include a call to action at the end of the About page. Usually, this involves something simple like "Contact me via email to learn more" or "Connect with me on social media at XYZ" or "Click here to learn more about my services," etc.
Decide what you want visitors to your site to do: you might want to build relationships with them via social media, or you might want them to sign up for your email list, or learn about the services you offer on your freelance services webpage, or something else altogether.
Click here to figure out whether you should have an email list for your freelance business.
Most people visit your About page immediately upon landing on your website, so including social media buttons and your email address will enable them to access you that much more easily.
Step 8 for how to write an about page: add images and proofread it
Your About page will be SO MUCH BETTER if it includes a photo of yourself! People will trust you more and feel like they *know* you if they can see your face. I know that many of us feel uncomfortable in photos, but honestly, no one else ever cares about how we look as much as we do.
Find a simple backdrop (I like a plain white wall or a brick background, but you can also have trees or an office in the background) and ask a friend to take a few photos of you. Go at it from several different angles. Take a look at the photos to assess them and then direct your friend accordingly (e.g. "I like this side of my face better, but it might look nicer if it's from a slightly higher angle"), and continue taking a few more photos. Voila! Photoshoot is done.
Lastly, proofread your About page. Ask someone else to look at it and edit it if editing isn't your thing. This will be one of the most popular pages on your website, so you won't want it to be riddled with errors.
Now you know how to write an About page for your freelance business---so go to it and have fun!