In case you haven't heard, Periscope is the hot new social media platform. It's like a combination of Instagram, SnapChat, and YouTube, all rolled into one (from what I understand of it).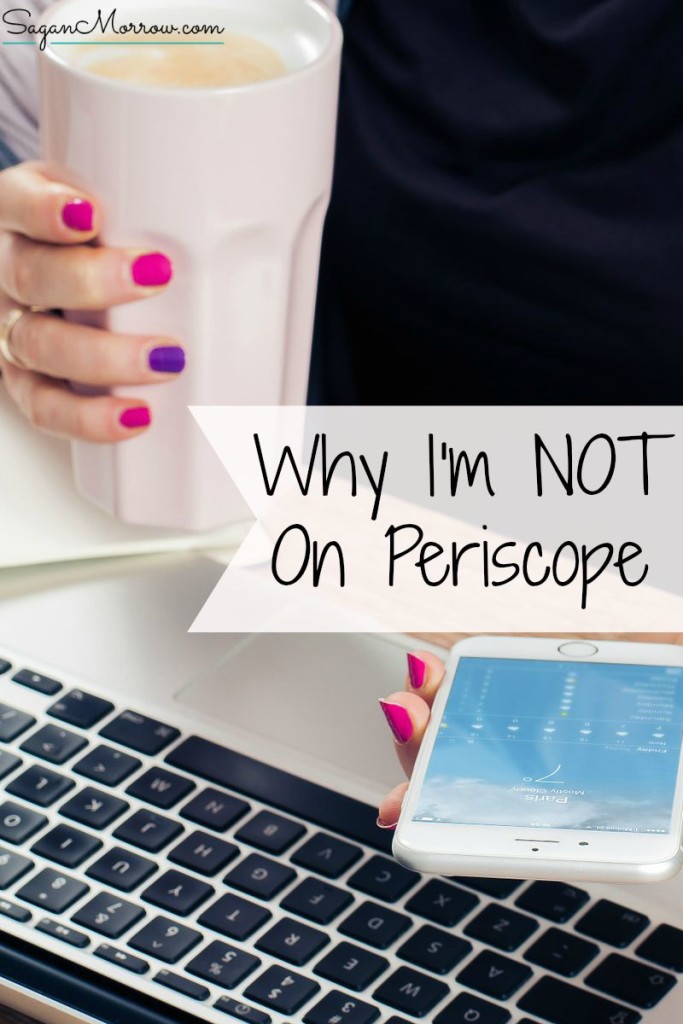 While I've been on Facebook and Twitter for years, and jumped on Instagram a couple years ago, I don't think I'll be joining Periscope—at least not any time soon.
Periscope has its uses, and many people are finding it an amazing way to connect with *big* names, and to get themselves seen and heard by their idols. It also lends itself to the opportunity to ask questions and get them answered instantly by experts, so it's a wonderful tool to learn and connect with others.
But I have no desire to join Periscope. Here's why:
1) I can see it being even more of a time-suck than Facebook.
I've only watched three replays of Periscopes (sometimes they're made available on the Internet after the fact), and they were all by experts who many people look up to when it comes to the business side of blogging. I stopped the videos partway through because I didn't find it very helpful—in fact, the informal nature of Periscope meant that the video seemed unnecessarily drawn out (it was only a few minutes long!), kind of boring, and, well, amateur because of the poor video quality.
Everyone makes mistakes, of course, and we're all human, but when I listen to a podcast, watch a teaching video, or participate in a webinar, I want the host to be fairly well-prepared and concise. As far as I can tell, that's not always the case with Periscope because of its more informal nature.
The big problem with watching a video compared to reading a status update on another social media platform is that you can't skim down further to see if you want to keep reading. With a video, you either give up partway through or you have to watch the entire thing to determine if you're going to get anything from it. It could take a huge amount of time sifting through to figure out which scopes are worth the watch.
2) It reminds me a lot of Google+.
As someone who manages social media and creates social media strategies for clients, I can honestly say that I still don't get Google+. I mean, does anyone *really* get Google+? And if so, can you please explain to me the draw?
Google+ seems to have captured the hearts of a small, select group of people who swear by it as one of the best ways to connect with people and promote their business. The rest of us do very well without being on Google+ (or with just having an account because we use Gmail and, um, never touching it).
One of the issues I have with Google+ is that it doesn't exactly bring anything new to the table. I have a sneaking suspicion that Periscope is going to be similar: that there are lots of people excited about Periscope right now, but it's not going to be a place you *have* to be, the way that Facebook is, for example.
3) We don't all have to be on every single social media platform.
I know so many people who just sign up for social media platforms because everyone else does—without thinking about what is best for them, their business, and their audience.
The *best* social media platform is probably the one that fits with who you are and what you like to do—because that makes it much more likely you'll actually use it regularly, which is the whole point of being on social media!
For who I am and what my business is, there is no point in me being on Snapchat, for example.
I like to use Facebook as a way to connect with a broader group of people (since, let's face it, EVERYONE is on Facebook). I like to use Twitter because a) it's fun to make up ridiculously long hashtags, b) people on Twitter tend to be a little more *real* than on Facebook, and c) I love being able to chat with so many people informally on that platform. I like to use Instagram because photos are fun and a great way to capture the moment—one of my favorite ways to pass the time is scrolling through my Instagram feed to see all the pictures my Instafriends have posted! And I like to use Pinterest because HELLO super cool DIY tutorials (plus it is an amazing way to promote my blog. Pro tip: use a platform like BoardBooster* to make your Pinning life SO much easier!).
I visit LinkedIn occasionally, and I can see the merits in it, but it's not my most favorite platform. At any rate, those are the five social media platforms I like to use: Facebook, Twitter, Instagram, Pinterest, and LinkedIn. I don't have much interest in adding any others, especially since, while videos are fun, they aren't *exactly* my thing when it comes to social media (although they certainly have their place, as I'll be talking about in tomorrow's blog post).
I'm more of a writer (as evidenced by this 900-something-word article… ahem) and photographer.
All of this isn't to say that I'll *never* jump on the Periscope bandwagon, of course! But the way that Periscope is at this point in time, and the way my business and personal interests are at present, means that it just doesn't make sense for me to join Periscope right now.
How about you? Do you love Periscope? Do you have a different idea of what Periscope is? Do you think it will become a staple like Twitter and Instagram, or will it fizzle the way Google+ has? Share in the comments section below!
*Affiliate link