So you have a few different social media accounts—or you run the social media for several different clients—and you're wondering about when you should and should not cross-promote between the brands.
This is a really important question to take into consideration, because it can help enhance the different social media accounts you're managing… but if you don't do it properly, it could become a real problem for all of the brands involved.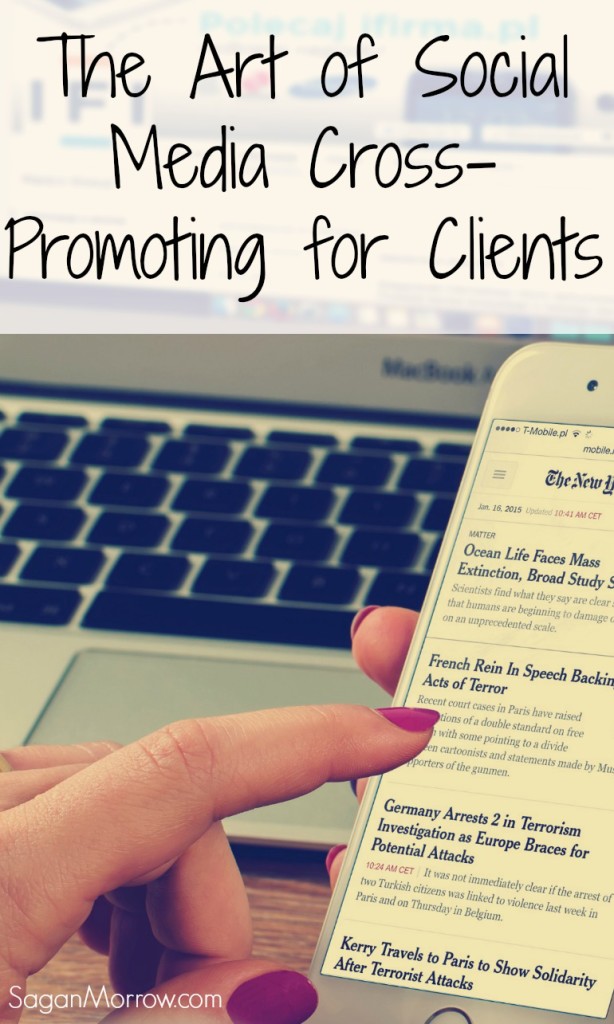 Here are some things to think about when you're considering cross-promoting between different brands:
Does the particular post you want to cross-promote line up with the other brand's values? If the answer is "no," then obviously don't promote it! If the answer is "I don't know," that's a much bigger issue, and you really need to discuss the brand values with your client.
Will your target audience benefit from the post you want to cross-promote? Social media isn't necessarily for posting what you want to post—it's to provide value to others! If your target audience has no need for the post or if it's completely unrelated to their interests, then it's probably best to avoid promoting the post.
Are there any negative ramifications that could arise from cross-promoting the particular post? Think about this carefully, and put yourself in your client's shoes. Be cautious about promoting anything that has political connotations or could be controversial, unless you are 100% confident that the controversy is something the brand supports. You don't want to get your client in trouble!
[tweetthis twitter_handles="@Saganlives"]Consider brand values / reputation & benefits for your audience before sharing something #socialtip[/tweetthis]
What will it do to the brand's reputation if you promote the post? Every time you post something new as a representative of the brand, you're adding another piece to the puzzle and the make-up of what that brand essentially is. Does the particular post you want to promote line up with who / what the brand is and the direction it is heading?
Is this something you want to share, or do you think it's actually something the brand would want to share? Sure, you might want to promote another client, or you might be excited about some new product or event coming up—but is it relevant to the brand? If you had nothing to do with this brand and the client found out about the product or event, would they want to promote it anyways? If yes, then post away!
How often do you promote posts for others? It's fine to re-post and share what other people are doing, and it can be really good to do that, but if you haven't posted anything original in days then it's time to post some content that's specific to this particular brand.
Are there any other questions you ask yourself or anything else you take into consideration when cross-promoting between brands? What would you add to this list? Share in the comments section below!

Did you like this article? Share it with your friends!