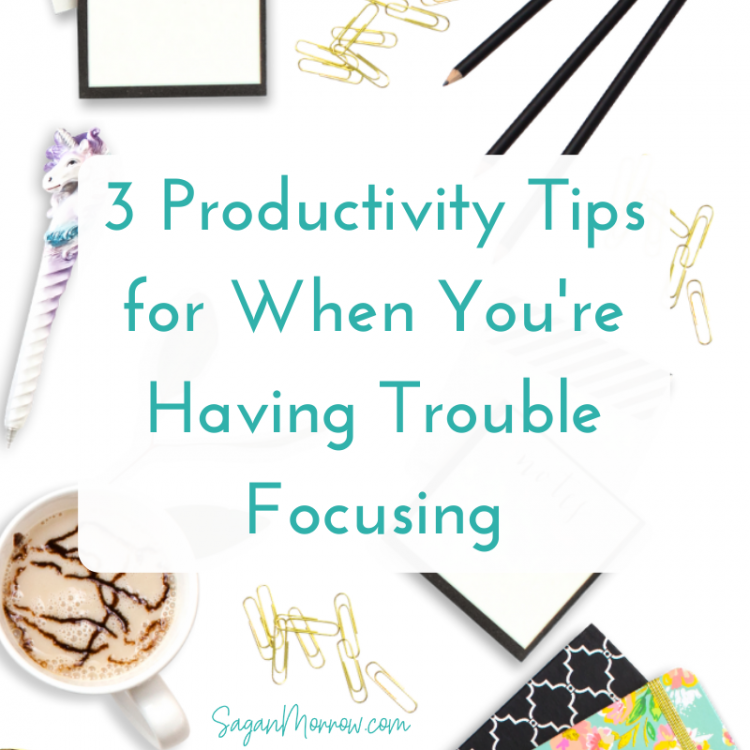 On any given day, there is always so much work that I could be doing. It often comes down to what needs to be prioritized, or what I'm in the mood for---but I'm sure I could work 12 hours days, every day, and still have more things on my to-do lists.
That being said, even when there's a lot of interesting and important work to do, sometimes it can be challenging to stay focused on our workload. We all have those days when our work just feels overwhelming or when we're trying so hard to work on a project and we can't seem to get our brains to focus.
What can a person do in that situation?
I've been here many times before---so I've picked up some tricks along the way! These are 3 of my top productivity tips for when you're having trouble focusing:
1) Take 5 minutes to check in with yourself.
How have you been breathing so far today? Have your breaths been pretty shallow? I bet they have been! Take at least three deep, slow breaths in and out  with your eyes closed. Roll your shoulders back. Ground yourself and do a few stretches, and then sit quietly and check in with yourself.
Why are you struggling to focus today? Do you not enjoy this particular project? Are you feeling burned out, and has it been too long since you last took a break? Are you letting yourself get bogged down or distracted by one small component of the project?
Sometimes acknowledging to yourself what is going on and why it's happening is enough to refocus your mind.
2) Break your work down into very small steps.
When your work seems too frustrating, difficult, or overwhelming, and you can't keep all of it in one place in your mind, you might just need to break off smaller pieces to work with.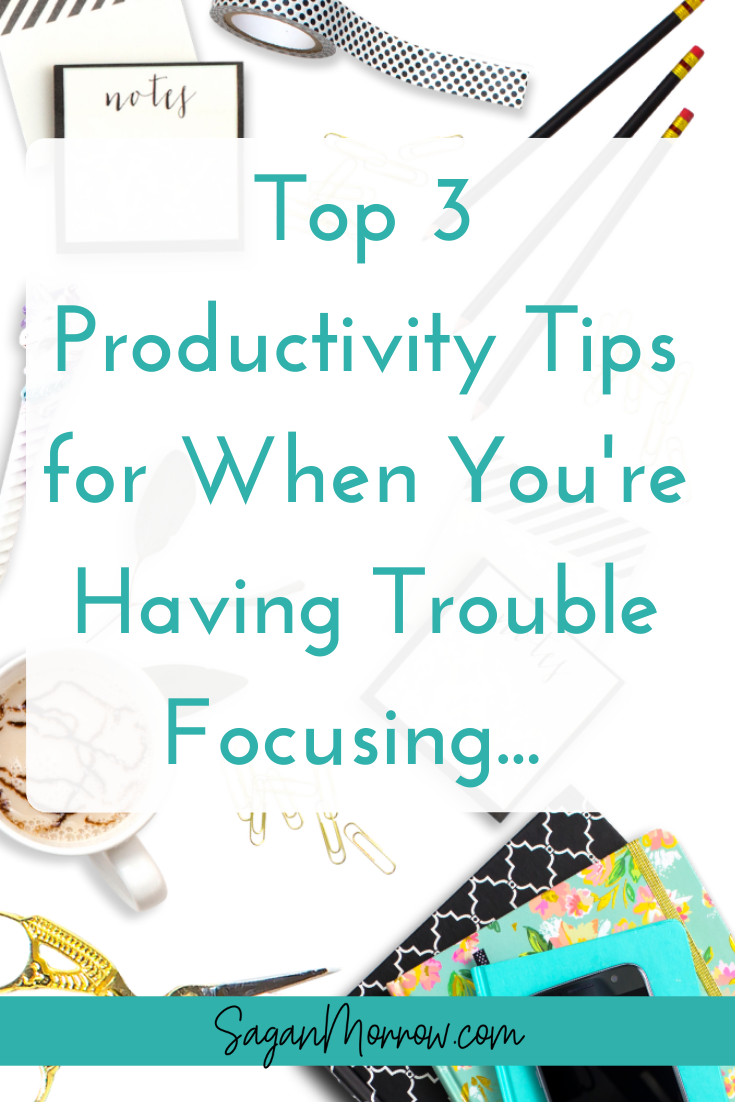 Breaking your work into chunks makes it more manageable, and it enables you to focus more specifically on one thing at a time.
For example, if you are trying to write a 1,000-word article, think of it in terms of writing the introduction, six body paragraphs, and a conclusion. Don't think about the next stage until you're done with the current one. You'll be more focused in no time!
You can break any goal or task into smaller pieces. Sometimes it takes a little creativity, but any time a project seems too unwieldy, just break it down into bite-sized, more manageable parts.
(More on this inside the Begin Your Biz Challenge.)
3) Forget about the quality for the moment.
When we get too caught up with getting our work *just perfect,* we can start to really get hung up on the details.
Right now, focus on getting the job done. Set a timer and challenge yourself to write X number of words in a 15-minute time span, for example. You can go back and make it better after you have the skeleton in place.
There are always opportunities to rewrite, edit, and rework in the future. Just focus on getting it done right now!
What are your tips for being more productive when you're having a hard time focusing? Have you tried these suggestions before? What questions do you have about productivity?
Reach out to Sagan on Twitter or Instagram, @Saganlives, and let's chat!