Want to manage your own business and work from home full-time? That's awesome!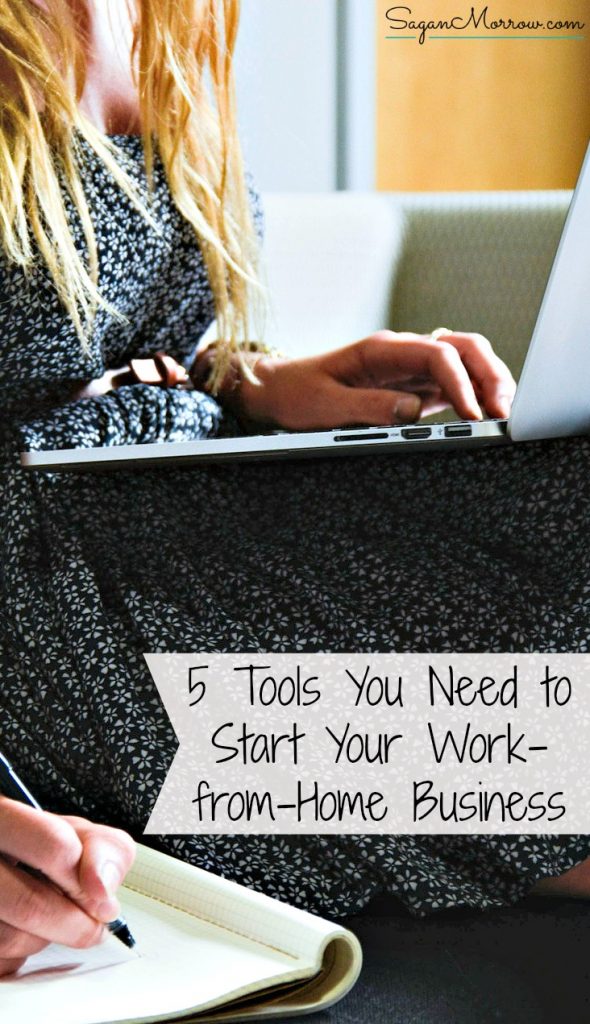 In order to set yourself up for success, you've got to have the right tools and systems in place.
Grab your cheat sheet for the top 5 things you need to do BEFORE you quit your office job >>
Here are the 5 tools you need to start your work-from-home business—and you can do it all for under $1,000 (not bad for getting started with your very own business):
Your own computer (preferably a laptop).

We're starting with the obvious one first! But really, this is necessary—particularly if your freelancing service is primarily online and you do the majority of your marketing online.

I strongly recommend you have your OWN computer, not one that you share with your family, because you're going to be using it quite a lot when you have an online business.

Cost: approx. $700. Or, more likely $0, since you probably already have this one squared away.

A business plan.

You NEED to have a solid business plan in place when you're starting a home-based business. A business plan is important because it will help you more clearly define what your business vision and goals are, who your ideal client is, and how you're going to achieve your goals. This is an excellent place to also outline your budget and financial goals.

Cost: free (we have an awesome business plan template worksheet and business planning lesson in the Productivity Powerhouse e-course).


A marketing strategy.

Once you've identified what your business goals are and who your ideal client is and the type of freelance business you'll have, you're going to need to actually market your business. Without a planned-out marketing strategy, you'll have a hard time finding clients and getting work!

This is a MUST for using your time more effectively and getting your ideal clients faster.

Cost: free (you can learn all about how to create your marketing strategy, plus get some helpful worksheets and cheat sheets for how to do it, in the Pitching Clients 101 e-course).
A website.

I highly recommend setting up a nice-looking website for your freelance business because, to be perfectly honest, your design as a freelancer MATTERS. First impressions are everything! If your website looks beautiful, clean, and professional, clients will take you far more seriously than if you just throw something together.

While you don't *need* a blog to have a successful freelance business, it can certainly be an asset (particularly since it can act as your portfolio). I recommend using either WordPress.org or SquareSpace for your website. Get your own domain name to increase your legitimacy as a professional.

Cost: $10/month (it will cost more if you hire a designer or if you purchase a website theme, but ultimately this can be done fairly inexpensively)

The Productivity powerhouse e-course + Goodbye 9 to 5 masterclass!

I designed these two courses specifically to provide you with everything you need for managing a successful work-from-home business.

Your home-based business will be so much more successful if you create CUSTOM strategies for your business and if you know the exact step-by-step strategies to keep progressing with your business, and that's what the productivity e-course and masterclass are all about!

Cost: $299 for the Productivity Powerhouse e-course + $249 for the Goodbye 9 to 5 masterclass
BONUS Tool #6: Guide to make your first e-commerce sale
This handy, free guide shares 50 awesome tips for how to make your first e-commerce sale! It's a great way to get more ideas for marketing your business and getting the word out there about the services you offer.
Cost: free!
What about things like bookkeeping software, in-person networking events, and business cards?
Honestly? A great Excel spreadsheet will get you far for managing your income and expenses! Unless you're managing employees, getting special bookkeeping software isn't REALLY a necessity. I also recommend getting a great accountant for your freelance business, which will likely only cost you a couple hundred dollars each year BUT which will save you a ton of time, energy, and headache.
As far as in-person networking events go, there are plenty of free options to choose from. Think very carefully about which ones to invest money in. Chambers of Commerce events tend to be quite pricey, so if you plan on using them for networking purposes, make sure you go in there with a very clear plan of action.
Business cards are a huge asset if you do a fair amount of offline networking. Luckily, you can get these pretty cheap! You can use a company like VistaPrint for cheap business cards, or, in a pinch, you can even get some business card cardstock from an office supply store and create your own business cards in a Word document. I did that for my nutrition consulting business and they worked just fine. This is an especially good way to go if you aren't exactly sure what direction you want to take your business, if you aren't doing much offline networking but still want a few business cards on hand just in case (which is a VERY good practice!), and if your budget is tight. It will only cost you about $10 in total.
What questions do you have about starting a work-from-home business? What are your must-have tools? Share in the comments section below!
Disclaimer: this post is sponsored by the Shopify Guide to Make Your First E-commerce Sale, however all opinions are my own.