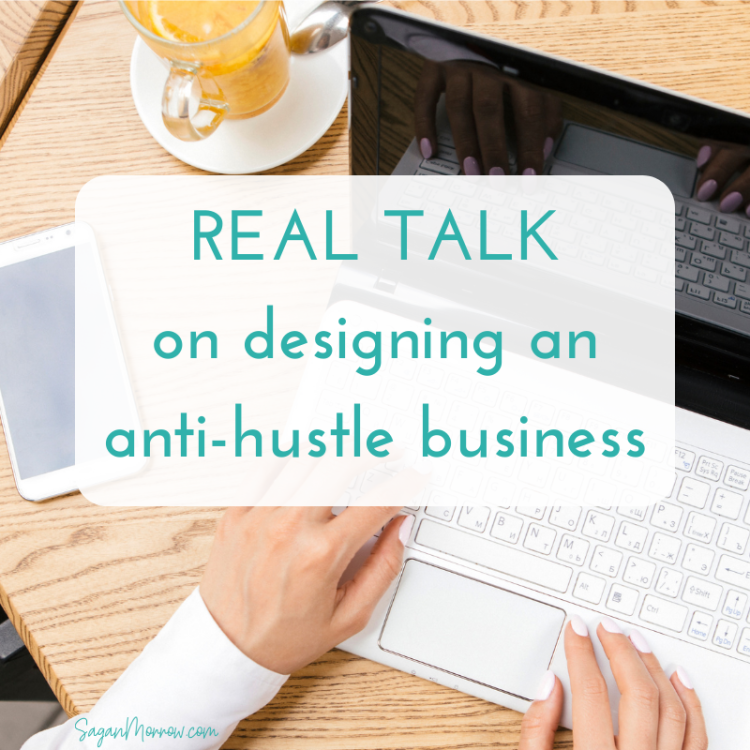 My new friend Regan invited me on her podcast recently to discuss all things toxic productivity and designing anti-hustle business models...
...and I think this episode might be my new favourite podcast interview I've ever done! We covered a wide range of topics that are going to help you SO MUCH, on both a mindset level and an actionable level.
It just went live last week and I know you're going to get a lot out of it:
Psst... Here's the show notes & highlights of the episode to give you a li'l teaser of what to expect:

If you're a solopreneur who wants to maximize productivity without the hustle and still have the energy to enjoy life and follow your goals, you're in the right place! In this episode of Real Talk with Regan, Sagan Morrow, an anti-hustle Productivity Strategist & Success Coach, joins Regan to talk about our culture of toxic productivity, how time is the new currency, and why traditional approaches to productivity are not efficient.
Sagan was working full-time at a nonprofit and trying to manage her freelance business on the side when she realized the common time management methods weren't working for her. In order to meet her deadlines, she was forced to create her own customized method based on her learning style and personality.
Now she is an internationally board-certified Success Coach who helps solopreneurs and multi-passionate creatives save 10+ hours every single week, maximize productivity based on their personality, and take strategic action to finally achieve their goals—without burning out or succumbing to overwhelm.
Tune in and learn why productivity is a learned skill, and discover how the root of time management and productivity is energy management. There is no point in saving time if we don't have the energy to enjoy it!
Highlights in this episode:
Regan and Sagan discuss why business owners should not rely on a one-size-fits-all approach to time management and productivity.
How to make any dreaded task more enjoyable, so you don't procrastinate.
Find out the #1 productivity mistake that business owners make and why being honest with oneself is crucial for business owners.
Sagan emphasizes how our business should support our lifestyle goals and values as a multi-passionate individual.
How doing a weekly productivity audit can help you go from putting out fires to being empowered and taking control of your schedule.
In order to increase productivity, we first need to unlearn hustle culture and the glorification of busy work.
Designing a schedule that's right for you personally is key to maximizing productivity.
Learn about some methods Sagan uses to get to the root of her clients' productivity blocks so that they can be overcome.
Sagan shares her philosophy on why she helps clients measure the fun in each of their tasks.
Sagan talks about her own uncertainty about what her energy level will be like from day to day and how she structures her business to accommodate.
How to build in rest time without losing momentum.
---
By the way: Regan is a business coach, too, so we had a great conversation about how I use anti-hustle productivity coaching with my clients...
...so if you've ever wanted a "peek behind the curtain" of what it's like to work with me, this episode is a great opportunity. Enjoy!