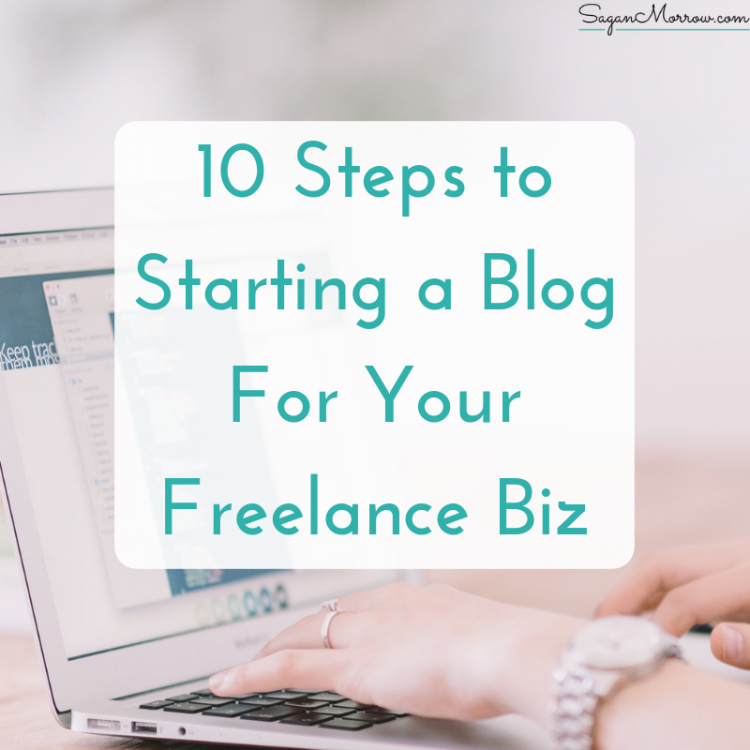 Should freelancers blog? Too many small business owners and freelancers jump into getting a blog (just like they jump into having an email list!) without actually thinking about WHY they're doing it.
Having a blog for your freelance business can be AMAZING for marketing purposes, connecting with your audience, and just sharing your knowledge with the world, but I highly recommend that you take some time to really put some careful thought into it before you dive into blogging.
The truth is, blogging is incredibly time-consuming and it can be overwhelming.
It's hard to maintain a consistent schedule, to market your blog posts, and to ensure you are producing high-quality content that targets your ideal reader (AKA your ideal client, when it comes to running a freelance business).
With that in mind, here are 10 steps to take if you DO want to start a blog for your freelance business:
Step #1: Identify WHY you want to have a blog.
Are you just doing it because you see a bunch of other people doing it?
Did someone tell you once that having a blog for your freelance business is a good idea, so you decided to go ahead and do it?
Does blogging seem like an easy way to get traffic and therefore find new freelancing clients?
In that case, HOLD UP. Those aren't good enough reasons to start a blog for your freelance business!
Instead, your blog will be much more effective as a marketing/relationship-building tool if you are doing it largely in part because you are genuinely interested in blogging and excited about writing articles online and sharing them with potential clients.
From there, you can move on to step #2…
Step #2: Understand the purpose of your blog.
What is your blog going to do for your business? What is your ultimate goal if you are blogging for business?
If you are adding a blog to your freelance business as a way to get new freelance clients (and ultimately make money freelancing), that will enable you to more clearly define what you should write about and how you will go about positioning your blog posts, for example.
Understanding the purpose of having a blog for your freelance business is a necessary step for providing you with direction as you start and grow your blog. Don't skip this step!
Step #3: Choose several topics you will write about.
No, you don't need to figure out your entire blog content calendar right now. But it's going to be very helpful for you if you can start thinking about what types of topics you will---and will not---write about, BEFORE you begin, so that you have a clear idea moving forward about the types of articles you will write.
The topics you choose now will make up your initial categories. Think about these topics from the standpoint of your ideal client: what types of topics would appeal to them? What types of topics also lead organically into the services you offer?
I recommend choosing anywhere from two to six topic ideas to begin with. You can always lump some of them together or expand on some of them in the future. It's not about getting it perfect---it's about getting it done.
Step #4: Put together a list of blog article ideas.
Once you have your chosen topics (or categories) for your blog, you'll next want to come up with a list of article ideas!
You should be able to come up with at least 10 article ideas for each category pretty much immediately. If you're stuck on coming up with blog article ideas for a particular topic, that's a very good sign that the topic might not be a good one for you to focus on in your blog.
You might also discover that some of the article ideas you have consistently fit under the same couple of blog topics. In that case, now would be a good time to combine those two topics that you initially came up with.
Step #5: Create a blog marketing strategy.
What are you going to do to ensure that your ideal client sees your articles? You can't assume they will just stumble upon your website! You need to put together a strong strategy in place for promoting your articles on an ongoing basis.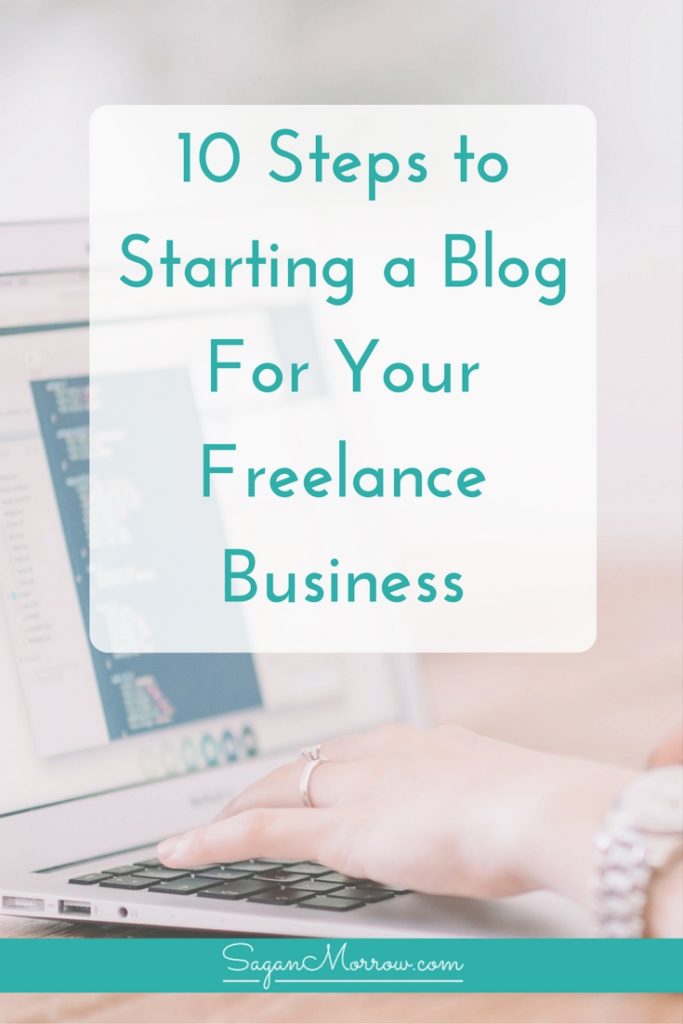 After all, if no one sees your articles, then what's the point in spending so much time, effort, and energy into writing and publishing your blog posts?
Your strategy might include promotions on your profile for Twitter, Facebook, Instagram, Google+, LinkedIn, and Pinterest, as well as in Facebook groups, Pinterest group boards, Twitter chats, Google+ communities, and linky parties, for example. You might also choose to publish links to your articles on subReddits, StumbleUpon, and Bloglovin, and focus on commenting on other blogs.
Those are a LOT of ways to promote your articles, but the more you market your blog posts, the more you'll be able to get freelance clients.
NOTE: There is something of a "right" and "wrong" way to promote articles (or rather, multiple ways that blog promotion can be done right and wrong). Sharing a link in a Facebook group and then running off, for example, won't get you very far. Blogging is very much about relationship-building! When putting together your blog promotions plan, factor in the community aspect of it.
Step #6: Determine how long it will take you to write, publish, and promote articles—and work that into your schedule.
As I mentioned above, relationship-building is super important for bloggers… and that means you could spend at least three times as long (if not five or 10 times!) marketing your blog post compared to writing it.
If you've never blogged before, it's tough to say how long it will take you to write and publish an article. However, you can probably count on it taking at least an hour out of your day (and I know some bloggers who spend upwards of 5 hours writing a single blog post).
Be realistic about it, but also try to overestimate how long it will take you to do all of this--- trust me, it WILL take longer than you initially expect.
Want more tips for building your freelance business? Click here to join the freelancer bootcamp!
Step #7: Decide how frequently you will publish articles.
Consistently is a good thing for you AND for your readers. Regular readers will know how often to check out your blog, and you will be better able to keep on top of your blog content strategy.
Throughout my 8 years of blogging, I've blogged everywhere from four times a week to twice a month. I recommend you start with some kind of happy medium 😉 Once a week is a really great starting point. It's frequent enough that you can start to get regular readers visiting your website, but it's not so frequent that suddenly all of your time will be taken up with blogging.
At this point, you might even want to create a basic blog content calendar! Grab this template you can use—it's a handy spreadsheet so you can keep track of all of your blog post ideas and decide when to publish them:
Step #8: Write your first three articles.
I recommend writing a few articles before you've even launched your blog so you can see how long it takes you to write articles and whether your initial schedule/frequency of publishing is realistic. Plus, now you will have a few articles ready to go when you're set to publish the blog section of your website.
It is such a great resource for figuring out titles that will appeal to readers! My titles have drastically improved since I started using that resource.
I don't use it very often these days because I've managed to get the hang of it (I mean, to an extent---titles still aren't my strong suit), but it's a particularly helpful resource when you're starting out with trying to come up with appealing titles.
Step #10: Create a Pinterest-friendly template for your blog posts.
Canva is an awesome option for creating a vertical Pin-worthy image. This is going to incentivize visitors to your website to Pin your article, which could drastically increase your traffic!
Since I started adding vertical images to my blog posts, my traffic doubled. And when you use Canva, you can have a template already created for you so that you just need to go in there and change out the text---you could keep the background the same if you wanted. Pretty easy once the foundations have been laid!
I learned the basics of creating Pinterest images for blog posts in the Elite Blog Academy, but this article from Melyssa Griffin has some great tips that can help you get started.
Pssst… if you don't like the look of a vertical image on the article itself, you can always hide the Pinterest-friendly image.
Where do you go from here?
This might seem like a lot to do, but none of this is to scare you off from starting a blog for your freelance business!
It's just always best to a) know what you're getting yourself into, and b) be as prepared as possible for when you get started.
Do you still like the idea of having a blog for your freelance business?
That's awesome! The next step is to TAKE ACTION on all of these tips.
Add a blog section to your freelance website. Publish your first few articles. Start promoting them, and then write, publish, and promote more articles.
Want to get more ideas for how to make money freelancing using your blog as a platform?
Enroll in Monetize Your Blog With Freelance Writing: the most budget-friendly, practical e-course on the market for making money with your blog!
"In just one day, as a result of taking Monetize Your Blog With Freelance Writing, I created a "hire me" page on my site, a spreadsheet with contact information for brands, and a generic price-list for a quick look at what I want for my time (customizable to each project). And I have a plan in place for looking for freelance gigs!"

- Amy