So you want to start your own online business… and now you're wondering if you should offer services or if you should have digital products (such as e-books or e-courses). If you're not sure whether your business should be product-based or service-based, we're going to tackle that question in today's article!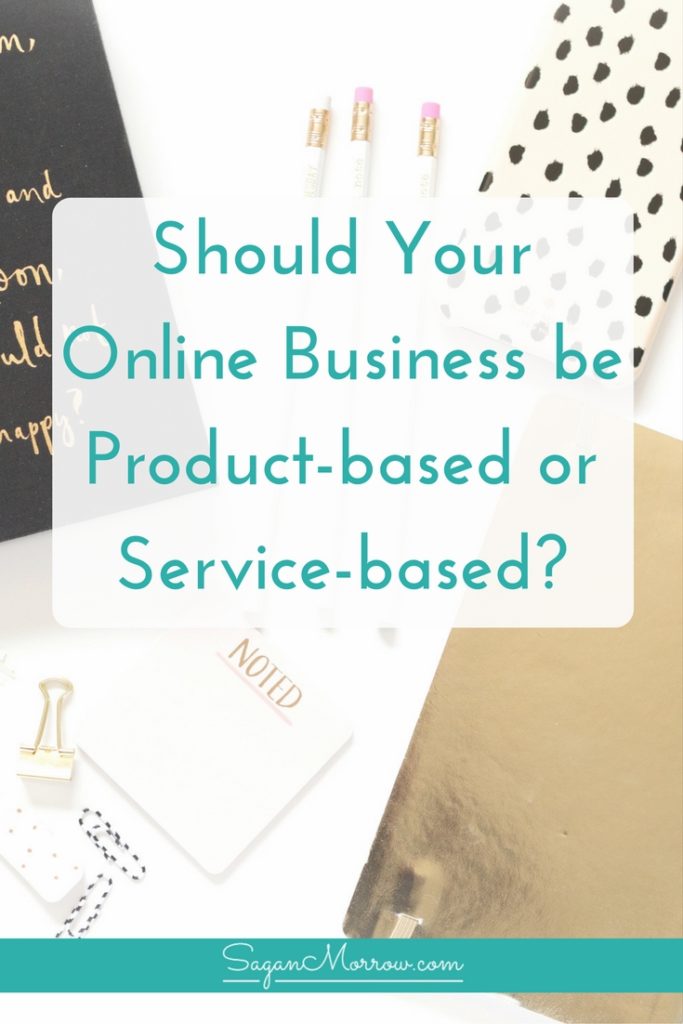 A brief background: I have 8 years of experience as a freelance writer, editor, and social media manager—which are all services.
This year, I launched my first e-book, as well as two e-courses (plus a webinar vault). Even though they're digital, they're still products.
So that means that I've now been on both sides of the spectrum in my business: using product-based AND service-based models.
Grab the worksheet to create your freelance services webpage >>
As you can imagine, I've been thinking a lot lately about the merits of both product-based businesses and service-based businesses!
So let's discuss the pros & cons of each (note that I'm primarily looking at this in terms of having an online course and having freelance services, because that's what my experience is based in. Having physical products is a whole other story!)…
Product-based businesses:
PROS:
Once you create the product, it's *done*—you don't need to constantly go back and improve it.
It's extremely rewarding to have a tangible product to show for the work you've done.
You can set your price relatively high, so you won't have to make quite so many sales each month to pay your bills.
If you have a community component to your business (for example, for your online course), it's super fun (and rewarding) to connect with your students on an ongoing basis.
If you don't have a community component with your online course, then you don't have to trade time for dollars.
CONS:
It can take a very long time to build up your audience and show WHY they need your product (so you need to first convince them why they need this product in their life, and secondly convince them that they should get the product from YOU specifically).
The market is highly saturated right now, particularly with online courses—and as a result, no matter how good your course is, you might have a tough time with actually making sales.
You can't really just "set it and forget it"—you constantly have to come up with new marketing techniques and urgencies to get people to make the purchase NOW rather than 3 years from now.
If you have a community component to your business (for example, for your online course), you will need to make sure you are in there regularly to answer student questions—and even if you don't have a community component, you'll probably still have student questions to answer. NOTE: Personally I REALLY like this aspect! But I know that for many course creators, it's a major drawback, because it means that they don't really have that time freedom they expected.
Taking the time to deal with different software and work through technological problems can be a HUGE time suck. Everything from dealing with glitches in your email marketing provider to trying to put countdown timers on your sales page can eat up your time like nothing else. The technical difficulties that arise is by far the biggest (and most unexpected) hassle I've had to deal with as a course creator.
Service-based businesses:
PROS: 
Easy to get set up (you could theoretically "start your business" within just a few hours!).
Less expensive (you don't need a fancy website/payment system, webinar software, email software, etc.).
Most clients already know that they need to hire someone to do the work—so you only need to sell them on why they should hire YOU specifically.
The work is interesting because it's constantly changing: your clients will have different needs and there's always something new you'll get to learn, meaning that you're never going to get bored.
The more experience you get, the more you can increase your rates (and the faster you'll get at the service you provide—meaning you'll get paid more for spending less time working).
The more you work with clients, the more they'll start recommending you to their colleagues (meaning at some point, all your clients will come to YOU and you won't have to spend any time on marketing).
CONS:
Depending on the arrangements you make for payment, you might occasionally have to deal with clients who don't pay on time.
Because you're always working with new clients, sometimes you get difficult and demanding clients.
Estimating how much time projects will take you and how much to charge for various services can be challenging in the beginning until you've had some experience.
I teach new freelancers how to start service-based businesses for a few crucial reasons:
First, I am self-taught as a freelancer. Everything I teach my students, I learned on my own—it's all based on real-world situations!
Second, I have a LOT more experience marketing services compared to marketing products. I'm still learning tons about selling products—it wouldn't be very ethical of me to teach my students how to sell products (besides that, most of what I've learned about selling products is a direct result of teachings from Mariah Coz—so I'm obviously not going to just teach students what someone else taught me!).
Third, I genuinely believe that it's easier and faster to start a service-based business compared to a product-based business.
You don't have to worry about all the overhead of hiring a designer, getting a course website, paying for email marketing software, etc. etc. when you're starting a freelance business.
Moreover, you can theoretically launch your freelance business in a single afternoon! If you have your idea and a website to work off of, you can create your freelance services webpage and work from there.
Launching a product isn't QUITE the same 😉
There are so many more pieces that go into launching a product-based business compared to a service-based business. And while there are a lot of merits to product-based businesses, it's a much tougher industry to crack.
When you're starting out, having a service-based business is a wonderful way to get on your feet without the same financial investment (and overwhelm) that can come with having a product-based business.
Grab the worksheet to create your freelance services webpage >>
The bottom line on whether your business should be product-based or service-based…
If you want to sell digital products and be a product-based business, go check out Femtrepreneur and learn everything you could possibly need to know from Mariah. She's awesome and knows her stuff inside-out!
If you want to be a freelancer and have a service-based business, on the other hand, I'm your girl! Whether it's reading the book about freelancing or getting one-on-one coaching or taking an online freelance course, I've got you covered.
Still struggling to figure out your business goals and priorities? No problem—watch my (free) video training all about how to get clear and focused by creating an awesome business plan that WORKS for you… it's all in the Business Planning Retreat Workshop.