You know what's frustrating about so much business advice out there? It's not designed for solopreneurs. The solopreneur business model is highly unique. There's a difference between solopreneur vs entrepreneur, and if you are a solopreneur, then you need to take different things into consideration.
Everything from our productivity methods to our business structure to our services & offerings and more needs to be customized with the solopreneur business model, compared to the traditional methods of business taught with entrepreneurship. 
In the business world, there's this misconception that in order to be successful in business, you need to have a team of employees (or you need to be working toward that as a goal).
But what about those of us who don't WANT a team of employees?
We like having a solo business!
Solopreneur businesses are DIFFERENT from typical entrepreneurial structures. I've studied business and received coaching from many different experts over my 11 years in business, and it has been fascinating to observe how the way business is taught by these experts is not conducted with solopreneurship in mind.
For example, typical business advice doesn't consider how you can scale or grow your business as a solo business owner. "Hire fast" and "Your first investment should be an employee" is very common business advice right now. That doesn't apply to solopreneurship—and, as a result, the rest of the business advice that follows from those excellent coaches often does not apply to our businesses. 
You CAN be highly successful and achieve professional excellence as a solopreneur. You do NOT need to hire employees in order to be successful in business—but you DO need to start using a business model that's designed specifically for solopreneurs.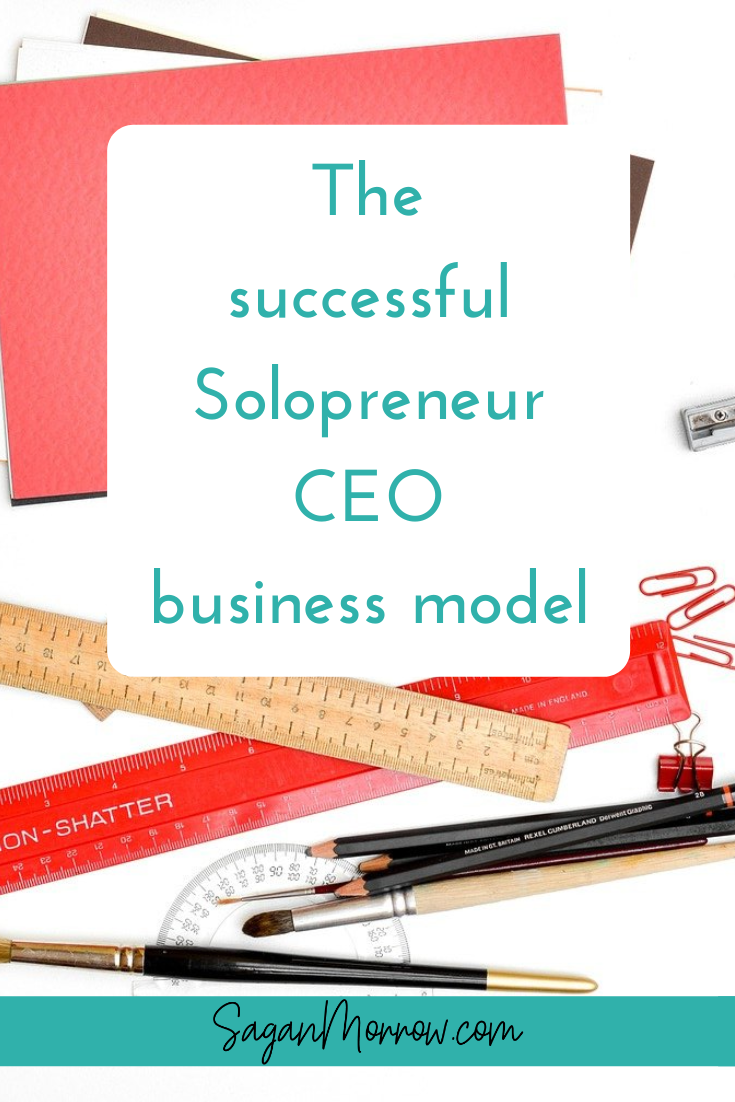 Solopreneurship is a unique business model that requires a tailored business training experience.
...So it's disappointing when there isn't much support out there specifically for solopreneurs. Or at least, it used to be 😉 I'm changing the game for you!
Like I said, I've been a solopreneur for over a decade (and also had a business partnership for a year) in multiple capacities—as a freelancer, consultant, blogger, course creator, and coach, across different industries—so I have a lot of experience in understanding what does & doesn't work for building a business... especially for solopreneurs.
→ I'm on a mission to make solopreneurship easy & enjoyable, for every solopreneur who comes across my path.
This is why I created Solopreneur CEO.
(And because I have that experience of being a solopreneur for 10+ years AND coaching dozens of other soloprenurs in building their own businesses... plus working in a business partnership, 9 to 5 jobs, contractor for other companies, and in the non-profit sector... you KNOW you are getting the real deal with informed, well-rounded expertise!)
Choosing to be a successful Solopreneur CEO is a radical move. Most people won't do it—most people decide they aren't cut out to be the sole boss of their business. But you know you ARE capable of this. You DO want to be a successful Solopreneur CEO.
...You are a maverick!
That's pretty badass.
And I want to give you the support you need to scale your business sustainably. Whether you're at the starting point with your business, or you've had it for years & you're ready to level up... Now's the time to embrace your desire.
You don't need employees... And you don't need a boss, either. You need Solopreneur CEO:
a high-touch, one-on-one, 6-month program that uses a powerful hybrid of coaching, consulting, and mentorship to fast-track your business success for courageous clarity and sustainable scalability! 
SAVE YOUR SPOT while it's still available—space is limited.