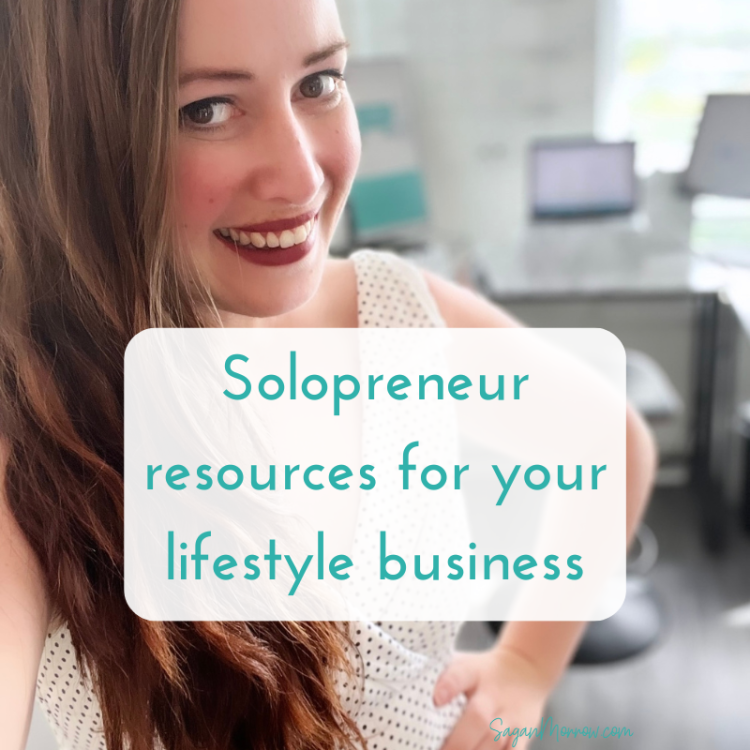 INTRODUCING... the new and upgraded SaganMorrow.com product suite of solopreneur resources for your lifestyle business! As you might already know, we specialize in anti-hustle productivity for solopreneurs so you can design a fully customized — and sustainable — lifestyle business that suits your unique wants and needs.
The SaganMorrow.com product suite featuring solopreneur resources is the perfect avenue for you if you desire longevity and predictability in your business... and if you want a genuine lifestyle business that supports your personal needs, vision, goals, personality, lifestyle, etc.
Watch this quick video for an overview of our solopreneur programs:
Some background on our anti-hustle solopreneur resources...
I started my business as a freelancer 12-ish years ago (read my solopreneur story here), and over the years, more and more solopreneurs began asking me how I was able to a) work from home productively, b) be multi-passionate and so prolific in content creation, and c) navigate all of this considering that I have chronic insomnia/anxiety/nightmares (and therefore traditional productivity/time management hacks don't work for me).
The reason why I've been able to do all of this is directly related to my signature anti-hustle methods that I created — and which are FULLY customizable to any solopreneur industry or lifestyle.
Seriously — solopreneurs who have successfully used my anti-hustle methods include freelance editors, artists, florist, sonographer, photographer, 9 to 5-ers, side hustlers, full-time solopreneurs with over a decade of their own business experience, people who are struggling with or recovering from burnout, parents of small children, child-free people, people living in North America and Europe and Japan and Australia, people who are neurodivergent and neurotypical, people of all ages (from gen Z to baby boomers), solopreneurs who have tried *everything* in the past but nothing's worked for them before, and more.
The way I approach anti-hustle methods is so that they are: 
Fully customized to YOUR unique wants and needs.
Combine both the deep inner mindset work AND the practical action steps.
Highly strategic, intentional, simple, and enjoyable (AKA perfect-fit for you) — so you can see immediate results AND experience long-lasting, lifetime transformations.
The work we do is truly unlike what you'll find ANYWHERE else.
---
About the new product suite...
Now, I originally began creating online courses back in 2016... and (especially since I love teaching!), over the years I've created quite a bit of content! That's why I've taken the opportunity to now REPACKAGE 12 of my legacy e-courses into 3 bundles: Bundle A (Introduction to Anti-Hustle Mindset), Bundle B (Business Planning Package), and Bundle C (Business Strategy Bundle).
The content in each of the bundles is deliberately organized to make it super easy for you to know where to start and which programs to work on at each stage of your solopreneur journey. The foundations of best business practices and anti-hustle methodologies for solopreneurs are all layered on top of one another — because I wanted to make it as easy and straightforward as possible for you to learn key concepts while also taking strategic action in your business.
Overview of what you get when you purchase each of the above Bundles, Productivity Powerhouse, or Solopreneur CEO...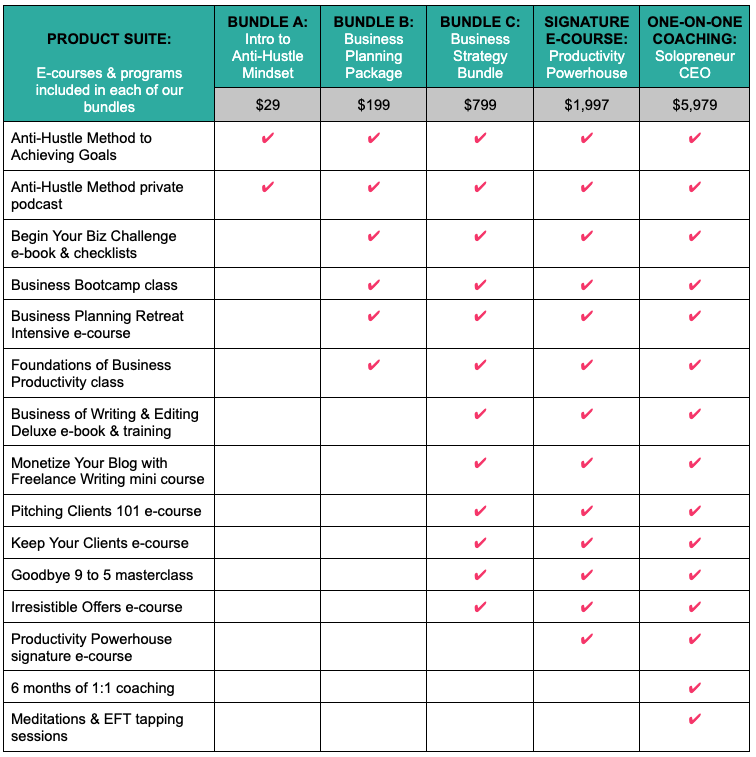 Each of these bundles lead directly into one another and build on top of each other. Bundle B includes access to all e-courses in Bundle A, and Bundle C includes access to all e-courses in both Bundle A and Bundle B. (This means that when you purchase Bundle C, you don't need to purchase Bundles A or B, because you'll get access to all of those e-courses anyway in Bundle C!)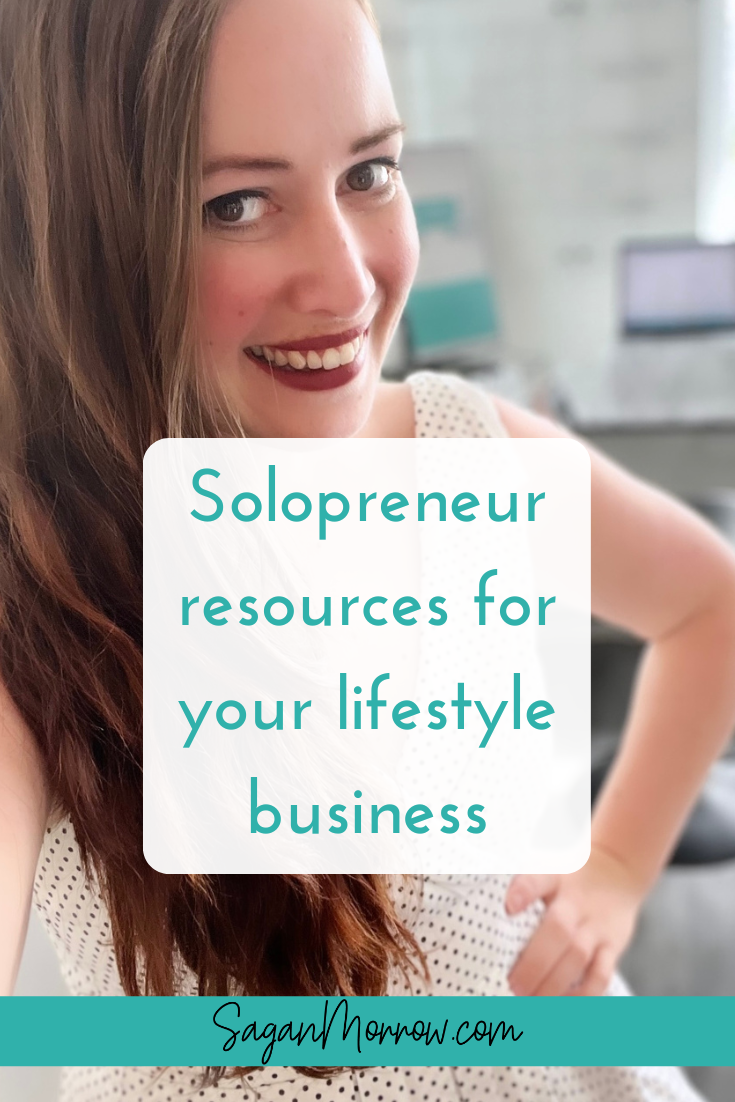 You also get a CREDIT for each bundle that you purchase! For example, if you purchased Bundle B for $199, you can use that as a deposit for the next bundle, Bundle C (AKA you'll get a $199 credit toward your purchase of Bundle C. Woohoo!)
...PLUS, these credits also apply to my signature anti-hustle e-course (Productivity Powerhouse), and my flagship 6-month 1:1 coaching program (Solopreneur CEO).
That's right — you ALSO get access to all 12 of our legacy solopreneur e-courses when you purchase Productivity Powerhouse for just $1,997, and/or when you join the Solopreneur CEO coaching program!
This means that when you purchase Bundle C (AKA all 12 of our legacy solopreneur e-courses) for just $799, that can essentially be your deposit toward Productivity Powerhouse (AKA you get to take off $799 from your purchase of Productivity Powerhouse!)... or, when you join Productivity Powerhouse for $1,997, you'll get immediate complimentary access to Bundle C.
Why the credit system?
I know how scary it can be to invest in yourself and your business as a solopreneur (after all, I'm a solopreneur, too!). I also completely understand that sometimes we don't even KNOW what we want/need in order to achieve business success... and when that's the case, it can feel daunting to choose between this business program vs. that one (especially when you aren't sure whether you "need" the foundational beginner content or not).
This is why we have a credit system to remove any risk from the equation! You don't need to choose between our programs, you don't need to skip the foundations, and you don't need to double-pay for our resources. You can also take advantage of our credit system to start making awesome progress on your business NOW, even if you don't have the budget for some of our higher-ticket items.
It's the perfect answer for you to make awesome progress as a solopreneur!
Psst... Got more questions about all of this? Email hello[at]saganmorrow[dot]com with any and all questions! We love hearing from you and take the time to answer all of your questions, without any pressure to purchase from us. Our goal is always to help make it as easy (and enjoyable!) as possible to make the right decision for YOU and YOUR business, so that you can experience the solopreneur success you desire.
Can't wait to support you in this with our SaganMorrow.com solopreneur resources!
IMPORTANT NOTE:
Credits are non-transferrable.
Credits only apply to full bundle purchases (You will not receive credits if you purchase individual products separately).
The entire set of 12 legacy e-courses (including all content in Bundles A, B, and C) are available to you, complimentary, when you purchase Productivity Powerhouse for $1,997, and/or when you become a Solopreneur CEO.
Full details available at our solopreneur Program Directory page — check it out and let us know what you think: