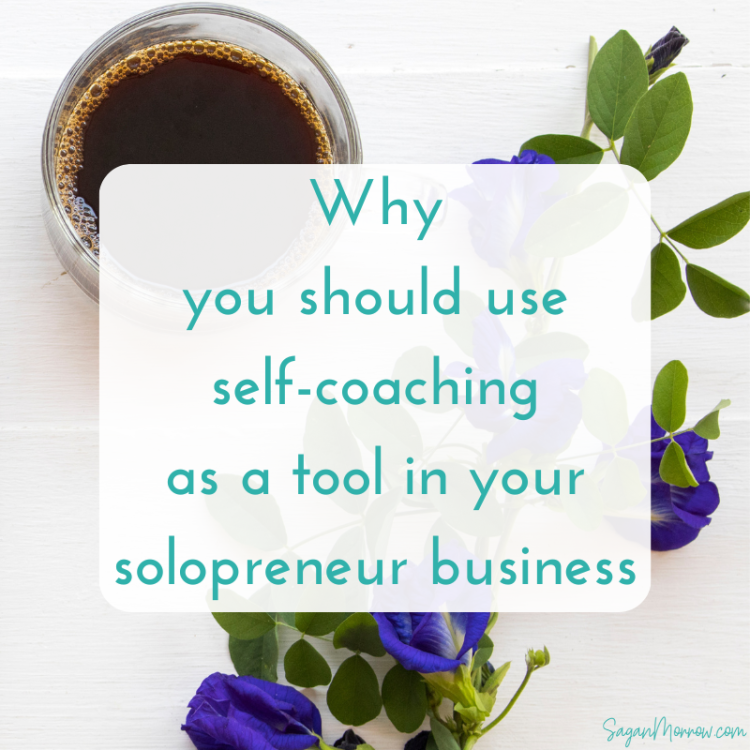 Have you ever wondered how to do self-coaching in your life or business, or what self-coaching can DO for you as a solopreneur? Yesterday, I hosted a LIVE group call and shared *behind the scenes* about how I use self-coaching every single week in my own life and business — including real-life examples of specifically what I've used self-coaching for, the exact METHODS and techniques I use for effective self-coaching, sample questions I often ask myself when self-coaching, and more!
In this blog post, I want to share with your a SNEAK PEEK of that live call: a complete overview of exactly what I covered during the call, PLUS two clips of our live call on this topic of self-coaching.
It is SO valuable to get real-life, real-time examples from other business owners to see how they are doing things — we can get a lot of helpful ideas and inspiration from it (plus what NOT to do!), and overall, it's always fascinating to learn about how businesses are managed behind the scenes.
That's why, every month inside the Productivity Powerhouse e-course, you get ongoing "peeks behind the curtain" of my own business during live group video calls (and you get to ask questions and suggest topic ideas!)
Sneak peek clip from our November monthly live call — why self-coaching MATTERS for solopreneurs:
Here's what we covered at November monthly live group call, all about  the topic of SELF-COACHING...
What self-coaching is and why it matters for you.
We're doing this topic for our November live call because I'm currently booking Solopreneur CEO (6-month 1:1 coaching program) for a January start date — coaching is on my brain! — and I want you to get the inside scoop on how coaching works so you can join this month, a) while the 10-month payment plan is still available (it disappears November 30), and b) before we get booked out (only 4 spots available).
Quick overview of what my method of self-coaching looks like in my own life/business.
How self-coaching is a skill and a practice, plus the way it connects back to Step 9 of the Productivity Powerhouse framework.
The "fast-track" method I use with my Solopreneur CEO clients so they can do "guided self-coaching" in between our sessions.
A caution to keep in mind when you're doing self-coaching (this is important!)
2 ways I typically approach self-coaching — what it actually "looks like."
How I use self-coaching to overcome ego fears, the surface-level issues that I THOUGHT were the problem at first, and 2 thoughts I hold onto for preventing it from being a bottle-neck in my business.
How I use self-coaching to manage constrained vs. expansive safety (this connects back to the type of break I was taking from work last month, and the type of break that works better for my brain... it's an issue I needed to work through while struggling to do part of my business planning retreat)
How I use self-coaching to mitigate anxiety — as well as the entire process that led me to working through this (it's a really helpful technique that I often implement!)
How I use self-coaching to overcome impatience & frustration with website or tech issues, plus the specific strategies I employ for handling it (this is really cool because website issues used to be the bane of my existence, but now I don't bat an eyelash)
12-ish sample questions I often ask myself or integrate into my own self-coaching "sessions" — plus how they connect together, and a couple specific sections of the Productivity Powerhouse framework that you can revisit for doing this in your own life/business.
IMPORTANT: What self-trust & self-honesty has to do with **effective** self-coaching (don't skip this!)
IMPORTANT: The necessity of asking the RIGHT questions & following the "root issue" paths (plus how self-kindness factors into it)
IMPORTANT: How these breakthroughs you experience via self-coaching leads to you experiencing a new *reality* as a result (the actions that naturally come about as a result of doing the deep inner mindset work!)
Q&A: "Do you ever reach a point while self-coaching where you get stuck and can't figure out what's going on/how to get through it?" → Yep! How I deal with it if I'm self-coaching and I get stuck.
…So, what do you think? Do you want to access all of that?
It's all yours when you join Productivity Powerhouse before Wednesday November 30th at midnight!
Sneak peek clip from our November monthly live call — 3 important points for how to EFFECTIVELY do self-coaching:
ABOUT THESE MONTHLY LIVE CALLS...
Every single month inside the Productivity Powerhouse e-course, I host live group calls for you so you can discover the whys & hows & whats of the way I incorporate anti-hustle concepts and methodologies into my life and business in all aspects on an ongoing basis.
As soon as you join Productivity Powerhouse, you'll be able to access that month's call (and replay) PLUS all future monthly calls (and replays) — however (and this is important!), you will not be able to access the recordings from previous months.
Productivity Powerhouse is an evergreen e-course, which means you can sign up for it at any time ♥ But the earlier you join, the more monthly calls you can access!
IN OTHER WORDS: If you wait until next month to join Productivity Powerhouse, you will NOT get access to this month's live call or replay.
...However, when you join THIS month, you WILL get access to this month's call (and the replay), plus ALL future monthly live calls and replays!
This means you can access the replay from our November live call (check out the recap bullet points above for insights on what you get in that replay) for 12 more days…
Join Productivity Powerhouse now to access the replay of this live call, PLUS the curriculum that enables you to save 10 hours/week (every week) — without burnout or overwhelm:
SOME MORE DETAILS ABOUT PRODUCTIVITY POWERHOUSE, IN CASE YOU'RE WONDERING...
Productivity Powerhouse is my signature e-course, where you will save 10 hours/week EVERY week — without burnout or overwhelm — AND get back your energy, all while building a solopreneur business that fully supports your current & ideal lifestyle...
...PLUS finally make awesome progress to achieve your dreamy goals!
We use methods that are fully customizable to your unique situation. Successful, satisfied Productivity Powerhouses include people a) with small children at home, and/or b) who are juggling a side hustle(s) with a busy 9 to 5 job, and/or c) with ADHD or anxiety, and/or d) are suffering from burnout, and more.
TANGIBLE OUTCOMES FROM DOING THIS PROGRAM INCLUDE:
You will save 5 - 10 (or more!) hours/week, EVERY week (most people in the program easily save 5 hours/week just in their first week of doing Productivity Powerhouse)
You will enjoy healthy work/life balance, and get back your time & energy
You will restructure your business model, create a business plan & documentation manual, do performance reviews & weekly audits, create strategies that light you up, be able to take action on your plans & ideas (even if you currently struggle with implementation), and improve your organization skills
You will have a business structure that allows for plenty of freedom & flexibility
You will have the capability & capacity to scale your business with ease
You will overcome problem areas like perfectionism, procrastination, imposter syndrome, comparisonitis, guilt around taking breaks, fear of success or failure, overwhelm & shiny object syndrome, and more
You will fall in love with your business again, and set yourself up to be more successful than ever!
---
"Productivity Powerhouse is excellent! It enabled me to create a schedule that works for me and my family. I have 3 children who are in school, so being able to productively use my time when they are in school is critical for me. I also feel motivated to adhere to a schedule again, which is particularly important because I completed the program during the pandemic.

Now, I feel less overwhelmed with the tasks I have to complete to run my business successfully, which helps me spend more time with my family while still putting in productive days at work. I loved that I was able to complete the program at my own pace—Sagan's lessons were very motivating, and I found myself looking forward to each module.

Productivity Powerhouse is wonderful and highly motivating. I recommend it for anyone who is feeling overwhelmed and wants to be more purposeful in the direction they are taking their business.

I've been able to save 10 hours/week as a result of the tools I've gained from this program!"

- Alicia, freelance editor
When you join this program, here's what you'll get:
9 powerful core lessons to teach you anti-hustle methodologies & transformative mindset work
Step-by-step guides & practical action steps to make it simple & straightforward for you to IMPLEMENT what you learn
9 spotlight trainings accompanying each lesson, featuring deep-dive tactics & strategy to enable you to easily take action
Framework roadmap, flow charts, curriculum overview, and comprehensive checklist so you never have to wonder what to do next
116-page fillable workbook featuring guided questions & fillable templates to make it easy to take action
328-page Companion Guide to read through all the lessons, guides, and trainings at your leisure (this is the "book version" of the program, so you can take it with you anywhere you go!)
Accessible learning options available: Video trainings, audio recordings, word-for-word transcripts, and physical copies of the program available to accommodate for all learning needs
4 months of weekly support, delivered to your inbox
PLUS, the bonuses:
BONUS: Quick Wins resource (30 ways to save 17 hours/week)
BONUS: Supplementary resources to help you implement everything you learn
BONUS: 2 extra spotlight trainings to prepare you for the program & keep you making great progress afterward
BONUS: Case studies featuring behind-the-scenes real-life examples of how others are applying Productivity Powerhouse methods to their own lives & businesses
Recommended Resources & suggested actions to take upon completing the program
Lifetime access to all materials, including any future upgrades to the program (no need to scramble to get through all the content!)
Productivity Mastery certificate of completion, plus opportunity to become an affiliate
Monthly live calls featuring behind-the-scenes real-time, real-life examples of how I use Productivity Powerhouse methodologies in my own life and business (you get access to *this* month's live call & recording, plus ALL FUTURE live calls & replays — does not include access to past calls from any months prior to you joining the program)