Full disclosure: I'm writing this right now because the alternative is that I will go out to the movies, mostly for the purpose of eating a giant bag of buttery movie theatre popcorn than to actually see the movie itself.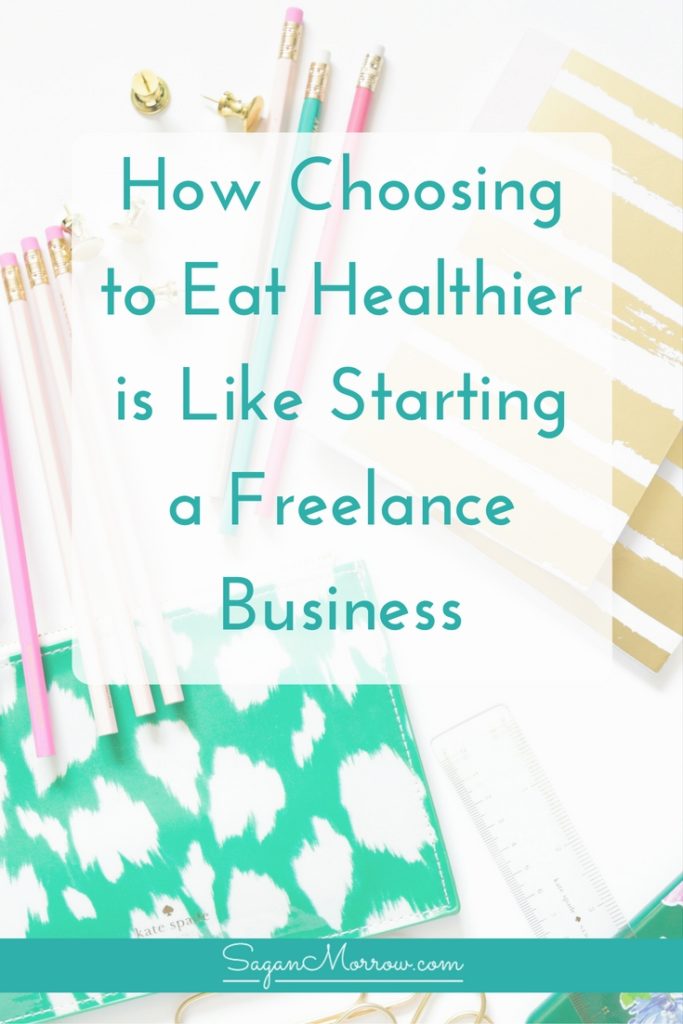 But this whole concept of eating healthier/getting fit being similar to starting your own freelance business is something I've been thinking a lot about over the last little while, since I decided to take action and change my dietary habits and begin exercising regularly last month.
Click here to join the FREE Begin Your Biz Challenge!
It's not like my eating habits or fitness routine are so crazy right now—basically I'm just really focusing primarily on reducing my intake of junk food and increasing my intake of vegetables, and doing 20-minute yoga sessions and hour-long walks every day.
This should be the easiest way of eating ever, particularly for someone with years of experience as a health writer AND someone who has the designation of Certified Holistic Nutritionist.
And some days, it is easy. It's really easy. Everything moves along pretty smoothly, and I eat healthy and I move around without having to think about it, and I feel good.
Other days, it is so. freaking. hard. On those days, I feel like I'm wrestling with myself every five minutes about (in this instance) going to the movies so I can have popcorn.
I know what you're thinking: why not just go to the store and buy some popcorn kernels? It'll be healthier for you AND a good snack to have on hand!
But you don't understand. I can't really do that. I've tried that, many times over the years. It results in me just eating bowls upon bowls of popcorn for days until I run out of the kernels—and it never really satisfies me anyways, because what I REALLY want is movie theatre popcorn. Plus, I load it up with ridiculous mounds of butter (let's be honest, popcorn is really just a vessel to eat butter), so that "healthy" daily snack gets to be a super high-calorie high-fat snack FAST.
Okay, you say, your brow furrowed, then why not go to the movies? It's just one time! It's not a big deal!
Ah, but it IS a big deal.
For me, it's about the mindset: at the time of writing this (a couple weeks before publishing it here on the blog), not only have I eaten quite a few chocolate chip cookies already today, but I also want to go to the movies just to eat the popcorn. It's not about the movie. It's about having a snack. And what that tells me is that if I have that "snack" today, it will probably escalate into me going to the grocery store tomorrow and buying more junk food tomorrow.
Again—I've been there, many times over the years.
One of the things I've learned about myself, since I made the decision to reclaim my health this autumn, is that I have to be in the right mental state to get a snack. If I had eaten healthy foods throughout the day, and I really wanted to see a particular movie at the theatre, and I was in a good state of mind, that would be a completely different situation than how I feel right at this moment of writing. I know I'd be able to enjoy the movie, enjoy the popcorn, and stop when I'm full. But if I went out for that snack right now, I wouldn't enjoy any of it, and I'd overeat.
Perhaps this newfound understanding is why I'm having so much more success with healthy eating NOW than I have in years. But that doesn't mean it's always easy.
So: what the heck does all of this have to do with starting your own freelance business?
A lot, as it turns out!
Consider this scenario…
Too many people start their freelance businesses enthusiastically, throwing themselves into it, only to very quickly have the novelty wear off.
They discover that they aren't getting freelance clients or making money freelancing as quickly as they expected, and their enthusiasm fades. They slow down with their business.
"I'm not seeing results anyway," they think to themselves. "What's the point in continuing with this?"
Click here to join the FREE Begin Your Biz Challenge!
…or, consider this scenario…
Other times, people might start their freelance businesses and work on it fairly consistently, but one day they decide that they can't be bothered to work on their business. "I'll get back to it sometime next week," they'll say to themselves. "I deserve a break!"
It's true: you probably do deserve a break!
But if you're taking the break because you're frustrated or feeling overwhelmed, and you don't know for a fact that you'll face the problems within the next couple days, then that "break" might turn into weeks or months or even YEARS of not making progress with your business.
It's the same with eating healthy: if you make too many radical changes, you can feel like you're killing yourself to be healthier without FEELING healthier (or for example losing weight, if that's one of your goals)… or, if you take a "break" from eating healthy one day and you aren't in the right mindset for it, you could wind up eating junk food for weeks or months on end without making *real* changes for your health.
What can you do to prevent these things from happening to you?
There are three great strategies for dealing with this whole issue of not following through on the things we want to do—whether that's eating healthier or finally quitting your day job and starting your own freelance business:
The first strategy is to KNOW yourself and to be honest with yourself. What will it mean tomorrow, for example, if you take that break (or eat that snack!) today? Your answer to that question will likely vary depending on the day and your mental state—so you need to be able to be honest with yourself enough in the moment that you can make a good choice.
The second strategy is to get an accountability business buddy to help you stay on track and focus on realistic steps to take with your business (psst… I'd love to be your biz bestie! Click here to learn how we can be business best friends).
On the healthy side of things for this strategy, it's been SO MUCH EASIER to stay on track with eating healthy and exercising regularly because Mr. Science and I are doing it together as a team!
The third strategy is to take things slow and steady. There's no need to rush in and make a huge amount of changes all at once! You can see progress happen by taking small steps consistently.
And with that third strategy in mind, I am SO excited to announce that I am launching a BRAND NEW and TOTALLY FREE Begin Your Biz Challenge! 
Click here to join the FREE Begin Your Biz Challenge!
Cue confetti, balloons and streamers!
The 30-day Begin Your Biz Challenge (BYBC) takes place for the month of November, and it features brief lessons and FAST 15-minute action items delivered to your inbox every day.
Over the course of the month, you'll be able to make real progress with starting your own freelance business—and you only have to carve out a short period of time every day to see it happen. Woohoo!
You'll even get access to a private Facebook community group to connect with your fellow BYBC participants and get access to super awesome bonuses (like giveaways and Facebook Live videos with me!).
I can't wait to host this challenge and help you with starting your own freelance business. This challenge is perfect if you are brand-new to the world of business, but even if you've had your business going for a while (maybe you've taken a break from it? ;)), you're sure to get a lot out of this 30-day challenge!
Plus, the daily action item will only take 15 minutes out of your day for 30 days—but you're going to make GREAT use of those 15 minutes to see incredible change to your business by the end of the Begin Your Biz Challenge.