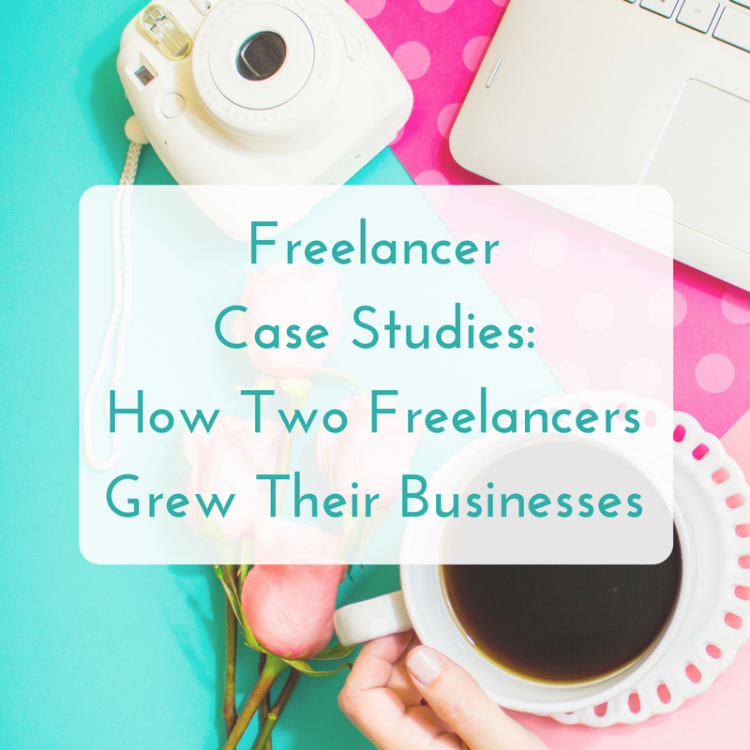 I'm excited to share with you TWO freelancer case studies featuring students from my freelancer e-courses today!
The first is a brand-new case study, and the second is following-up on a freelancer case study from last year (you'll get to see how this student's business has grown over the six months since her last case study). 
Freelancer Case Study #1
Sareeta is a lifestyle blogger and virtual assistant. We became friends a year or two ago through Elite Blog Academy and she has a wonderful blog! She joined one of my freelancer e-courses in December 2016, a couple months after launching her virtual assistant (VA) business.
(Pssst… you can learn more about her business in our second episode of the Candid Conversations podcast.)
When she first started her VA business, Sareeta felt stuck---she didn't know how to create a marketing plan and wasn't sure if she could really do it. She'd had just one client at the time and was feeling worried about her business.
"I knew I was flailing and needed a little direction, and I saw the freelancer program as a way to push myself to GO for it," says Sareeta. "Plus I already knew and trusted Sagan!"
Her goal with the 7-week Set Yourself Up For Freelancing Success program was to get two new clients… and within the first three weeks, she got a retainer client!
NOTE: Set Yourself Up For Freelancing Success has since been archived, however you can get those same resources she used on how to find (and get hired by!) clients inside Pitching Clients 101.
"I learned SO MUCH from this course and got amazing feedback from Sagan, both in the group and outside of it. The marketing and pricing sections were most useful for me---as a result of this program, I was able to develop a good plan for myself and realize what was realistic for pricing my services," says Sareeta.
"I've developed my confidence and have seen it affect how clients see me: they trust me sooner and see my value better now.

I charge what I think I'm actually worth, and I'm finding that it's not reducing who's interested in working with me---I gained a new client last month who didn't even question my rates, and who really values me!"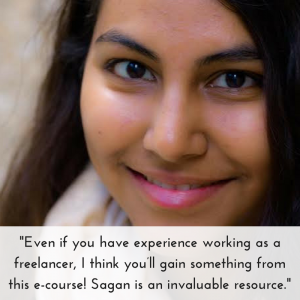 As freelancers, it's easy for us to think that we *need* to offer specific services because other people in our industries are also offering them… even if we aren't actually interested in doing that particular type of work. Sareeta was able to learn early on in this program that she doesn't have to offer services she doesn't want to, after all.
"As soon as I stopped offering those services, I became way happier. My clients want me to do the services I like because my work is better in that area. I'm finding that my ideal client is reaching out to me now---they value me!
"I'd recommend Sagan's programs to anyone who needs direction when it comes to starting a freelance business, even if just on the side. Even if you have experience working as a freelancer, I think you'll gain something from her freelancer e-courses! Sagan is an invaluable resource."
Learn how to set rates in the Keep Your Clients e-course.
Freelancer Case Study #2 
Elizabeth's one-year anniversary as a full-time freelancer is coming up this July! She started out as a freelance editor in 2016 (you can CLICK HERE to read about the first 6 months of her freelancing journey), and enrolled in my freelancer e-course when it initially launched in May 2016.
"The program gave me the direction I needed to move forward one step at a time without getting too overwhelmed," she says. Then, in January 2017, Elizabeth started her art business.
"The editing business was going slowly for me, so I decided I might as well keep busy doing something else that I LOVE and see where it could lead. I still work on my editing business, but most of my time now is dedicated to my art, and I love it! I specialize in pen drawings and oil paintings, and while I do a lot of pieces based on my own interests and curiosities, my primary focus is on commissions. I love working with clients to create pieces of art designed specifically for them!"
When Elizabeth first started taking my freelancer program, the biggest progress she saw was the creation of her website and the beginning of networking on social media. "That progress happened almost immediately!" Elizabeth says. "If I hadn't taken this e-course, I don't think I would've had the courage to put myself out there and make my business official."
"The best part about Sagan's freelancer programs is how she goes through everything step-by-step, including lots of actionable lessons/tips/tricks, as well as templates to get you started. I really appreciated how accessible Sagan was if I ever had any questions or wanted feedback on my business," says Elizabeth. "It's one thing to be told 'here's what you need to do,' and quite another to be shown, 'here's HOW you do it.'"
One of the interesting outcomes Elizabeth never expected was that she would start an art business. "I went through the course with an editing business in mind, and at the time, starting an art business didn't even occur to me," she explains. "But when inspiration hit last December (in one of those 'why CAN'T I do that?' moments), I was able to get my art website and business off the ground fairly quickly and easily because of everything I had already learned from the course and through starting my editing business."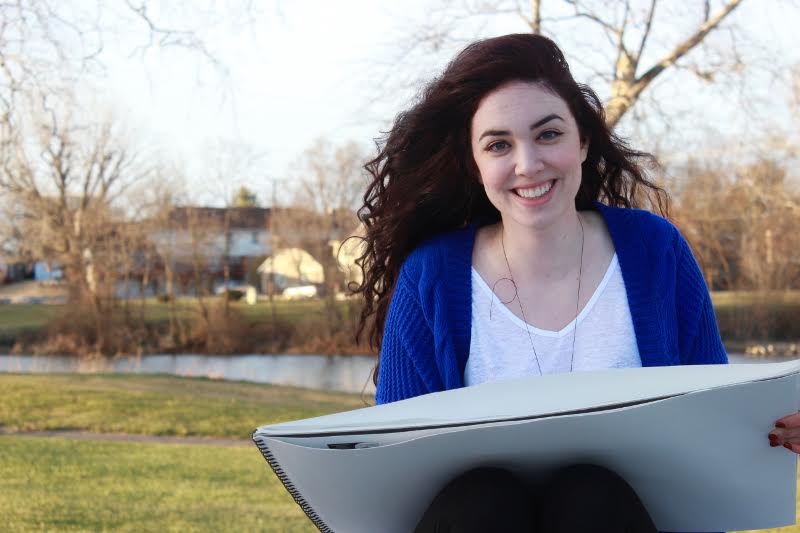 Elizabeth recommends this course to any type of freelancer who is considering giving freelancing a try or starting out in their freelance business. "It gives you the building blocks you need to get your business off to a solid start---no matter what industry you're going into!"
"If you're thinking about freelancing, do yourself a favour and take this course. Freelancing is NOT always easy, so why wouldn't you want to give yourself every advantage?  I started this e-course with freelance editing in mind, and while I still do that, my art business means so much to me and it is so fulfilling. I never would have gotten where I am today without Sagan's program!"
NOTE: Set Yourself Up For Freelancing Success has been archived, however you can still access invaluable resources on how to get clients and how to successfully price your services in my other freelancer programs.
Takeaways From These Freelancer Case Studies
There are three important takeaways to note from these two freelancer case studies:
First, one of the parallels you might notice in both Sareeta and Elizabeth's stories is that when they focused their freelance businesses on the services they were MOST interested in doing, that's when they began to make faster progress with their business. When you LOVE the work you do, that's when you'll truly take strategic action and put in the effort to make it work.
Second, in these freelancer case studies, you can see that getting step-by-step (actionable!) tips and resources are fundamental to getting past the overwhelm and actually making progress with your business… as well as giving yourself a confidence boost (which can in turn correspond to being able to increase your rates).
Third, I love that Elizabeth was able to take everything that she learned from this e-course to start two rather different businesses: freelance editing and artwork commissions! That's because the methods taught in my freelancer e-courses are designed in such away that they can be used for any kind of freelance business.
Ready to take the leap and Set Yourself Up For Freelancing Success?