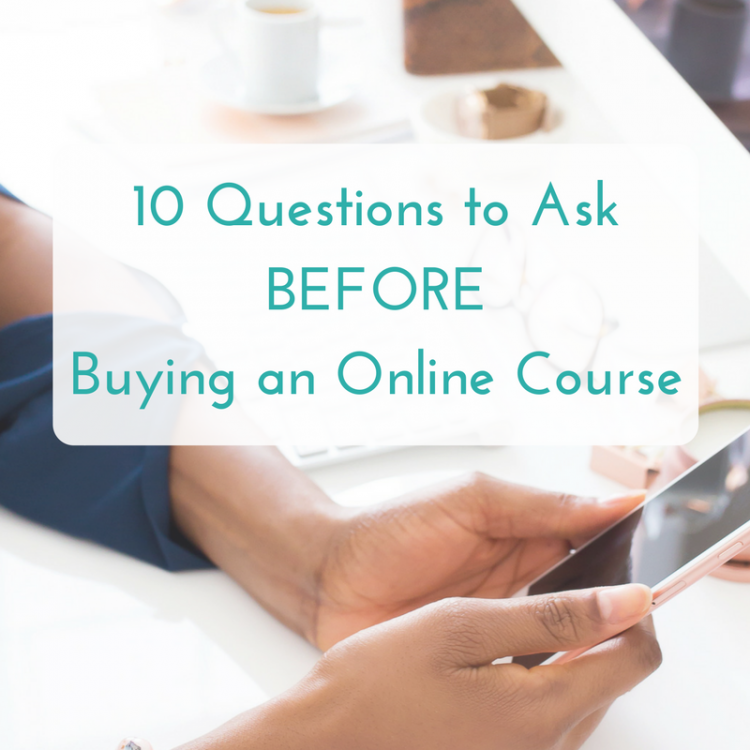 "How do I know if an online program is right for me… and worth the investment?" This is a great question to ask before you spend money on online courses. After all, there are a ton of e-courses out there---how do you know which one is the right one for YOU? But I've got you covered! Today, I want you to ask yourself these top 10 questions BEFORE paying for an online course.
But first, GRAB THE WORKSHEET to keep track of your answers to each of these questions!
10 Questions to Ask Before Buying An Online Course:
Question #1 to Ask Before Buying An Online Course: What am I struggling with the most in my business right now?
Is there an area where you really need help with in your business? Take a good hard look at your business and check in with the parts that you're struggling with the most.
These should also be things that you're having a tough time doing on your own, or things that you'd like direction or support with in your life, or things that can save you time and energy, or things that can help you take your business to the next level or overcome particular obstacles that have been holding you back.
For example, if you are struggling with overwhelm and you wish you could get more done in less time, then Productivity Powerhouse was designed especially for you.
And if you *want* to make the leap to quit your 9 to 5 job, but you keep putting it off, then the Goodbye 9 to 5 Masterclass will be a fantastic fit for you.
On the other hand, if you like the idea of freelancing but you don't know where to begin and you find the idea of pitching yourself too scary to get started, then you should definitely consider Pitching Clients 101!
Knowing what you most need help and support with at this time in your business is crucial to determining which online course is right for you.
Question #2 to Ask Before Buying An Online Course: Do I prefer to work alone or with other people?
If you prefer to work on your own, then you might want to consider a self-paced program, rather the a one-on-one or group coaching program. However, if you like to work in a collaborative effort with another person, then getting one-on-one coaching can be a great choice… and if you're interested in getting together with a group of others, then choosing group trainings would be an excellent idea.
This is also why I offer different variations with my freelancer school: Productivity Powerhouse, Monetize Your Blog With Freelance Writing, the Goodbye 9 to 5 Masterclass,  Pitching Clients 101, and Keep Your Clients are all self-paced, whereas Biz Bestie is an intensive one-on-one program.
Question #3 to Ask Before Buying An Online Course: If I prefer to work with other people, do I prefer to work one-on-one or in a group setting?
Be honest with yourself---if you work better by getting personalized training from an instructor, then look into one-on-one coaching options. However, if you're particularly keen on connecting with other students, then make sure the program you're considering includes a community group.
Consider this as well from the perspective of not only which you prefer, but also which will be more effective for you. Many people need extra accountability for their business, in which case one-on-one coaching or group coaching would be a smart choice for ensuring you actually implement everything you learn in the program.
Learn more about how to choose between one-on-one and group coaching.
Question #4 to Ask Before Buying An Online Course: How much time can I give to a program, and what is the time commitment associated with the program?
If you only have 30 minutes each week to devote to the e-course, but the program REQUIRES you to contribute 3 hours/day, then it's probably not going to be the right fit. Look at what the program's time commitment is and check in with how that fits for your lifestyle, and if you're willing to make adjustments here and there to make it work or if the program will let you go at your own pace.
For example, in the Biz Bestie program, you'll want to make the most of each of the 6 weeks, so I encourage you to set aside more time each week---but on the other hand, when you take my other programs (like Goodbye 9 to 5 and Productivity Powerhouse), you can truly go at your own pace for them and spend as much or as little time as you like, because you have lifetime access to them.
If you're particularly limited when it comes to the amount of time you can commit to the program, then choosing something like Monetize Your Blog With Freelance Writing (wherein students have implemented the lessons and seen results in a single day!) would be a great choice.
Question #5 to Ask Before Buying An Online Course: How much is learning this skill/knowledge worth to me?
You can look at this from the actual dollar amount, but I also suggest that you look at it from other perspectives---such as how this skill/knowledge could radically transform your business or save you time, for example. What is this skill or knowledge truly worth to you?
Productivity Powerhouse saves the average person 10 hours/week, for example. What could you do with an extra 10 hours every single week?
Question #6 to Ask Before Buying An Online Course: What is my budget?
In business, there's a balance: you want to make sure that you stay within your budget, but you DO also need to have some degree of a budget and expenses. You have to spend money to make money! In fact, it wasn't until I began investing in my business that it really took off.
It doesn't have to be thousands of dollars that you invest, either---it just needs to be a strategic amount of money that will enable you to recoup the costs down the road.
For example, if you spend money on a program that teaches you how to effectively pitch clients and get your first (and next) client—like Pitching Clients 101—then you're spending a little bit of money upfront... BUT it will also help you to get clients faster and provide you with the tools you need to market your business successfully within just a few weeks.
Plus, it's a ridiculously affordable program that fits any budget!
Psst… often there are affordable payment plans you can take advantage of! For example, perhaps you know that you need extra hand-holding and that getting one-on-one business coaching will empower you to recoup the costs (and then some!)... but a lump sum just doesn't fit into your budget. In that case, you might be able to set aside the few hundred dollars each month by using payment plans instead.
Remember, you're thinking about whether you will be able to recoup the costs of the program (for example, by improving your skill or increasing your rates etc.). Keep in mind as well as what the refund policy is like on the program.
Question #7 to Ask Before Buying An Online Course: If I pay someone to teach me this, what will it empower me to do (and is that worth it to me)?
Take a step back from the shiny object. What will this training ACTUALLY empower you to do? Maybe it empowers you to FINALLY quit the 9 to 5 grind, or maybe it empowers you to get paid what you're worth as a freelancer, for example. If these things are important to you, then Goodbye 9 to 5 and Keep Your Clients are great choices, respectively.
The way that this question differs from #5 is that here, you are looking at whether the dollar amount or the time it takes to figure it all out on your own is worth more to you. For example, with Goodbye 9 to 5, you'll learn everything you need to quit your 9 to 5 job within the space of just 3 months---for only $199. If you DON'T take that course, you will save yourself $199, BUT you'll also have to figure out the systems and strategies all on your own... which, realistically, means that it could take you years before you finally quit your 9 to 5 job (and even then, if you don't set the right systems in place, you might struggle with working from home successfully).
Question #8 to Ask Before Buying An Online Course: If I DON'T take this program, what will that mean for me?
Maybe it means you won't be able to take your business in a specific direction, or maybe it means you will need to do a lot more experimenting with your business, for example.
Are you okay with that? Are you willing to let that possibility be your reality? If so, great! But if not, then that's a good indicator this program is probably something that would be a good fit for you. If you want to get farther ahead, faster, using proven strategies that work for other people, then an online course might be an excellent choice.
Question #9 to Ask Before Buying An Online Course: Is there any urgency around this program?
Take advantage of special offers, like early bird pricing and bonuses! Also take into consideration that for many programs (mine included), the earlier you enroll, the more affordable it will be, and the more bonuses you will continue to get over time.
For example, alumnus of my programs get access to new bonuses as I add them, which means that the earlier you enroll in my e-courses, the more cool stuff you'll get over time!
Question #10 to Ask Before Buying An Online Course: What do I know/think about the instructor?
Alright, this is a BIG one that we often overlook. But it can make or break your online course experience.
Think about it from the perspective of being in high school or university: how did you do in those classes where you didn't really like the teacher that much? You probably didn't put in as much effort or get NEARLY as excited about those courses compared to the classes that were taught by teachers you really resonated with.
Don't overlook this question! If you like an instructor, you'll be that much more likely to implement what you learn in the program. 
If you enjoy an instructor's teaching style and like them as a person, then that's a great sign that you should buy their programs.
Bonus question #11: is there a refund option or guarantee?
My programs have happiness guarantees: If you do the work and aren't satisfied, then we'll discuss your options and make sure that you DO feel satisfied.
Check whether an e-course has a refund period or guarantee before buying, if that's something you're concerned about.
(Psst... If you're already gone through the previous questions, then frankly, this should be a non-issue! You won't need a refund option when you have complete confidence in the instructor's ability to deliver)
BONUS Question #12: What do OTHER people say about the e-course?
If you can check out some case studies and testimonials, that will help you to get a good idea of the results you can expect from taking the program yourself! Hearing other people's thoughts and opinions of the course can be useful for seeing an insider's perspective on the program.
If you're thinking about taking any of my online courses, I encourage you to check out some of these case studies...
What it all comes down to...
These are the questions I ask every time before I enroll in an online course, and it really does pay off!
It's helpful to check in with yourself so you can make a strategic decision about which online courses to enroll in for your small business. It's not always easy to decide what to spend money on for your business, but the above questions will help you along the way.
So! Now that you've asked yourself the above questions… which online course for freelancers will YOU enroll in?