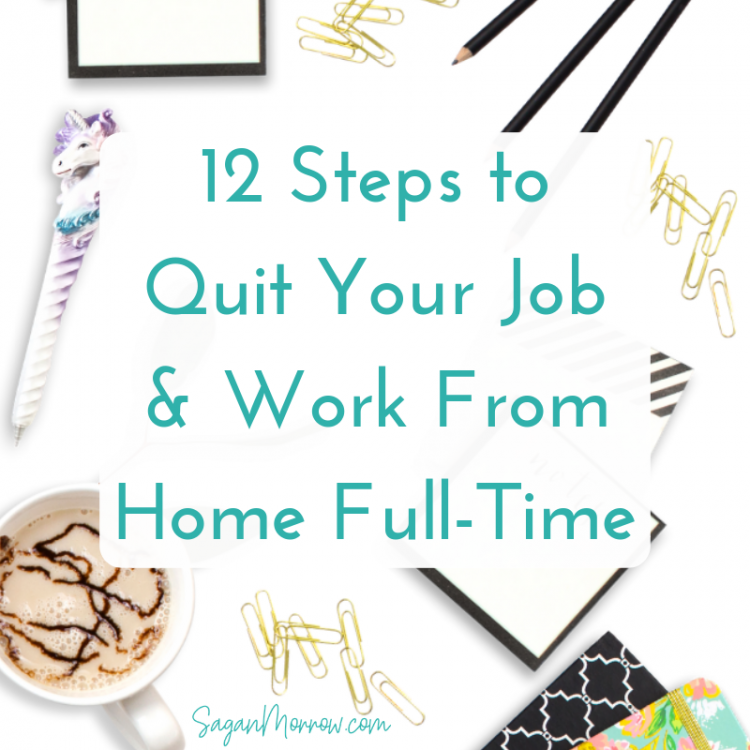 You want to quit your job and work from home full-time. But… where do you even begin?
This is something I hear again and again from new and aspiring freelancers. I've been there, too, and believe me, I understand how hard and overwhelming it all is. That's why I thought it was about time I create a step-by-step guide to quit your day job… so you can finally work from home full-time!
Here's your 12-step guide for what you need to know on how to prepare to be a full-time home-based business owner… and say "goodbye" to your 9 to 5 life: 
Step 1: Identify what you want to do and the type of business you'll have
It might seem like a simple enough question to answer, but you must identify what it is you want to do with your business before doing anything else. Here, you'll want to ask yourself questions like…
What do I enjoy doing?
How can I turn my idea into a profitable venture?
What do I need to do in order to get from where I'm currently at to start working toward this idea as a viable career option?
What type of services will I offer as part of this business?
What sets me apart from others in this industry?
Get more tips on answering these questions in the How to Discover Your Profitable Business Idea blog post.
Step 2: Understand WHY you want to do this
Your "why" in business is crucial, because it's the "why" that leads to the "how." 
Understanding your "why" enables you to more confidently and easily put together your goals, vision, and business plan.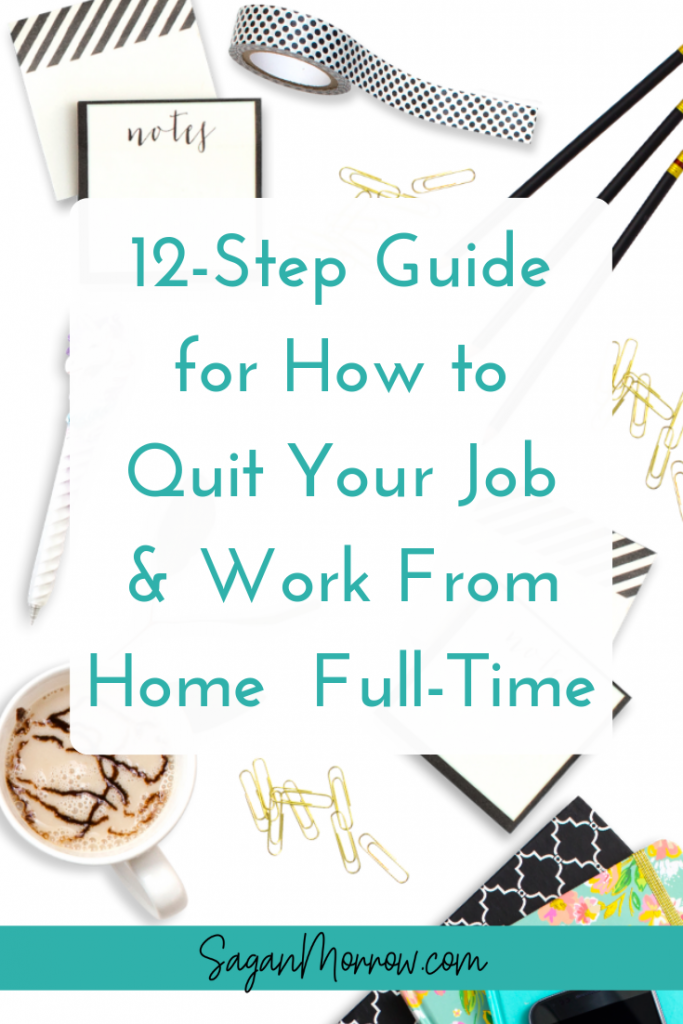 Questions you should ask yourself at this stage include…
Why do you want to be a business owner?
Why do you want to work from home full-time?
Why do you want to offer a particular type of service over another?
Why do you want to work with a particular client compared to another?
Keep in mind that if your answer to "why do I want to start my own business?" is simply, "I want to be able to work in my pajamas all day long," then that probably won't be a compelling enough reason for you to keep moving forward and making progress. It can be a side benefit, absolutely, but you'll want to make sure that your deep reasons are strong enough to propel you to stay motivated.
This is why analyzing and assessing your "why" behind all of this is so important.
I have seen aspiring freelancers struggle so much with taking that leap to working from home full-time specifically because they haven't articulated a "good enough" reason for why they want to do it. Put simply, they don't want it for the right reasons.
If you don't enjoy the work you'll be doing as a freelancer, and if you're not willing to put in the hard work, then solopreneurship isn't for you. Being your own boss is one of the most wonderful and exciting feelings in the world, but it's not for everyone.
Can you handle it or not? You need to be honest with yourself and realistic about your answer. Otherwise, the only person you'll disappoint is yourself.
Step 3: Outline your goals, vision, business plan, and budget
Your business plan doesn't have to be anything super fancy. In fact, my business plan when I successfully transitioned into working from home full-time was just a few pages long, and to be honest, it mostly comprised of bullet points. Even a basic business plan will be useful for you to organize your thoughts and outline what you want to achieve and how you intend on meeting your goals.
You don't need it to include intense jargon or to be super corporate or to be 30 pages long. That's not really what a business plan is all about. Instead, keep it a simple, practical document that you can use for moving forward and getting everything into place for your business, so it moves in the direction you want and so that you have a lot of success in your business.
See a sample of a mission statement, vision, and goals.
Get more tips for doing business planning.
Step 4: Create your personal timeline of action
As a general rule, if you already have experience in your skill, you've worked with a few clients, and you have money saved that can pay for about 2 months' worth of bills as your "buffer" for your first couple of months as a home-based business owner, then you are probably ready to say goodbye to your 9 to 5 job.
In that case, it's a matter of getting over the fear and anxiety, and a matter of setting up the systems and strategies and everything you need to effectively work from home full-time.
Your personal timeline of action is the daily and weekly tasks you need to complete over the 3-month transition period before you start working from home full-time. It's kind of like your task list of everything you need to be working on each day and every week. When you do everything in a calendar format, it's nice to be able to see everything at a glance.
We go into great detail about how to put it together, plus a detailed walk-through of a sample 3-month plan of action, in Goodbye 9 to 5.
(And if you're not quite ready for the 3-month timeline, we also go over a longer 6-month timeline in that program).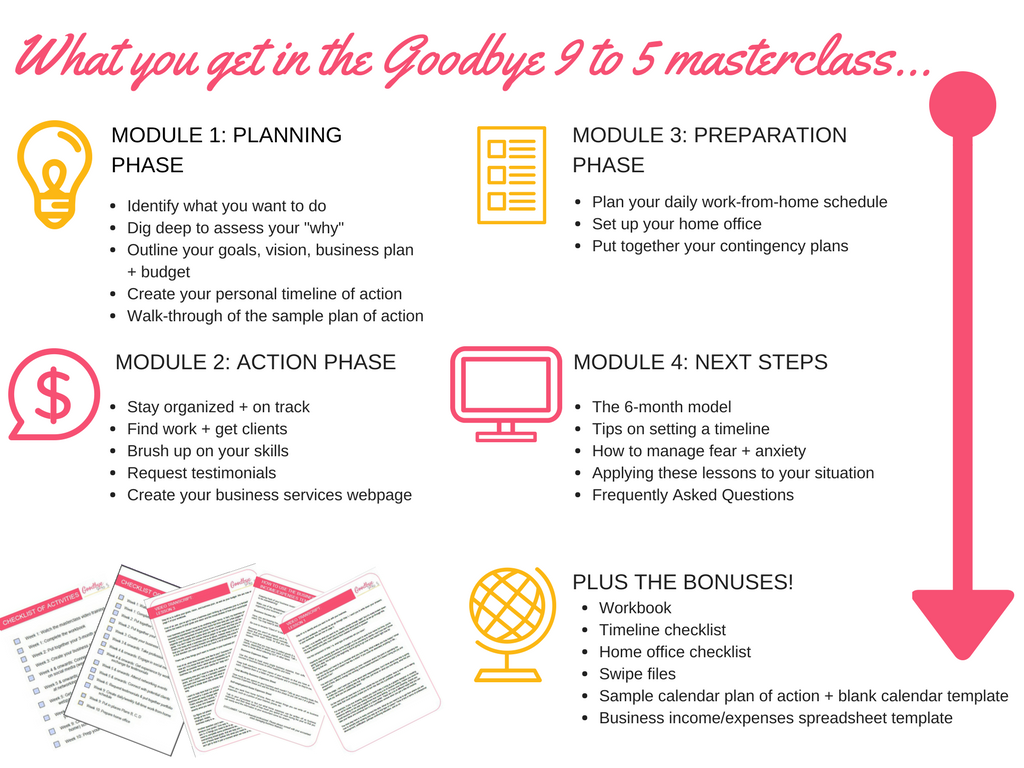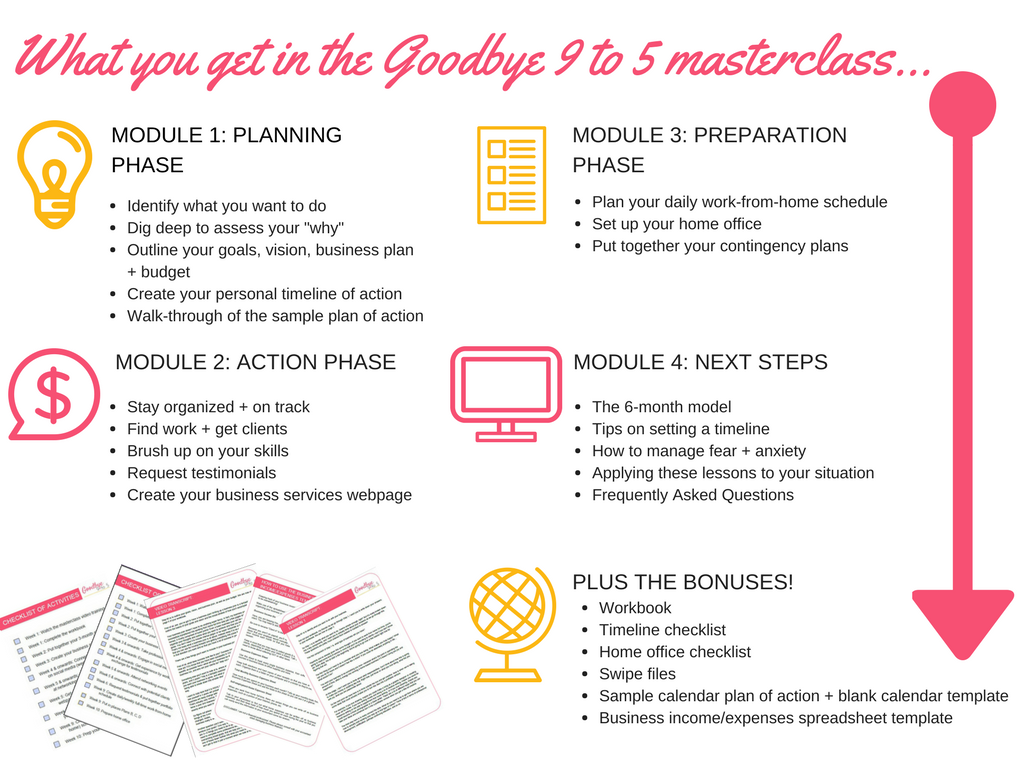 Step 5: Set weekly goals for yourself
In Step 4, we looked at putting together a 3-month plan of action. In this step, review your plan of action and identify what exactly you want to accomplish each week for the next 12 weeks.
Take into consideration where you need to be 3 months from now and what you need to do to get there. This will help you identify which tasks need to be completed… and then you'll be able to see what weekly goals you want to accomplish. All of your little tasks should fall under those broader overarching goals.
When you have weekly goals organized for yourself, you can focus on each goal one step at a time, and focus your tasks for that week on accomplishing that particular goal.
Step 6: Find work and get clients
I encourage you to get clients before you quit your day job for a number of reasons, including that then you'll at least have a bit of a client base so you won't have to worry about not bringing in an income when you first start working from home full-time.
It will also help you to see how effectively you communicate with clients, what you need to work on to improve your skills at it, how much you enjoy the services you provide, and whether the people you work with are actually your ideal client.
Here's exactly how to identify your ideal client.
Over the next few months, by getting work with clients, you'll be able to determine if you do in fact want to go in this particular direction with your business, or if you want to make any changes to your business plan and business strategies. You can almost see it as a trial run of working on your business over the next few months.
Grab the "Find Your First Freelance Client" e-book >>
Step 7: Improve your skill set
This is about doing professional development, getting certifications, that sort of thing.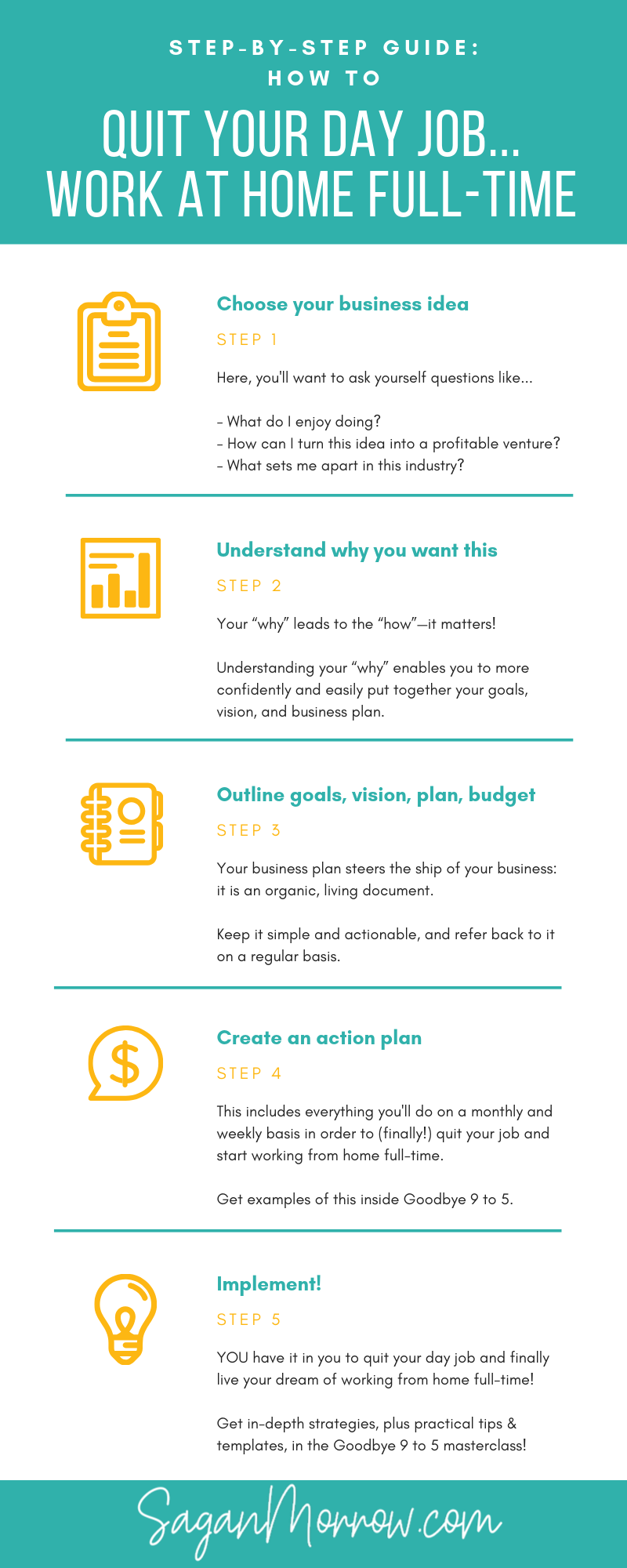 Brushing up on your skills is going to give you more legitimacy in your field when you are working from home full-time: being able to show you completed a particular program or that you have a degree or certification in your industry will make clients that much more receptive to hiring you.
Plus, improving your skill at the service you offer will increase your confidence, which can make a huge difference to getting paid what you're worth.
If you don't have much experience in your industry, then this is something you will REALLY want to work on. Spend some time improving your skills each week for the next 3 months and you'll improve dramatically.
The other side of this coin is to get your own experience in the skill. Perhaps you don't have the funds to be able to take a diploma program. That's okay! Focus on building up the skill on your own.
Step 8: Request testimonials
Testimonials are another valuable way to increase that sense of legitimacy, and to help prospects decide whether or not to hire you, and why you're the right person for the job. Here, reach out to anyone you've ever done work with, who you trust to provide you with a sincere testimonial.
It's important to be specific on exactly what you want to get from the testimonial and what you'll be using it for when you send testimonial requests. There is definitely a "right" way to get the perfect testimonial!
That's why we go over a sample testimonial request you can copy and paste for yourself, plus a breakdown of each element for the perfect testimonial request, in Goodbye 9 to 5.
Step 9: Put together your website
Why does your business services webpage matter? In the world of working in an office, you have a resume to give to potential employers. But when you are your own boss, you really need to rely on your business services website to do the talking for you. Think of this page as a combination of your resume, job interview, and references.
You will absolutely want to get this set up before you quit your day job, so that it is up and running (and so you can already start using it) by the time you are working from home full-time.
Find out the basics of what you should include on your business services webpage in Goodbye 9 to 5.
Step 10: Plan your daily work-from-home schedule
What will your daily & weekly schedule look like when you're working from home full-time? If you don't have a plan for what your daily and weekly schedule will look like after you have quit your 9 to 5 job, then you're going to struggle with keeping yourself on track and well-organized when you do start spending all your time at home.
Having a structured daily schedule will help you to stay organized, reduce overwhelm, and ensure you keep up with all of your tasks as a business owner. It really makes sure that nothing slips through the cracks!
Get tips for creating your daily schedule (plus an example of what it could look like) in Goodbye 9 to 5.
Step 11: Set up your home office
Prepare your home office before you quit your 9 to 5 job, so that you'll be all ready to go starting on Day 1. Setting up your home office will make it easier for you to make a smooth transition.
It's also important that you take into consideration things like how you will organize your office to anticipate your needs. You want everything to be organized so you know where to find your post-it notes, pens, stapler, and so on, but you also want to arrange it so that you don't have to constantly move stuff to access a particular drawer. It really disrupts your workday if you have to pause and dig around in a drawer to find your office supplies.
This is another reason why I recommend setting up your home office sooner rather than later: you'll be able to test things out and rearrange the organizational structure a little so that it is optimized for your business.
Download the FREE home office checklist now >>
Step 12: Put in place contingency plans
Your contingency plans are basically the back-up, in case Plan A for your business doesn't work out as planned.
Learn the secret to creating the perfect back-up plans in Goodbye 9 to 5.
If you set up the right systems and strategies in place and you put in the time and effort required for your business, it's highly unlikely that you're going to need to resort to one of these back-up plans—but it is always a good idea to have back-up plans in place. Just in case!
It's time to put all this into action! Learn more about how to (finally!) quit your day job—forever—in the Goodbye 9 to 5 masterclass.