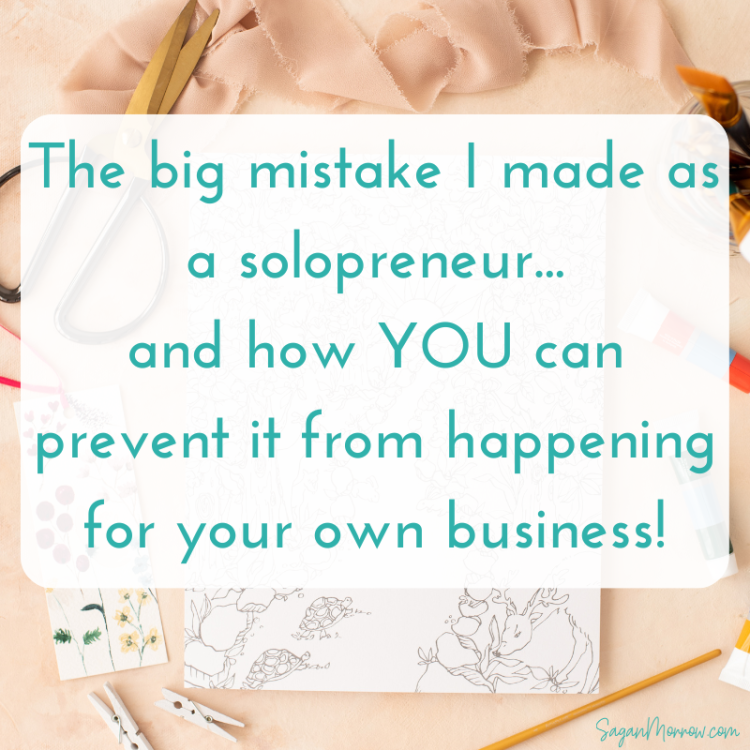 We ALL make mistakes along the way throughout the solopreneur journey. Today I wanted to share with you a big mistake I made with my own solopreneur business — so you don't repeat it!
If you've read my solopreneur story, then you'll know that I scrambled to find a 9 to 5 job early on as a freelancer — not because I needed money ASAP or because it was my only option, but because I thought I wasn't cut out to be a full-time business owner.
THAT was my big solopreneur mistake: Believing I wasn't ready or capable.
I kept doing freelance writing on the side for several years while I worked at my 9 to 5 job, before I finally figured out that I had been totally wrong about my own capabilities.
I THOUGHT that my insomnia and anxiety meant that I wasn't capable of being a full-time business owner…
I BELIEVED that since I was burned out, over-worked, and overwhelmed, it meant that full-time business ownership simply wasn't sustainable for my brain and my personality…
…and so the ACTIONS I took (or didn't take) reflected that.
→ I didn't pause to assess the situation. I didn't reflect on what was really going on. I didn't consider that maybe, I needed to restructure my business and my services to ensure they supported my lifestyle, brain, and personality. I didn't analyze how I could approach my business differently so that it COULD be sustainable. I didn't "play" with my strengths and weaknesses to see how I might be able to operate my business despite my anxiety and insomnia. I didn't seek out other options to manage my time better and increase my energy — because I *assumed* (incorrectly!) that what I saw other business owners doing was the only "right" way to do it.
It was never really about my own "readiness" or "capabilities"... it was about a) trusting myself, and b) designing a business that was better suited to me.
---
Let's unpack each of those "fixes" to my big mistake of believing I wasn't ready or capable…
Fix #1: Developing self-trust as a skill is extremely important.
Self-trust matters!
A lack of self-trust can lead to: 
making the wrong decisions, 

not following through on strategies and plans, 

neglecting your own boundaries, 

avoiding the actions that will help you achieve your goals, 

stopping yourself from customizing and making decisions based on what feels fantastic for your unique situation, 
etc. 
And building on that, it's also important to develop self-honesty — because unless you're being honest with yourself about what's holding you back, you're going to have a hard time trusting yourself. You need to be honest with what aspects of yourself/your business you're having a hard time trusting in order to be able to effectively address them. 
You need to be honest with yourself about *where you're lacking self-trust* in order to effectively address those issues.
→ This is exactly why we build these skills of SELF-TRUST and SELF-HONESTY together inside my Solopreneur CEO 6-month 1:1 coaching program.
Fix #2: Making business decisions based on my lifestyle.
This has included:
Restructuring my business model so it fully supports my personality, my brain, and my lifestyle; so that it allows space for my insomnia and anxiety.

Setting up fully customized foundations that ensure my business is sustainable

(no matter how much I pivot or scale it)

and so it can "keep running" without me being at the helm 24/7.

Improving my productivity, time management, energy management, and organization skills

(specifically through anti-hustle methodologies)

.

Working from a place of clarity and focus

(to achieve my goals faster and more easily)

, recognizing my personal symptoms of burnout and overwhelm

(to ensure I don't fall into that cycle and can prevent it before it begins)

, and integrating fun and enjoyment into every aspect of my business

(to have more delight in the everyday!)

.
Too often, solopreneurs build their businesses backward — and I fell into that trap, too! (Learn more about this problem in my recent blog post about why you STILL don't have the work/life balance you desire)
→ This is why, inside Solopreneur CEO, you and I work together to design your business so that it truly supports your personal values, goals, and lifestyle. This is about enjoying a true lifestyle business… *while also* showing up fully for your clients and customers, AND making fantastic progress on your big business goals. 
Because it doesn't need to be either/or — it gets to be both/and.
My big solopreneur mistake was to think that I wasn't ready or capable.
And here's what that belief cost me…
A business that didn't light me up in every aspect.

Several years where I refused to take my side hustle full-time.

A lack of progress on my business goals (I thought they were beyond me to achieve!)

Frustration, shame, judgment, and disappointment in myself.
So… Are you struggling with those things, too? Do you believe you aren't ready or capable of levelling-up your business? 
I don't want you to make the same mistake that I made.
I don't want this mistake to cost you what it cost me.
And by the way — because this is important to mention here — it is (more than!) okay to have a 9 to 5 job as you build your business. It is VALID to have a 9 to 5 job for as long as you want! It's okay to have that extra layer of security.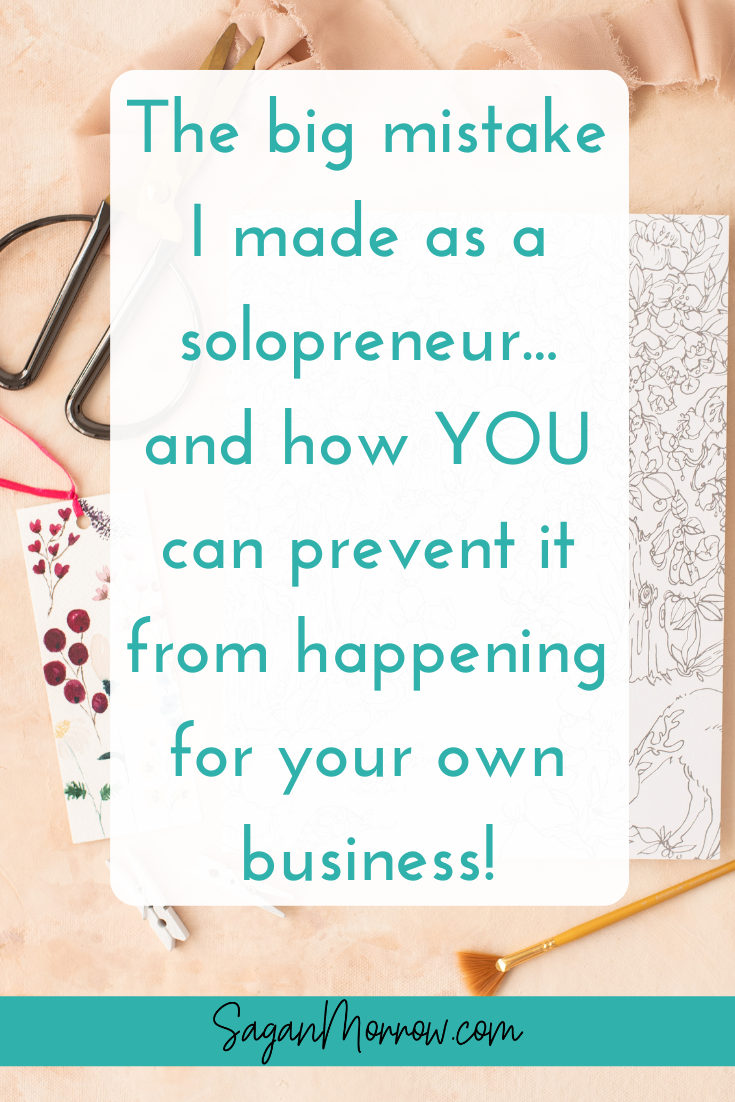 …and/but also, we want you to build up your self-trust AND the foundations of your business so that, if you *don't* enjoy having a 9 to 5 job, you won't keep holding yourself back from your dreams.
If you *want* a 9 to 5 job, that's great!
…but if you're leaning on a 9 to 5 job because you don't believe you're ready/capable, or if your self-trust and/or foundations are wobbly, then that's a sign that you ARE ready — and capable — of working through those issues:
If you lack self-trust, you aren't going to be able to just *snap your fingers* and suddenly trust yourself. That's not how it works.
→ This is why we build your self-trust "muscle" as part of our coaching sessions when you book your spot in Solopreneur CEO. 
Similarly, if your business doesn't have awesome, customized foundations, then you probably also don't have the capacity to tear it all down and rebuild right away. That's not how this works, either!
→ That's why we work together to rebuild your business — without all the stress and overwhelm — in a STRATEGIC way that feels awesome for you, during our 6 months together in Solopreneur CEO.