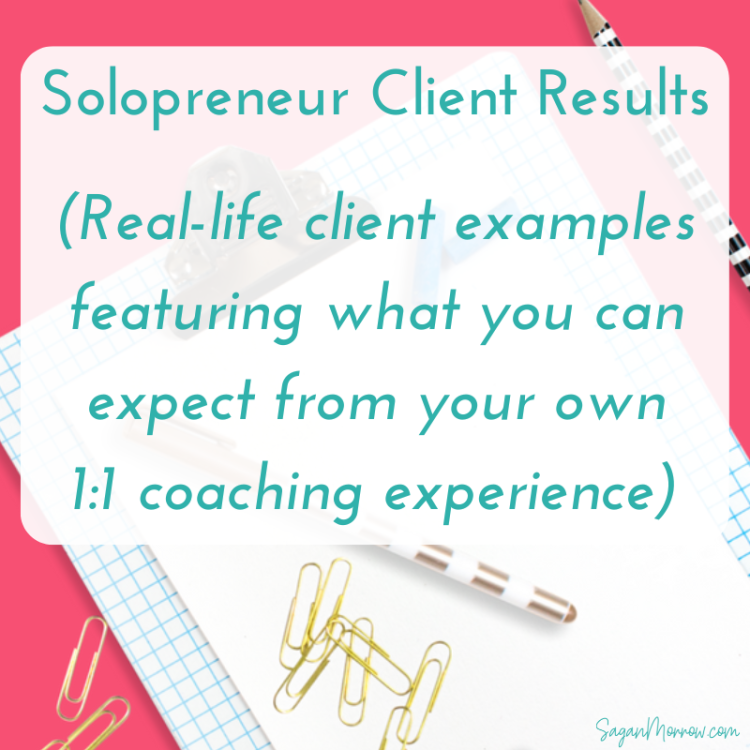 Since I've been telling you all about Solopreneur CEO lately (my 6-month 1:1 coaching program to help you make awesome progress on your goals while enjoying the work/life balance you desire)... Today we have a round-up collection of solopreneur coaching results! These testimonials and feedback are all from solopreneurs I've worked with over the years in a 1:1 capacity.
NOTE: Some of these testimonials were from 1:1 sessions and programs I used to offer before creating Solopreneur CEO. For full transparency, I've noted whether the testimonials were from clients in the Solopreneur CEO program vs other coaching containers. 
You can check out other full-story case studies in several other blog posts from over the years, too — check them out here: 
---
Now let's get to our 1:1 testimonials featuring solopreneur coaching results…
"We're only about halfway through the program at this point, but my biggest takeaway so far is how much more positive I feel about my business. I started the program feeling like I was directionlessly floating along and trapped at the same time. I feel a lot more focused and free already, like the possibilities are endless and I can accomplish them.

I was really surprised at how much mindset work we're doing in our sessions! I knew there would be some, but I imagined coaching to be a lot more strategy-based. There's definitely strategy, too, but the mindset work has really taken a front seat way more than I thought it would. Which makes sense, since being a solopreneur means mindset has a direct effect on business.

Sagan is really good at working to understand your mindset so that she can give advice that's truly tailored to you and your experience. I've never once felt negative pressure or dismissal from her—her suggestions might make me a little uncomfortable at times, but it's always in a good, just slightly beyond the comfort zone sort of way, not like she's throwing me into the deep end without a life vest. Sagan also provides encouragement, reassurance, and commiseration, and she's full of practical tips, too.

I am getting everything I expected out of Solopreneur CEO, plus more!"
- Toni (freelance editor), Solopreneur CEO client
---
"Thank you so much for your time, your material, and your guidance in this program! I really appreciate your insights and keeping me focused. I am saving all of your recommendations! This all makes so much sense, I never thought of it on my own...

Thanks to your coaching, I've finally started making progress on what I've been dreaming about for 15 years."
- Jessica (artist), 1:1 client for a 3-month container prior to the Solopreneur CEO program
---
"Working with Sagan was amazing! In only one session, Sagan helped me uncover what was really holding me back from procrastinating on certain things in my business and helped me shift my perspective and gain the confidence I needed to move forward.

She does an amazing job of holding space and asking powerful questions to help guide you to a more empowered place. I highly recommend working with Sagan!"
- Kim (brand strategist), single 1:1 coaching session prior to the Solopreneur CEO program
---
"[Before Solopreneur CEO], I was frozen. Stuck in perfectionism, imposter syndrome, information gathering and procrastination. I was struggling to make any kind of progress in my business.

And then I met Sagan. In Solopreneur CEO, Sagan pushes me. She pushes me past my comfort zone, past the things I'm stuck on, and past the fears, doubts and struggles that had me paralyzed.

I've only had 4 sessions with Sagan and in that short amount of time I have developed a business plan, created realistic goals, and learned multiple strategies for getting unstuck. I've created and put my first digital product up for sale, I'm making huge progress on my goals, the future of my business feels exciting for the first time, and my goals finally seem attainable. I have made more progress in 4 sessions with Sagan than I have in a year on my own.

[Now I know] the biggest obstacle in my path was myself. Procrastination, perfectionism, information gathering and getting held back by tech were masks that I was using to hide the fear, doubts, and anxieties that were building up inside me. Sagan helps you recognize what's really holding you back, gives you strategies for dealing with these obstacles and helps you to develop a strong mindset so that you can finally start to conquer your goals. She sees what's really behind the things that you are struggling with and always knows the best ways to get you unstuck and moving forward.

I highly recommend Solopreneur CEO. It's the best investment in your business and your future that you can make. Sagan is a master at recognizing the true causes of my struggles and providing solutions to get me to move forward."
- Michelle (sonographer & YouTuber), Solopreneur CEO client
"I just wanted to say thank you for recommending the weekly and monthly reviews. I've had it on my to do list for weeks now—to actually add it to my calendar and figure out what to do in these reviews. 

I did my first weekly review last week and found it helpful. Today I reviewed my entire month. The payoff of this review is enormous. I was skeptical that it would be worth it. But it is!

I was ending this month feeling rather blah—like I hadn't done much or hadn't done enough. When I reviewed, I was able to see all of the important work I did this month and all of the huge milestones in my biz. I was able to put it into context and see what I can do better as I move into next month. It helped me be FAIR with myself and not just go with the negative thoughts in my head.

THANK YOU!!!"
- Melanie (copywriter), 1:1 client for a 3-month container prior to the Solopreneur CEO program
---
"Before working with Sagan, I was struggling to find direction with my business, to know where/how to find clients, and to understand how to manage my business. I needed someone to guide me as I was starting my business… and Sagan's productivity coaching 100% lived up to (and exceeded) my expectations.

Sagan adapted her teaching method to what worked best for me. Her one-on-one coaching helped me better handle overwhelm, and she helped me map out a business plan, understand and implement different marketing strategies, learn how to set daily and weekly plans, and figure out how to run my business.

...It was incredible!

My family asked if I got my money's worth out of getting one-on-on coaching with Sagan—and I said, 'YES!' Just getting responses to all my email questions would have been worth it!

I am extremely grateful for all the time Sagan devoted to me and how she took the time to answer all of my questions in-depth. She's superb at answering questions, and she gives wonderful feedback. Sagan's encouragement and ideas helped me disregard my doubts!

I'm now at the point where I am comfortable making my plans each day and week and have a good idea of where to go from here. I'm more confident in myself and my own abilities, and I'm excited for the road ahead. Sagan's encouragement and guidance has led me to a clearer path for my business's future.

I 100% recommend Sagan's coaching to anyone who feels lost with their business, needs to regroup, or wants guidance and direction. She teaches you the skills to enhance your understanding and relationship with your business... Sagan truly cares about your success and wants to see you thrive!"
- Richelle (freelance editor), 1:1 client for an 8-week container prior to the Solopreneur CEO program
---
"Wow! I feel like my questions are so big in my brain, and then we talk about them and solve them in 3 minutes during a coaching call... This is so helpful!

I really love our Solopreneur CEO sessions because I get such a different perspective from Sagan, versus the other mentors I have... Sagan is great at coaching on business management and how you're going about doing things and your business structure and processes. I love it. It's very useful!"
- CJ (pet photographer), Solopreneur CEO client
---
"Firstly, I want to say that I am actually really proud of myself for doing the business plan. This is stuff that I have avoided thinking about, let alone dealing with, for the better part of five years. I had to sit with a lot of uncomfortable feelings and fight a lot of avoidey/procrastinatory tendencies to get it done so even though they are still works in progress, I am proud that they're done!

Thank you for your suggestions! I feel excited rather than anxious so that is already a step forward in and of itself!

I realized that I was trying to prove that I was good at something/capable in situations where I am often feeling overwhelmed and out of my depth (these are echoes of issues that I have dealt with in the past and had thought I had worked through)... So I am pretty happy with the mental progress I've made here."
- Beth (caterer), 1:1 client for an 8-week container prior to the Solopreneur CEO program
---
Are you feeling inspired? 
YOUR time is NOW — Solopreneur CEO is open for booking *your* spot, right now!
But hurry… Space is limited.